Your Tuesday Olympics Viewing Guide
Scene: Shane Ryan on his computer Monday afternoon, fighting the good fight, trying to love his country despite the best efforts of technology. It's the 200-meter freestyle, one of the premier events of the swimming program, and Ryan Lochte is fighting for his second gold medal against Chinese swimmer Sun Yang. Ryan starts up the live feed with trepidation, knowing that whatever system is used for streaming the Olympics tends to freeze if more than 37 people log on at the same time. And indeed, the feed skips at first, but thankfully recovers in time for the start of the race. Lochte is third after 50 meters, and third again after 100 meters. Ryan knows it could be a dramatic finish, and he leans forward, forgetting the technical issues that have plagued him for three days.
The swimmers turn at the wall, but the moment Ryan blinks his eyes — maybe because he blinks his eyes — the feed dies. Panicked, he lets the site try to correct itself while opening a new window and restarting the whole process. In window one, the little white dots revolve in their hateful circle. In window two, an advertisement plays — to capitalism's eternal glory, the frequent ads always stream in perfect quality — before the site loads. It all leads to a coincidence that inspires Ryan's subsequent insanity, a brief fugue state in which he runs naked through the streets of Chapel Hill laughing hysterically and shouting the names of former gold medalists, a crime punishable by 30-to-life in North Carolina. Both windows recover in time to show that the race is over, and the French guy who swam out of his mind to deprive the U.S. of a 4×100 gold has won again. Ryan has pulled off the rare feat of spoiling the event for himself without actually seeing the finish, and that's why he can never run for political office. End Scene.

Here's what to look for on Tuesday. If you've missed the previous installments, our goal is to see every gold-medal event and every American game in a team sport while avoiding the gratuitous fluff of NBC prime time by doing it all live, on London time. To follow, you need one computer with Live Extra and one TV with cable. This timetable is, to quote Coldplay, your mirror, your sword, and your shield. Seriously, it's a big help. All times below are Eastern Standard Time.
Tuesday
Alarm should be set for 5 a.m. Hopefully your significant others have left you by now, so you can more fully commit to the Olympic schedule. They'll probably come back afterward, and if not, it frees you up for Rio 2016.
5:30 a.m. — Equestrian — Team Eventing Jumping Final — NBC Sports Network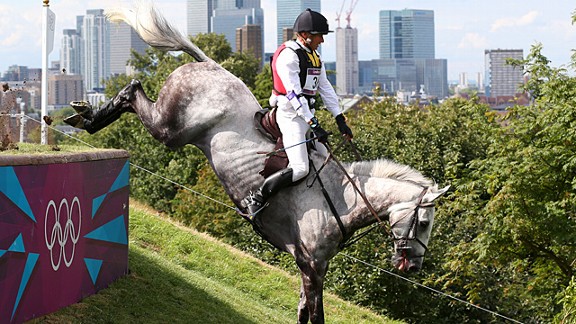 FINALLY. Oh man, finally. Great stuff. Awesome. Yes. And thank God this is on TV, because while I can handle stupid sports like swimming and gymnastics that nobody cares about getting the shoddy Internet treatment, you don't want to see what I'm capable of when they take away my horses.
7 a.m. — Tennis — Men's/Women's Singles Second Round, Men's/Women's Doubles Quarterfinals — Bravo
Horses and tennis? A great morning for rich people.
9 a.m. — Shooting — Men's Skeet Finals — Computer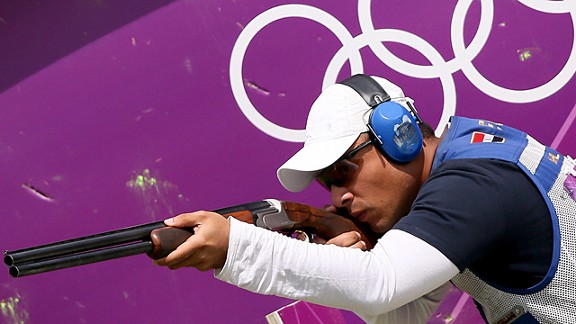 Aww HELL NO. Country-boy time! As I said in the women's event, which was won by American Kimberly Rhode (who hit an incredible 99 of 100 disks), I'll be disappointed if another country wins. Who has better country boys than us?
9:30 a.m. — Equestrian — Individual Eventing Jumping Final — NBC Sports Network
I feel bad about making fun of the horses before, so let me clarify my true feelings — I'll try anything once, especially with gold at stake. Maybe it'll be great. Still, I don't understand why the IOC has equestrian, but no dog triathlon. (Dog triathlon uses skateboards instead of bikes.)
10 a.m. Diving — Women's Synchronized 10-meter Platform — Computer
China.
10:06 a.m. — Canoe/Kayak — Men's C-1 Whitewater Finals — NBC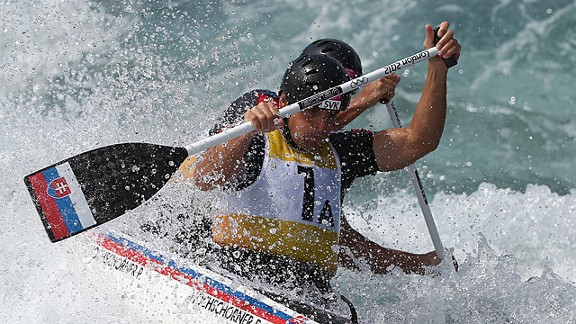 YES! Yes, yes, and more yes. Finally, an event to get excited about. I got harassed on Twitter this morning for not talking about canoe/kayak, so I watched some of the prelims today, and it is truly fantastic. The competition is divided into whitewater and flatwater races, and I think the whitewater is a bit more exciting because the riders have to fight against the current. When they do it well, it's exciting, but either way you're on the edge of your seat, hoping they miss touching the gate and getting a two-second deduction. The semis of this are on at 8:30 a.m., which is a nice lead-in to the skeet shooting if you want to get ambitious. There are no Americans in the finals, unfortunately, despite our ongoing national obsession with the movie Deliverance.
10:30 a.m. — Weightlifting — Women's 139 lbs. Finals
OK, we've determined that I can't even outlift the 106-pound female weight class, since they snatch 200 pounds at a time. In fact, I've determined that they could probably beat me up. Speaking of fights, here are the athletes I would least want to fight, listed by sport:
5. Cyclists — It's like they have no emotion behind those sunglasses.
4. Equestrian Riders — Chased down by a horse is a bad way to go. Just ask former fat president William Howard Taft.
3. Archers — If they didn't kill me with the first shot, though, I'd be able to run away for sure. Not the most athletic bunch, archers. Some real Tafts in there.
2. Shooters — If I'm going to die by projectile, I'd like to die comically, with an arrow sticking out of my back.
1. Rhythmic Gymnasts — They lull you to sleep with their elegance and then perform unspeakable atrocities.
11:30 a.m. — Gymnastics — Women's Team Final — Computer
Would you guys call me a sellout if I waited until NBC prime time to watch this? Would I be giving up some important moral ground? Because I tried the computer route with the American men, and it was the same result as swimming; spoiled the result for myself, but saw absolutely nothing beyond one choppy event. Is this the grand conspiracy by NBC to inflate their prime-time numbers?
11:45 a.m. — Men's Volleyball — U.S. vs. Germany — NBC
Things are going really, really well for the U.S. volleyball teams. The men beat Serbia on Sunday, and the women beat Brazil, the defending gold-medal champs, on Monday. Both are 2-0 heading into today, and I'd call both the favorites for gold. What I really love about Olympic volleyball is that it starts out fun and just keeps getting better as the Games go along. And it's just far enough on the fringe that NBC shows it on TV without worrying about saving anything for prime time.
2 p.m. — Weight Lifting — Men's 152 lbs. Finals — Computer
This is total athletic prejudice, but I have to admit that whenever I hear about a weight lifting champion, my first thought is, "OK, but what does it help you do? Does it make you awesome at football or something?" I guess I've been geared to see lifting as a means to an end, rather than an end in itself. Sort of like the treadmill event, which was discontinued in 1912.
2 p.m. — Field Hockey — U.S. vs. Argentina — MSNBC
With nothing else on TV in this time period, you can give field hockey a real shot. I've been receiving reports that it's more fun to watch than I originally gave it credit for. I'll grudgingly give it background-occasional-glance-status (BOGS).
2:10 p.m. — Fencing — Men's Foil Bronze/Gold — Computer
The winner is the one who screams that he got the "touche" the loudest. Check out this video for evidence that no, I'm not kidding.
2:40 p.m. — Men's Water Polo — U.S. vs. Romania — NBC
Time to tear yourself away from field hockey and check on a deceptively great Olympic sport. The way the players wave the ball around in their hands in a circular motion, trying to fake out the goalie, reminds me of the sadistic way my friends and I used to prolong the painful pegging moment in kickball and spread eagle (a brutal wall game played with a tennis ball) as kids.
2:41 p.m. — Swimming — Women's 200-Meter Freestyle — Computer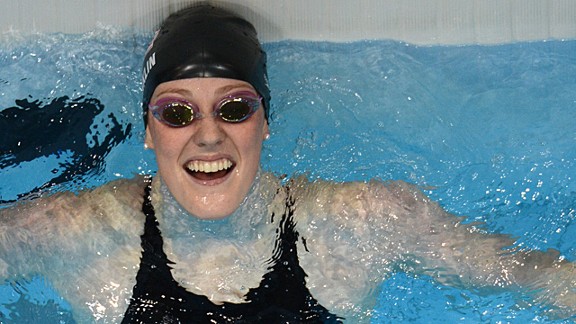 Again, I won't judge anyone for waiting until prime time for this. NBC is probably rigging the feed, or too many people are watching, and there's no replay available. It sucks, but they've got you backed into a corner. The unfortunate thing is that if you want to spend any time near the Internet, you're going to find out anyway. Allison Schmitt and newly christened American hero Missy Franklin have a shot here.
2:48 p.m. — Swimming — Men's 200-Meter Butterfly — Computer
Phelps has a chance to increase his legend by tying Soviet gymnast Larisa Latynina for most Olympic medals of all time with 18. He'll be in lane six, and has a chance to totally reverse the bogus narrative that the 400 IM fourth-place finish was anything more than a case of poor planning (as covered in more depth yesterday by Katie Baker).
3:39 p.m. — Swimming — Women's 200-Meter Individual Medley — Computer
A tough race, as world-record-holding American Ariana Kukors will try to take down Yi Shiwen, the Chinese swimmer who raced the freestyle leg of the preliminary in a time that beat Ryan Lochte.
3:46 p.m. — Swimming — Men's 4×200 Freestyle Relay — Computer
Phelps and Lochte teaming up to lead the Americans. I'm not blaming Lochte for the 4×100 loss, per se, but after that and the fourth-place finish in the 200 freestyle, is it time to start wondering if he's a gamer?
4 p.m. — Men's Beach Volleyball — Phil Dalhausser/Todd Rogers vs. Spain — NBC
American teams are no longer undefeated on the beach, as Gibb and Rosenthal dropped their second match against the ninth-ranked Polish team, and it's looking like Dalhausser and Rogers are still our best hope for gold. By the way, it really offends me that our guys lost beach volleyball to a landlocked country. OK, fine, Poland isn't landlocked to the north, but the Baltic Sea isn't exactly what you think of when you picture prime beach volleyball turf, right? You're telling me our best guys would get run if they showed up for some pickup ball on the shores of Gdansk?
5:15 p.m. — Men's Basketball — U.S. vs. Tunisia — NBC Sports Network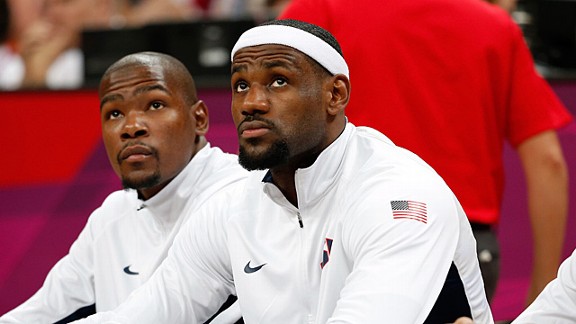 They're going to wish they had amnesia after this one, am I right, America?
6 p.m. — Women's Beach Volleyball — April Ross/Jennifer Kessy vs. Netherlands — Computer
The Netherlands is mostly below sea level, so theoretically all the dry parts of the country are a beach. At least that's the argument I'd make, in a more succinct and threatening way, if I was trying to intimidate the currently undefeated Americans.
7:30 p.m. — Hit the Hay
We're up early for the cycling time trials tomorrow, plus the first appearance of table tennis. You can sleep when the Olympics are dead, which will be never.
Filed Under: Olympic Games, Olympics, Ryan Lochte, Shane Ryan, Team Usa