Your Monday Olympics Viewing Guide
THOMAS COEX/AFP/GettyImages
Before we get going, forgive me as I become the 6,087,345th person to rant about NBC's decision not to air the swimming finals live on television. Put simply, it's a disgrace. I don't think I need to enumerate the reasons why it's a repugnant move from a spectator's standpoint, so let me instead tackle the business angle. First, I'm fine with the existence of NBC prime time. I'm glad they replay the best events. Sure, maybe they show actual sports at about the same rate that MTV shows actual music videos, but whatever. If prepackaged stories and scant coverage and Ryan Seacrest talking about social media is what "America" wants, and by "America" I mean the faceless mythical majority that apparently exists to dumb down everything cool, I can live with it.
But we are living in the age of the spoiler. People are going to find out the results if they're around the Internet, television, or other humans. They just are. And if they don't want to know? They're going to avoid everything, including NBC stations. So, my question: How does it change anything if you broadcast the events live in the afternoon?? The people who watch prime time are still going to watch prime time. They're ALREADY avoiding TV, presumably while at work, and it wouldn't change anything to throw the rest of us a bone and put the swimming on CNBC. I mean, they even announce the results on the NBC news show that leads into the prime-time coverage! Even the rest of NBC isn't avoiding spoilers! AHHHH THIS RAGE IS GOING TO KILL ME! I should probably just give up and light my TV on fire, right?

Instead, our only choice is to watch the swimming online if we want it live. But guess what happens when everyone wants to watch something online at the same time? The feed gets choppy and horrible, and then you panic and log out to refresh it, but NBC makes you watch a 30-second advertisement before you can get back in, and by that time Ryan Lochte has won his gold and you're ready to smash your computer even though your TV is already on fire. And then, unlike the sports that aren't going to air in prime time, NBC won't let you watch the online replay.
The whole thing would be comical if it wasn't so frustrating. This is absolutely the dumbest Olympic television decision in history, beating all the other dumb decisions by virtue of its fundamental inability to grasp how the Internet changes the game.
HOWEVER. The Olympics are still awesome, and the first weekend was still a joy. Let's look at Monday's schedule. If you missed Friday's post, here's how it works: You need a computer with Live Extra access and a television with cable to follow my itinerary. The goals are to see every gold-medal event, watch American teams, and see most of it live. If you want a full timetable of events and finals by time and date in one place, this spreadsheet is your new buddy. All times below are Eastern Standard Time.
Monday
Set the alarm for 6:30. I assume that if you have a job you've already taken vacation time, phoned in sick, or quit.
7 a.m. — Tennis — Second Round, Men's and Women's Singles and Doubles — Bravo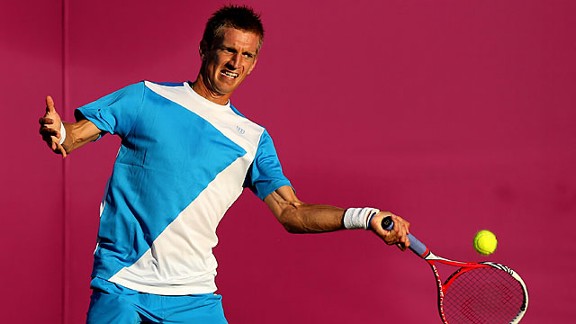 I know I told you on Friday not to watch tennis, but there's a little window here to catch up on some action. In fact, it's the only thing worth watching on television until about 10 a.m., so get a few minutes in with the Wimbledon scene (where the players are wearing colors other than white for the first time in history). Like the cycling that dominated our mornings on the weekend, it's a nice serene way to begin a day that will get very busy.
7:15 a.m. — Shooting — Men's 10m Air Rifle — Computer
Gold is at stake! For those unfamiliar with the metric system, 10 meters is equal to 24 American inches. The main goal of this event is to avoid the ricochet. Very compelling.
9 a.m. — Judo — Women's 57kg and Men's 73kg Bronze Medal matches – Computer
You're lucky it's a slow morning, judo! I watched some judo finals this weekend, and I only kind of get it. One gold-medal match ended in 41 seconds, but there was no announcer on the online feed, so it was all very confusing. Here's example no. 458 of why the Olympics are strange and wonderful: Despite the fact that I can't even see what's happening in fencing, it was somehow way more fun to watch than judo. More on that later.
10 a.m. — Diving — Men's Synchronized 10m Platform — Computer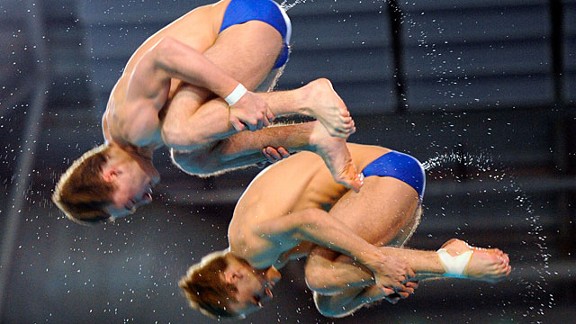 Hey, a Duke student named Abby Johnston won a silver medal in synchronized diving on Sunday! She also took the first charge in diving history when she fell over after a Chinese diver tried to shake her hand. Some things are just too deeply ingrained. Anyway, this is another event in which the Chinese will probably win gold. GREAT.
10 a.m. — Swimming — Qualifying Heats — NBC
Catch up on the morning's action. No medals up for grabs, but you can see Lochte qualify for the 200 freestyle. Speaking of swimming, let me get something off my chest. In sports, there are exactly four times when an Overt Display of Righteous Fury (O-DORF) is appropriate. You know what I'm talking about, right? O-DORFs happen after a game-changing play, when you get the angry look on your face, scream, pump your fist, and even stare down your opponent to make a point. Here are the four:
1. At the very beginning of an event, when you do something positive and want to let your opponent know he or she is in for a long day.
2. When you're making a comeback and you can feel the opponent starting to panic, and the crowd is starting to get on your side.
3. Anytime it's close, the pressure's on, and you make a nice play.
4. If you're trying to withstand a comeback, and you stop the opponent's momentum with a strong play. This is you letting him know that it's not going to happen.
Here's the main time it's not appropriate — when you've just won. An O-DORF after a victory is an asshole move. Just ask Rafael Nadal, the king of the O-DORF. He never O-DORFs after a win. That's the time to be delirious, happy, maybe tearful, and then gracious. You've probably guessed that I'm thinking now of Chinese swimmer Sun Yang, who won the 400-meter freestyle gold, screamed in a way that felt really confrontational for a few seconds, and punched the water aggressively. It made me hate him. And, for the record, "'roid rage" is maybe not the best mode of celebration when you come from a country with a long history of institutional cheating.
(In case you couldn't tell, I'm not a big fan of Team China. No joke, I celebrated like a madman yesterday when South Korea beat them by a point in the gold-medal match of women's archery. Read that sentence again. This is what my life has come to, and it's only Day 3.)
11 a.m. — Judo — Men's 73kg and Women's 57kg Gold-Medal Matches — Computer
Lots of "esoteric" countries competing for gold in judo. Lots of Georgians, Hungarians. Hopefully I'll watch this and understand it a bit better, and I'll have more to offer next time. Butttt … probably not.
11:30 a.m. — Gymnastics — Men's Team Final!!!!!!! — Computer
Another event NBC isn't televising in deference to prime-time programming, where they'll probably show half of all U.S. apparatuses and maybe one or two events from our main competitors. Anyway, the U.S. is top dog after qualification, and the Chinese team had a miserable event after being forced to use a substitute when one of their first-teamers got injured. But they still qualified, and the bad news on that front is that the slate is wiped clean for Monday. So the Americans will have to do it again. Also, have you noticed that our team is like the miniature version of a typical group of soldiers from a World War II movie? We've got a street-tough kid from the Bronx, a Cuban-born Miamian, and then a bunch of clean-cut Midwestern-looking guys. Right out of central casting.
11:45 a.m. — Women's Volleyball — U.S. vs. Brazil — NBC
The Americans are 1-0, but this is a rematch of the gold-medal showdown from 2008, which the Brazilians won with relative ease. Anyone else resentful of Brazilians because they're so cool? No? Nobody else? Moving right along …
2:10 p.m. — Fencing — Women's Épée — Bronze and Gold — Computer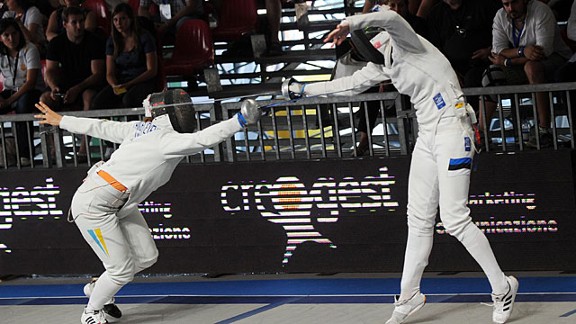 Rembert Browne and I were both in a Twitter fever during the women's foil finals on Saturday, when two Italians duked it out for gold. What's amazing about fencing is that for the medal rounds, they darken the entire arena and put the stage in a spotlight, giving the whole thing a really epic quality. The match in question went into a sudden-death extra period (Elisa Di Francisca won), and my stomach was in knots. The downside, as always, is that the swordplay is too fast and simultaneous to see what's happening, and you can only tell who scored a hit by the lights flashing in their headgear.
2:40 p.m. — Women's Water Polo — U.S. vs. Hungary — NBC
Pad the patriot credentials, gang. Nobody said this was going to be all fun and games. Definitely all games, but not all fun.
2:43 p.m. — Swimming — Men's 200m Freestyle Finals — Computer
Lochte going for gold no. 2! His main competition is none other than Sun Yang, the man discussed above who needs to learn a thing or two about sportsmanship. I think this is the biggest moment of the Olympics for me. I've seen China get the better of our athletes again and again, and I don't know if I could handle the awful Yang taking down Lochte. If it happens, the Tuesday guide is just going to be a picture of me crying on my living room floor with empty beer bottles all around.
2:40 p.m. — Swimming — Women's 100m Backstroke Finals — Computer
I've always thought this event would be better if the swimmers had to jump backward into the water, rather than starting in the pool. Look out for Missy Franklin here, the first-time Olympian who broke the American record at the trials.
2:58 p.m. — Swimming — Men's 100m Backstroke Finals — Computer
American Matt Grevers is the favorite, and, by the way, the U.S. could come away with four gold medals in this swimming session. By the way, I think these swimmers need some bad-ass nicknames. I'm officially dubbing Grevers "The Grieving Swordfish."
3:15 p.m. — Swimming — Women's 100m Breaststroke Finals — Computer
Americans Breeja Larson and Rebecca Soni could go 1-2 here. Or, as I now call them, "Breeja the Bullet" and "The Underwater Cheetah."
3:30 p.m. — Weight Lifting — Women's 128 lbs and Men's 137 lbs — MSNBC
This is one of the few times I'll have you guys watch something on delay, because there's just not enough time when they air live at 10:30 a.m. and 2 p.m.. By the way, I was speculating last Friday about whether I could win the 106 lbs. women's weight lifting class, but it turns out the winner lifted 200 lbs. I'm almost positive I can't do that. I sincerely apologize to those tiny, tiny people who are stronger than me, and I officially end my brief turn as the next Bobby Riggs.
4 p.m. — Beach Volleyball — Jake Gibb and Sean Rosenthal (USA) vs. South Africa — NBC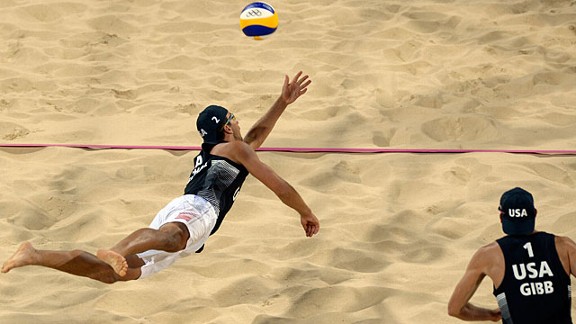 My friends, if there's one thing I've ever regretted in my life, it's that I'm not in London just camping out at the Horse Guards Parade beach volleyball venue, because (1) it's absolutely gorgeous; (2) every match I watched over the weekend looked like a giant party — dancing and yelling and having a good time. The vibe seemed incredible. Of all the places in the world, that's where I'd most like to be. Gibb and Rosenthal looked strong in their first match, and should breeze into the knockout stage.
5:15 pm — Women's Basketball — U.S. vs. Angola — NBC Sports Network
Turn to this one after the volleyball, obviously. Catch the second half. Women's basketball isn't going to get real interesting until the elimination stages, but your patriot credentials are only as strong as your last event. Stay strong, America.
6 p.m. — Beach Volleyball — Misty May-Treanor and Kerri Walsh (U.S.) vs. Czech Republic — MSNBC
The two-time gold medalists have never lost a set, much less a match, in their Olympic careers, but they came awfully close against an Australian team that wasn't supposed to be very good on Saturday. But if you think I'm betting against Misty, you best think again. I've only had a handful of female athletic heroes in my life, chief among them Steffi Graf when I was a little kid. But these Olympics have already produced two more — May-Treanor and the USWNT's Megan Rapinoe. Their cool under pressure, both now and in the past, borders on incredible.
7 p.m. —
Indulge yourself. Have a small bowl of chips and a half glass of beer or wine. Hit the sack no later than 8 p.m. Team equestrian jumping starts at 5:15 a.m. Tuesday. NO, I AM NOT JOKING!
Filed Under: Olympic Games, Olympics, Ryan Lochte, Shane Ryan, Tennis