Your Annual Reminder: The Tour de France Is Awesome
Bryn Lennon/Getty Images
Last summer, I wrote about cycling for the first — and, until today, only — time. I'd turned to the Tour de France almost by accident and been lured in by a sport I had assumed would be an incredible bore. The reasons why it grabbed and held my interest are still valid. I still love watching the sweeping helicopter shots of the French countryside, the staggering Pyrenees Mountains, the ruins of medieval stone castles, and famous landmarks like Mont Saint-Michel. I still enjoy the fans who gather to watch the race, with their odd antics that range from typical frat-bro (frere fraternite?) camera mugging to strangely beautiful spectacles like the Corsican horsemen who race in the roadside fields as the bikers pass, waving their island's flag. And I still enjoy the race commentary from NBCSN's Phil Liggett and Paul Sherwen, who combine the sardonic touch of Ian Darke with the enthusiasm and improvisational knack to keep you interested over a four-hour race.
Unlike last year, though, I actually know a little bit about competitive cycling now, and rather than make an aesthetics-based plea, I'd like to get more practical in 2013. I have no cycling-based agenda; I didn't grow up with a crazy parent carting me off to bike races, or have a wild affair with a beautiful Italian woman who taught me le passione of the sport (though, man, that would've been great!). I'm not even an annoying Europhile who wants to be super-cool and ahead of the curve by liking obscure sports before anyone else. I couldn't even ride a bike until age 11; it terrified me. I say all this because I want you to know that I'm not like your one poseur friend who won't stop recommending awful bleep-bloop music you will hate. I legitimately love watching the Tour de France, and I think you might too.
So here are the nonsentimental, salt-of-the-earth reasons why the tactics and drama of the race make for such compelling TV.
1. Chris Froome and the Battle for the Yellow Jersey
If you're an average American sports fan, you might be vaguely aware that an English rider named Bradley Wiggins won last year's Tour de France. He was the first Briton to win what they call the "general classification," which is a fancy way of denoting the rider who took the least time to race through all 20 stages. While this was a historic moment for British riding, Wiggins wasn't an exciting upstart. He was the chosen rider of Team Sky, which was founded in 2009 with the express goal of producing the first British winner of the Tour within an ambitious time frame of five years. They needed only three.
In 2012, Wiggins spent most of the 23 days of the Tour riding at the back of a paceline that came to be known as the "Sky Train." The term sounds like something out of science fiction, and with their menacing black jerseys and emotionless expressions, they did give off a faintly extraterrestrial vibe as they shred through the field.
This is a good place for a quick note about "teams" in the Tour de France, since hey, isn't cycling an individual sport? Each team carries up to nine riders, and when a group like Team Sky aims to win the Tour, many of these nine are in service to the ace of the squad. They even call these riders domestiques, which literally translates as "servants." Last year, they served Wiggins. When a rider has the luxury of riding behind a teammate in his slipstream ("drafting"), and thus encounter reduced wind resistance, he works about 30 percent less. Having a team with many domestiques who can ride at a fast pace and ensure that their star won't exhaust himself is an enormous luxury. I was skeptical at first, too, but believe me, it matters. Lonely valor can win you a race — maybe — but it will never win you a Tour.
In 2012, Team Sky kept Wiggins cocooned, chasing down all threats and leading him up the slopes of the Pyrenees and Alps with a seemingly tireless inevitability. Wiggins had become the chosen one due to his ability in the individual time trials, which account for two stages of the Tour. He won both time trials, and enjoyed a rather dull ride to victory, wearing the famous yellow jersey from stages seven to 20 without interruption. Team Sky was in such excellent, imposing form that rooting for them started to feel like rooting for the Death Star.
Wiggins's best teammate — the one who sheltered him on the highest climbs — was Chris Froome. He was so strong in support that he eventually finished second overall, almost three minutes ahead of third place. So when Wiggins announced that he wouldn't be defending his title in 2013 because of a knee issue, Froome was Team Sky's obvious choice to assume the leading role. Like Wiggins, he's a great time trial rider and he can climb with the best. You wouldn't know the 28-year-old was a world-class athlete by his appearance; he looks emaciated even by cycling's bone-thin standards (as a friend noted, "these guys have no asses"), he's polite and quiet in conversation, and for the most part he comes off like a very earnest kid.
But Froome is a warrior on the bike. However, the question remained: Would Team Sky be the same indefatigable juggernaut we saw in 2012?
The first seven stages of this year's Tour were either flat or "medium mountain." Froome and Team Sky stayed with the peloton (the main body of cyclists), and nobody gained or lost much time besides the unfortunate few who crashed. Without steep hills, it's harder to shake the weaker riders, and Team Sky didn't bother trying anything dramatic. There's a cliché that the race doesn't start until the Pyrenees, and for yellow jersey purposes, that proved true again this year. Finally, this past Saturday, the riders took off from Castres in southeast France and headed for Ax-les-Thermes, a town 10 miles from the Spanish border. The 195-kilometer journey would take them up the highest climb of the Tour, Port de Pailhères, and then to the difficult finish at Ax 3 Domaines ski resort.
Team Sky was brilliant. Three riders — Vasil Kiryienka, Peter Kennaugh, and Richie Porte — took turns keeping up a brutal pace while Chris Froome rode on their wheels. They withstood all attacks, caught every breakaway, and then, on the final climb, Froome took the reins and burst out from the field to do something Wiggins had never done a year before: win a non–time trial stage. It was a heroic effort, far less boring than what we had come to expect from Team Sky. Froome earned himself the yellow jersey as race leader, and two narratives emerged. First, Team Sky was so good that the Tour was practically over. Second, and very prevalent on racing sites, Froome was so good that he must be doping.
Then came Stage 9. Again, the riders were in for a brutally long day in the mountains. This time, though, something odd happened: Team Sky collapsed. Kennaugh crashed. Kiryienka finished so far back he was eliminated from the Tour. And early into the most difficult climb, Porte cracked — a wonderful cycling term that means exactly what you think. He lost his energy and fell. That left Chris Froome all alone in the yellow jersey, and in an incredibly perilous position. When you crack on a mountain stage, you can lose huge chunks of time, sometimes up to 10 minutes. That kind of loss destroys any hope of winning the Tour. Froome found himself in the midst of a group of riders who would have loved to see him fail. Two of them, Nairo Quintana and Alejandro Valverde of Movistar Team, had a chance to finish him with a yo-yo attack — one rider bursts away, forcing Froome to catch him, while the other rider sits on his wheel until the pursuit is over, and then bursts away himself. Quintana did his part, but Valverde must have been too fatigued, because he couldn't muster the energy. Somehow, Froome kept in touch with his rivals and survived the mountains, still in possession of the yellow jersey.
For the first time in two years, Team Sky looked vulnerable. Froome was forced into a very un-Wiggins-like display of individual heroics. If he was going to win the Tour, he would have to earn it.
The first of two individual time trials (30-plus minute rides with no team support) was held on Wednesday, and Froome did his part by finishing second and opening up a three-minute lead on the field. The next three stages are flattish, but on Sunday, they will ride into the Alps and up Mont Ventoux. There, in 1967, the eccentric British rider Tom Simpson, fueled by amphetamines and alcohol, made a mad dash for the summit. About a mile from the top, he began to wobble, finally collapsing on the road. His team rushed to his side, and he insisted that they put him back on his bike. They did, but 500 yards later he began to wobble again. A group of spectators held him upright, but he was unconscious. He never woke up, and an hour later he was pronounced dead.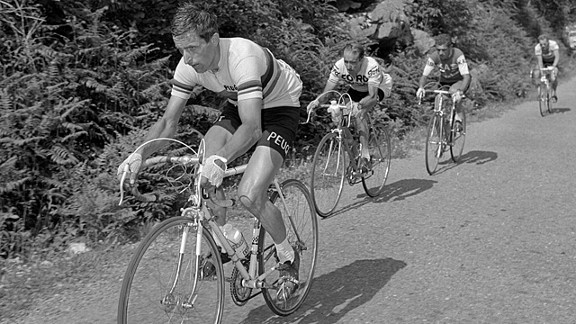 There's a monument to Simpson on Mont Ventoux near where he fell, and 46 years later, his countryman Chris Froome will pass by on Sunday. How he and his team fare on that peak, and the four mountain stages to follow, will determine whether he can take home Great Britain's second Tour de France title.
2. The Kings of the Mountains
I've prattled on so long about the yellow jersey that I'll keep this one short and sweet: I get a huge thrill out of watching someone surge up an honest-to-god mountain. And I'm not alone. I think the most excited Liggett and Sherwen have been all Tour was watching Nairo Quintana leave everyone in his dust as he conquered the Port de Pailheres. Watching the young Colombian stand up in his saddle, grit his teeth, and rocket up to the peak was genuinely one of the coolest things I've seen in sports this year. I could feel his pain. Anybody who has walked up several flights of stairs could feel his pain. I don't want to toss the hero bomb around too often, but his climb felt heroic in just the elemental sense of, holy shit, how can he do that on a mountain?!
There are points assigned for the winners of every climb based on the level of difficulty, and the leader wears a polka dot jersey designating him as "king of the mountains." Like the yellow jersey classification, that's about to get real interesting on Sunday.
3. The Sprints
Unlike the mountains, you don't have time to sit back and appreciate the frantic ends of the flat stages; they happen in a flash. Team strategy is so important here, and the coordination has to be timed to the second. Teams form a train, and lead riders slip off at precise intervals, finally leaving it to the top sprinters to wage war against each other over the final 500 meters. And the fun part here is that if British super sprinter Mark Cavendish doesn't win, he will probably go crazy and trash a bus.
4. Cyclists Are Not All Evil Dopers
For reasons that I'd describe as fair, riders in the Tour are under constant suspicion due to their sport's ignominious history. It's not great PR. But great PR does happen. This year, Team Orica-GreenEDGE won a thrilling team time trial over Team Sky by one second in Stage 4, and it briefly gave the yellow jersey to their rider Simon Gerrans. It was life-changing for him, but that night, he went to his team leaders and asked them if he could turn it over to his teammate Daryl Impey the next day. Impey is a South African, and no one racing for his country — or continent — had ever worn the yellow jersey for even a day. Gerrans knew how it would change his life, and how it would bolster cycling in his country. So the next day, on a flat stage where everyone would finish en masse (recording the same official time), he finished behind Impey, and the yellow jersey changed hands.
As a grateful Impey celebrated on the podium, Orica team owner Gerry Ryan sought out Gerrans to deliver an important message: "You're a special person."
Filed Under: Shane Ryan