Who Are the Best Long-Shot Bets for NHL Awards?
Rocky Widner/Getty Images
One fun part of any sport's preseason is getting a first look at the bookmaker odds for various player props. It's always an interesting insight into what the oddsmakers think about who'll be the season's statistical leaders and award winners, not to mention what they expect the betting public to think.
And while it can be fun to argue over the odds assigned to various players, there's a part of me that's always found it more interesting to look at the players who get left off the lists entirely. In betting terms, they make up "the field," a nice way of saying "everyone else who we couldn't even be bothered to put on this list." If you're the sort of fan who appreciates an underdog, it can be fun to go through the various props and try to figure out whether anyone who got snubbed could actually win.
So that's what we're going to do today: take five NHL player props, disqualify everyone who was considered a good enough bet to warrant any odds at all, and then try to pick a long-shot winner from the field. It's a virtually impossible task, sure, but if wasting time arguing about sports on the Internet is wrong then I don't want to be right.
(One note: Hockey player props are harder to find than other sports — on a recent Vegas trip, I only found one book that was offering anything at all — so we'll turn to an online source and use the odds posted by Bodog. All lists are based on what was posted as of earlier this week.)
Hart Trophy (MVP)
Players listed: Sidney Crosby, Alexander Ovechkin, Steven Stamkos, John Tavares, Evgeni Malkin, Henrik Lundqvist, Claude Giroux, Henrik Sedin, Patrick Kane, Jonathan Toews, Eric Staal, Taylor Hall, Phil Kessel, Daniel Sedin, Ryan Getzlaf, Anze Kopitar, Pavel Datsyuk, Jonathan Quick, Nicklas Backstrom, Martin St. Louis, Erik Karlsson, Tuukka Rask, P.K. Subban, Pekka Rinne, Sergei Bobrovsky, Carey Price, Zdeno Chara, Antti Niemi, Jimmy Howard
Well, that's certainly a thorough list, in the sense that it includes pretty much every good player in the entire league. It's possible this whole thing may have been a bad idea.
But despite including 29 names, there are still a handful of decent players who didn't make the cut. Defensemen almost never win the Hart (Chris Pronger is the only one to do it since Bobby Orr), but you could at least make a case for a stud like Shea Weber or Ryan Suter. Among the forwards, Henrik Zetterberg is a surprising omission, as is Zach Parise. Corey Perry isn't there despite being just two years removed from actually winning the Hart. Patrice Bergeron seems to have become one of those players who everyone loves right now. And if you wanted to go with a younger guy poised for a potential breakout, Logan Couture fits the bill.
But if I'm going to force myself to go out on a limb, I might as well go way, way out: What about Roberto Luongo? That feels like an awful pick for a few reasons, not least of which is that goalies win the Hart almost as rarely as defensemen, but stay with me.
Luongo's strange journey from Canucks starter to backup to trade bait and back to starter has been well-documented, and there's still an excellent chance that the whole situation blows up and takes out the Canucks season with it. But what if it doesn't? What if Luongo plays great? Imagine him putting up his usual All-Star numbers while helping the Canucks cruise to an easy division title, making funny video cameos and cracking Twitter jokes all along the way. It would be the feel-good story of the year. Couldn't you see a groundswell of support that ends with him standing on a stage with the Hart Trophy in hand, thanking everyone who stuck with him?
I'm convincing you, aren't I? You're on board, I can tell. You're on board, right?
Yeah, me neither. OK, Couture it is. Let's never speak of this again.
Norris Trophy (best defenseman)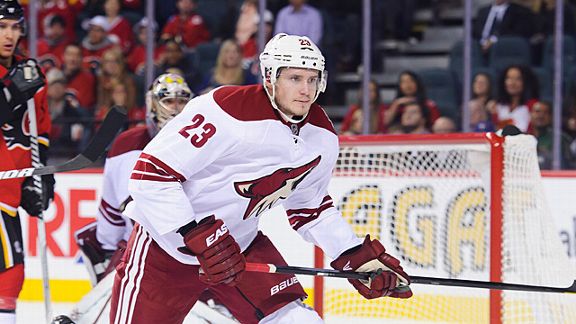 Players listed: Erik Karlsson, P.K. Subban, Kris Letang, Shea Weber, Ryan Suter, Zdeno Chara, Duncan Keith, Alex Pietrangelo, Dustin Byfuglien, Keith Yandle, Dan Boyle, Alexander Edler, Brian Campbell, Mark Streit, Niklas Kronwall, Justin Schultz, Kevin Shattenkirk, Dion Phaneuf
This category gets significantly easier, thanks to a shorter list and some glaring omissions. We'll get to those in a second.
We can look at recent history for some inspiration here, as the last two Norris winners would have been preseason long shots. Subban was on last year's list, but as a 20-to-1 underdog, and Karlsson wouldn't even have been on the radar in 2011-12 as a 21-year-old coming off a minus-30 season.
So that tells us our best bet is to look for a young defenseman who could break out. Lucky for us, there are a few very good young blueliners who've been left off the list.
For example, Ryan McDonagh is nowhere to be found, despite being one of the league's emerging shutdown guys. McDonagh is a tempting pick, but defensive defensemen rarely win the Norris, so let's keep looking. Slava Voynov and John Carlson both fit our "young and good" criteria, too, but we can do even better.
Brent Seabrook isn't young, but he's still better than half the guys on the list. And there's even Mike Green, who's coming off a strong offensive year after a monster 31-goal season five years ago.
But we're going to narrow it down to a pair of obvious choices who somehow didn't make the oddsmaker's list: Phoenix's Oliver Ekman-Larsson and L.A.'s Drew Doughty. The latter has actually already been a Norris finalist (he finished third in 2010), and the former is widely considered one of the most promising young defensemen in hockey.
In the end, I'll flip a coin between these two and go with Ekman-Larsson as my pick, but either would be a solid choice.
Vezina Trophy (best goalie)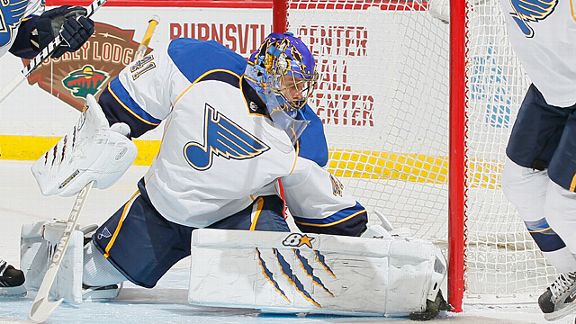 Players listed: Henrik Lundqvist, Jonathan Quick, Tuukka Rask, Pekka Rinne, Sergei Bobrovsky, Craig Anderson, Jimmy Howard, Antti Niemi, Carey Price, Roberto Luongo, Corey Crawford, Ryan Miller, Mike Smith, Braden Holtby, Kari Lehtonen, Cory Schneider
This is only a 16-player list, but since we're dealing with goalies, that means that more than half the league's starters are out of contention. And unlike the Norris, they haven't been kind enough to leave us with any obvious oversights.
The one good omen is that this is the only category that we could have picked a winner for last year, when the Blue Jackets' Bobrovsky came out of nowhere to take home the Vezina. Maybe that points to a strategy: Pick an unproven younger goaltender who was recently acquired by a team that's not expected to be good.
There's one guy who fits that description to a tee: former Kings backup Jonathan Bernier, who was dealt to the Leafs in the offseason. His career numbers aren't inspiring, but he's a former high draft pick and hockey people seem to love him. If he does develop into a star for the Leafs, the Toronto hype machine would lionize him. (Also, undecided voters might be afraid he'd beat them up.)
Maybe that's overthinking it and we should just go with a proven veteran. Cam Ward and Jonas Hiller aren't on the list. Neither is Martin Brodeur, even though he's won this award four times and, in theory, is still the Devils' starter ahead of Schneider.
Instead, I'm picking Jaroslav Halak. He's been on the periphery of the Vezina conversation for years, thanks largely to playing for a Blues team that's one of the league's best defensive units. His main problem is that Brian Elliott keeps playing well enough to steal the starter's job for stretches. But the Blues apparently want Halak to be the top guy, and he should be motivated entering a contract year. He's a long shot, obviously, but it's not too far-fetched to imagine him putting up the kind of numbers that would get the voters' attention.
Rocket Richard Trophy (most goals)
Players listed: Steven Stamkos, Alex Ovechkin, John Tavares, Rick Nash, Sidney Crosby, Evgeni Malkin, Phil Kessel, Jonathan Toews, Logan Couture, James Neal, Corey Perry, Taylor Hall, Zach Parise, Thomas Vanek, Tyler Seguin, Evander Kane, Max Pacioretty
Every winner from the past seven seasons is on the list, so that's going to make things tough. But we do have a few names to work with. Jeff Carter and Patrick Marleau are among the top 10 goal scorers over the past three years. Chris Kunitz is coming off a big year, Bobby Ryan may be poised to take the next step in Ottawa, and even guys like Jakub Voracek and Jiri Tlusty put up surprisingly decent numbers last season.
If you're looking for a younger player, Nail Yakupov led the Oilers in goals as a teenage rookie last year. Maybe he follows the Rick Nash/Steven Stamkos career path and makes the major leap in Year 2 (although his ridiculous 21.0 shooting percentage suggests otherwise).
But I'm going to roll the dice on a veteran: the Blue Jackets' Marian Gaborik. He's just one year removed from a 41-goal season, and while last year's numbers were disappointing, he also spent most of the season being miserable in New York. He's another guy in a contract year, and the Blue Jackets are a team on the way up. Besides, would this be any more ridiculous than Bobrovsky winning the Vezina? Maybe there's something in the water in Columbus.
Art Ross Trophy (most points)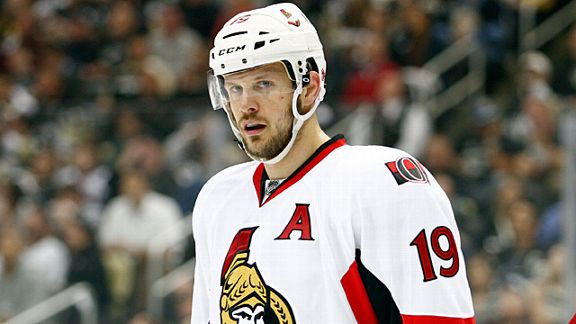 Players listed: Sidney Crosby, Steven Stamkos, Alex Ovechkin, Evgeni Malkin, John Tavares, Martin St. Louis, Henrik Sedin, Claude Giroux, Daniel Sedin, Phil Kessel, Henrik Zetterberg, Anze Kopitar, Patrick Kane, Pavel Datsyuk, Jonathan Toews, Eric Staal, Rick Nash, Taylor Hall, Ryan Getzlaf, Joe Thornton, Nicklas Backstrom, Logan Couture, Thomas Vanek, Tyler Seguin, Zach Parise, Jordan Eberle, Jamie Benn, Matt Moulson, Matt Duchene
Oh goody, we're back to "thorough." I'm not saying this list has way too many players on it, but I just wanted to point out that it includes Matt Moulson. So yes, I guess I'm saying this list has way too many players on it.
This is basically the Hart list again, with the goalies and defensemen taken out and even more forwards added. Good players who didn't make the MVP cut like Zetterberg, Parise, and Couture are here now. Perry is still missing, though, so at least we have a former 98-point guy to consider.
Looking at last year's leaderboard, the only top-10 scorer who didn't make this cut is Pittsburgh's Chris Kunitz. That's understandable, since he plays with Crosby and it's hard to imagine a scenario in which he outscores the best player in the league. Other top-20 scorers who were snubbed include Voracek, Mike Ribeiro, and Andrew Ladd. Pass.
So if last year's overall numbers won't help, what about points per game? Maybe we can find someone who's flying just under the radar because they missed a few games last year.
Unfortunately, that doesn't help us much either. Last year's best point-per-game player who isn't on our list is actually Letang, and a defenseman hasn't won the Art Ross since Orr. Then it's back to Kunitz and Ribeiro.
I admit I'm kind of stumped here, and it's looking like Perry may have to be the guy by default. But then I decided to look back at the last three years combined, and rank all the players by points per game. Perry winds up 16th on that basis, and 14 of the players ahead of him are already on our list. That leaves one name we haven't mentioned yet, and if you read the recent Team Canada post you've probably already guessed who: our old pal Jason Spezza, slotting in ninth between Ovechkin and Toews.
Hmm. A top playmaker on a good team, who finished fourth in scoring in his last full season and will probably get to play with Bobby Ryan? Not great, but probably the best we're going to be able to do. Let's make Spezza the pick, and all agree to give ourselves a mulligan when his back problems inevitably flare up and ruin his season yet again.
Filed Under: NHL