We Went There: Five Scenes From Fight Night
Elsa/Getty Images
1. Does anyone actually know which boxers are good, which are great, and which are fake?
I'm not sure. The sport is so balkanized that there just doesn't seem to be a reliable way of determining who the best fighters really are. If you tried to make a flow chart of all the competing promoters, managers, advisers, television networks, state athletic commissions, and the fighters themselves, I imagine it would resemble the knot of greasy hair that accumulates in your bathtub drain. On top of that, there's the very tired but very true old saw that styles make fights — a boxer can look horrible against certain opponents and transcendent against others.
This helps explain what we witnessed Saturday night at Madison Square Garden, when 154-pound champion Austin Trout won a unanimous decision over Miguel Cotto — one of boxing's real superstars — in front of a mostly deflated Puerto Rican crowd that came to cheer Cotto. After the fact, it's easy to see how Trout defeated Cotto — he was bigger and faster, with more crisp boxing skills. He fought busier than Cotto, and he proved capable of handling Cotto's pressure and power. Was it possible to predict this before the fight? Sure, but that prediction would have been mostly guesswork. Just as easily as you could look at Trout's age, size, and speed advantages, you could point to Cotto's edges in experience, acknowledged punching power, and demonstrated willpower. And with Cotto, at least, you can feel confident in knowing what he would bring into the ring, since he'd demonstrated it against the best fighters of his generation — Manny Pacquiao, Floyd Mayweather Jr., Shane Mosley, the list goes on. All the skills Trout demonstrated in his 25 professional fights before facing Cotto might not mean anything, since he'd been showcasing them against opponents worse than almost every fighter Cotto has faced in the past six or seven years.

One thing about Cotto, however: A fighter will find out how good he really is against him. Cotto's opponents either solve the problem of his pressure or Cotto presents them with a final solution — his left hook. Trout passed the test. He was quick enough to lance Cotto with straight left hands to the Puerto Rican fighter's softer-than-usual midsection. Trout was smart enough to tie up Cotto most of the times he got backed up against the ropes. He was sturdy enough to take some clean, hard Cotto left hooks to the body and head. And he punched with enough power and variety — straight lefts early in the fight, a right hook that stemmed Cotto's aggression in the middle rounds, and uppercuts that seemed to stun and stumble Cotto in the 11th and 12th — to prevent Cotto from steamrolling him. All the skillful boxing Trout appeared to be capable of turned out to be real — and Cotto forced him to use it.
2. Return of the Canelo Face!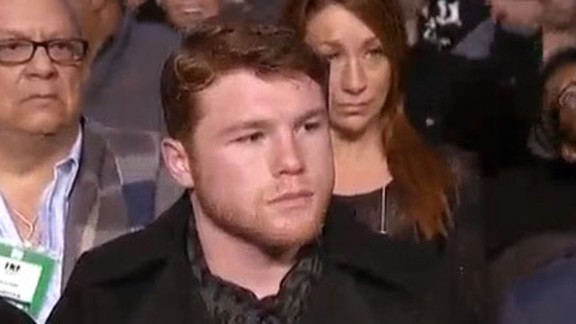 Canelo Alvarez, the Mexican heartthrob ginger, was ringside because Golden Boy Productions had hoped to match him with Cotto next year in a huge Mexico–vs.–Puerto Rico Cinco de Mayo bout. If Cotto had won, that is. This image came up on the MSG JumboTron right before the 11th round, as it was becoming clear that Cotto might lose on the scorecards if he couldn't score a knockdown or knockout before the end of the fight. Canelo, of course, looks dashing as ever, but a tad pensive.
Here's a thought for his promoter, Golden Boy: Stop jinxing one of the most marketable fighters in the sport by announcing his intended pay-per-view opponents before they've emerged unscathed from the fights they need to win to make the Canelo match work. This happened in June, when Canelo was ringside at Staples Center to watch Victor Ortiz, his would-be challenger in a September main event, take care of business against middling contender Josesito Lopez. Well, that night, taking care of business meant Ortiz getting his jaw broken and being unable to continue fighting, and Canelo eventually had to take care of Lopez himself in a disappointing mismatch. If Trout takes Cotto's place next May, the way Lopez stepped in for Ortiz, rest assured that this time it will be no cakewalk for Canelo.
3. An old-school beatdown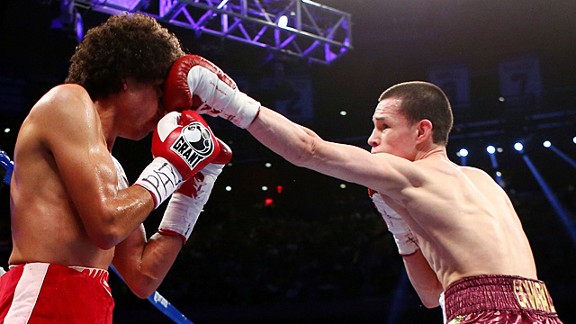 In the fight immediately preceding the main event, Mexico's Salvador Sanchez II entered the ring looking like the coolest fighter on the planet. He wore his hair in a resplendent, rust-colored Welcome Back, Kotter Afro and came to the ring dressed in a late-1970s fighter's robe that had belonged to his uncle, former featherweight champion Salvador Sanchez. "How could a fighter who dresses with such old-school flair be anything but brilliant in the ring?" I wondered. Alas, he was pounded and knocked out in a shade over two rounds by Jayson Velez, who entered the ring with less style but left with a win.
4. Long live Cuban Link!
Every time Miguel Cotto fights at Madison Square Garden, New York's Puerto Rican community comes out to support him in full force. Current welterweight titlist Paulie Malignaggi, who lost to Cotto in the Garden in 2006, described the experience thusly: "It was like fighting the devil in hell." In a good way (if you're Cotto or a Puerto Rican fight fan).
Well, the DJ was prepared Saturday night, and he filled the dead time between bouts and even between rounds with salsa, merengue, an unpleasant amount of Don Omar, and a slew of Big Pun and Fat Joe Terror Squad hits. Even better, he livened up the undercard bouts by playing music that seemed to comment on the action in the fights. After Salvador Sanchez was dropped at the end of the second round and barely beat the referee's count to escape the round, the DJ played "Like Whoa." Minutes later, after Sanchez lost by TKO, 2Pac's "Keep Your Head Up" boomed from the arena's sound system.
5. More endings than a Lord of the Rings sequel
The night just didn't want to end. First, there was the final bell of the main event, with Austin Trout raising his hands in victory while one of his cornermen lifted him over his head. There was Miguel Cotto trudging back to his locker room after snubbing Jim Gray's request for a lengthy interview. There was a chair-throwing, mob-stomping brawl in one of the Garden's lower-level seating areas as fans filed out of the building.
Then there were the meaningful endings. Austin Trout, after scoring a life-altering victory over one of the best-known boxers in the world, just wouldn't leave the ring. He just kept hanging out, walking from corner to corner, celebrating with his cornermen, his promoter, his loved ones, and anyone else near enough to flash a nod or a smile in his direction. It was like he wasn't ready to leave the ring where his legs and fists and reflexes and smarts had just vaulted his family into a chance at being set for life. Eventually, an MSG usher came behind Trout and said, "OK guys, we gotta get out of here."
So that's what I did. I walked from the tunnels in the bowels of Madison Square Garden to the tunnels in the bowels of Penn Station, and when I got to the subway station, a street musician was standing by the turnstiles, playing the Rocky theme on a trumpet.
Filed Under: Boxing, Manny Pacquiao, We Went there