The Glorious Bastardry of Andrew Bogut
Rocky Widner/NBAE/Getty Images
There are a lot of serious things to say about Golden State, and we'll give those things due space and time at some point. The Warriors are the only team in the top five in both points scored and allowed per possession, a classic signifier of true title contention, as Tom Haberstroh pointed out yesterday. They've been a little foul prone this season, but they were last season, too, and they appear to be even more comfortable running the defensive system Mike Malone installed before leaving to coach the Kings.
Andre Iguodala has fit on both ends of the floor like Ace Ventura's speeding car in a tight parking spot. In this era of the ball-dominant point guard and spread pick-and-roll offenses, the Warriors have constructed a roster that allows their point guard, Stephen Curry, to dribble as much or as little as required on a given night. They can hide him on defense more easily with Iguodala around; Klay Thompson is generally guarding opposing point guards, and Iggy is taking the tough wings. They take a ton of 3s, as they should; only Houston takes more as a percentage of overall shot attempts.
They've only scratched the surface of their lineup versatility, since a foot injury has limited Harrison Barnes to 103 minutes so far. The Dubs have played just seven minutes total with Barnes as a small-ball power forward in the lineups that blitzed Denver and troubled San Antonio in the previous postseason, per NBA.com. Draymond Green can play either forward position, and the Dubs have used Green and Barnes as a gigantic wing combination in bigger lineups. They've played heavy minutes without a point guard, an intriguing big-ball look that could persist even when Toney Douglas comes back from injury.
They're "only" 6-3, but they've compiled that record against a brutal early schedule. So, yeah, the Warriors are really good — better than I had anticipated at this stage, honestly. They have some uncertainties, like any team, but it's clear they're going to be very good at basketball.
But they're also fun as hell. The boss and I rated them as the runaway no. 1 in our watchability rankings, and they've only widened the gap over the other 29 teams so far this season. They are irresistible. They have two of the greatest shooters in the league, including perhaps the greatest 3-point bomber ever. Oracle Arena starts buzzing the moment Curry begins dribbling the ball over half court; no other player has such an effect. Four of their five starters bring elite passing — not just good passing, but elite passing — for their positions.
They are watchable in very obvious ways. But they've got the subtleties down, too. Witness the glorious bastardry of Andrew Bogut, one of the league's great purveyors of dirty tricks the referees always seem to miss:
Did you catch what Bogut did there? The play is a routine Iggy-Bogut pick-and-roll. Bogut's man, Steven Adams, shows fairly hard on Iggy, forcing Serge Ibaka to shift away from David Lee along the baseline and prepare to help on Bogut's roll to the hoop. Iggy reads the help and dishes to Lee, who coaxes in a tough righty layup even though Ibaka has recovered to challenge the shot. Give a dirty-trick assist to Bogut, who clearly has Ibaka's left arm hooked: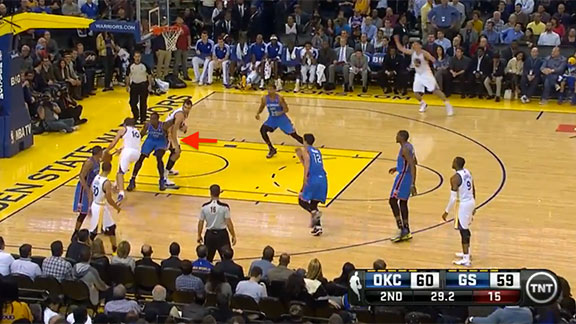 Oh, there were more. Bogut manages to poke the ball away from Ibaka in the lane on this Durant-Ibaka pick-and-roll without losing track of Adams:
The tight spacing here helps him patrol both guys, but so does the arm lock he has on Adams: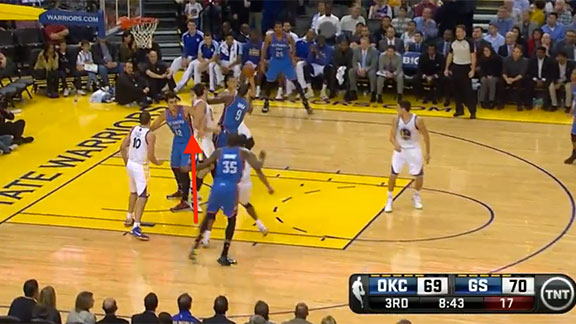 Here's my personal favorite from last night's thrilling Warriors win:
Ibaka is faster than Bogut, and since Bogut briefly slides out of bounds to give David Lee room to post up in the lane, Ibaka has a head start getting down the floor after Lee's miss. What better way to combat that head start than by grabbing Ibaka around the neck and holding him back?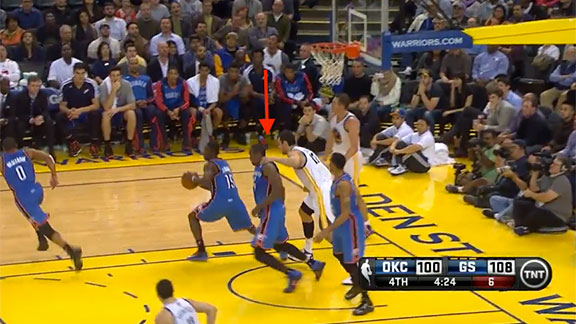 It feels icky to like this stuff, given that I have also called for strict enforcement of illegal screens. But I can't help it. Illegal screens are often blatant, right there in front of referees, easy to spot. (Ditto for those instances in which the defender guarding the screener just shoves the dude out of position with two hands.) Overlooking those calls seems like willful allowance of rule-breaking.
This stuff that Bogut (and other dirty-trick artists) pulls every game? It's a form of basketball art. It lurks in the shadows, in crowds of arms of legs that obscure the referees' vision. It's sort of delightful.
But probably not if you're an opposing big man trying to, you know, move your body around the court in an exercise of your own free will.
Filed Under: NBA, Golden State Warriors