The Case for an Improved San Francisco 49ers Offense in 2012
By almost any rational measure, the San Francisco 49ers significantly overachieved last season on offense. The Alex Smith–led attack finished in the bottom third of the NFL in yards, yards per play, and passing yards. Even the vaunted 49ers rushing attack was more a function of quantity over quality. San Francisco's top-10 finish in rushing yards came on just 4.1 yards per rush, 19th best in the league. Under first-year head coach Jim Harbaugh, this was a team that let their defense do the talking — as well as the winning.

San Francisco went out this offseason and acquired some new weapons on offense, but none can be characterized as sure-fire difference makers: Randy Moss is 35 years old and has been out of football a year; former New York Giant Brandon Jacobs is not a lock to even make the 49ers' roster; Super Bowl hero Mario Manningham has never had a 1,000-yard season; and although new rookies A.J. Jenkins and LaMichael James are potentially electrifying players, it's never safe to rely on rookies in the NFL.
Still, I can't help but feel optimistic about the Niners — even their seemingly pedestrian offense. Despite the obvious personnel deficiencies — other than tight end Vernon Davis and running back Frank Gore, the Niners had few players capable of scaring opposing teams last season — Harbaugh and his offensive coordinator, Greg Roman, consistently did more with less than any other offensive staff in the NFL. They did it with ingenuity, whether it was adapting the "jet" or "fly sweep" to the NFL, or making maybe the best — and gutsiest — call of last season on Alex Smith's — Alex Smith's! — sweep for a touchdown late against New Orleans in last season's playoffs. And while none of the new additions on offense are sure things, they do provide something that will buttress the staff's creative options: depth.
By the end of last season, the Niners were scary thin at wide receiver, and although Frank Gore remains San Francisco's best running back, he still averaged only 4.3 yards per carry and took a heavy pounding on his way to more than 1,200 yards. The 49ers' attack will benefit this fall from increased diversity in the running game, whether from capable second-year back Kendall Hunter or one of the other new additions to the backfield. As legendary coach Homer Smith used to say, a running back who gets 100 yards on 20 carries simply plays in a better offense than one with 120 yards on 30 carries.
Like last season, though, the key for the Niners remains the play of their quarterback. Harbaugh and Roman worked wonders with Smith last season — relatively speaking, at least — by simplifying the receivers' assignments (thus ensuring that Smith and his targets were on the same page) and using Gore and Hunter to set up effective downfield passes. For the Niners to be a Super Bowl–winning team, however, Smith will have to do more than merely make few mistakes.
Fortunately, as last season went on, Smith's downfield passing improved. A good example came in San Francisco's November victory over the New York Giants, the eventual Super Bowl champions. The play was almost an homage to the great San Francisco teams of the 1980s and 1990s, but with a Harbaugh twist. Bill Walsh, San Francisco's Hall of Fame former coach, helped revolutionize football with his precise, timing-based passing attack. One of his favorite plays was called "Flanker Drive" or simply "Drive," in which Jerry Rice ran a shallow crossing route while the tight end or another receiver lined up on the same side and ran a 12-yard in-breaking route behind Rice. The quarterback's job was to first look for Rice running across the field, and if he wasn't open — often because most of the defense was chasing Jerry — the tight end should be open.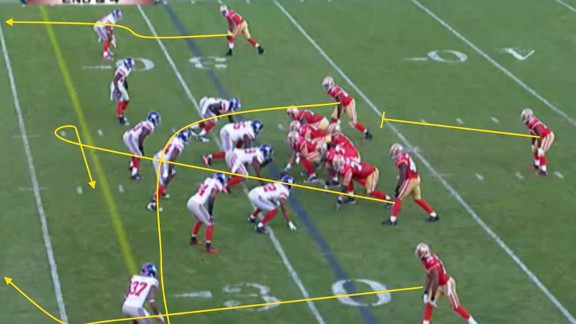 Against the Giants last fall, Harbaugh and Roman called this very play, but with a couple of wrinkles. First, the player running the shallow cross wasn't an outside receiver, but rather Davis, a tight end and the team's best threat. Second, and more interestingly, the square-in came from the opposite side of the formation. That receiver, H-back Delanie Walker, ran what effectively put him in the same position as the classic Drive concept, but did it by running a "deep snag" or "deep whip" route. This presents the same challenge to the defense as Walsh's version but with the added benefit of a pick for Davis. The net result was that the Giants lost track of Davis, and he was able to catch a short pass and sprint the rest of the way to the end zone. It's a simple tweak to a common passing concept, but it made all the difference. You can watch video of the full play here.
No one would've confused San Francisco's offense last season with the Greatest Show on Turf, but the Niners showed flashes of creativity and did enough to win a lot of football games. With another year of experience in Harbaugh's system — along with an infusion of some solid, if unspectacular, talent — the offense should only improve. Coaching is about putting your players in the best possible position to succeed, whatever their talent. In the NFL, it's sometimes easiest to blame failures on a lack of that talent, but in his brief head coaching career in college and the pros, Harbaugh has only known coaching underdogs. At each of his stops, he's quickly built winning teams from the ground up, and he seems to be doing the same thing in San Francisco. If he can still do it with a team expected to succeed, the Bay Area will be home to a very special team.
Filed Under: Alex Smith, Chris Brown, Jim Harbaugh, NFL, San Francisco 49ers