The Best Heel Turns in NHL History
Jamie Sabau/NHLI via Getty Images
Daniel Alfredsson's decision to spurn the Ottawa Senators and sign with the Detroit Red Wings was a lot of things. A reminder that anything can happen in pro sports. A shift in the balance of power of one of the league's toughest divisions. A cautionary tale of the dangers in a fan base placing too much faith in one player.
And here's one more: It was a damn near perfect pro wrestling–style heel turn.
It had all the elements. There was the subtle shift in personality that turned out to be ironic foreshadowing. Then came the sudden, devastating blindside that his adoring fans never saw coming. And he followed it up with a classic post-turn explanation, twisting the knife even further with quotes like "It pretty much came down to a selfish decision" and "I'm not worried about my legacy in Ottawa."
He hasn't even bothered to take out the now-obligatory good-bye/thank you ad in local papers. Alfredsson couldn't have turned heel any more brilliantly if he'd paused to spray-paint "DRW" on Spartacat's back.
NHL history is filled with villains who are hated across the league but loved (or at least tolerated) by the home crowd. But Alfredsson was a reminder that every now and then, we get treated to something far more entertaining — the hometown hero who dramatically turns his back on the fans.
Let's take a look back at a half-dozen of the greatest heel turns in NHL history.
6. Mike Keenan finds a loophole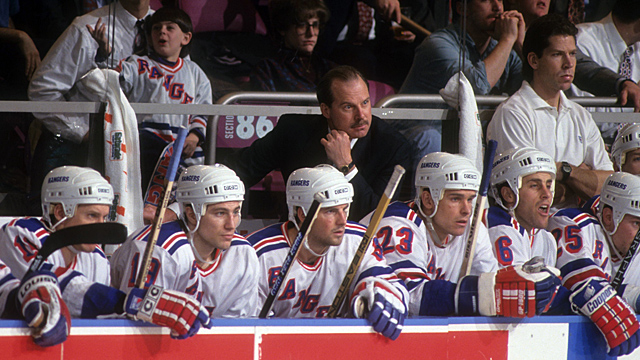 In June of 1994, Keenan was quite possibly the most popular coach in New York Rangers history. In his first season in New York, Keenan had led the team to 112 points and the franchise's first Stanley Cup win in 54 years. With an All-Star roster and a fiery personality that was a perfect fit for Broadway, Keenan seemed set for long-term success in New York.
By July of 1994, Keenan was an ex-Ranger.
In one of the most infamous debacles in league history, Keenan engineered his own exit from New York by claiming that the Rangers had missed a deadline for a bonus payment. They had (by one day, in what GM Neil Smith called a clerical error), and Keenan decided that was good enough to declare himself a free agent. Within hours, he'd signed a five-year deal with St. Louis to become coach and general manager.

The Rangers sued, filing a complaint that referred to their former coach as "a faithless employee." NHL commissioner Gary Bettman ultimately had to intervene, suspending Keenan and fining everyone involved.
Thanks to the 1995 lockout, it took almost two years for Keenan to return to Madison Square Garden as the Blues coach. New York fans welcomed him about as warmly as you'd probably expect.
5. Mats Sundin's complicated loyalty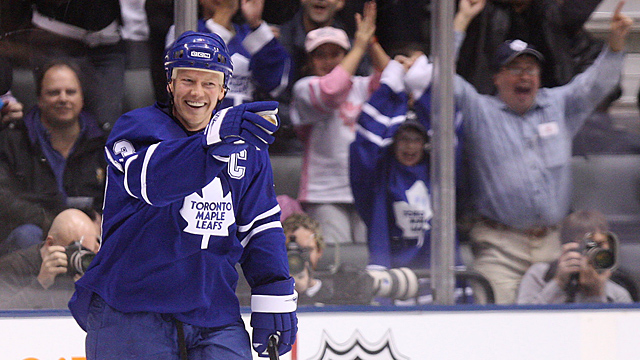 This list will be filled with deserters — those who abandoned a team and a fan base that wanted them around. Sundin somehow pulled off the opposite. He blindsided a franchise by refusing to leave.
Well, it's not quite that simple, so let's set the scene. The 2007-08 Maple Leafs were a mess. They were headed to a third straight season of missing the playoffs, a first in franchise history. The GM had just been fired. The coach was clearly going next. And fans and media alike were demanding that the team blow up its roster of high-priced veterans and finally embark on a desperately needed rebuild.
It was the right call, and there was reason to believe that trading away players like Sundin, Tomas Kaberle, Bryan McCabe, and Darcy Tucker could land the team the sort of blue-chip building blocks it would need to someday reemerge as a contender. In Toronto, that mere possibility was enough to create some long-absent optimism.
There was only one problem: Sundin & Friends all had no-trade clauses. And days before the trade deadline, the captain made his decision: He wasn't going anywhere. Predictably, the rest of the veterans quickly fell in line and also refused to waive their clauses, and the Leafs' golden opportunity was lost.
Sundin's decision was frustrating but understandable, and if the story had ended there then it wouldn't be on this list. But after announcing it, Sundin went on to offer up a bizarre explanation that included his desire to finish his career with the Maple Leafs and his adamant belief that the opportunity to chase a Stanley Cup would only be meaningful if he was on a team from October through June.
Then came the 2008 offseason, and it quickly became clear that Sundin had no interest in re-signing in Toronto after all (a lack of interest that might have been mutual). Instead, we got a prolonged Sundin free-agency watch that dragged on through the summer and into the season. Eventually, Mats "October through June" Sundin signed with the Canucks in … uh … December.
Needless to say, the whole chain of events left a bitter taste in Toronto. When Sundin returned as a Canuck (and scored the winning goal in a shootout), it was to a decidedly mixed reaction, and for years the Sundin story was one of the most divisive in Maple Leafs history. Was he a loyal leader who'd insisted on going down with the ship instead of taking the easy way out? Or a selfish backstabber who'd justified his desire to stay in his comfort zone with public relations platitudes he never had any intention of living up to?
The debate still rages, but time eventually healed most of the wounds. Sundin was welcomed with a loud ovation when the Leafs honored his number in 2012.
4. Jaromir Jagr goes back to Pennsylvania
Jagr's relationship with the city of Pittsburgh was always complicated. He spent the first 11 seasons of his career as a Penguin, establishing himself as one of the league's best players and setting several franchise records. But his contract demands (and a burgeoning reputation as a diva) paved the way for his eventual exit in a 2001 trade with Washington. When he made his emotional return to Pittsburgh as a member of the Capitals, Penguin fans gave him a standing ovation but also booed him every time he touched the puck. Like I said, it was complicated.
After almost three mostly disappointing seasons in Washington, Jagr appeared to end his NHL career as a Ranger before leaving for the KHL in 2008 at the age of 36. But after three seasons overseas, he announced his intention to return to North America. And almost immediately, it became clear that there was only one logical destination: Jagr would go back to Pittsburgh, chasing one final Stanley Cup alongside Sidney Crosby and Evgeni Malkin while making peace with the fans who were more than ready to welcome him back with open arms.
Or … not. After a bizarre few days filled with offers, counter-offers, rampant speculation, rumors of Jagr being spotted on a flight to Pittsburgh, and an airport turtle invasion (don't ask), the Penguins declared that they were dropping out of the bidding. Nobody believed them — by this point, "Jagr to Pittsburgh" had just become too irresistible.
And that's when the bomb dropped: Jagr was headed back to Pennsylvania, but not to Pittsburgh. He'd signed with the rival Philadelphia Flyers. Let's just say it didn't go over well. (In a nice bit of supplementary trolling, the Flyers poured extra salt in the wound by also signing ex-Penguin Maxime Talbot the same day.)
Jagr made his return to Pittsburgh that December and was once again booed all game long. In classic triumphant heel mode, he responded by scoring a goal and dropping his patented salute on Penguin fans.
To this day, Penguin fans still haven't forgiven him.
3. Wayne Gretzky drops the mic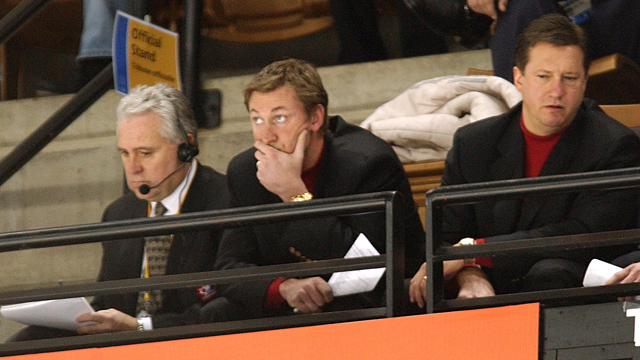 Gretzky worked hard to maintain a squeaky-clean image throughout his NHL career, and with a handful of exceptions he was successful. His dominant play on the ice combined with a quiet, uncontroversial personality off of it helped him become one of North America's most beloved athletes. By the time his playing career was over and he'd moved into coaching and management roles, it was probably fair to say that nobody in the hockey world disliked Wayne Gretzky.
That's why it was so shocking to see Gretzky break out one of the sport's most memorable rants at the 2002 Salt Lake City Winter Games. After watching his handpicked Team Canada struggle through its opening three games, Gretzky took to the lectern to deliver an epic and (he claims) unscripted "us against the world" speech.
He called out dirty play by European teams and accused referees of having a double standard against Canadian players. He even went all PG-13 on us by referring to the officiating as a "pile of crap." But he saved most of his venom for the United States, singling out U.S. fans for rooting against Canada and complaining that his team was being targeted by "American propaganda."
Gretzky had managed to go full heel on the United States while remaining a hero in Canada (a page straight out of the playbook of Canada's other most-decorated athlete). More importantly, he successfully made himself the story, relieving the crushing pressure that was being felt by the players.
One week later, Canada beat the United States to capture its first gold medal in 50 years.
2. Chris Pronger puts the "final" in "Stanley Cup final"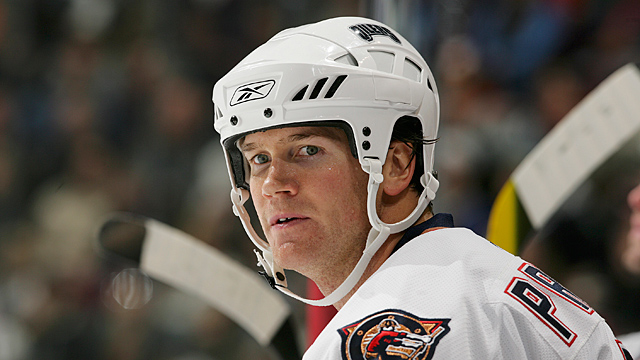 Pronger had just finished a first season in Edmonton in which he'd come within a game of leading the upstart Oilers to a shocking Stanley Cup win. In the end they'd fallen just short, but it was hard not to believe that the future was bright. After over a decade as afterthoughts, the Oilers mattered again. And they had Pronger to thank for it.
As it turned out, it was a bright future that Pronger had no intention of sticking for. Only days after that Game 7 loss, reports began to appear suggesting that the star blueliner wanted out. The rumors were true — Pronger's agent had already informed the Oilers that he wouldn't play another game in Edmonton.
A trade demand by a key player is always painful, but this was something even worse. For years, the league's economics had made it difficult for the Oilers to hold on to star players. The team almost moved to Houston, and developed a reputation as the Montreal Expos of the NHL — an occasionally talented but financially struggling team that could expect to serve as a glorified farm system for the league's richer clubs. The 2005 lockout was supposed to have reshaped the landscape, finally making it possible for smaller markets like Edmonton to be a destination for star players. The trade that sent Pronger to the Oilers just days after the lockout's end, and the $31 million contract he'd agreed to shortly after, seemed to confirm that.
Except it didn't, at least in Pronger's case.
To make matters worse, Pronger didn't offer much of an explanation for his decision, calling it a private matter. That inevitably led to a string of ugly rumors about Pronger's personal life, which he chose not to deny. But as it turns out, the explanation was apparently more straightforward: He and his wife just didn't like living in Edmonton.
The Oilers considered refusing the request and forcing Pronger to honor his contract, but eventually decided it would be better to deal him at peak value than risk an extended holdout. A few days after he made his demand, they traded him to the Ducks for a package of picks and players.
Pronger went on to win the Stanley Cup in his first year in Anaheim. The Oilers haven't made it back to the playoffs since.
1. Alexei Yashin screws the Senators/Dany Heatley screws the Senators (tie)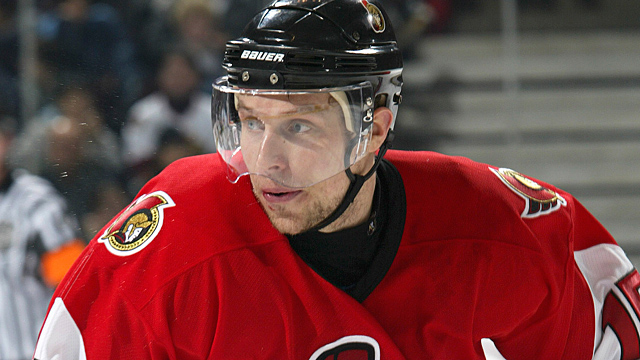 Like a painfully naïve pro wrestling hero, there's just something about the Ottawa Senators that leaves them vulnerable to getting suckered in by devastating heel turns. For many fan bases, Alfredsson's sudden departure would rank as the most enraging moment in franchise history. For the Senators, it might only end up taking home a bronze.
Let's start with Yashin, the first true superstar in franchise history. He debuted during the 1993-94 season and was a finalist for the Calder Trophy as rookie of the year. By 1998-99, he'd been named team captain and had finished as the Hart Trophy runner-up. He'd even made a highly publicized million-dollar donation to the National Arts Centre in Ottawa, the largest in the organization's history.
Then came an ugly contract dispute that saw Yashin walk out on the team. He sat out the entire 1999-00 season in an attempt to run out the clock on his contract, only to have an arbitrator deny him free agency. Forced to return for a final year in Ottawa, he played one solid regular season that was followed by a disastrous playoffs. The Senators traded him to the Islanders, where Mike Milbury signed him to a massive contract. Today, Yashin has been out of the league for six years, but his buyout is still on the Islanders' books until 2015.
And as for that million-dollar donation? Yashin backed out of it, after the NAC alleged that it included an illegal demand to pay the player's parents $85,000 a year for translation services that the center didn't even need.
And then there's Heatley. Traded to Ottawa in 2005 for a fresh start under difficult circumstances, he rewarded the Senators with back-to-back 50-goal seasons. By 2009, his production had dropped, but he'd still recorded 39 goals and 72 points in what, for him, was considered an off year.
And that's when he decided he wanted out, and informed the Senators that he wanted to be traded.
Oh, and that he had a no-trade clause that he wouldn't be waiving.
If that last part doesn't sound like it makes any sense, you can imagine how Senators GM Bryan Murray felt. Heatley wasn't just demanding a trade, he wanted to use his no-trade clause to handpick his destination. And if that meant the Senators couldn't get fair value in return for a player they'd signed to a $45 million extension only two years before, well, that was just too bad.
Negotiating with both hands tied behind his back, Murray agreed to a deal that would send Heatley to the Oilers. Nope. Heatley didn't want to go to Edmonton (no word on whether he spoke to Pronger's wife). In an added twist, that decision came just hours before the Senators were forced to cut him a $4 million bonus check.
Heatley was eventually dealt to the Sharks in a trade that everyone at the time agreed was a heist for San Jose. It didn't work out that way. Much like Yashin almost a decade earlier, Heatley was largely a bust after leaving Ottawa. In hindsight, the Senators got the best of both trades.
Just like in pro wrestling, sometimes the blindsided good guys still win in the end.
Honorable Mentions
Bobby Clarke: Hated everywhere but still mostly a hero in Philadelphia, right up until he decided to get into a war of words with a legend who was dying of cancer.
Eric Lindros: Stripped of his captaincy for daring to criticize the Flyers medical staff who had always looked after him so well.
Bobby Holik: Played for the Devils, then signed with their most-hated rivals. They'll never forgive you for that, Bobby! Wait, what?
Patrick Roy: Walked out on his team for being incompetent, which would have landed him on the main list except he was right.
Bobby Hull: Bailing on his team and the entire NHL to go play for a rival league? How enigmatic.
Paul Kariya: Led the Ducks to within one game of a championship, didn't get the $10 million he wanted, and then accepted 12 percent of that to sign with Colorado instead.
Scott Stevens: Agreed to a free-agent contract with St. Louis, which was fine as long as you ignored the minor detail that he wasn't actually a free agent yet.
Curtis Joseph: Bolted from his Ontario-based team to try to win a Stanley Cup in Detroit. Wait, that sounds oddly familiar …