The 2012 Shootaround
Jorge Guerrero/AFP/Getty Images
The year in sports, 2012, told in GIFs and riffs.
The Little Giant
Here's a video of Lionel Messi scoring 86 goals in the year of our Maradona, 2012, breaking Gerd Muller's record of 85 goals for club and country in a calendar year.
It's hard to pick just one. There was the cheeky chip against Valencia, a shooting-star free kick against Atletico Madrid, the time he froze the Bayer Leverkusen backline in carbonite like a bunch of German Han Solos, and when he invented the geometry of the future against Granada. I liked when he backed a pickup truck into a compact parking spot on the roof of Zaragoza's keeper's garage, and when he made Philippe Senderos look like Lennie from Of Mice and Men against Switzerland. I loved the free kicks against Uruguay and Real Madrid, and the snapshot against Deportivo La Coruña. Nobody's better at their chosen sport than Lionel Messi is at football, right now. Watching him score 86 goals, either during the games, or in YouTube compilations, for Barcelona or for Argentina, was one of the greatest gifts we received this year. He'll be justly rewarded for these accomplishments with trophies and silverware, but I just wanted to give him my thanks. Watching him play is one of the best things I did with my time this year.
— Chris Ryan

Hail to the Chief
I thought about writing about my St. Louis Cardinals, who made a delightful postseason run this fall after starting a near-riot in Atlanta. (Oops! Sorry, Braves!) But it turns out the rest of the nation has turned on The Best Fans in Baseball and our charming and storied club. So instead, I decided to focus on my second-favorite baseball moment this season: the time Teddy Roosevelt finally won the Presidents Race. Obviously.
Teddy had lost 525 consecutive races before he beat George Washington and Thomas Jefferson and, my personal champion, Greatest President Abe Lincoln, this year. Some lowlights include:
In early October, after Washington had secured a postseason berth, Teddy finally won — and he kept winning for the rest of the season. What a great story, right? Except that the Nats, who found inspiration in Real Teddy's "Man in the Arena" speech, eventually fell to the aforementioned charming and storied baseball club, which ended Teddy's run. Teddy has spent his offseason participating in other events, like appearing in The Nutcracker and at a halftime dance-off at a George Mason University basketball game in November. For what it's worth, the George Mason mascot was declared the winner, and everybody booed. Teddy in 2012! Teddy forever!
— Sarah Larimer
Little Chris Paul's Blake Griffin Face
This is the lost meme of 2012. Chris Paul's tiny, perceptive son's "Blake Face" should have been the new "Deal With It," or the new "Haters Gon Hate" — hell, at least it could've been the new "It's over nine thousand!" Alas, another year of NBA playoffs dashed into the history books, another adorable kid imitating the intensity of a high-flying power forward, lost to the sands of time. We are the infinite nothingness.
— Sean Fennessey
All Gold Everything
So first off, there's the obvious perfect aspect of this GIF, that being the astronomical levels of joy that are exuding from LeBron James's face. At this moment, he is the happiest man on Earth. Look at him. Keep looking at him. LeBron has completely forgotten he's on television or in another country. For five seconds, he thought he was on his home turf, at LIV, listening to his super-advanced copy of Trinidad James's "All Gold Everything."
Then there's everyone else jumping up and down, not knowing what to do. Well, except James Harden, who knows exactly what to do — dance with the 2012 Olympics mascot.
But then there's Kevin Love. Sure, he's the lone Timberwhite on the team, but it's much more than that. There's something so amazing in not only his back being turned, but in him doing the opposite of dancing, seemingly wiping his nose on his jersey, amid a sea of large men doing their best impression of a vertically excitable mosh pit.
This brings me all the happiness. Go, USA.
— Rembert Browne
Finally …
Friend Request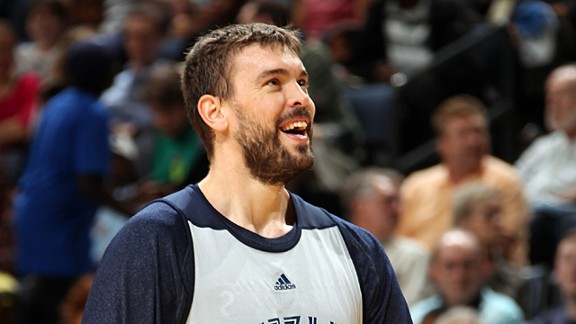 Here's something that happened over the last 12 months: Marc Gasol took the title of "Guy I'd Most Like to Have As a Teammate If I Were an NBA Player." I'm not even sure who had it before. Tim Duncan was in the conversation, and this incident only helped his standing. Kevin Garnett would be up there if he weren't so terrifying and kind of mean. Steve Nash is an easy answer, with all his pats on the back and genuine talk about the "process" of building chemistry and camaraderie. Tyson Chandler is awesome, would cover up for a lot of my mistakes on defense, and has the best post-dunk celebration in the league. Al Horford does a little bit of everything, plays unselfishly, and really cares about winning. Tony Allen is tenacious and funny, but I wouldn't want to play cards with him on the team plane. Shane Battier and I could talk about math. Dwight Howard is always 100 percent committed to every team for which he plays. Wait …
But over the last year, I've just kept coming back to Gasol. He has Nash's encouraging vibe, and I'd want that in my teammates more than I'd want Kobe's maniacal and Jordan-esque competitive rage. Gasol is just as unselfish as Nash, only he's a center, which means he'd be able to help me much more on defense. And if you watch Gasol on that end, you'll see him working as one of those bigs who wants to help and can process the movements of all nine other players on the floor at once. He's always sliding a half-step over to bump a cutter, or using a mini-lunge up toward the foul line to deny a passing lane just as a would-be shooter comes jetting off a pick out there. And he does it all without over-helping, leaving his man open, and forcing dramatic help rotations behind him.
In person, Gasol is nice, funny, and smart — much like his brother, but still in his prime. The Grizzlies are lucky to have him.
— Zach Lowe
The Hero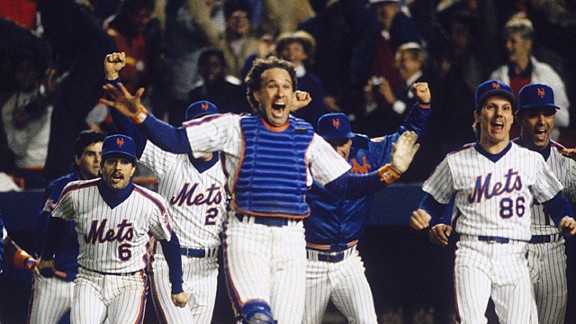 I grew up hating the New York Mets.
This seems preposterous now, of course. Hating the Mets? The financially boned, just-traded-their-incredibly-likable-staff-ace-away, forever-doomed-to-live-in-the-Yankees'-shadow Mets? Being a child of the '80s, it wasn't crazy then, even if it is now. The Mets of the '80s were big, bad beasts. Dwight Gooden was unhittable. I once saw Darryl Strawberry crush a ball so high and far that the Physics Department at McGill University had to be consulted. I hated Lenny Dykstra's gobs of chaw, Jesse Orosco's curveball, Keith Hernandez's Keith Hernandezness. My Mets-hating buddies and I even made up a song about them, with an opening line that went, "I'd rather be an Expo than a fucking New York Met …" Whenever Strawberry came to Olympic Stadium, we'd DA-RRRYYYYYYYL him for three hours straight. When we felt especially bold, we'd swipe a tin of strawberries from mom's fridge, wait till late in the game, then start chucking them at him from the right-field bleachers.
If there was even a glimmer of resentment left, it all disappeared on February 16, 2012. That was the day that Gary Carter left us, all too soon. From the moment the news first broke, I started getting torrents of messages. From family and friends and fellow Expos lovers. And New York Mets fans. Carter came up in the Expos' system, established himself as a superstar in Montreal. But he didn't win a World Series until Expos owner Charles Bronfman, disheartened by baseball's exploding salaries, shipped him to the Mets for four players who weren't as good as Gary Carter. So when The Kid passed away after a brutal battle with cancer, those Mets fans, the ones who've since waited 26 years (and counting) for another World Series, flooded my inbox and Twitter feed. We exchanged stories, wiped away a few tears, and shared precious childhood memories.
That's the thing about sports. There was no rational reason to ever hate a group of 25 strangers, much less the tens of millions of fans who supported that group of 25. A terribly one-sided rivalry brought out those feelings of resentment and envy. There was no rational reason to cry while reading a stranger's e-mail. A shared connection for a professional athlete who retired 20 years ago brought out those overwhelming emotions.
A whole lot of thrilling sports moments unfolded in 2012. The day I connected with a group of random people, over a baseball player most of us had never met, is the one that will stick with me the longest.
— Jonah Keri
Yeah, Mario, Spain Are Pretty Good
On a Loop

I think what really stood out to me in sports in 2012 was how the animated GIF became a ubiquitous part of being a sports fan on the Internet. There are a lot of aspects of offline fandom that have made their way onto the Internet in one form or another, but there was nothing that re-created that experience of being so overwhelmingly amused with something that it was worth rewinding and rewatching over and over again (itself really an experience only as old with live TV as the DVR). The animated GIF takes highlight culture and strips out virtually everything — no sound, no context, no lead-in — but the visual punchline. Which, as it turns out, is plenty altogether.
— Bill Barnwell
The Last Good Time

This was the last good moment of the Celtics' 2012 season and, therefore, automatically the most good moment of the Celtics' 2012 season. This was when the C's had Game 5 in the bag and, therefore, had the series in the bag and, therefore, were going to the finals to win one more title — LeBron would sulk and cry and KG would shriek until his heart exploded, just like fate decreed. For a series of contrivances too mundane to explain, I was watching the shot on the wrong side of a grated partition in front of a snack bar in Toronto Pearson International Airport. The quiet Indian family behind me seemed epically bored, both by the game and by my celebration frolics, and right after, I had to take a shuttle to a Travelodge, where everyone was really mean. Didn't matter in the slightest. Also: "I'm coldblooded"? Once again, Paul Pierce proved he's a very hip person, but a very hip person from Cleveland, from 1973.
— Amos Barshad
Golden Girls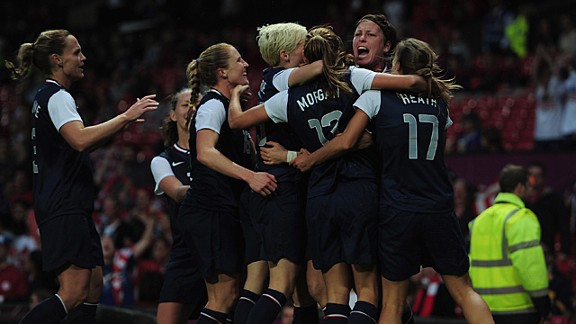 As an MLS writer, I really ought to be loyal and name a moment such as Chris Wondolowski equaling Roy Lassiter's single season goals record en route to the MVP award, or being in the stadiums for Henry's Olimpico or Fredy Montero's arrow from 5 miles out. Also, having now been a citizen for a year, I should ensure my assimilation credentials are in order and pay homage to the first USMNT victory in Mexico after 75 years of trying (the animated GIF frames of which are dutifully being inked on my bicep as we speak, just to the right of the "Clint Face" I can move around amusingly with a strained heave of my pectoral). And if I have any residual loyalty to the city where I spent 14 years of my life, then the sight of Sergio Aguero finding the cure for City-itis, as the Premiership title crossed Manchester in the course of a few crazy stoppage time moments, was something pretty extraordinary.
But I think I'd have to say the highlight of the year for me was watching the USA vs. Canada Olympic semifinal, as the U.S. women headed for gold. I say "watch" it — I was live-blogging the game for The Guardian, which inevitably meant a lot of my experience was mediated by audio cues, while I pecked haplessly at the keyboard (… wait, who scored? Where's the semicolon key?) So while Canadians and Americans were at each other's throats on Twitter after the game, complaining about stamping incidents and insanely pedantic refereeing decisions, I was trying to scrub the memory of Brandi Chastain and Arlo White duetting on ecstatic gurgles as another goal went in. Seven times.
This game had everything (even an Henry-worthy Olimpico from Megan Rapinoe), and it was brutal on Canada's Christine Sinclair that she should end up on the losing side at the end of it. Her hat trick looked to have done enough for her team, until the most bizarre sequence I've seen in a major tournament semifinal (and I'm including the whole of Argentina's in-no-way-rigged 6-0 defeat of Peru in the 1978 round robin — the one that took my childhood innocence). The indirect free kick — awarded for a foul that's never given — that led to the penalty, that led to the third equalizer, that ultimately led to the platform for Alex Morgan to out-Wambach Abby Wambach with a 123rd minute winner, gave referee Christina Pedersen a position of unfortunate prominence in a game that didn't need more stars than the 22 players on the field. Regardless — this game was easily my moment of the year.
— Graham Parker
We'll Always Have Linsanity
Sid the Kid
It's only fitting, in a year that's been half-empty of NHL hockey thanks to a rancorous labor dispute, to sing the praises of what-hockey-we-did-have's most dickishly juvenile moment: Sidney Crosby's poke check of Jakub Voracek's glove. That one little stick tap juuuust as Voracek bent down to retrieve his shed item was your buddy pretending to help you out of the pool and then letting go; it was you stepping on the gas, just a bit, as he reaches for your door handle later on; it was a cranky little boy yanking a kid sister's pigtail in the back seat while mom's eyes are on the road; it was A-Rod slapping the ball out of Bronson Arroyo's glove. "It was," in Crosby's own simple and smirking summary after the game, "near me and he went to pick it up and I pushed it." It was a cartoon catfight between all of these things, basically, and it was incredible.
It happened in Game 3, in the first round of the playoffs, in a series that had been perhaps the most eagerly anticipated one of all: the Philadelphia Flyers, led by silly Scott Hartnell and saucy Claude Giroux, versus the Pittsburgh Penguins, who featured the league's most famous player (Crosby) and the season's most valuable in Evgeni Malkin. Besides already having an intrastate, intradivisional rivalry, the two teams had already met twice in the regular season's final week. Familiarity bred contempt. And by Game 3, Crosby and Giroux were all chirps and chippiness — like two campers with cabin fever, or two students stuck sitting through those sticky and antsy last few weeks of school. They wrangled both before and after Crosby's maneuver. Of course, that all meant that Giroux had the clear upper hand. (When the teacher's pet gets into it with the charismatic class clown, only one of them really winds up hot-faced when dragged into the principal's office.) The Flyers would ultimately win in six games — although, to be fair, in the next round, Giroux finally got suspended, and his team fell to the more saintly Devils in five.
Plenty of pages were spent calculating the classiness quotient of Crosby's trick stick work (which was less puck-on-a-string and more this) but most probably missed the bigger equation. Which is that so much of the dirty beauty of sports lies in the small and illicit glimpses we're given into the raw human psyche of its participants: the thrill of victory and the agony of defeat, yes, but also the sneer of competitiveness and the flush of umbrage and the total fucking frustration of being down two-games-to-love to a team that you hate.
Crosby losing his composure, and doing so in such a precise and hilarious way, was as revealing as his usual goals and assists and faceoff wins have ever been. When he was asked after the game why he didn't like the Flyers, his answer had a childlike bluntness to match his small on-ice act of neener-neener: "I don't like them, because I don't like any guy on their team, so." It was totally immature, sure, but that made it relatable. Haven't we all done something just as impulsively petty? October 18 was supposed to be the day that the Flyers and Penguins had their first heated rematch, but that date has come and long-gone with no hockey. All the NHL's outbursts since June have instead taken place behind the closed doors of law firm boardrooms and hotel ballrooms. And that's no fun for anyone, whether you despise Crosby or not.
— Katie Baker
The College Football Season, in Six Acts
I.
This is the most dramatic throw of the year: It's Johnny Manziel, scrambling, bobbling, recovering, rolling to his left, prolonging the lifespan of a play that should have died several times, and throwing to a receiver who might as well have been roasting marshmallows in a lawn chair in the back of the end zone. This is the play that justifies Johnny Football's Heisman Trophy, and just maybe justifies the legitimate threat potential of hurry-up spread offenses like Texas A&M's. This is the play that landed Handsome Kliff Kingsbury his first coaching job at age 33, and this is the play that served notice that Alabama was not (and is not) unbeatable.
II.
This is the most compelling catch of the year: It's Stanford tight end Zach Ertz hauling in a fade pass in the corner of the end zone that would lead to overtime and eventually destroy Oregon's season. This is the play that would lead some people to call into question Oregon's entire offensive system; this is the play that may drive Chip Kelly into the National Football League without ever winning a national championship at the college level.
III.
This is the most effective screen pass of the year: It's T.J. Yeldon, the latest production model on the Alabama running-back assembly line, outrunning several LSU defenders and breaking the ankles of another on his way to the end zone. This is the play that would (in retrospect) preserve Alabama's case for the BCS Championship game; this is the play that assured (in retrospect) that the remainder of the nation would have the opportunity, on January 8, to once again kneel before the Zod of the SEC.
IV.
This is the greatest unimportant play of the year: It's Nebraska quarterback Taylor Martinez during the Big Ten championship game, a contest that the Huskers lost by 39 points to a five-loss Wisconsin team. It's one of those geometrically impossible prolonged scrambles and dodges that could almost certainly never happen in the NFL. It's a play that explains why college football is so indescribably beautiful, and it's yet another example of how the modern iteration of the Big Ten is only capable of producing greatness at meaningless junctures.
V.
This is the most controversial play of the year. It's the Notre Dame defense, stonewalling Stanford's Stepfan Taylor (or not) at the goal line during overtime, and (it turns out) saving what would become an undefeated season. It's very possible that Taylor scored here; if Notre Dame wins the national championship, this is the play people will point to as assurance that the Irish do not deserve it; this is also the play people will point to as the prime example of the "heart" of this Notre Dame defense. This is the play that will keep the argument alive for the remainder of our lives.
VI.
This is the most absurd play of the year, even though it never officially happened: It's Kent State's Andre Parker running a punt 58 yards the wrong way, and then being tackled by Towson defenders, who were also directionally challenged. It was called back, but this might still be my favorite play of the year, because college football is ridiculous and imperfect, and I hope it never changes.
— Michael Weinreb
The Witness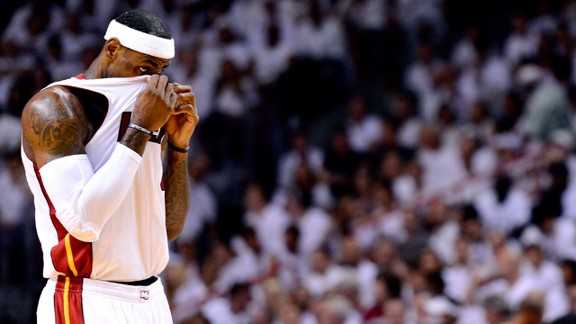 It was about a half hour after the Miami Heat became champions, and the thought of turning off the TV and calling it a night just didn't sit. So I went out to my car and called a friend to whom legacies are everything. A few miles and a few minutes later, I hung up and found a stool next to a coworker who felt equally compelled to continue his night, at a bar in the Miracle Mile section of Los Angeles.
Highlights played on TVs to a soundtrack of bar staples, and for a while, we talked about that night feeling like the start of something. From Game 4 of the Pacers series, to the 45-point night in Boston, to his unforgettable Finals, LeBron James had spent the past few weeks being everything we had waited for. His performance against the Thunder was an elevation to the sport's Platonic ideal — a position-less marvel whose skills were so varied that he defied definition. He had become that Magic Johnson-Karl Malone hybrid that we'd talked about but never seen. That night was the culmination of what had changed — if not for everyone, then certainly for me.
When James announced his intention to play in Miami, I don't know anyone who turned on him quicker than I did. I called him a coward. I invoked the spirit of those who'd come before him. I said that now, no matter what, he'd given up his chance at belonging in The Conversation. I drove six hours to Cleveland for his first game back, and I chanted and cheered and cursed with the rest of the crowd. When the season ended with James's collapse and Dirk Nowitzki's triumph, I felt like all my feelings had been vindicated.
It was during this year's Indiana series that the motivation for my contempt started to become clear. Like many, my basketball education came from Michael Jordan, but my affections weren't a product of scattered playoff telecasts. They were born of back-to-backs in Vancouver on SportsChannel some Wednesday night in November. Michael Jordan was how I grew up, and the thought that anyone deserved mention alongside him was unthinkable. My animosity toward James was more a product of fear than anything else, and when he faltered, I wanted it to be more meaningful than it actually was.
Starting with that 40-18-9, not-today, not-just-yet Game 4 against the Pacers, and over the next 14 games, those feelings all began to fade. As he slowly ticked items off our collective "But he can't …" list, there didn't seem to be any other reaction. He played point guard, he played power forward, he dominated in the post. It was basketball like I'd never seen basketball, and as someone continually hypnotized by greatness, I had no choice but to stand in awe. LeBron's path to what he should be was his path back to us, and now, he's here for good.
— Robert Mays
Filed Under: Alabama, Amos Barshad, Barcelona, Bill Barnwell, Graham Parker, Jeremy Lin, Jonah Keri, Katie Baker, Kevin Durant, LeBron James, Lionel Messi, Memphis Grizzlies, Michael Weinreb, New York Knicks, New York Mets, Pittsburgh Penguins, Russell Westbrook, Zach Lowe