Six Takeaways From Last Night's NLDS Doubleheader
Scott Cunningham/Getty Images
The NLDS began Thursday night amid anticipation and excitement for two seemingly evenly matched series. Instead, we got two blowouts. Michael Baumann and Shane Ryan break down the Cardinals' 9-1 win over the Pirates and the Dodgers' 6-1 victory over the Braves.
A.J. Burnett, We Need to Talk About That Third Inning
Baumann: For all the headlines about Burnett "not being clutch" and "not living up to his potential" — and whatever else the New York media say about the players who turn them into a cross between a pack of wolverines and a gaggle of the most annoying parents at a school board meeting — the veteran righty has been pretty good in his two years since leaving the Yankees and joining the Pirates. He's been a durable, league-average starter at worst, and arguably even better based on his DiPS numbers.
But in the third inning on Thursday night, he was abysmal. The last time the Pirates got torched that badly, Stephen Decatur and his men scuttled the USS Philadelphia in Tripoli Harbor. Through two innings, Burnett had allowed three baserunners and hadn't struck out any Cardinals, but he was getting ground balls. Then the third inning came, and Burnett walked the pitcher.
You can't walk the pitcher. Not when the next two batters are Matt Carpenter (who posted a .318/.392/.481 line and 55 doubles in a breakout season that gave the impression he'd be totally OK sliding into Chase Utley's spot in the public imagination for the next five to seven years) and Carlos Beltran (.296/.339/.491, winding down a Hall of Fame career festooned with memorable postseason accomplishments). And sure enough, Carpenter singled, while Beltran, after taking three pitches, belted the ball to Bermuda. Burnett's third-inning line? Eight batters faced, three walks, four hits, one HBP, seven runs allowed, zero outs recorded, and everyone sneaking away to grab some dinner before the Dodgers and Braves started playing.
Oh, Barves
Ryan: Yikes, Atlanta. Where to begin?
The second inning seems like a fine place. Here are the blunders that allowed the Dodgers to open up a 2-0 lead:
• After reaching on a hit, Yasiel Puig managed to go from first to third on a single to center by Juan Uribe. This allowed him to score on a one-out sacrifice fly by Skip Schumaker.
• On that same sacrifice fly, Jason Heyward decided to throw home despite having absolutely no chance of gunning down Puig. The useless, selfish gesture gave Uribe a free pass to second base.
• Despite having first base open because of Heyward's mistake, Fredi Gonzalez opted not to walk A.J. Ellis and bring Clayton Kershaw to the plate with two outs. And, OK, Kershaw is a good hitter by a pitcher's standards, but he still has a .182/.241/.260 line on the season. Ellis is quite comfortably better.
• Ellis hit a double to left, scoring Uribe. (Here, Evan Gattis waddled to the ball and made an ill-advised dive, which failed and allowed Ellis to take second. It didn't end up making a difference, but, hey, another Braves goof!) Kershaw ground out to first to end the inning.
That is some grade-A mental misery right there. Without making an error, the Braves still managed to make four critical mistakes to give the Dodgers an early lead. So, just for fun, and ignoring that whole fallacy-of-the-predetermined-outcome business, let's pretend the Braves did everything right in the same exact scenario.
First, Heyward makes a strong play on Uribe's single and holds Puig at second. Schumaker then hits a fly ball to center for the second out, and we'll even say that the speedy Puig takes third on the tag. That brings up Ellis, whom a brilliant Fredi Gonzalez, after studying the numbers, walks to load the bases, thus preventing any kind of Evan Gattis awkward dive scenario. That brings up Kershaw and his .181 average, and he grounds out weakly to first. The result of all that intelligence and focus? Zero runs. Still a tie ballgame!
From there, the situation did not improve. A "hit" that looked a lot like an error on Elliot Johnson in the third gave the Dodgers an extra out, which they used to good effect when Adrian Gonzalez jacked a home run to dead center. That made it 4-0. The Dodgers made it 5-1 the next inning, when Justin Upton made a Gattis-like dive at an A.J. Ellis liner to right (Ellis, for the record, is loving that Atlanta defense), turning a single into a double, and setting the table for another Dodgers run.
What else? Oh yeah, Gattis got doubled up in the bottom of the second, and Luis Ayala turned down an easy out at third on an awful bunt (both practically and strategically) by Uribe.
In conclusion, I can only say: Go Barves.
Adam Wainwright, the One You Love
Baumann: To a certain extent, the Pirates shouldn't be concerned with the Game 1 loss, because it's not like teams should expect to beat Wainwright in St. Louis or anything.
Somehow, it seems like Wainwright is still underrated. That might be because he was in the bullpen for the Cardinals' 2006 World Series victory and missed 2011 altogether after elbow surgery. Or it might be because he was overshadowed by another big St. Louis right-hander, longtime teammate Chris Carpenter. But the 32-year-old Georgian performed as expected Thursday, pounding the strike zone with one of the best curveballs in the game, almost lackadaisically inducing strikeouts and ground balls for seven innings.
Wainwright's postseason résumé continues to impress: nine scoreless relief appearances en route to a title in 2006 and five starts in the ensuing years in which he allowed more than one run only once (in a game that turned out to be a 9-7 Cardinals win anyway). In 39⅔ career postseason innings, Wainwright has struck out 51 batters against only six walks. St. Louis being able to pitch Wainwright twice in five games takes a lot of pressure off the rest of the Cardinals' rotation, which has a lot of potential but also a lot of question marks.
Clayton Kershaw Contains Multitudes
Ryan: Over the course of the broadcast, TBS showed two memorable shots of the soon-to-be Cy Young winner. The first was tape from before the game, when he sat by himself in the Atlanta outfield looking like Buddha and trying to reach nirvana before taking the mound. The second was in the dugout between innings, where the solitary Kershaw, arm wrapped, isolated from teammates, gazed in a mystic trance at the concrete dugout floor.
We can never reach the bottom of this 25-year-old Texan. All we know for sure is that he came out guns blazing to match Kris Medlen's hot first inning, survived innings two through four in a ravenous environment despite losing command of his offspeed pitches and overthrowing his fastball, and then emerged from his own near-wreckage as über-Kershaw for innings five through seven, striking out eight of 10 batters.
Hey, the Pirates Had One Good Moment
Baumann: There's a lot to say about the Cardinals' legion of hard-throwing youngsters in the bullpen, but I'm feeling bad for Pittsburgh, so let's throw the Pirates a bone.
Wainwright left the first pitch of the fifth inning up and over the plate, and Pedro Alvarez bounced it off the facing on the second deck. This could be a sign of things to come. Alvarez hit 36 home runs this year, but the Vanderbilt product has simply horrifying platoon splits: .532 slugging against righties this season, .286 slugging against lefties. Considering that all of the Cardinals' starters, as well as key relievers Trevor Rosenthal and Carlos Martinez, are right-handed, it's worth watching how St. Louis manager Mike Matheny plays the matchups with Pittsburgh's third baseman.
Brian Wilson Is Spoiling the Dodgers for Me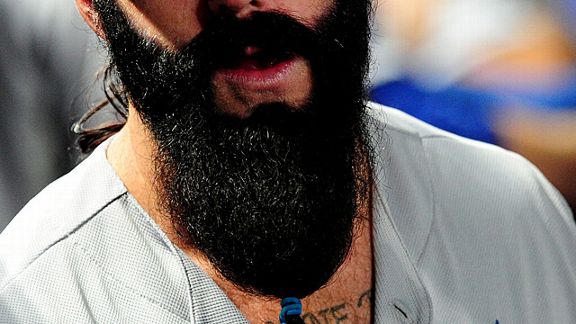 Ryan: Fun team, annoying guy, gimmicky beard, frustrating combo. The best outcome here would be for Yasiel Puig to attack him on the team bus, giving Don Mattingly an excuse to suspend the reliever. Then we could all join the Dodgers bandwagon in harmony, without the psychic drag of watching an angry opportunist force-feed you his nauseating brand.
Filed Under: Atlanta Braves, Los Angeles Dodgers, MLB, MLB Playoffs, Pittsburgh Pirates, Shane Ryan, St. Louis Cardinals