Six Degrees of the Doc Rivers Trade
Jim McIsaac/Getty Images
There are two fairly recent precedents for what happened with the Clippers and Celtics and Doc Rivers over the past 10 days. The first began on June 5, 1995, when Pat Riley, while still under contract with the Knicks, sent a secret 14-point memo to the Miami Heat outlining his contract demands, which included a 20 percent ownership stake, plus "$300 per diem expenses, credit cards, limousine service to and from games and a $15 million salary over five years."
Apparently that worked for Micky Arison and the Heat, because 10 days later Riley faxed a letter of resignation to the Knicks. Three months later, after the Knicks accused Miami of tampering and all this evidence — of, uh, blatant tampering — became public, the Heat agreed to send $4 million and a first-round pick to the Knicks as compensation. That's trade no. 1, and there are two lessons to be learned.
1. Never, ever trust Pat Riley.
2. In 1995, it was good to be negotiating contracts as Pat Riley.

The second trade happened after the Orlando Magic hired Billy Donovan in 2007, only to see Donovan back out of the deal at the last minute. That left Orlando scrambling, leading the team to attempt to land Stan Van Gundy, who'd been replaced out of the blue the previous season by then Heat president Pat Riley. (Again: Never trust Pat Riley.)
Van Gundy wanted the job, but Riley wasn't willing to let him go. The solution? The Magic eventually agreed to send the 39th pick in the 2007 draft to Miami, and gave the Heat the right to swap first-round picks in 2008, making Van Gundy the most recent coach to get "traded" in the NBA.
Which brings us to Doc Rivers. The past 10 days or so have seen rumors involving a handful of Hall of Famers, one of the most successful franchises of all time, the most incompetent franchise of all time, the best point guard in the NBA, and David Stern, who threatened to ruin the whole thing late last week. It ended Sunday, when the Celtics agreed to send Doc to L.A. in exchange for a single first-round pick in 2015. No KG trade, no Eric Bledsoe in Boston, no three-way mega-trade for Danny Ainge. After the hurricane of rumors and Woj tweets, it was ultimately a little bit of a letdown.
But it's still pretty huge, right? There were a lot of moving pieces, and this trade changes things dramatically for just about everyone.
With that in mind, let's take a look at who's involved here, and what Sunday means.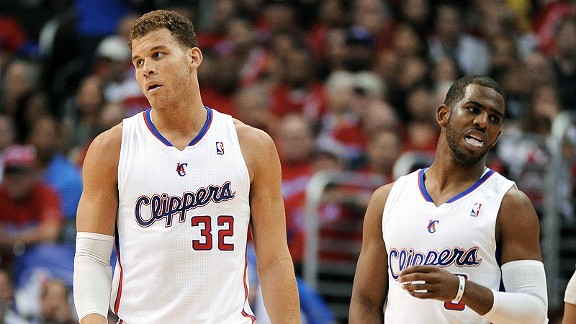 The Clippers
On the surface, it's time to take them seriously. At the same time, Donald Sterling is still in charge, and as long as he's involved, it just seems like some combination of mismanagement and karma will always haunt the Clippers.
Even over the past week, this is the team that (a) was trying to execute a trade blatantly in defiance of league rules, (b) let the trade negotiations go public, preventing them from ever pretending that the KG negotiations were separate, (c) needed Stern's intervention to keep themselves from getting absolutely fleeced, and (d) had to trade a first-round pick for the highest-paid coach in the NBA just to prove to its superstar that the franchise isn't hopeless.
The Clippers aren't totally a punch line anymore, but they will always be hilarious.
But Rivers is a step in the right direction. Suddenly, there will be a coach to call actual plays in the fourth quarter, a coach to sort out lingering issues between CP3 and Blake Griffin, and a coach with a defined rotation when this team hits the playoffs. It's not to say Rivers cures everything, but it's kind of amazing to watch how much a team can improve when it goes from a D-plus coach to a B-plus. Rivers doesn't even have to be a mastermind to be a massive upgrade. That's why giving up a first-round pick and overpaying for Rivers's gigantic three-year, $21 million contract always made sense for the Clippers. If you're not going to luck into a third superstar, flipping Vinny Del Negro for a real coach is the best alternative.
The biggest question now is how they tweak the roster from here. With or without Rivers, they still need more depth on the front line, and Bledsoe remains one of the best trade chips in the NBA. If the Clippers are smart, they'll sell high on Bledsoe sometime this summer. And then there's DeAndre Jordan.
"Who do I trust? Me!" - Tony Montana

— DeAndre Jordan (@deandrejordan) June 23, 2013
I think even DeAndre Jordan thinks DeAndre Jordan is still getting traded.
As for the other Clips big man …
Blake Griffin
Having Del Negro around the past few years was perfect for Griffin. No matter how underwhelming he was, the Clippers' no. 1 problem was always Vinny. Now, that alibi is gone, and it's time to look at Griffin. Two years ago, we were ready for him to become one of the six or seven best players in the NBA. Like a Karl Malone from the future. But so far, though he hasn't exactly regressed, he's just never taken that step forward. Will Rivers make a difference and help him turn into the monster we always wanted? Or will Rivers make the Clippers just good enough for us all to notice that Griffin's the most overrated superstar in the NBA?
Kevin Garnett and Paul Pierce
What happens from here? If Rivers is gone, it makes no sense for either one to stick around in Boston, where the goals have changed for good now. Whether that means Pierce is traded or bought out, we'll see, but he is still good enough to help a contender for 20 to 25 minutes per game, especially in the playoffs. Meanwhile, Garnett still has a no-trade clause to veto trades to most teams, still has a home in Malibu, and still loves Rivers. I know Stern is serious about stopping any KG-to-the-Clips deal in the next few weeks, but still. KG with the Clips makes too much sense, and KG anywhere else is too hard to imagine. We'll see.
(Full disclosure: As someone who's moving to L.A. in two weeks, I'm not giving up hope of seeing West Coast Ubuntu materialize around Chris Paul and Griffin next year. Fingers crossed. We can do this. As Stephon Marbury once said, "People gonna think we crazy for talking like that, but if you believe it, you can achieve it.") (WORD.)
Rajon Rondo
Things you can't pin on Rondo: The roster around him got older, and the immediate goals for the Celtics changed. It was out of his hands. Some have noted that Ray Allen left last year after clashing with Rondo all year, and now Rivers prepared to coach elsewhere or walk away, and likewise for Pierce and Garnett, all with the implication that they didn't want to stick around and rebuild with Rondo. But that's all pretty unfair. Rivers didn't want to rebuild with anyone, KG and Pierce are too old to be going through that process, and Allen was more upset with Celtics management than he ever was with Rondo. If this is the end of ubuntu, Rajon Rondo isn't why it happened.
At the same time, Rondo is one of the most hypercompetitve players in the league, he's underpaid, and his team just said they didn't want to pay a coach $7 million per year for the next three years, because they won't be contending for a title during that span. So where does that leave Rondo? If the Celtics are serious about rebuilding, doesn't he become one of the best trade assets in the NBA?
This is where it gets complicated. We all love the insane stories about Rajon Rondo beating the crap out of kids playing Connect Four, but working with someone like that on a daily basis may not be a whole lot of fun. Especially on a team that's probably winning between 30-40 games this year. You can't blame Rondo for everyone else bailing, but there's still a chance he's someone who doesn't make much sense for the Celtics immediate future.
Either way, really: If Pierce and KG aren't in Boston next year, Rondo becomes one of the most fascinating stars in the league. In Boston, or (maybe, eventually) somewhere else.
Chris Paul
This whole saga centered on two people (Rivers and Paul) who've been unreasonably bulletproof the past few years. If any other coach tried to engineer something like this, we'd look at him like an absolute snake. For reference, ask Knick fans how they feel about Riley.
Likewise, Paul helped push Del Negro out, denied playing a role in it, went through back channels to voice his displeasure when he got blamed, and then used his free-agent leverage to pressure the Clips into making moves to bring him back. So why aren't people upset with Paul?
Two reasons. First, because Paul is just a cuddly little point guard genius, and we all love him no matter how dirty he is on the court, or whatever power plays he makes elsewhere. It's not totally rational. Second, and more importantly, because Paul was right. Right not to vouch for Del Negro, right not to trust Sterling and the Clippers, and right to use his leverage to force them all to hire someone competent. And it worked.
The Clippers nearly wound up with Byron Scott to satisfy CP3, and that would've ended in disaster for everyone involved. But Rivers was the best available option, he's better than at least 25 other coaches in the league, and for the first time in his career, we get to see what Paul looks like playing for a good coach. I'm happy for him. The power play worked, and him and Doc in L.A. is roughly 10,000,000 times better than him and Dwight in Atlanta.
Finally …
The Celtics
So … should Boston fans be upset with Rivers?
On the one hand: The Celtics put more faith in Rivers than he probably deserved, they stuck with him during that catastrophic year in 2007, and Boston management gave him a gigantic contract two years ago, expecting he'd be the face of the team during the Celtics' rebuilding process. And then, as soon as this season ended, he just decided he didn't want to be there anymore. If Celtics fans are upset, it's fair.
On the other hand: The Celtics may have taken a risk on Rivers, but he paid off HUGE over the past five years or so. Not just with the title, but that's obviously no. 1 on the list. Beyond 2008, though, Doc took a team that probably should've faded away after about Year 2 and kept them competitive until this past season. He coined Ubuntu, he had weird motivational tactics, and unlike his counterpart with the Patriots, everyone loved Rivers, always. In the immediate aftermath of the marathon bombings, when millions of us were speechless, it was Rivers who struck the perfect chord.
I'm not from Boston, but I lived there when he took over. When the Celtics traded for KG and Allen, a Masshole friend of mine immediately bet $100 that they'd win 73 games that season. (Reminder: Boston is full of the most rational sports fans on earth.)
But none of it was ever a sure thing. Even late in the 2008 season, nobody was sure if that Celtics nucleus would come through in the playoffs. Then they did, and it was awesome.
We got that second-half comeback in Game 4 of the Finals, more psychopath KG interviews than we could possibly handle, Bill Russell and other Celtics legends paying their respects to Ubuntu, Pierce winning a title in Boston, Eddie House winning a title in Boston, and it was all great. From there, the Celtics became a team that would never die. They had some bad injury luck in 2009, shocked everyone with a Finals run in 2010, and in the past few years every season has ended with some sort of playoff death battle that went further than anyone expected.
It all lasted longer than it ever should have. In five years, the Celtics went from a team we all had questions about in the 2008 playoffs to the team you knew was going to show up and fight to the bitter end.
I'm not saying Rivers gets all the credit for that, but as coaches go, you won't find many hires that panned out better. He may get a free pass from the media, but he also seems like a genuinely great dude and a coach who's overachieved almost as a rule. He doesn't owe the Celtics anything.
And it was time to go. Him coaching in L.A. may be hard for some people to stomach, but not any harder than watching that dying Celtics team in this year's playoffs. In the end, Rivers didn't want to be there, and Boston realized that it didn't make sense for them to keep him. So he and Ainge got together, hatched a plan to make it work for both sides, and Boston got a first-round pick for a coach it didn't want anyway. Even on the way out, the Doc Rivers Story played out better than anyone could've hoped.
It goes back to where we started. In the '90s, the Knicks discovered grumpy Jeff Van Gundy when evil Pat Riley left, and it turned into a blessing in disguise for New York, while the Heat ultimately won a title with Riley. Then, after they traded Riley's apprentice Stan Van Gundy in 2007, the Heat transitioned power to Erik Spoelstra instead. That seems to have worked out OK. Meanwhile, the Magic overachieved almost every season under Stan Van the Angry Hedgehog. Each trade wound up working for everyone involved.
And it seems like that's what happened here. Having Rivers around probably would've made it tougher for the Celtics to ever really rebuild, as he and Rondo would've been just good enough to keep Boston in no-man's-land. Just the same, nobody wanted to watch the Clippers hire Scott, convince CP3 to come back, and then waste the next three years of his prime with inevitable second-round exits. It would've been awful.
Instead, the Celtics can rebuild for real this time with a coach who wants to be there, figure out what to do with KG-Pierce and maybe Rondo, and eventually become a fun team full of young guys. I swear, it'll be so much better than slogging it out with Rivers and Rondo in the middle of the East the next few years. Meanwhile, the Clippers kept almost all of their assets, still have some moves to make for the rest of the summer, and they have the most competent coach they've seen since Larry Brown 20 years ago.
For both teams, it feels like the future makes a lot more sense after Sunday.
(Now we just need to circumvent Stern and get KG to L.A. to start Ubuntu West for real.)
(LET'S DO IT.)
Filed Under: Blake Griffin, Boston Celtics, Chris Paul, Kevin Garnett, Los Angeles Clippers, Paul Pierce, Rajon Rondo