Premier League Pass & Move: Wonder Boys
Ian MacNicol/AFP/Getty Images
A review of the weekend's Premier League action.
Young Guns
Chris Ryan: We're going to look back on this time, people. We're going to look back and remember, "That was the time dozens of British football pundits and announcers bravely tried to pronounce Adnan Januzaj's name while screaming. They were the best of us."
Have some of that. Youth is a commodity in soccer. Young kids have their professional rights snapped up, sometimes before they hit puberty. They are loaned, sold, promoted, benched, and buried. Because there are so many professional soccer clubs around the world, most competent players can find work somewhere, but most of the guys you see were, at one point, a bright young thing. For every Jack Wilshere, there's a Henri Lansbury or a Jay Emmanuel-Thomas. For every Cesc Fabregas or Pedro, there are dozens of La Masia alumni just slogging away somewhere in La Liga or below.
All that being said, there is nothing in the game like seeing a young player burst into life right before your eyes. We got to see that twice this weekend, which makes it a pretty damn special weekend, no matter which team won or lost.
Januzaj looks like Bojan Krkic and plays like a lot of people thought Krkic would play. The Manchester United forward was born in Brussels to Kosovar Albanian parents. He made his first Premier League start on Saturday, and it's hard to remember a more exciting debut.
I mean, that Everton-era Rooney goal against Arsenal was a legend-maker. But it's hard to recall a kid making his first start, scoring twice, becoming the hottest property in international football (upward of five national teams want him), and immediately being viewed as the savior of Manchester United's rocky first season under David Moyes. No pressure, kid. Of course with all this success comes the inevitable contract issues. Januzaj has one year left on his deal, but you have to assume United will not allow what happened to Paul Pogba happen again.
The other great emergence came from a player who many thought we'd never see on a Premier League field again. Even though he's only 20 years old, Ravel Morrison has lived enough life for most old men. While his skill, on display here in the 2011 FA Youth Cup quarterfinal, tantalized …
… his off-field behavior seemed sure to doom his playing career. There were stories of lateness, and training ground altercations, and the much more serious matter of being charged with witness intimidation.
Even when his problems weren't criminal, they were bizarre. Last August he had to have seven teeth removed in emergency surgery. Remember to floss, people.
Anyway, Morrison seems to have gotten it together under the tutelage of Sam Allardyce and the older players on West Ham. "The Kevin Nolans and Mark Nobles probably [keep Morrison grounded] better than me," said Allardyce, after West Ham's stunning win over Tottenham on Sunday. "He's in the dressing room day to day with them and they're guiding him along and talking to him, and saying, 'You've only just started.' There's a lot of praise going to come his way, and deservedly, particularly after that goal."
That goal:
Watching Morrison completely embarrass two international-level defenders like that was stunning. There was really only one word for it. Allardyce said it after the game: "That's a genius goal for me. You'll struggle to see a better goal than that this season." It's great that Morrison even had the chance to score it.
An Actual Set Play
Mike L. Goodman: I have a particular soft spot for clever free kicks. You can keep your Leighton Baines physics-breaking; give me an interchange to free Aguero in the box …
… or a clever little chip any day.
It's a constant surprise to me that teams don't more frequently try the type of kick routines that Manchester City and West Ham executed this weekend. Instead, all too often you get three guys arguing over the ball until one of them steps up and launches it into Row Z. But wait, I hear you cry, neither of these attempts actually scored, either. And that's true, but the fact is, goals from free kicks are really quite rare.
This season, according to ESPN Stats & Info, there have been only 18 goals scored from free kicks, either directly or as part of a set piece, from 211 shots. That's a whopping 8.5 percent conversion rate. That's slightly worse than the 8.9 percent conversion rate the league has recorded overall. Given that teams are scoring less frequently from these supposedly advantageous situations, managers should be encouraged to experiment more. Instead, all too often we get attempts taken by rote with little imagination and less chance of finding the back of the net.
There are relatively few in-game opportunities in which managers can change the course of the game. Why are they so reluctant to take advantage of them?
Where's Jozy?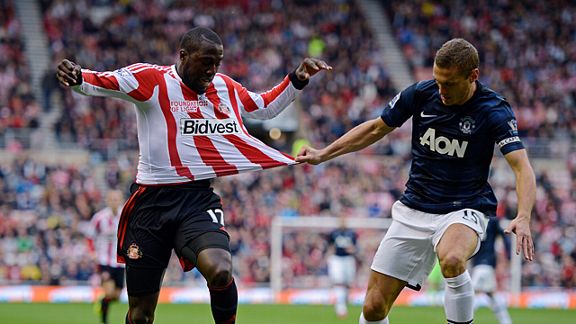 Ryan O'Hanlon: You know about the no Cokes, and the Rocky IV preseason, and the how-fascist-is-he former manager. It's difficult to judge exactly where Sunderland is right now (other than dead last) as they don't have a permanent manager and their post–Di Canio games were against Liverpool and the kid who turned Messi into the Argentine Januzaj. Wherever the team goes from here, the fact of the matter remains: Adam Johnson — as in: Adam Johnson — is their most creative player.
Jozy Altidore once scored goals for fun. Now, he plays for Sunderland. The 23-year-old (!) was always the answer to that idiotic "What if our best athletes played soccer?" question. He was big and fast and strong, but he couldn't always score. Then he put in 31 goals for AZ Alkmaar in Holland and scored in five consecutive games for the U.S. over the summer. Now, he'd do the same in the Premier League … except he's since been reduced to his old (young) self in northeast England. During the past two games, he's won clearances, chased down long balls, and bodied off a succession of Eastern European center backs. But that's it. He has one shot on goal since Di Canio's sacking and averages less than two per game on the season. He scored one league goal after Altidore-ing Bacary Sagna, only for the ref to incorrectly call it back. Overall, the stats aren't kind.
But if a guy was brought in to score goals, how do you judge him when he is barely given a chance to do that? (In the past two games, Altidore has received the most passes from Keiren Westwood, who is a goalie.) For American fans, that's an answer. Jozy's fine; he's just in an awful situation. Look at the past 18 months if you want proof. Presumably for some in England, it's a fitting return from a guy who scored one goal in a season with Hull. What about Holland? Afonso Alves scored in Holland. CONCACAF? It's CONCACAF.
The truth, well, I don't really know where it is. If you swapped Altidore with Olivier Giroud and squinted kinda hard, couldn't you see him doing just as well for Arsenal? At the same time, if so much of your value gets derived from your teammates, how valuable can you actually be?
It's Still Early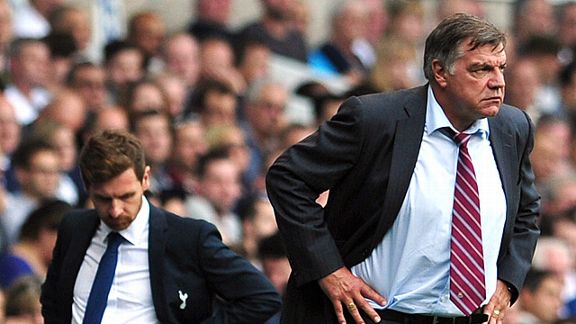 Goodman: We're seven games into the Premier League season now. It feels like that should be long enough to look at the table and begin to have things make sense. Teams at the top must be doing something right, teams at the bottom are clearly awful, and at some point the old Bill Parcells quote "You are what your record says you are" has to kick in, right? Well maybe, but not for a while yet.
The thing is, the Premier League season is really long. There's something about the weekly nature, and the hype machine of the British press, and the edge-of-your-seat, white-knuckled "the sky is falling" fanaticism of club supporters that makes the EPL feel a lot like the NFL. And in the NFL, if you aren't good after seven games your season is over. But the EPL isn't the NFL. Its season is 250 percent longer, and completely balanced, and the presence of draws means teams are absolutely more likely to stay bunched up.
Merely one week ago, Manchester United were the TEAM IN CRISIS after losing at home to West Brom, and Tottenham Hotspur were the UP-AND-COMING CONTENDER. Now, one week later, after Spurs collectively got Vertonghen-ed by West Ham, what exactly is the difference? They've both been rocked by embarrassing home losses, been beaten by natural rivals on the road, drawn at home against Chelsea, beaten Swansea, eked out unimpressive road wins against possible relegation candidates, and recorded decisive home wins against a poor opponent. The only difference is in their remaining game, when United had to face Liverpool at Anfield, while Spurs hosted Norwich. It's not exactly a lot to hang your hat on.
On one level, it's a league that has gotten much more competitive at the top, with six or seven teams legitimately convinced they might have at least a sniff at a Champions League qualification spot. On the other hand, losses like Spurs' this week and United's the week before are likely to happen to the top teams at some point. In addition to United and Spurs, Arsenal has already lost at home to Aston Villa, and Liverpool went down against Southampton at Anfield. That's four of the presumed top seven teams. They won't all be pointing to those losses at the end of the season as the reason they didn't qualify for the Champions League.
The same also holds true for early-season darlings like Southampton. They've ridden a schedule with only one match against top competition (away to Liverpool, which, credit where it's due, they won) to the top four, but their other games have been against West Brom, Sunderland, West Ham, Crystal Palace, and Swansea. Do we really have any idea if they're better than Aston Villa, who sit four points behind after already traveling to Arsenal and Chelsea, and hosting Liverpool and Manchester City?
The only thing we truly know about this season is that Crystal Palace and Sunderland are really, really, really bad. The difference between Sunderland in 20th and Fulham, Norwich, Swansea, and Stoke — who at the moment are tied for 18th — is six points, which is the same as the difference between first and 11th. Or, put another way, Norwich in 18th are as close to fifth as 20th.
It stays early really late into the Premier League season. Unless you're Palace and Sunderland. They're in real trouble.
Filed Under: English Premier League, Manchester City, Manchester United, Premier League