Picking the Perfect Bracket: South Region
Cal Sport Media via AP Images
On Tuesday and Wednesday, we're going region by region, helping you pick your bracket all the way from the First Four to the Final Four. On Tuesday, we blazed through the West and Midwest Regions, earlier today we tackled the East, and now we're finishing off with the South.
The Land of the Troubled
This is the region of the wounded. It's still strong, but each team is flawed — or perceived to be flawed — in some essential way. The Jayhawks are a soft 1-seed with point guard issues, and there's an interesting stat working against them; since 2002, when Maryland lost to Duke by 21 in the regular season, no national champion has ever lost a game in the regular season by 20 points or more. (Thanks to ESPN Stats & Information for that one.) Kansas — after winning seven straight — closed out the regular season with a 23-point loss at Baylor. Is it an omen?
Georgetown shared the Big East regular-season title, but past tournament failures and the doubt that accompanies a super-slow team are on everyone's minds, denying the Hoyas rightful status as an elite team. Florida keeps blowing leads and choking away potential wins, going 26-1 in games decided by double-digits and 0-6 in single-digit affairs. Michigan is weak inside, and Tim Hardaway Jr. seems to go missing every other game. Jordan Adams, UCLA's second-leading scorer, is out for the year with a broken foot suffered in the Pac-12 tournament. Minnesota has loads of talent, but underachieved in the Big Ten all season, finishing 8-10 in conference play to the frustration of its fans.
Everywhere you look, there's something to prove, and something to mend. So will one of the walking wounded buck the odds and roar to the Final Four? Or will another bracket-busting team, like a shark smelling blood, cry HAVOC and let slip the dogs of war?
[Click to Enlarge]
Round of 64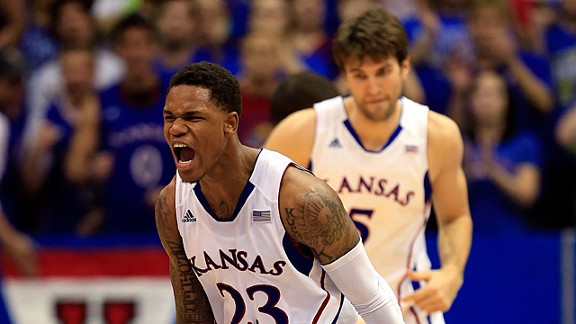 (1) Kansas vs. (16) Western Kentucky
Analysis: Here again, we research one player from the 16-seed as a token show of interest. Let us recognize senior guard Jamal Crook, who averages 12 points per game. If only the Hilltoppers had a guy named "Hook," so you could be like, "Western Kentucky is going to win, by Hook or by Crook." Then you'd really have it made.
And with that paragraph, I have officially been cooped up with basketball statistics for too long. The brain loosens its hold on reality. Grip your armrests … this could get weird.
Winner: Kansas
(8) North Carolina vs. (9) Villanova
Analysis: This should be a really fun game, which also means it's a devil to pick. Here, we're presented with a style contrast. Both teams play fast, but Villanova likes to penetrate and draw fouls; the Cats are first in the nation in free throw rate, and JayVaughn Pinkston in particular is a one-man foul-drawing loon. UNC, meanwhile, reaches the free throw line at a rate that places it 335th in Division I, just 12 from the very bottom. So what's Carolina's game? Transition, transition, transition. Which means they need Nova to miss a lot of shots. If the Cats were a slower team, I'd give them the edge, but their inclination to run, combined with their struggles anywhere outside Philadelphia, gives me pause. And Carolina has been playing so well lately — P.J. Hairston in particular — that my gut tells me to ride the hot hand.
Winner: North Carolina
(5) VCU vs. (12) Akron
Analysis: The Akron Zips are a strong mid-major out of the Mid-American Conference, but if they have one weakness on offense, it's allowing a high turnover rate and lots of steals. Which means it's really too bad that they're facing the team with the highest single-season turnover and steal percentage since 2006. No, hold on, read that again and let me make this clear: It's really, really too bad.
Winner: VCU
(4) Michigan vs. (13) South Dakota State
Analysis: Without a steady post presence and with guards in Nik Stauskas and Hardaway Jr. who are only occasionally reliable, the Wolverines feel like a vulnerable team even against a 13-seed. Obviously, the presence of Trey Burke mitigates the danger, and I can't imagine South Dakota State has any answer for him. But Jackrabbit guard Nate Wolters once scored 53 points in a game, and his team has a big road win over New Mexico on its résumé, along with a near-miss against Alabama and a double-overtime win over tourney-bound Montana. They're also comfortable playing slow, they allow a really low percentage of offensive boards, and they keep other teams off the line. Basically, if I wasn't such a coward, I'd pull the trigger here. But man … Trey Burke. He exists.
Winner: Michigan
(6) UCLA vs. (11) Minnesota
Analysis: Ben Howland vs. Tubby Smith is a funny matchup, isn't it? I honestly feel that Tubby is way more likely to out-incompetent Howland than the other way around, and the only reason I'm picking Minnesota is because Adams just broke his foot and Shabazz Muhammad gave off an intense "I don't want to be here" vibe in the Pac-12 title game without him. Larry Drew II has played some heroic basketball lately, but I don't think the firepower or the drive is there with the rest of the team. Minnesota wins ugly.
Winner: Minnesota
(3) Florida vs. (14) Northwestern State
Analysis: OK, so we have Northwestern University located in Chicago, which is not in the northwest part of America. Then we have Northwestern State, which is located in Natchitoches, Louisiana. Louisiana, as you know, is also not in the northwestern part of America. It's not even close. So hey, ordinal direction universities — how about some geographical integrity? How about some goddamn geographical integrity? Northeastern made it work. Southern made it work. What makes you think you're so special?
Winner: Florida
(7) San Diego State vs. (10) Oklahoma
Analysis: San Diego State's recent résumé is really, really unimpressive, and they don't have a decent win since New Mexico came to town and scored 34 points in what must have been an anomaly. You're all familiar with my anti–Mountain West bias by now, and I'm sticking to it, because I like Oklahoma. The Sooners are a workmanlike, lunch-pail-ethic kinda team, with some big wins over Kansas, Oklahoma State, and Iowa State. These guys can hang, and I say 6-foot-8 senior Romero Osby will go for 25. With that resolved, check out the picture in the graphic above for San Diego State: That's an Aztec sports called ōllamalitzli, which involved human sacrifice. That's when men were men! Oklahoma would have fit right in.
Winner: Oklahoma.
(2) Georgetown vs. (15) Florida Gulf Coast
Analysis: Florida Gulf Coast beat Miami in November, so …
Winner: Georgetown. November is dead.
ROUND OF 32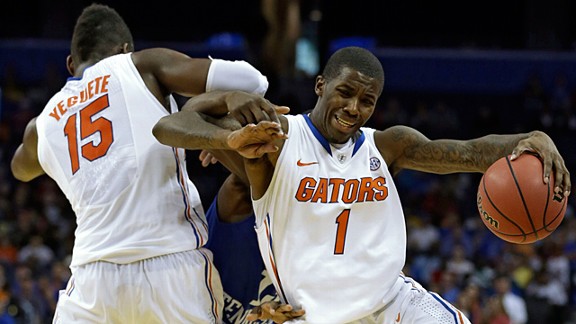 (1) Kansas vs. (8) UNC
Analysis: Hey, it's Roy Williams versus the team he could never lead to a title. It's tempting to bite at the upset bait here, but unlike the 1-8 Pitt-Gonzaga game in the West, it's not tempting enough. The Jayhawks have looked really sloppy at times this year (who can forget the TCU loss?), but Bill Self gets his crew in gear when it's time to play. Three straight losses in February didn't stop them from winning the Big 12 regular-season title, and the Baylor blowout at the end of the regular season didn't stop them from winning the Big 12 tournament. Carolina is playing great basketball, but they have no answer for Jeff Withey inside (by the way, how weird is it that James Michael McAdoo almost went pro last year?), and unless Dexter Strickland and Reggie Bullock can play the defensive games of their lives and shut down both Travis Releford and freshman star Ben McLemore, Kansas will prevail.
Winner: Kansas
(4) Michigan vs. (5) VCU
Analysis: You will hear the following talking point many times leading up to this game: "Trey Burke is too good! He'll break the Havoc press all by himself!" When someone says this, slap them in a light but meaningful way. Because they're ignoring an important fact: Havoc targets an entire team. It's not about one point guard; it's about instilling chaos all over the floor, forcing rushed shots, denying the best players open looks, and exposing every weakness. You need to be worried about Mitch McGary, and Stauskas, and players like that. People who think Burke will just dribble through the middle of the defense and score a layup every possession are really missing the boat. If the Wolverines are going to win, they have to stop VCU from scoring, and thereby setting up the press. Simple. The problem is, Michigan's defense lags behind the offense, meaning VCU has a good chance to put points on the board. Last but not least, I've seen Michigan play under stress several times, including once in person at East Lansing, and it's not always pretty. A second-round NCAA game isn't quite a rivalry matchup on the road, but with a press pounding down your throat, it's close. Assuming there are some VCU fans who make the trek to Auburn Hills, and some Michigan State fans willing to hang around Saturday and cheer against Michigan, I'm with the Rams.
Winner: VCU
(3) Florida vs. (11) Minnesota
Analysis: I'm trying to be very careful about not being seduced by Florida's great talent, because a season of rooting for them has chastened me; I know they'll blow a close game somewhere along the line. But against an underachiever like the Gophers? No way.
Winner: Florida
(2) Georgetown vs. (10) Oklahoma
Analysis: I'm with the Big East champs; the guys with Otto Porter. The Sooners may be plucky, but they won't have the horses to break through the Hoya defense. And this blurb is so short, here's a picture that will make you laugh if you're feeling loopy. And I'm definitely loopy.
Winner: Georgetown
SWEET 16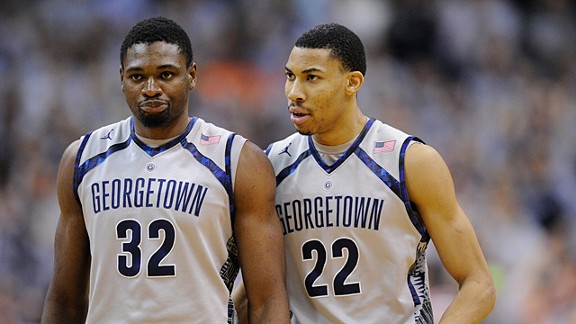 (1) Kansas vs. (5) VCU
Analysis: Here's where I may be going overboard. But hear me out, because I don't think I'm all the way crazy yet. First, look at VCU's tournament success under Shaka Smart. It began in 2010, when Havoc led the Rams to the CBI title. Then came 2011 and the Final Four run, which included wins over Georgetown and Kansas (synchronicity?). Last season, the Rams locked in a 12-seed, upset Wichita State, and lost to Indiana by 2 in the Round of 32.
The point is, Smart's teams always punch above their weight in the postseason, and it's because they play a style of defense that becomes more difficult to handle in tournament pressure. Think of a baseball team like the 2012 San Francisco Giants, which, with a few great starting pitchers, was better designed for the playoffs than the regular season. That's VCU. Once the Rams are in the field of 68, they become terrifying. The nerves of the Big Dance are only exacerbated by a great press, and theirs is the greatest. To top it off, Kansas's weakness is its point guard, Elijah Johnson, whose uneven performances led his own coach to call him out earlier this year. That's the worst possible shortcoming when Havoc is at your doorstep.
Winner: VCU
(2) Georgetown vs. (3) Florida
Analysis: This is the game where you will be tempted to take Florida. With scorers like Kenny Boynton and Mike Rosario and Erik Murphy, you'll think that maybe the Gators could be too much to handle for Georgetown. But again, look at the team's character; Florida is 0-6 in games decided by single-digits, and some of those involved significant blown leads. They blew the last two Elite Eight games, too, after holding double-digit leads on Louisville and Butler. This is a team that, for whatever reason, does not believe in itself.
And Georgetown does. The Hoyas come in having won 13 of their past 15, and with gamers like Porter and Markel Starks on their side. The Gators won't go down easy — they're too good for that — but they will go down. And if you want some concrete stats, look at how infrequently Florida gets to the line — 325th in the country. There's a lack of aggression that manifests under duress. In crunch time, the tendency is to become passive and settle for long shots as the lead dwindles and Billy Donovan exhibits his odd Roy Williams–esque aversion to calling timeouts. By advanced metrics, Florida is the best team in Division I. But we've seen them in action, and we know what happens in the end. Don't be fooled.
Winner: Georgetown
ELITE EIGHT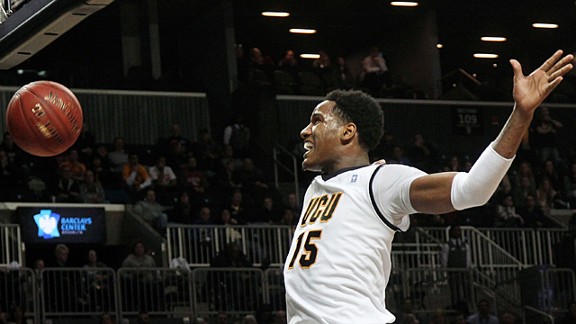 (2) Georgetown vs. (5) VCU
Analysis: Saint Louis beat VCU twice this season, once in the regular season and once in the A-10 tournament championship, and both times the Billikens won with ball control, smart pacing, and great transition defense. In the first matchup, VCU went 10 minutes without scoring a field goal in the first half. At the tournament, they had two separate five-minute dry spells in the first half. Guess what else they couldn't do during those stretches? Set up the press. In the title game, Saint Louis had to hold off a late VCU run that brought the Rams to within one, but it did it with the composure of a veteran team.
Can Georgetown do all that? I say maybe. This is a calm, experienced squad, just like Saint Louis. The Hoya defense is fourth nationally in efficiency, they have shooters, and they have a point guard in Starks who makes smart choices and rises to the occasion. But there's a problem; like Akron, they turn the ball over too often and allow too many steals. That's a huge, huge issue against VCU, and it becomes debilitating with a Final Four berth on the line. I almost took Georgetown anyway, and I literally didn't know until I wrote the last sentence that it would be the Commonwealth for sure. But it is.
Region Winner: VCU. It's Havoc you fear.
For the Record
Louisville over Ohio State in one semifinal, Syracuse over VCU in the other. Louisville beats Syracuse for the national championship. We are all Rick Pitino.
Filed Under: College Basketball, March Madness, Shane Ryan