Old Genius, New Genius: John Beilein and Nik Stauskas Lead the Michigan Resurgence
What do you do when you lose Trey Burke and Tim Hardaway Jr. to the draft, and your new best player, a sophomore who was the best power forward in his class coming out of high school, tells you he's opting for season-ending back surgery? What do you do when, a season after making the national title game, your Plan B is a skinny kid who spends 34 minutes at Cameron Indoor Stadium looking invisible, managing only two shots (that's shots, mind you, not makes) from the floor? When you lose to UNC — and by UNC, I mean UNC-Charlotte — at a neutral site? When you have to cobble together an inside game using spare parts, when your freshman point guard is falling short of expectations, and when his backup looks like he should be the star of an inspirational movie about a walk-on who makes a big shot in the quarterfinals of the conference tournament when the rest of the team comes down with dysentery?
If you're John Beilein, head coach of the Michigan Wolverines, the answer appears to be as follows: You give yourself a month to figure things out, after which you nearly stun no. 1 Arizona and proceed to go on an eight-game winning streak and surge to 6-0 in the Big Ten. In the process, you win tough road games at Minnesota and Wisconsin, compile the most efficient offense in your league (and no. 3 in the nation), and set up a showdown with preseason no. 1 Michigan State for first place in the toughest conference in basketball.
Last night, Beilein's Wolverines met the no. 10 Iowa Hawkeyes in a clash of two of the country's best offenses, and the result (a 75-67 Michigan win) was the kind of fun, free-flowing game that's making a welcome comeback in college basketball this season as teams adjust to the new, necessary foul standards. But if you caught just a snippet of the game, and saw the two teams seemingly score at will, you might not have realized the drastic style clash being fought just beneath the surface. Iowa, in the midst of its own resurgence under the great Fran McCaffery and on the verge of making the NCAA tournament for the first time since 2006, is one of the 15 fastest teams in the country. The Hawkeyes love to run, are stacked with shooters, and use a strong defense to spring their fast break. Michigan, on the other hand, plays at one of the country's slowest rates.
That last fact always seems a little strange, because unlike other plodding offenses, it never really looks like Beilein's teams are taking their time. The reason for that is the Wolverines are astoundingly efficient, year after year, to the point that every possession takes on a rhythm and purpose of its own. And the results are so continually positive that there's drama and anticipation in the lead-up; while teams like Wisconsin (no. 300 in Division I tempo) and Virginia (333) can suck the life out of a game with their effective control of pace, and others like Clemson (348) and Miami (dead last at 351) are clearly taking their time because they have no other option, Beilein's offenses are so fluid and effective that they retain their sense of drama. Michigan is slow, but never boring.
It's always been easier to impose a slow pace on a fast team than vice versa, and last night was no exception; both teams finished with 66 possessions, only one more than Michigan's average and seven fewer than Iowa's. Gradually, it wore on the Hawkeyes, whose efficiency finally dipped from 117.1 (points per 100 possessions) to 101.5, and who tied their lowest scoring output of the season. In fact, if it hadn't been for Aaron White (stereotypical Iowa player alert!) going on a late one-man spree after disappearing for most of the first half, Michigan would have won by double digits.
Since 2009, Beilein's offenses have been 229th or lower in D-1 tempo (mostly way, way lower, like this year's 307th), but aside from a down year in 2010, never worse than 42nd in scoring efficiency (including third this year and first last year). To put up those kinds of numbers, most teams need a point guard who can create offense all by himself late in the shot clock, and Beilein had that option in Burke for two years. But the success began before Burke, and it continues now that he's gone; the Michigan offense is a well-oiled machine, a complex motion system with lots of screens and the quickest ball movement out of the half-court set you'll see in the Big Ten. It's guard-centric, too, built for shooters and slashers, which is a big plus after losing Mitch McGary to back surgery.
This year, the fulcrum of the offense is Nik Stauskas, who finished with a career-high 26 points to go along with five assists and five rebounds last night. The sophomore has always been a natural scorer, but it wasn't evident in October that this would be his breakout season. He was too skinny and weak, went the prevailing wisdom, and his ballhandling skills were also in question; to some, he was nothing more than a really, really good shooter. Maybe a poor man's J.J. Redick, at best. That's why he didn't even make the third team in preseason All–Big Ten voting, while teammates Glenn Robinson III and McGary made the first team. But after struggling against Duke, he's been nothing but spectacular. In conference play, he's second in the Big Ten with 19 points per game, second in assists per game (behind Aaron Craft), second in assist-to-turnover ratio, and third in 3-point percentage. As of right now, he's the Big Ten Player of the Year, and it's not really that close.
So, what changed? For one, his body. As the Big Ten Network showed in the lovely graphic below, he bulked up in the offseason and completely changed the tone of his game: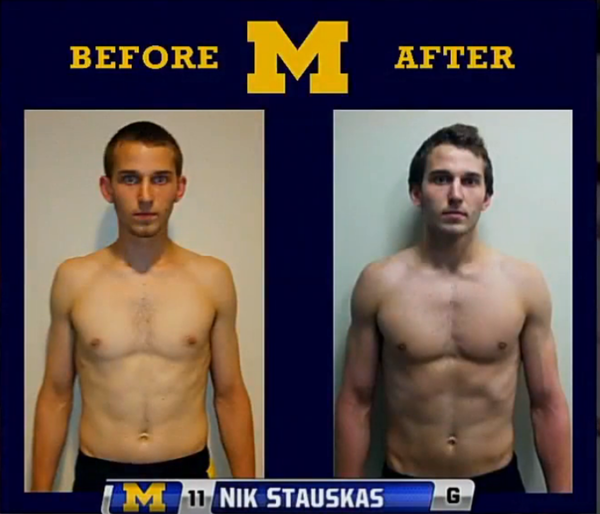 But the change isn't purely physical; his ballhandling is incredible, far beyond anything we saw last year, and it's turned him into the focal point of the offense rather than just a spot-up shooter. The stats show he's getting to the line twice as often as his freshman year (he's sixth in the Big Ten in free throw rate, a measure of how often a player draws fouls), and the way defenses are forced to focus on him means other players are open. This, too, has showcased his brilliant passing ability; as mentioned, he's now second in Big Ten play in assists per game, and everyone else in the top 10 primarily plays point guard. Think about that; he's the only guy racking up point guard–quantity assists among non–point guards, and he's beating everyone but Craft! It's a testament to his vision and his emergence as an offensive powerhouse.
I've compiled a video of his highlights against Iowa, including points from the floor and assists. Notice four things — how quickly he releases his shot, how effectively he uses his dribble in traffic, how he finishes after contact, and how he passes the second an off-ball defender shows him even a hint of attention:
At 6-foot-6, it's hard to know how to guard him. He's too big for a traditional guard (I mean, he'll gladly shoot over big men), but he's too quick for most taller defenders like Iowa's Aaron White. In the end, other Big Ten coaches might want to duplicate Duke's strategy, which was to shadow him for 40 minutes and force somebody else to score; then again, Stauskas was coming off a sprained ankle in that game and couldn't even keep his shoe on. Plus, Beilein's offense is full of enough weapons that Stauskas can exist in the flow; Robinson, Caris LeVert, and Spike Albrecht can all score from the perimeter, and the inside combination of Jordan Morgan and Jon Horford have been surprisingly competent in McGary's absence. All told, it's going to be very difficult for any team to completely stop the White Wolf of the North. (He's from Ontario, he plays for the Wolverines, he's white. I think it works.)
Stauskas's transformation (which even comes with a bit of swagger) and Michigan's resurgence have set up what might be the Big Ten game of the year on Saturday night in East Lansing. The winner will be the last undefeated team in conference play and will have a significant head start in winning the overall title. I was there last season when Michigan visited Michigan State, and I've seen exactly one environment in college basketball, ever, that compared — Cameron Indoor Stadium for the Carolina game. This will be the worst road atmosphere Michigan has to face all season, by far, and considering the Spartans' injury woes are starting to subside and they barely blinked even at the worst of times, I give the Wolverines very little chance. But it's not impossible; with Stauskas's toughness and Beilein's vision, you'd be crazy to think they can't pull off an incredible theft.
Filed Under: Big Ten, Michigan, Nik Stauskas