Off the Blocks: Meet Your U.S. National Swim Team
With the U.S. Olympic team trials finally over after a week of racing in Omaha, the swimmers who will represent Team USA in a few weeks have been finalized. You already know about Michael Phelps and Ryan Lochte — if you don't, you can read more about them over here — but here is some starter material, ranked in order of age from the 15-year-old Katie Ledecky to the 36-year-old Jason Lezak, on some of the other notable athletes to come out of the event bearing tickets to London.

Katie Ledecky, 15: 800 free
Qualified for her first Olympics just as another fast 15-year-old from Maryland once did. Finished more than two seconds ahead of the second-place finisher. Was more nervous being handed flowers on the medal stand than she looked in the pool.
Missy Franklin, 17: 100 free, 200 free, 100 backstroke, 200 backstroke, 400 free relay, 800 free relay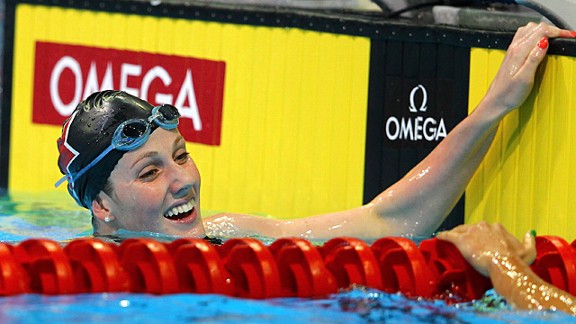 The breakout star of the U.S. team at trials, qualifying for seven different events. Admits to being a sap: "There is an Olympic commercial where it's like a 'Go Mom' commercial," she said, "and it has moms doing all these things, and every time it comes on I just start crying." At over 6 feet tall, was interviewed by the diminutive Bob Costas. "It was so nice to meet Mr. Costas for the first time," she said. "We had a great time together. We had some good jokes about height."
Cammile Adams, 20: 200 fly.
Before her race, stood behind the starting block dancing; later revealed "I just rocked out to my Justin Bieber." Raised the eyebrows of college football fans when she embraced Kathleen Hersey, who also qualified in the 200 fly, on the medal podium. (Adams is a sophomore at Texas A&M, while Hersey goes to the University of Texas.) Was the second Aggie to make the Olympics in an individual event; the first was Breeja Larson, 20, who shocked everyone with her 100-meter breaststroke finish.
Connor Jaeger, 21: 1,500 free
Had only swum the long-distance event three times before showing up for the trials. Betrayed his newcomer status in his preliminary heat: He finished first, and then flip-turned and went another full pool length and a half before finally poking his head up out of the water like an otter and realizing he was already done. "I lost count and never heard the bell," he said. "I didn't want to risk it so I just kept swimming." Is a sophomore at the University of Michigan.
Allison Schmitt, 22: 200 free, 400 free, 400 free relay, 800 free relay
Set a new American record in the 200 free this week at trials, a notable achievement because the former record was set wearing the special rubberized swimsuits that have since been banned by the sport. Trains with Michael Phelps. Enjoys telling jokes.
Ricky Berens, 24: 200 free, 400 free relay, 800 free relay
Had qualified only for the relay teams until Michael Phelps decided to drop one of the eight events he made, the 200 free. Found out he'd be replacing him via good old Twitter. Dates Rebecca Soni, 25, who will swim the 100 and 200 breaststroke and who won a gold and two silvers in Beijing.
Jessica Hardy, 25: 50 free, 100 free, 400 free relay
Was surprised not to qualify in her best event, the 100 breaststroke. Qualified in 2008 for the Olympic team in that event as well as the 50 free, but was banned from the Games during training camp when she tested positive for the forbidden substance clenbuterol. Successfully argued that a contaminated supplement had been at fault, and was finally cleared to compete in 2012.
Matt Grevers, 27: 100 backstroke, 400 free relay
Nearly beat Aaron Peirsol's 51.94 world record in the 100 back; Peirsol thinks he has a great chance to do so in the Olympics. Described his reaction to making the team thusly: "It's like, yeahhhh! You did it! You made the Olympic team! And then I look back and it's my family crying — my mom, my dad, my sister, my brother-in-law — I get out of the pool and the first person I see is my coach right next to my brother, and they're almost crying they're so excited. Ahhhh!! You did it for everyone! I mean, you get your own moment and then you think, everyone gets this moment!"
Cullen Jones, 28: 50 free, 100 free, 400 free relay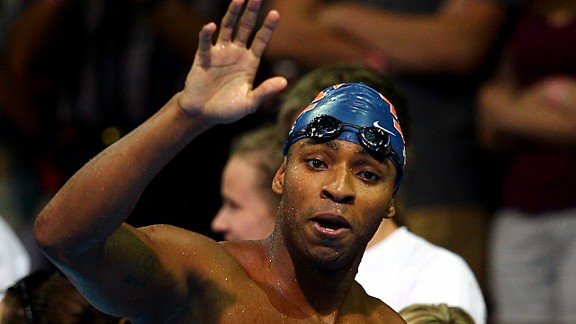 Won a gold medal as part of the men's 400 free relay in Beijing in 2008. Punched the water victoriously with his right hand when he won the 50 free to qualify for London. Also made the 100 free as an individual event. Patted his stomach when asked why he was so on fire this week in Omaha. "I've lost weight!" he said.
Anthony Ervin, 31: 50 free
Enigmatic 31-year-old who won gold and silver in Sydney, retired from swimming in 2003 at age 22, and sold his gold medal to raise money for the Indian Ocean tsunami relief. (Lost his silver medal during his notoriously nomadic travels.) Returned to competition last year. Has such poor eyesight that a competitor had to tell him he had qualified; when Brendan Hansen congratulated him afterward he squinted and responded, "Who is that?" Speaks in full paragraphs, but also says things like "I just want to keep this fun train chugging."
Jason Lezak, 36: 400 free relay
Qualified for the finals in the 100 free when Ryan Lochte decided to scratch the event, and finished in sixth place, good enough to qualify him for a place on the relay team. "I felt terrible," he said. "This 36-year-old body is run-down." May swim in morning preliminaries in the Olympics; may not swim at all. Said he closed his eyes and visualized while swimming. No doubt he was thinking about this.
Filed Under: Katie Baker, Olympic Games