How the NL Central Will Be Won
Getty Images
The baseball world got a jolt Sunday afternoon when, for the first time in three-plus months, a team other than Milwaukee held an outright lead in the NL Central.
It didn't last long. The Cardinals, who'd briefly moved into first, lost their Sunday-night matchup against the Dodgers to slip back into a tie, and the Brewers have since extended their lead to 1.5 games. The teams, their followers, and baseball fans in general should get used to that kind of seesaw action: Barring an unexpectedly huge winning or losing streak from one of the contenders, the Central looks like it's going to be a four-team dogfight the rest of the way. But someone has to win the most competitive division in baseball.
♦♦♦
To understand how the Central got here, we need to first understand how the Brewers got here.
Before this season, the Crew had peaked twice this century: in 2008, when a ballsy midseason deal for CC Sabathia propelled them to their first playoff berth in 26 years, and in 2011, when Ryan Braun and Prince Fielder pushed them to 96 wins and a division title. While those teams benefited from a powerful collection of homegrown talent thanks to years of high draft picks (Braun, Fielder, and Rickie Weeks were all top-seven picks) and shrewd selections in the later rounds (Yovani Gallardo was a second-round pick, Jonathan Lucroy a third, Corey Hart an 11th), the Brewers ultimately became the victims of their own success, losing their perch atop the draft and making several win-now deals for high-priced talent. While no one in Milwaukee can possibly regret the Sabathia deal given what it meant to the franchise at the time, fans are still allowed to daydream about having 2014 All-Star Michael Brantley on the roster right now. Ditto Jake Odorizzi, Alcides Escobar, and Lorenzo Cain, who went to Kansas City for Zack Greinke in 2010, and Brett Lawrie, who went to Toronto for Shaun Marcum that same winter.
Click here for more 2014 MLB trade deadline coverage.
Those personnel setbacks and Braun's injury- and suspension-scuttled campaign led the Brewers to one of the most miserable years in franchise history last season. While Braun's return and Matt Garza's signing fostered slivers of optimism this preseason, pretty much no one other than the Brewers' moms (and ESPN contributor Jason Collette) picked Milwaukee to make the playoffs.
The Brewers immediately made all the doubters look foolish, riding an unhittable bullpen to a 20-7 start. Despite playing sub-.500 ball since the beginning of May, they've managed to stay in first thanks to that hot start coupled with pullbacks and injuries for 2013 playoff teams St. Louis, Pittsburgh, and Cincinnati. But now that their lead is down to just 1.5 games, a burning question looms: Are the Brewers good enough to hold off the challengers, or have they exhausted their supply of pixie dust?
I discussed that question with Baseball Prospectus's Sam Miller on Monday's podcast. At that point, Miller said that BP's Playoffs Odds report gives the Brewers just slightly better than 50-50 odds to make the postseason … which sounded OK until you learn that it rated five other NL contenders higher; only five teams per league make the playoffs. The Brewers have since slightly improved their odds to 58.2 percent and jumped up one spot, but the four contenders they trail still hold significantly better odds (the Nationals at 89.9 percent; the Dodgers at 87.5 percent; the Giants at 84.1 percent, and the division-rival Cardinals at 63.9 percent). FanGraphs runs its own reports based off factors such as run differential and Base Runs, and it also considers the Cardinals a better team and a better bet to win the Central.
While projection systems and advanced stats can occasionally miss nuances like underachieving players, injuries, or impending prospect promotions, that's not really the case with the Brewers, who largely are what they appear to be at this moment. Aside from DL stints for former closer Jim Henderson and excellent young setup man Tyler Thornburg, the Brewers haven't dealt with injury issues. While the Brewers probably expected a little more power from Braun (who's having a good year despite his lack of homers, thanks in part to a tweaked approach) and a little more everything from Jean Segura (who's hit like a replacement-level player for the past calendar year), they're getting borderline MVP-caliber performances from Carlos Gomez and Lucroy. Meanwhile, Scooter Gennett has come out of nowhere to become one of the most productive second basemen in the league, and journeyman lefty Zach Duke is suddenly pitching like he's Billy F'ing Wagner. It's a good thing, too, because there's probably not much help coming from the farm: Prospect hounds don't rate Milwaukee's system highly, and Jimmy Nelson, the team's top pitching prospect, recently got shelled in his second MLB start.
All told, this is a team capable of making a run at the division, but a team that will require good health and good luck to do so, especially without any super elite prospects to help land a Sabathia-level boost for the stretch run. It's doable, but it's going to be a major challenge.
♦♦♦
[mlbvideo id="34528855″ width="500″ height="280″ /]
The Cardinals, by contrast, absolutely have enough young talent to acquire an elite player. For instance, while the Rays are still biding their time before deciding whether to move David Price, the Cards could get a deal done in a hurry if they started offering guys like Oscar Taveras and Carlos Martinez.
St. Louis has plenty of reasons to try to make a deal like that happen. Lefty starter Jaime Garcia is out for the year with a shoulder injury, while 23-year-old righty phenom Michael Wacha has been out since June 17 with a stress reaction in his right scapula, and likely won't be cleared to start throwing again for at least two more weeks. Adam Wainwright was arguably the most valuable NL pitcher in the first half, and Lance Lynn has emerged as a capable no. 2, but it gets dicey after that. Though Martinez has shown great promise in his first extended look as a major league starter and Joe Kelly continues to defy the odds despite iffy peripherals, the Cardinals can't count on either guy consistently going deep into games, which puts extra stress on a bullpen that doesn't need it. The Cardinals' fifth starter is also currently in doubt, with the recently flammable Shelby Miller in the pen for now as the Cards skip his turn in the rotation. Yet despite that uncertainty, the Cardinals are just 1.5 games back, which means that adding someone like the innings-eating Price could help them make a run at the division, and even at a return trip to the World Series.
Still, St. Louis should be well positioned to win the Central even without a blockbuster. Thanks to a fruitful farm system and terrific overall depth, the Cards have compensated for their weaknesses and disappointments. Chief among them: Clutch Deity Allen Craig turning into a pumpkin. To the rescue: Matt Adams, who's turned into one of the most fearsome hitters in the league since coming off the DL in mid-June, batting .325/.346/.610 during that span. Matt Holliday's power has vanished, and Peter Bourjos has been a near offensive zero for most of the season (though with a few good moments this month), but the Cards have made up for some of their year-over-year dip in high-leverage hitting by playing excellent defense. Per Baseball Info Solutions's Defensive Runs Saved, the Cards have delivered the best glovework in baseball.
Of course, the Cardinals' defense, offense, and every-fense took a giant hit recently with star catcher Yadier Molina's thumb injury. Molina will be out until at least mid-September, and for now the team is using Tony Cruz and George Kottaras in his stead. Going after someone like the Twins' Kurt Suzuki, a 2014 All-Star who's also a free agent at season's end (and thus wouldn't create a potential playing-time crunch with Molina in the future), would seemingly make a lot of sense. No matter who the backstop is, it'll be interesting to see how the Cardinals' pitchers fare without Molina, who possesses measurable catching skills like pitch framing as well as intangibles like game-planning skills, situational recall, and pitch selection. If the Cardinals don't meet the expectations of the projection systems and gambling sites, Molina's absence could prove to be the biggest reason for that shortfall.
♦♦♦
[mlbvideo id="34710665″ width="500″ height="280″ /]
The Cardinals won't have much wiggle room, with the Pirates currently one game behind their rivals and working to stay apace. Of course, talking about the Pirates means addressing the starting rotation. Again. Take a look at Pittsburgh's current starting five:
• Francisco Liriano, who's back from a recent DL stint, but showing no signs of being the beastly force he was last season. He's failing to throw his slider as hard as he did last year and is walking way too many batters and failing to be efficient with his pitches, a problem that's plagued him for much of his career.
• Charlie Morton, who's been surprisingly reliable and a prolific ground ball generator, which fits perfectly with the Pirates' governing defensive philosophy (more on that in a minute).
• Jeff Locke, whose strong first half last season proved to be a fluke amid lousy peripherals, but whose early returns this season look a lot more legitimate. Thanks to his vastly improved control, Locke looks like a perfectly capable back-end starter.
• Edinson Volquez, who's also been effective enough to be a fifth starter type, though whose inconsistency can be maddening: In his past eight starts, he's allowed four, zero, eight, one, zero, one, one, and five runs.
• Vance Worley, who, like Locke, has enjoyed some surprising early success thanks to a low walk rate, but who flashed a 5.00 ERA over the previous two seasons.
This is a passable starting five, and it could get a lot better if Gerrit Cole can make it back from the disabled list in a couple of weeks as hoped. Still, passable probably won't cut it in a fierce division that might not produce a playoff team other than the winner.
One option the Pirates might consider is calling up Nick Kingham, a 22-year-old right-hander who pitched well in 12 starts at Double-A this year and has been terrific in seven starts at Triple-A, posting a 2.00 ERA with just 39 baserunners and one homer allowed in 45 innings. The Pirates would have to weigh service time issues (as they did before calling up top outfield prospect Gregory Polanco earlier this year) and potential workload considerations if they have a rigid innings cap in mind for Kingham, but his talent could give them a boost. They could also explore the trade market. Neal Huntington was one of baseball's most active general managers last August, reeling in Marlon Byrd and Justin Morneau in waiver trades, and multiple pitchers could emerge as attractive trade targets this August even if they don't hold that distinction now. Whether it's Kingham or a trade, the dual effect of upgrading the rotation and bolstering the bullpen by moving one of the current five starters into a relief role is something Pittsburgh needs to take seriously.
The Pirates have Andrew McCutchen, who's capable of winning consecutive MVP awards. They've got Russell Martin, who's an excellent and underrated catcher and is also now back from the DL. They've got a future star in Polanco, who's struggled greatly at times since his call-up but might be finding his stroke. They've got Neil Walker, who's putting up career-best power numbers, and Josh Harrison, who's having a breakout year. They play extraordinary defense, thanks in large part to a series of shifts as elaborate and well thought out as any in the game. And after an 18-26 start, they're back in this thing. There's no reason to be gun-shy now.
♦♦♦
A week ago, it was much easier to feel confident in the Reds' chances. Cincinnati pulled into the All-Star break at 51-44, in third place and just 1.5 games behind Milwaukee. Since, the Reds got swept by the Yankees and dropped two against the Brewers, producing a five-game losing streak that's left them 4.5 games out. Given the injuries hanging over the club, it's fair to wonder if the Reds will be able to make up that gap and nudge their way into the wild-card race.
For starters, they're missing their best player. Though Joey Votto wasn't playing like anything close to his former MVP form before a quad injury knocked him onto the DL on July 6, even a diminished Votto was a valuable asset. It's a major loss subtracting a .390 on-base percentage from the lineup, and he's set to miss at least five more weeks. Like Votto, Brandon Phillips wasn't playing up to peak standards before his recent injury, going from a Silver Slugger winner three years ago to a .272/.308/.392 hitter this year. Also like Votto, Phillips might not return until September. The Reds have tried gamely to replace those two in the lineup, slotting utilitymen Skip Schumaker and Ramon Santiago wherever they're needed, and even playing catcher Brayan Pena out of position at first base. For a team chasing three other squads in the standings, however, that's probably not going to be good enough.
The best hope for the Reds is for their pitching to continue to carry them. Johnny Cueto has been otherworldly, parlaying a deadly fastball and a series of secondary pitches that move like drunken Frisbees into a season that would be Cy Young–worthy in a universe that didn't include Wainwright and Clayton Kershaw. With Mat Latos, Homer Bailey, Mike Leake, and All-Star Alfredo Simon backing Cueto in the rotation, and with Aroldis Chapman and Jonathan Broxton dominating in relief, the Reds boast enough run-prevention prowess to cure a lot of ills.
Indeed, all of that pitching, breakout seasons for Todd Frazier and Devin Mesoraco, and a spirited Rookie of the Year run for Billy Hamilton have kept the Reds in it this long. But if they want a real shot at taking the crown, they'll have to consider making some moves, whether to provide better stopgaps at first and second, to upgrade the pedestrian Ryan Ludwick in left field, or both. And no, picking up this guy doesn't count.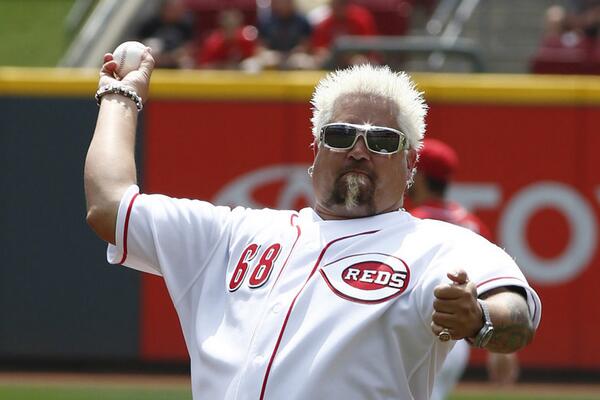 Filed Under: MLB, NL Central, Milwaukee Brewers, St. Louis Cardinals, Pittsburgh Pirates, Cincinnati Reds, 2014 MLB Trade Deadline, MLB Trades, MLB Trade Deadline, Baseball, Jonah Keri