NHL Trade Deadline: 10 Players to Watch
Cal Sport Media via AP Images
We're still two weeks away from the NHL's April 3 trade deadline, but there's a good chance action could pick up over the next few days. Recent history has shown a trend toward a quieter deadline day, with most of the bigger deals going down in advance. And because of this season's modified post-lockout schedule, this week's annual GM meetings are taking place before the deadline instead of after.
So now seems like a good time to get an early jump on the speculation with a look at 10 of the players who are showing up in trade chatter. Not all of them will be traded (let's face it, there's a decent chance none of the top players will), and we all may have moved on to 10 different guys by next week, but right now, these are some of the bigger names driving the rumor mill.

(All stats are as of Wednesday morning. All contract information is from the indispensable CapGeek. Dollars listed are average annual value prorated for a full season, i.e., the player's cap hit.)
Jarome Iginla, Calgary Flames (RW, 35 years old)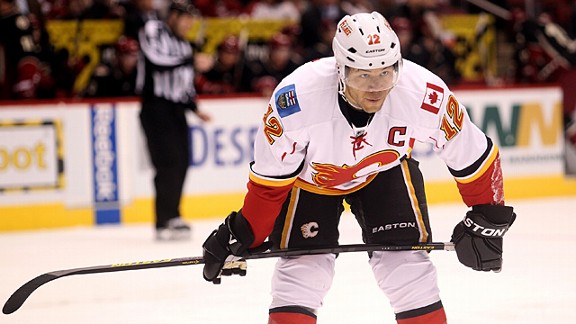 The numbers: His seven goals and 13 assists represent an off year for a player riding an 11-year streak of scoring 30-plus.
The contract: One year left at $7 million; he'll be an unrestricted free agent (UFA) this summer.
No-trade clause?: Yes, a full no-movement clause (NMC), meaning the Flames can't move him anywhere or even waive him without his permission.
Why they might trade him: The Flames have spent the last three years convincing themselves that they were still contenders, even though everyone else in the hockey world was screaming at them to rebuild. But this year, Iginla's pending free agency might finally force their hand.
Why they might not: Well, for one thing, Calgary GM Jay Feaster isn't exactly riding a hot streak of smart decisions. But more importantly, Iginla's in his 16th season in Calgary and could make a strong case as the most popular player in team history. It would be hard to say good-bye to one of the few guys who could truly be called a franchise player. And of course, if he pulls a Mats Sundin and decides not to waive, the Flames can't force him to go anywhere.
What they'd get for him: A ton. Forget the stats — this is Jarome Iginla. If he's on the market, the demand will be off the charts. Calgary's captain would be a great fit for Cup contenders like the Penguins, Kings, and Bruins, so the potential is there for one of those bidding wars where you're left wondering: Wait, they got how much?
Marian Gaborik, New York Rangers (RW, 31 years old)
The numbers: He's put up 17 points in 29 games. For most players, that would be decent. For him, it's a disaster — because of what you're about to read in the next section …
The contract: He gets $7.5 million both this year and next. He won't be a UFA until 2014.
No-trade clause?: A modified NTC, which allows him to provide the Rangers with a list of 10 teams he can't be moved to. According to Larry Brooks, the Rangers already have Gaborik's list, though we don't know which teams are on it.
Why they might trade him: The Rangers are bad and coach John Tortorella is frustrated, taking some very public shots at his best players. [Whispers to Marian Gaborik and Brad Richards in Homer Simpson voice: I think he's talking to you.] Richards is pretty much unmovable, so that's led to some Gaborik trade talk, which is surprising, given that the Rangers are barely hanging on to a shot at the playoffs. Still, New York could move him for a package of cheaper NHL players who could help in other areas.
Why they might not: The number of teams that could add a $7.5 million contract to their books is low. The number of teams that could add that deal and still give up enough value to keep the Rangers in the playoff hunt is even lower.
What they'd get for him: A lot, I guess, but let's just go ahead and pencil Gaborik in for this year's "superstar player who gets a ton of attention and then doesn't get traded after all" award. Or, as we ended up calling it this time last year, the Rick Nash Trophy.
Mike Ribeiro, Washington Capitals (C, 33 years old)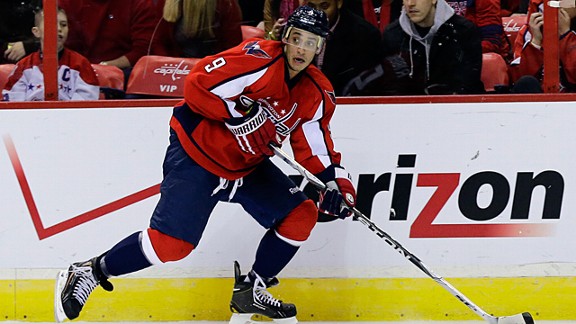 The numbers: A team-leading 32 points, putting him on pace for his best season since 2007-08.
The contract: $5 million this year; he's a UFA this summer.
No-trade clause?: A modified NTC, with similar terms as Gaborik's.
Why they might trade him: Ribeiro has played well in Washington, but he's a veteran and his time there is ending. For most teams, that would make him an ideal asset to offer up as a trade deadline rental.
Why they might not: For the Capitals, it probably makes him their next coach.
What they'd get for him: On the one hand, the diminutive Ribeiro doesn't fit the "playoff warrior" mold contenders tend to be looking for this time of year (even though his career playoff stats are solid). On the other, he's probably going to be the best center available at this year's deadline. The Caps would be expecting a high pick and/or top prospect.
Jaromir Jagr, Dallas Stars (RW, 41 years old)
The numbers: On the year, he has a team-leading 21 points in 28 games. On his career, he's the NHL's active leader in just about every offensive category that matters.
The contract: He's finishing off a one-year deal worth $4.5 million, and is a UFA after this season.
No-trade clause?: There have been some conflicting reports, but it doesn't sound like he has one.
Why they might trade him: The Stars are probably more likely to move someone like Derek Roy or Brenden Morrow, but Jagr would be a lot more fun, so let's talk about him instead. He fits the profile of the classic deadline-day rental: He's good, his current team is not, and it would probably make sense for everyone involved to see him moved to a contender.
Why they might not: The Stars are still in the Western Conference playoff race because everyone is still in the Western Conference race, including half of the Eastern Conference.
What they'd get for him: It's hard to say. Based purely on this year's performance, a solid pick or prospect would be fair. But this time of year can sometimes make GMs get all misty-eyed for veteran stars; someone might be willing to overpay for a slam dunk Hall-of-Famer.
Chris Stewart, St. Louis Blues (RW, 25 years old)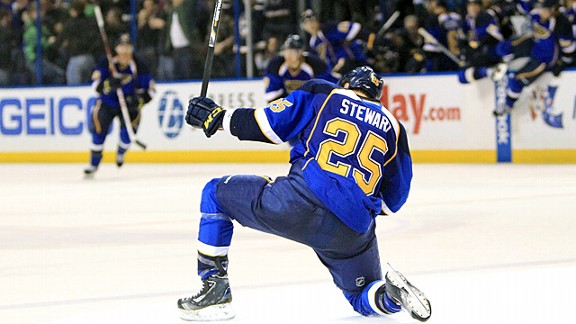 The numbers: His 28 points in 29 games leads the Blues by a mile (assuming a mile is worth seven points, which it is).
The contract: He's making $3 million on the last year of his deal. This offseason he becomes a restricted free agent (RFA), which means he could negotiate with other teams but the Blues would have the right to match.
No-trade clause?: No, not eligible.
Why they might trade him: While he's not going to be a UFA, the Blues are a low-budget team and would be vulnerable to an offer sheet — the Ryan O'Reilly fiasco could serve as a warning here.
Why they might not: The Blues went into the season as trendy Cup picks, and you don't often see contenders looking to trade their best young forward at the deadline.
What they'd get for him: While he could fetch a nice package of picks and prospects, you'd have to think the Blues would be asking for NHL assets instead. They've reportedly been looking for help on defense.
Bobby Ryan, Anaheim Ducks (LW, 26 years old)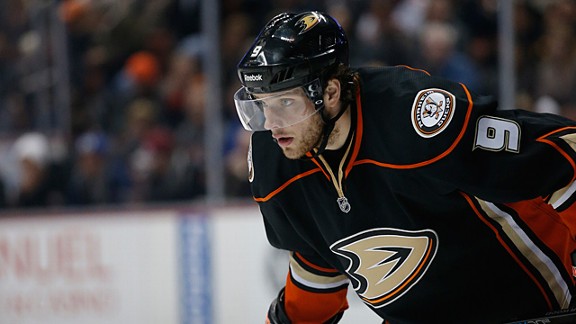 The numbers: He has 23 points through 29 games.
The contract: He's signed through 2015 at $5.1 million a year.
No-trade clause?: No, not eligible.
Why they might trade him: The two teammates he's trailing in scoring, Ryan Getzlaf and Corey Perry, just signed $135 million worth of contract extensions. That's not going to leave a lot of room in the budget for other big deals.
Why they might not: Ryan has been rumored to be on the verge of being dealt since before he was even in the NHL, and it never happens. Besides, the Ducks are legitimate Cup contenders this year and it would seem to make more sense to wait for the summer to move him. Still, it's the trade deadline, so Bobby Ryan rumors are pretty much mandatory.
What they'd get for him: Much like the Blues and Stewart, the Ducks would only make a move here if it were for immediate NHL help. It's hard to see a fit that makes any sense right now.
Jonathan Bernier, L.A. Kings (G, 24 years old)
The numbers: He's put up excellent numbers as Jonathan Quick's backup, both this year (1.94 GAA, .923 save percentage) and over his 58-game career.
The contract: He's making $1.25 million this year and will be an RFA in the offseason.
No-trade clause?: No, not eligible.
Why they might trade him: Bernier's been a good soldier over parts of five seasons in L.A., but it's time for him to compete for a starter's job somewhere. With Quick signed for a decade, that won't happen in Los Angeles. Why not move now for a piece that could help the Kings repeat [cough, Jarome Iginla, cough]?
Why they might not: Not everyone agrees that Iginla and the Kings are a good match. The Kings might decide to hold on to Bernier as a cheap insurance policy and then move him in the summer.
What they'd get for him: The recent market for talented but unproven young goalies has ranged from solid to very good, but those were offseason deals. The Kings will presumably be aiming higher, which means Bernier would need to be part of a package.
Tyler Bozak, Toronto Maple Leafs (C, 27 years old)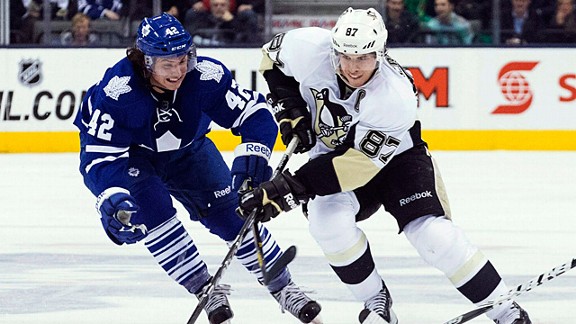 The numbers: He has 17 points through 30 games, roughly on par with his career average. He's also a career 54 percent faceoff man.
The contract: One year left at $1.5 million; UFA this summer.
No-trade clause?: Stunningly, given that this is the Maple Leafs, no.
Why they might trade him: The Leafs don't seem all that interested in re-signing him. The fact that he's not a real no. 1 center, despite the Leafs insisting on using him like one, has been well documented. He could still be a solid no. 2 or an excellent no. 3, but the Leafs already have Mikhail Grabovski fitting that description; paying two guys like that a combined $10 million or more on long-term deals doesn't make much sense. Plus, Nazem Kadri might be ready to take his spot.
Why they might not: The Leafs are clinging to a playoff spot, so trading a player off the first line would seem like an odd move. This might be one of the rare cases when it really would make more sense to keep a player and then let him walk for nothing in the offseason.
What they'd get for him: Given their playoff status, the Leafs would probably prefer to move him for a roster player or even make him part of a package for a star (which is what they almost did, for Roberto Luongo, last offseason).
Pretty Much Everyone Who Plays for the Buffalo Sabres
The numbers: Bad.
The contract: Worse.
No-trade clauses?: Aplenty.
Why they might trade them: The Sabres are a mess that looks to be on the verge of a full-fledged implosion, and with a top-10 payroll full of stunningly bad contracts, this is pretty much the archetypal "burn it to the ground and start all over" team. Oh, and their long-time GM may need a few home runs to keep his job. Operators are standing by.
Why they might not: Because the players are either too good to want to trade (Thomas Vanek, and maybe Ryan Miller) or too overpaid to be able to trade (anyone who isn't Thomas Vanek and Ryan Miller).
What they'd get for everyone: Not much, but that's not the point. The Sabres need cap space and a clean start, and not necessarily in that order.
Martin St. Louis, Tampa Bay Lightning (RW, 37 years old)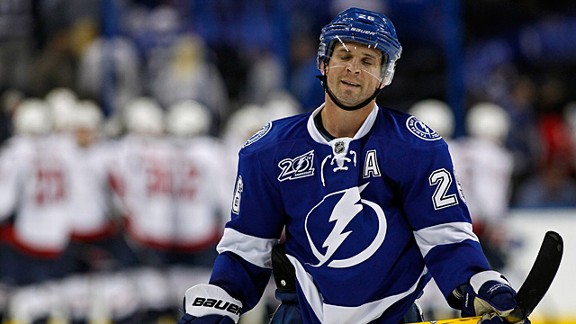 The numbers: His 39 points have him in the top five in league scoring.
The contract: He's signed through 2015 at $5.625 million per year.
No-trade clause?: St. Louis has a full NMC.
Why they might trade him: St. Louis's name has only come up recently in the Tampa Bay media (and the mention was carefully called "pure speculation"), but the case is intriguing. The Lightning are struggling this year and have always had to keep an eye on the budget. Wouldn't they have to at least consider moving a star player on a big contract who's signed until he turns 40?
Why they might not: He's Martin St. Louis. Even more than Vincent Lecavalier, he's been the face of the franchise going back to their 2004 Stanley Cup run. And, of course, the Lightning can't do anything unless St. Louis is willing to waive his NMC.
What they'd get for him: We can safely say the return would be huge, because it would have to be for Tampa Bay to even consider a move like this. The contract might scare off a few teams, but if the Lightning actually did decide to pursue a deal, you'd have to think St. Louis bumps Iginla off the top of the "best player available" list.