NHL Panic Watch
Gregory Shamus/Getty Images
We're roughly 10 percent of the way through the NHL season, and that means it's time for some teams to panic.
Not really, of course. Even in this abbreviated season, jumping to conclusions based on four or five games would be downright irrational. So any of you hockey fans who are completely rational when it comes to your team can go ahead and stop reading right now.
The other 98 percent of you still with me? Good. Let's hit the panic button.
One note: We're focused here on teams that are struggling relative to expectations. The Blue Jackets may have been iffy so far, but they're clearly in rebuilding mode, and just about everyone had already picked them for last place. A team like that can't be considered to be in panic mode by any reasonable definition.
The same can't be said for many of the early season's other underachievers. Here's a look at some of the teams that aren't living up to expectations right now:

New York Rangers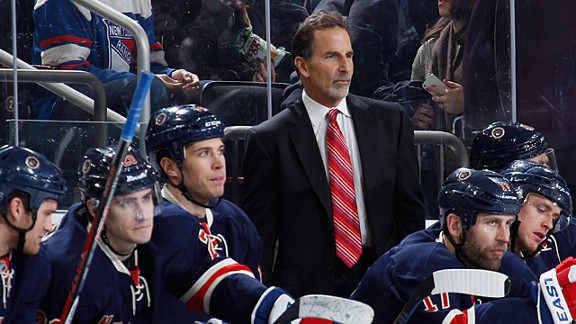 Why it might be time to panic: New York was the top seed in the East last year and got a whole lot better on paper when it acquired Rick Nash. With a $27 million first line and just two more years left before the team faces salary cap armageddon, the Rangers' window is rapidly closing. They're supposed to be dominant. Instead, they've struggled, limping out to a 2-3-0 start.
Why they shouldn't: Their first four games consisted of matchups with the Penguins, Flyers, and Bruins (twice). They didn't get an easy one until the Leafs came to town Saturday for a game the Rangers dominated on their way to a 5-2 win. They close the month with the Flyers and Penguins again, but after that, the schedule gets significantly easier.
The panic scale: 6/10. New York isn't exactly a "patient" kind of town, but the Rangers deserve at least a few more weeks to show what they can do.
Philadelphia Flyers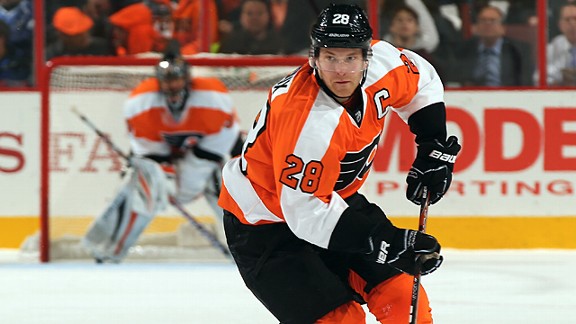 Why it might be time to panic: The Flyers are in last place in the Atlantic, despite playing more games than any other team in the Eastern Conference. They looked like they might have finally hit their stride Saturday, when they waxed the Panthers 7-1, but then Philly came back the next day and got drubbed, 5-1, by the Lightning. The defense has been shaky, Claude Giroux has been merely OK, and now Scott Hartnell is out long-term with a broken foot.
Why they shouldn't: For all the fun we have with him around these parts, goalie Ilya Bryzgalov has actually been pretty good so far. And while the Flyers have a tough matchup against the Rangers tonight, the first half of their February schedule is packed with cream puffs.
The panic scale: 8/10. This is Philadelphia, after all. But don't be surprised if we look back on this in a few weeks and wonder what all the fuss was about.
Los Angeles Kings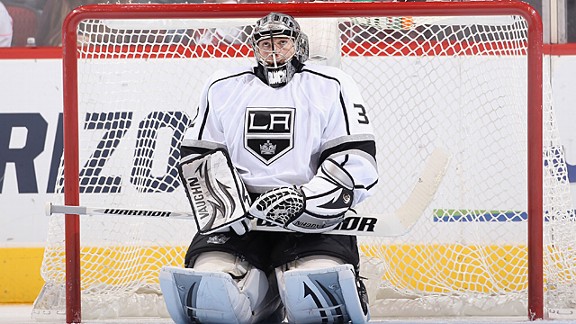 Why it might be time to panic: The defending champs have had a slow start and didn't record their first win until their fourth game of the season, against the dismal Coyotes. What's worse, the offense has sputtered, with just 11 goals through their first five games. Also, Nail Yakupov was happy in front of them and that made Jonathan Quick sad.
Why they shouldn't: They're one of the best teams in the entire league. They got a trophy for it and everything.
The panic scale: 1/10. They had a slow start and couldn't score last year, too, and I vaguely remember that all turning out OK.
Calgary Flames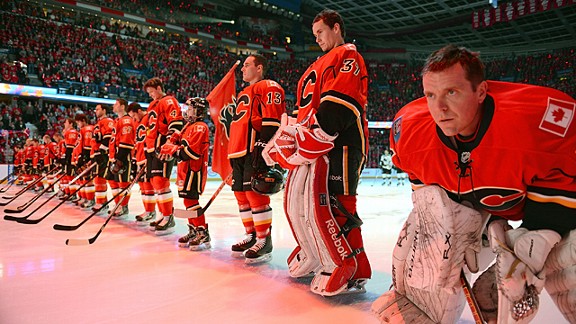 Why it might be time to panic: Well, if we're getting technical, 2009 was the time to panic. But for reasons nobody outside of the Flames organization has ever understood, the franchise refuses to rebuild and seems intent on yet another season as a bubble team — not quite good enough for the playoffs, but not quite bad enough for a top pick. Ask a Leafs fan how that strategy works out, if you can find one sober enough to communicate.
Why they shouldn't: Not a single team in the Northwest went into Monday night's action over .500, so it's not like the division is running away from them. And Jarome Iginla's been ice-cold to start the year, which can't last much longer.
The panic scale: 9/10 if you're a fan, but apparently 1/10 if you're the front office.
Florida Panthers
Why it might be time to panic: A surprising division title last year put the Panthers into the playoffs for the first time in a decade, and they'd hoped to follow that success with another strong season. Instead, they've lost their last four and find themselves in last place overall.
Why they shouldn't: The Southeast Division isn't exactly a Murderers' Row, and the two teams on top right now (Tampa and Winnipeg) aren't likely to stay there. And who knows, maybe the Panthers can stop losing games in regulation and go back to losing them in overtime, since that's how they snuck into the playoffs last year.
The panic scale: 7/10. Die-hard Panthers fans have to be feeling nervous right now. Yes, all three of them.
Carolina Hurricanes
Why it might be time to panic: The Hurricanes were a surprisingly big player in the offseason, landing both Jordan Staal and Alexander Semin. That seemed like it could be enough to make them a potential Southeast Division favorite. But it hasn't worked out that way so far — Carolina's off to a disappointing 2-3-0 start in which it hasn't been able to beat anyone who isn't Buffalo.
Why they shouldn't: As I tried to politely point out in the Panthers section, the Southeast looks awful. Besides, the Hurricanes are pretty much due for one of those unexpected runs to the Stanley Cup finals that we all later agree to pretend never happened.
The panic scale: 4/10. But check back after their upcoming six-game road trip.
Nashville Predators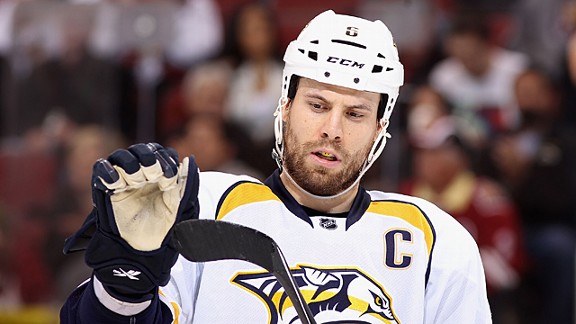 Why it might be time to panic: Playing a condensed schedule in the toughest division in hockey, they lost five of their first six games.
Why they shouldn't: Three of those losses came in overtime, which — thanks to Gary Bettman's magical points fairy — means they're still within a point of .500.
The panic scale: 1/14. No, wait, my mistake, that's how far into Shea Weber's $110 million contract we are. Sorry, Preds fans.
Detroit Red Wings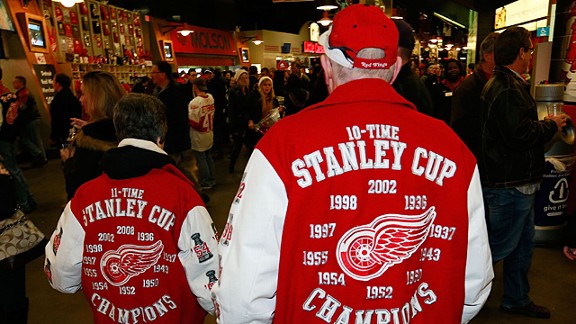 Why it might be time to panic: Nicklas Lidstrom's retirement left behind a blue line in disarray — and that was before all the injuries hit. The Red Wings have managed only two wins in their first five, and one of those required a shootout just to beat the lowly Blue Jackets. Oh, and they play in the Central Division, where the Blackhawks look downright unbeatable and the Blues have been almost as good.
Why they shouldn't: They're the Red Wings. If any team will stumble its way out of this mess, it's them.
The panic scale: 9/10. General manager Ken Holland surprised reporters during the preseason by predicting that the team could miss the playoffs. So far, it seems like he might have been on to something.
Toronto Maple Leafs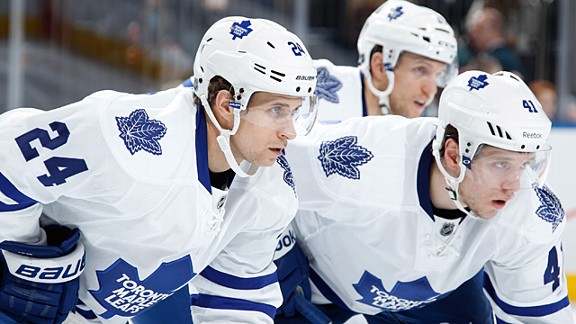 Why it might be time to panic: Stop me if you've heard this one before, but this was supposed to be the year that the big-budget Maple Leafs finally returned to the postseason. After all, it would be their first full year under defensive-minded coach Randy Carlyle. Instead, after an encouraging win over the Penguins on Jan. 23, the Leafs went out and gave up 12 goals while twice blowing two-goal leads in a pair of losses against the Islanders and Rangers. That's not a great sign, given that they entered the season with virtually the exact same roster that memorably imploded last year.
Why they shouldn't: Only one of the two goaltenders has been terrible so far, which is a significant improvement over the last seven years.
The panic scale: 3/10. Not because they're good — they're not — but because the best thing that could happen to the Leafs would be to finally bottom out and draft a franchise player. So even another losing season should be fine, as long as the Toronto media don't start trying to run the few decent players the team has out of town and … oh wait. Never mind.
Minnesota Wild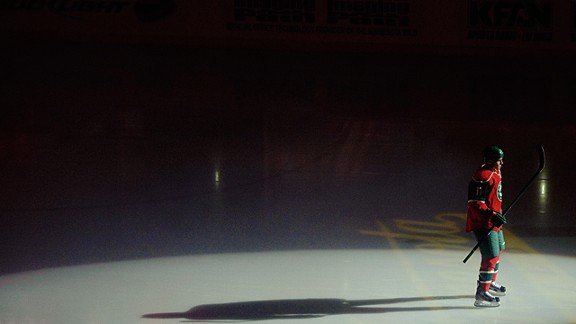 Why it might be time to panic: After years of playing the role of pleasant-but-non-threatening mid-market punching bag, the Wild spent almost $200 million last summer to sign Zach Parise and Ryan Suter. Adding those two to a core that already included veteran stars such as Mikko Koivu and Dany Heatley and super-rookie Mikael Granlund was supposed to transform Minnesota into a team that could challenge the Canucks for the division title. Instead, it's limped out to a lukewarm 2-1-2 start.
Why they shouldn't: That 2-1-2 record was actually enough for the Wild to head into Monday night's action holding down first place in the Northwest. Besides, you might expect a team that made major offseason changes to start slowly after a shortened camp. And they did manage to score four goals in a loss to the Blues, which is like scoring 10 against a normal team.
The panic scale: 2/10. They look like they'll be fine.
Phoenix Coyotes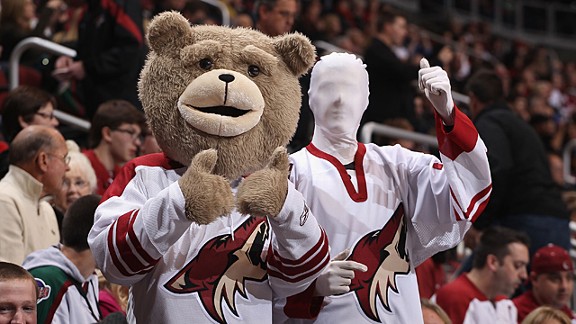 Why it might be time to panic: After advancing past the second round of the playoffs for the first time in franchise history last year, and with stable new ownership reportedly on the way, this had the potential to be a crucial season in the long struggle to finally establish Glendale as a hockey market. Instead, the Coyotes are off to a slow start and the ownership saga appears likely to drag on.
Why they shouldn't: Two of their losses came against the undefeated Sharks and Blackhawks, and another was against the defending champion Kings. And you have to think that by now, stories about ownership questions affect this team about as much as the noise from a low-flying plane affects a guy who's lived next to the airport all his life.
The panic scale: 5/10. This one really feels like it could tip either way, and soon.
Vancouver Canucks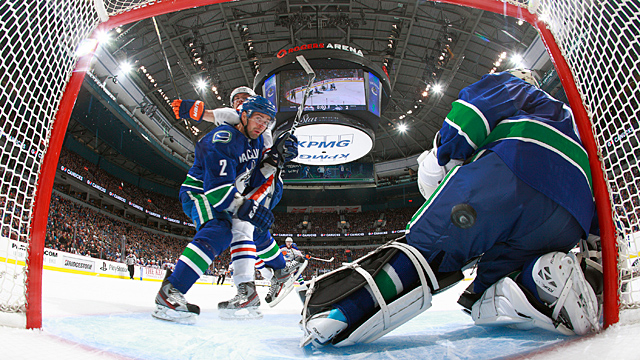 Why it might be time to panic: They put up a modest 2-2-2 mark in their first six. Perhaps more significantly, the team created a goaltending controversy by handing the starter's job to Cory Schneider while failing to trade Roberto Luongo, then saw Schneider get shelled in an opening night loss to Anaheim.
Why they shouldn't: Schneider has been great since opening night and posted a shutout against the Ducks on Friday. The Canucks will also be getting Ryan Kesler back at some point.
The panic scale: 1/10. Vancouver has won the Presidents' Trophy two years running, and will probably be right back near the top of the standings again soon.
Washington Capitals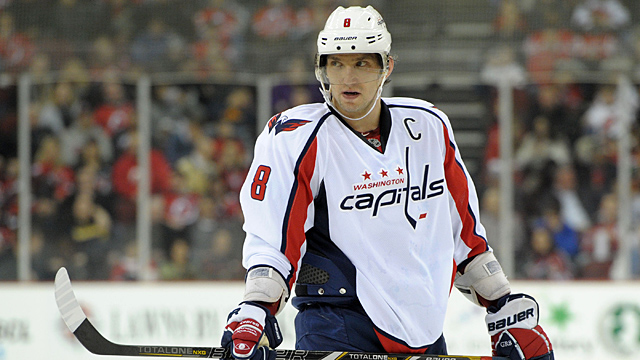 Why it might be time to panic: The perennial underachievers came into the season with yet another new coach and high expectations, then started the year with four straight losses. What's worse, Alexander Ovechkin was goalless during those games, prompting Adam Oates to move him to a line with Jay Beagle and Joey Crabb because, apparently, the big spinning "How to Finally Get Ovechkin Going" wheel in the coach's office landed on "Animal Names."
Why they shouldn't: Ovechkin scored a goal Sunday to help the Caps to their first win of the year. That's a start … right?
The panic scale: 10/10. Did we mention Ovechkin still has eight more years and $79 million left on his contract after this season? Maybe owner Ted Leonsis needs to update this fabled 10-point plan.
Filed Under: Detroit Red Wings, Los Angeles Kings, New York Rangers, Philadelphia Flyers, Toronto Maple Leafs, Washington Capitals