NHL Grab Bag: Tyler Bozak Finds Way to Ruin Winning for Toronto Maple Leafs
Abelimages/Getty Images
Welcome to a weekly grab bag of thoughts and observations from the past few days and/or decades of NHL hockey.
The Three Stars of Comedy
Recognizing the NHL personalities from around the league who produced the most comedic fodder for fans.
The third star: The Toronto Maple Leafs may never win again
And it's all thanks to Tyler Bozak, who somehow arranged for "We Can't Stop" by Miley Cyrus to become the team's postgame victory song. This being Toronto, that led to intense media coverage like this story, in which a clearly annoyed Joffrey Lupul would like to remind you that he is far too cool for all this.
Hey @MileyCyrus. You're getting lots of attention here in Toronto! #goodjob #wecantstop

— Tyler Bozak (@Bozie42) October 16, 2013
The second star: Patrick Roy proves the hockey gods have a sense of irony
The rookie Avs coach tied the NHL record for consecutive wins at the start of a coaching career Tuesday, with six. The other person who shares that mark? Mario Tremblay, with the 1995-96 Canadiens. Why yes, that would be the same Mario Tremblay who, just a few weeks after setting the record, had his rookie season derailed when this happened to him.
The first star: The Vancouver Canucks are doing it wrong
I'll be honest, I had to watch this clip five times just to figure out what happened. Then I watched it 50 more because it was funny. I bet Joffrey Lupul starts doing this several times a game. Then again, he may not need to.
Obscure Former Player of the Week
NHL history is filled with legendary players whose stories are passed down from generation to generation. This is not one of them.
Earlier in the week, we took a look at some all-time NHL greats who played for many franchises, including a handful of All-Stars from the early years who played for five of the Original Six teams. Some readers wanted to know: Did anyone ever play for all six?
Yes, as it turns out. Vic Lynn was a speedy role player who managed the feat despite playing just 11 NHL seasons. Although the spotty record-keeping from the era makes it hard to know for sure, Lynn, nicknamed "The Saskatoon Streak," is often cited as the only player to suit up for each of the Original Six.
He covered half of those teams in his first three seasons, combining for just six games with New York, Detroit, and Montreal. He finally found a regular lineup spot in Toronto, where he spent time on a line with Leaf legends Howie Meeker and Teeder Kennedy. Lynn spent four seasons in Toronto, helping the team win three Stanley Cups.
He was traded to Boston in 1950 and spent two years splitting time between the Bruins and the minor leagues, then joined the Blackhawks for two more years of part-time duty. The 1953-54 season was his last, and he was out of the NHL by the age of 29. He returned home to Saskatchewan to play senior hockey, then enjoyed a long coaching career in the minor league and amateur ranks.
Great Hockey Debates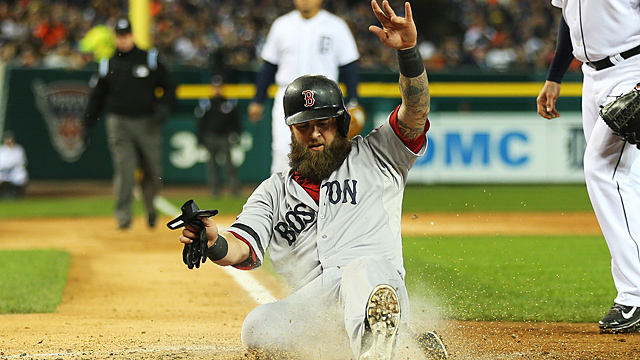 In which we employ the Socratic method in an attempt to settle the issues that have plagued a generation of hockey fans.
This Week's Debate: It's October, which means the baseball postseason is upon us. But are the baseball playoffs as cool as the road to the Stanley Cup?
In Favor: Yes. The baseball playoffs are awesome.
Opposed: Well, sure, if you're a baseball fan, but the NHL playoffs aren't so bad themselves. In fact, it's one of the few things most hockey fans think the league gets right. The sudden death, the handshakes, the Cup … it's all pretty fantastic.
In Favor: But you have to admit that October is a great time to be a baseball fan.
Opposed: Oh, of course, I'll acknowledge that point.
In Favor: You will?
Opposed: Sure, why not?
In Favor: [Pops cork on champagne bottle; sprays it all over everyone.] WHOOOOOOOO!
Opposed: Wait, what the hell are you doing?
In Favor: WE WON! WE DID IT, MAN!
Opposed: We're like only a quarter of the way done …
In Favor: Yeah, it's October. We like to spray champagne every few days.
Opposed: It got in my eyes.
In Favor: Sorry. What can I tell you, the baseball playoffs are just super intense.
Opposed: They are?
In Favor: Oh, big time. We even had the benches empty during the Detroit-Oakland series!
Opposed: Really? That sounds crazy. How many fights were there?
In Favor: Um … some guys yelled at each other.
Opposed: … and?
In Favor: One guy took his hat off.
Opposed: Yeah, I think hockey might have you beat in that category.
In Favor: You're probably right.
Opposed: Yes! [Performs understated fist-pump.]
In Favor: HEY! NO EMOTIONS!
Opposed: What?
In Favor: There's no showing emotion during the baseball playoffs. It's kind of a thing.
Opposed: Since when?
In Favor: Since about two weeks ago, come to think of it.
Opposed: Wait, so it's OK for you guys to spray champagne on each other after every few games, but if somebody claps their hands a few times it's some kind of scandal?
In Favor: When you put it that way, we may not have really thought this all through.
Opposed: Look, this whole argument is actually kind of silly. Both sports are great. Both postseasons are great. Why do fans always feel this insecure compulsion to compare one sport with another? Everyone should just watch what they like to watch. There's no reason to turn everything into a competition.
In Favor: We have silly beards.
Opposed: You have what?
In Favor: Silly beards.
Opposed: Yeah, we've been doing that for about 20 years now.
In Favor: Seriously, check out our beards, AREN'T THEY EVER SO FASCINATING?
Opposed: We're kind of over the beard thing, to be honest.
In Favor: OK, but you're missing out on four teams full of wacky beards.
Opposed: Hey, I haven't really been following the games. What is your final four?
In Favor: It's L.A. against St. Louis, and Detroit against Boston.
Opposed: Really? Um, we were kind of planning to do those matchups, too, this year.
In Favor: Beat you to it!
Opposed: Damn it.
In Favor: [Sprays champagne everywhere.]
The Final Verdict: Any hockey fan who does something like this when the World Series ends is getting punched in the head. I'm serious. Don't make me take my hat off.
The Week's Most Depressing CapGeek Page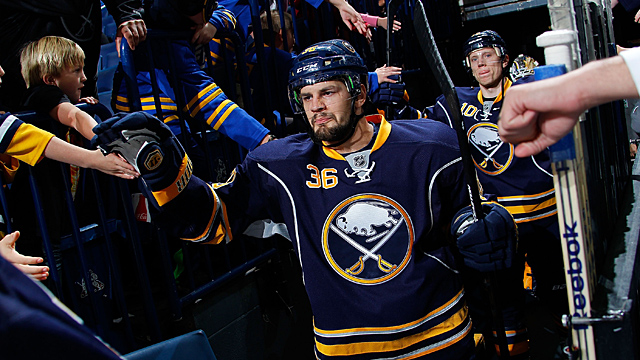 In which we select one page on capgeek.com and stare at it while a single tear rolls down our cheek.
This week's depressing CapGeek page is the one belonging to Buffalo Sabres forward Patrick Kaleta. If you examine the page closely, you'll find a detail that should make any hockey fan sad.
It's not his salary — at $1.25 million, that's reasonable for a third-line player. And it's not the term — three years is pretty standard these days. And it's not a no-trade clause, or any performance bonuses, or even his expiry status.
No, the problem with the page is that it lists him as playing for the Buffalo Sabres, which is an NHL team (barely). Patrick Kaleta still plays in the NHL. Despite doing stuff like this and this and, most recently, this, he still has a job in the league.
That should make us all sad. And angry. Well, mostly angry.
What Has Don Cherry Gone and Done Now?
Whether it's Coach's Corner, his regular media appearances, or a Twitter account that's presumably meant to be performance art, Don Cherry is everywhere. What has he been up to this week?
We haven't talked much about Don Cherry this year, because he has actually been relatively well-behaved so far. He was mad at Tomas Hertl and he likes Patrick Roy and he responded to concerns about concussions by telling Ron MacLean to shut up a bunch of times. Pretty standard stuff, really.
But Cherry was in the news for other reasons this week, thanks to his old pal Bobby Orr. While making the rounds to promote his new book, Orr waged a mini-campaign to get his former coach a spot in the Hockey Hall of Fame. And any reasonable hockey fan reading that should have only one reaction: Wait, how is it possible that Don Cherry isn't in the Hall of Fame already?
He doesn't have much of a case as a coach — only six years in the NHL, though that included one Jack Adams — and none at all as a player. But the Hockey Hall of Fame also includes a "builder" category, which is a catchall for non-players that is meant to honor those who contributed to the growth of the sport. There are almost 100 builders already enshrined, including many that — with all due respect to Gunther Sabetzki and Sir Montagu Allan — most fans have probably never heard of.
And yet Cherry, one of the most famous names in the game's history, isn't in. Granted, media members don't typically receive full induction into the Hall (Foster Hewitt is a rare exception among broadcasters). And no doubt some would argue that Cherry hasn't fulfilled the builder category's criterion of contributing to the development of hockey, and has in fact set the game back with his old-school outlook.
But whether you like him or not, Don Cherry has been one of hockey's most influential voices for four decades. A generation or more of Canadian fans have grown up hanging on his every word each Saturday night, absorbing his opinions and then debating them throughout the week. He has also been a tireless supporter of youth hockey.
For good or for bad, the hockey world would be a very different place right now if Cherry had never been a part of it. So Orr is right. Don Cherry absolutely should be in the Hall of Fame.
Hockey Pool Owner We All Hate This Week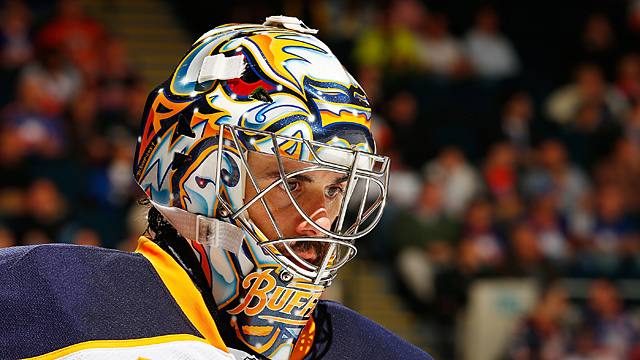 You're in a hockey pool, right? If so, this person is in the pool with you, and you hate them right now.
This week's hockey pool owner that we all hate is the guy who owns Ryan Miller and keeps wasting everyone's time with completely unrealistic trade offers.
Like that one from earlier this week, where he was trying to get Nail Yakupov. I mean, come on, man, this is a keeper league, and nobody is going to trade a 20-year-old former first overall pick for a 33-year-old goalie who hasn't even been all that good for three years. This is a serious league and we're trying to keep it realistic, so stop annoying everyone with ridiculous …
I'm sorry, what?
Really? An actual NHL rumor, you say? Reported in a legitimate newspaper and everything? Not just some terrible trade offer in my Yahoo hockey league?
Huh.
Well then … good luck with that, Buffalo. And for the sake of Oilers fans, here's hoping the league was set up to allow the other owners to veto really awful trades.
Filed Under: NHL, Hockey, Miley Cyrus, MLB Playoffs, Stanley Cup, NHL Grab Bag