NFL Run & Shootaround: Brotherly Love
Chris Graythen/Getty Images
On any given Sunday (or Monday or Thursday), your NFL Run & Shootaround crew will be gathered around multiple televisions, making inappropriate jokes and generally regressing to the mean. Catch up on all the NFL action right here.
Anquan Boldin: Hall of Famer?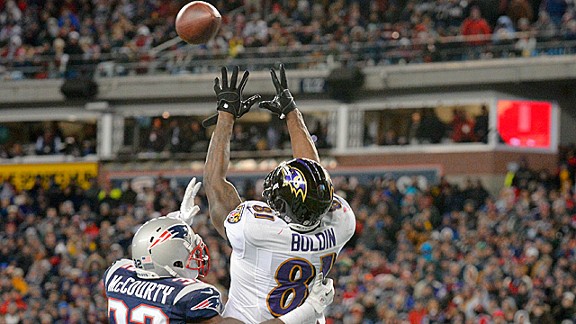 Anquan Boldin has not made a Pro Bowl since leaving the Arizona Cardinals at the end of the 2009 season. He has not had a 1,000-yard season in Baltimore, and the beast who caught 11 touchdowns in 2008 has been limited to a total of seven touchdowns in his past two seasons. Up until these playoffs, Boldin had mostly fallen off the casual fan's radar — if your interactions with the NFL come mostly from highlights, fantasy, and Red Zone, you might have even forgotten that Anquan Boldin was still in the league.

But Boldin was everywhere in Baltimore's run to the playoffs. He made big catch after big catch, and seemingly won every jump ball that was thrown his way. In the wild card round, Boldin torched the Colts for 145 yards and a touchdown. Against Denver, five of his six catches went for crucial first downs. And last night against New England, Boldin caught two touchdown passes from Joe Flacco. He's had one of the more memorable postseasons for a wide receiver in recent memory — only Larry Fitzgerald's 2008 playoffs (which, of course, were aided by Boldin) comes to mind. Should he have one more big game and Baltimore win the Super Bowl, he could end his career with an argument (albeit a weak one) for the Hall of Fame. He's currently 37th in career receiving yards with 10,165. With three or so more productive seasons, he would break the 12,000-yard mark and end his career somewhere around 19th or 20th all-time.
When it comes to wide receivers, The Pro Football Hall of Fame doesn't pay much attention to total yards or career longevity. It seems like the formula goes something like this: A Hall of Fame wide receiver must have been perceived as dominant, played on great teams, won in the playoffs, and, perhaps most importantly, should never, ever, EVER have carried the "stat accumulator" label. Boldin's best argument for the Hall comes from the fact that his career will be evaluated outside of whatever totals he ends up posting. I'm not saying he'll make the Hall that he or deserves enshrinement (seriously, what does that even mean? In any sport?), but if Hines Ward ends up going to Canton based on his tough reputation, his playoff success, and his marginal stats, it might be hard to argue that Boldin doesn't deserve the same consideration.
— Jay Caspian Kang
Seriously … Couldn't Be Happier for You.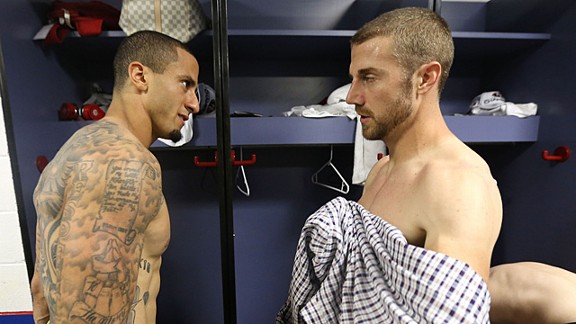 — Chris Ryan
The Greatest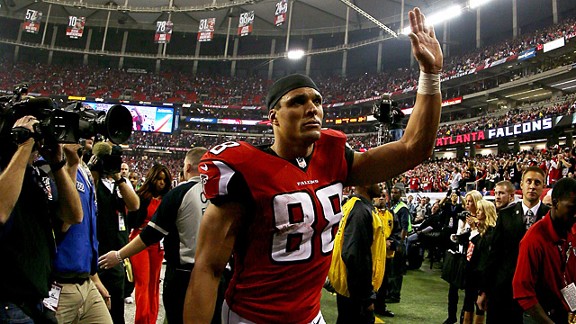 If the Ravens lose two weeks from now, I suspect that amid all the confetti and Gatorade, there will be plenty of drawn-out shots of a contemplative Ray Lewis, likely crying on the Baltimore sideline. Mixed in with conversations about Jim Harbaugh's genius will be talk of Lewis's greatness, of what he meant to the game, of what we'll lose now that he's gone. A portion of it will be warranted. My complaint isn't about that. It's about why Tony Gonzalez didn't deserve the same.
You could argue that Ray Lewis is the greatest player ever at his position. With Gonzalez, there is no argument. Gonzalez, a tight end, has more career receptions than any player in history not named Jerry Rice. His 103 touchdowns are good for 18th all time, his 14,628 yards good for seventh. Gonzalez changed not only the record book for tight ends, but also how fans and coaches viewed the position (if Gonzalez hadn't come along, Jimmy Graham and Antonio Gates might be toiling in the NBA D-League).
Statistics will likely be how most define Gonzalez's legacy, but like most great players, his biggest impact was as the face of his game, in a city that embraced him. Tony Gonzalez was synonymous with football in Kansas City during his time with the Chiefs, and it's easy now to forget just how dynamic those offenses were. You could lambaste Kansas City for parting with Gonzalez — not only because of his production in Atlanta, but also for the lack of production the Chiefs have gotten from Javier Arenas (who K.C. selected with the resulting pick) — but it was actually Gonzalez who told GM Scott Pioli that he'd like to be dealt to a contender if the right offer was available. It allowed a legend to graciously seek a chance at a championship, but it also meant the franchise parted with one of the five best players in its history.
The Falcons' failure to reach the Super Bowl will start a lot of conversations about Matt Ryan and Mike Smith, but it's Gonzalez whose legacy should've been on our minds. He's the one we should be talking about.
— Robert Mays
Game of Inches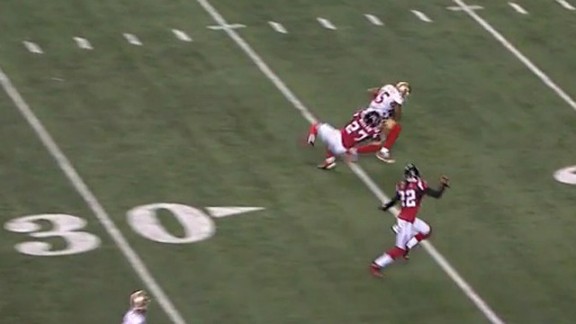 This is the moment at the beginning of the fourth quarter when Michael Crabtree snared a projectile rocket masquerading as a football shot from the launcher attached to Colin Kaepernick's shoulder, shrugged off Falcons DB Robert McClain, and gained 33 yards, to put the Niners in the red zone (there is no red zone, but they were in the red zone). Michael Crabtree doesn't have hands; he has bald-eagle talons. When this guy isn't snatching sound-barrier-shattering passes out of the air, he's saving dwarves, hobbits, and wizards.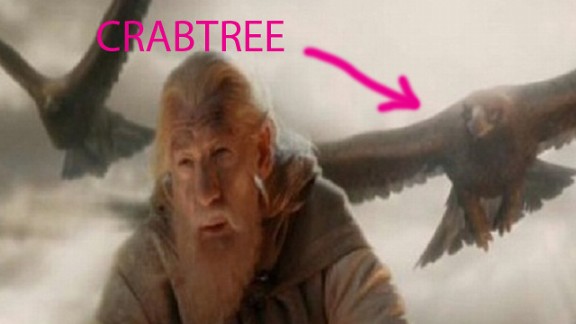 That was a very cool reference, made even cooler because Michael Crabtree is a HUGE Tolkien guy (not fact-checked this, by the way). Anyway, the reason I wanted to point out this catch — a grab that was pretty much negated by Crabtree's goal-line fumble two plays later — was because of the Texas Tech product's amazing ability to get yards after the catch. It's a quality I associate with receivers wearing that red and gold of San Francisco. Crabtree not only has strong hands — possibly the strongest in the league — he's got a strong will to keep a play going. He always has. Watching that early fourth-quarter moment in the NFC Championship immediately brought to mind another time Crabtree grinded for extra yardage when his team absolutely needed him to …
— Ryan
No More Drama
(All .GIFs by HeyBelidna)
#HarbaughStruggle
Not a Short History of Fake End-Zone Dances
I wanted this item to be called "A Short History of Fake End-Zone Dances." On Sunday, there were two celebrations that were notable for being put-ons. Frank Gore started to do the Dirty Bird … and then stopped. Anquan Boldin started to throw the ball into the crowd … and then stopped. (Both guys were playing on the road.) I thought, add a couple of historical examples, a little analysis, and — boom! — we've got a Grantland investigation.
Problem is, fake end-zone dances are very hard things to find. There have been a number of fake Lambeau Leaps. See Anthony Fasano and Fred Smoot. (Smoot, who pick-sixed Brett Favre, seems to have actually wanted to leap but got rejected.)
Another fake end-zone dance is culled from memory. When Herschel Walker was with the Eagles (so, sometime between 1992 and 1994), he played the Cowboys — a.k.a., the team that made him a footnote on its march to glory. Herschel scored a touchdown. He started to spike it and then thought, "Nahh …" And, if memory serves, he flung the ball into the air.
Even with a small sample, we can say a couple of things about the fake end-zone dancing. One, a fake dance rubs it in even more than even a normal dance. And it's not just because, as in the Gore and Lambeau cases, you're appropriating the other team's moves. It's because — point two — you tease a celebration and then you say (non-verbally), "Nope." See Gore's dismissive wave of the hand. We don't need end-zone dances, he's saying. We'll just take scoreboard.
— Bryan Curtis
Lost Scene From Tree of Life
Tick of the Clock
I was watching Stevan Ridley, I admit, mostly because I wanted to make sure he was still alive. For a moment, I wasn't sure; his arms appeared to be twitching, and I completely lost track of the football because the football didn't seem to matter at all anymore, and the trainers gathered over Ridley, and a pile of writhing men materialized right next to him. The camera lingered in a wide shot on both the fight over the football and the crowd of trainers and teammates around Ridley, and it felt like everything that has made the NFL what it is and everything that scares us about the future of the NFL, all in one 10-second still. Someday, I fear, they'll take a freeze-frame of that shot and put it up in a museum to remind us where football came from.
— Michael Weinreb
Dirty Work
During yesterday's six brutal hours of playoff action, several players were laid out in skin-crawling fashion. If you had to pick the most memorable hit from the AFC Championship Game, you'd probably go with Bernard Pollard's fumble-inducing, game-changing, 4th-quarter stick on New England running back Stevan Ridley.
Earlier, the NFC Championship Game saw several jaw-jarring jolts, as well. My favorite, though, didn't involve two players; this one was between a player and a security guard.
The Falcons had a 7-0 lead when Julio Jones attempted to catch a deep sideline pass, only to roll into a security guard, taking his legs out and causing his head to bounce off the turf. The poor unsuspecting bastard went down hard, and the game was stopped as medical attendants tried to get him back on his feet. (See the .GIF here)
I always feel bad for these security guys and gals. They're hired to keep their backs to the action and stare at the crowd without catching as much as a glimpse of the on-field action. It's like the old joke about giving Stevie Wonder courtside seats to not see the Lakers play. Such a waste.
But I understand they have jobs to do and are trained to pounce in case a brawl breaks out in the crowd, or, worse yet, if a couple caught on the Kiss Cam overdoes their PDA.
Still, it raises the question: Why are these security guards placed directly in harm's way? Is there really no room to tuck them closer to the stands?
It's only a matter of time before Roger Good-doer-Goodell insists that new safety measures be put in place to prevent security guard concussions. The way I see it, he has three choices:
1) Force them to wear helmets
2) Hire an intern to yell "Get the eff out of the way" in their direction every time the play approaches them.
3) Switch the dynamic around altogether, allowing the security guards to do an about-face and turn toward the field.
— Sal Iacono
Kickstart My Heart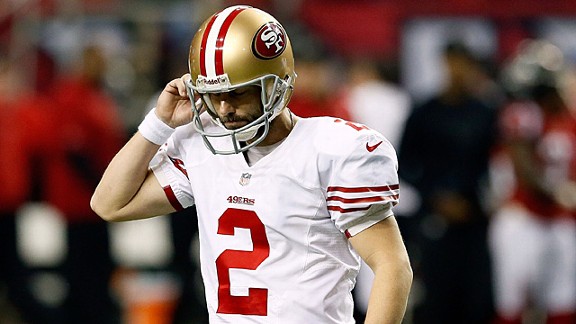 As a 49ers fan, I can't remember being as terrified of a player on a team I cheer for as I am of David Akers right now. And that's saying something, coming from someone who's spent the last eight years watching Maple Leafs goaltenders. My Akers-related anxiety reached a point on Sunday night where I found myself rooting for the Patriots to eliminate the Ravens, just so John Harbaugh could "accidentally" cut Justin Tucker long enough for his brother to sign him to a two-week deal.
Has a team ever held open tryouts for a new kicker during Super Bowl media week? I feel like we might need to try that. Or at the very least, let's install Colin Kaepernick as the holder and start running the field goal option. Just let him take the snap, read the defense, and then pull the ball up and take off running. If that means Akers ends up flying through the air like Charlie Brown on every kick, all the better. Make it happen, Coach.
— Sean McIndoe
Terrell, You Just Beat the Patriots. What's Going Through Your Mind?
Suggs: "Tell them to have fun at the Pro Bowl. Arrogant F—ers."

— Dan Wetzel (@DanWetzel) January 21, 2013
The Only Appropriate Reaction to That Quote
I Feel So Alive, for the Very First Time
Had the 49ers claimed home-field advantage, the musical options would've been limited. You go see the local teams, and it's always Chris Isaak, Santana, Huey Lewis, Tony Bennett, maybe Steve Perry and, in recent years, Bailey or E-40. But this was Atlanta, a metropolitan area that gave the world a terra drive worth of not-fucking-around anthems. In other words, there were a lot of things that could've happened at halftime to sustain the Georgia Dome's positive mojo: "Never Scared," "Knuck If You Buck," "F.I.L.A.," Goodie Mob and Big Boi doing "Black Ice" while Andre did finger taps in a paisley hot-air balloon, Young Jeezy doing donuts in a blue lambo, T.I. reprising a scene from Takers, CyHi the Prynce explaining his name in excruciating detail, "______ featuring 2 Chainz," a cassette recording of Yung Wun describing "Tear It Up," Future reading Jessie Tuggle's Wikipedia page aloud, "All Gold Everything." Instead, this happened.
— Hua Hsu
Tales of San Francisco
"FULL HOUSE," said the signs hanging from the doorway at Kezar Pub, and unfortunately it wasn't a tribute to the locally-based sitcom that was popular the last time the 49ers were in the Super Bowl. I had thought that getting to the bar an hour early would at least get me in the door, but in hindsight that was disrespectful thinking. Kezar is one of the Niners bars in San Francisco; it is located not far from the field in Golden Gate Park where the team played until 1971. (The field, according to Wikipedia, is "currently home to Major League Ultimate team the San Francisco Dogfish, and is awaiting the first pull of the 2013 inaugural season.") The only people they were letting in were the prettiest girls and the grittiest punks — the ratio padders and the regs. Being neither, I got in a cab and directed us past Final Final (prohibitive line out the door) to my plan C: R Bar, where I got a precious seat at the bar and a beer-and-a-shot as the game began.
When Matt Ryan hit Julio Jones for the early touchdown, there was an unexpected celebration from a pocket of Atlanta fans. (It was hard to differentiate who was who because everyone was basically wearing red.) The guy sitting next to me asked who I was rooting for. "Well, I'm a New York Giants fan," I said, apologetically, "but I hope San Francisco wins." I made a vague gesture that was meant to signify "because I live here and all" but probably looked more like "let me show you to your table." It turned out the guy and his buddy were both Giants fans too and would not, they made clear, ever root for the Niners. They bought me a shot when Julio Jones scored again. I admitted that I didn't reeeeally care who won, to be honest, as long as the Patriots didn't ultimately win a Super Bowl. On that we agreed.
The general mood at the place picked up significantly when the Niners scored their second touchdown to cut Atlanta's lead to 17-14 with halftime coming up, though the fog of assumed defeat rolled back in shortly after when the Falcons scored with just 25 seconds left in the half. I went with a friend down to some place in the Mission that I later learned self-identifies as "San Francisco's first ham and oyster bar" to watch the second half. The food was delicious, but also distracting — when David Akers missed a game-tying gimme, and when Michael Crabtree turned over the ball on the one-inch line, it was all too easy to just sigh and get lost in the menu. "We ended up not going to Tahoe this weekend so we could watch the game here," I heard someone say. "The snow wasn't great anyway so it worked out." Still, even we insufferable dilettantes couldn't help but be transfixed by Atlanta's slow, steady fourth-quarter drive, couldn't help doing the math and thinking that we might be seeing Akers again, couldn't help tensing up as Matt Ryan tried, twice, for Roddy White from the 10-yard line, couldn't help shaking our heads and smiling like grizzled old-timers.
Of course, we weren't, whatsoever. All those guys had been saddled up at the Kezar Pub bar since hours before I foolishly tried to stop by. I thought about what the scene must have been like there — hopelessness giving way to heady (and 'Heady) release — and was sad that I totally missed it. But you know what? An imposter like me didn't deserve a place like that anyway. Leave it to the real fans.
— Katie Baker
The Architect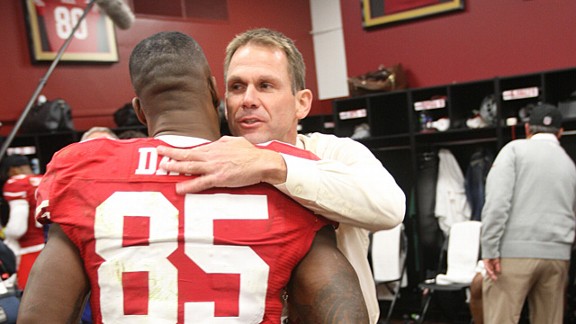 For the next two weeks, we're likely to hear the same story about how exactly the 49ers got here. Two seasons ago, after a disastrous 6-10 finish under Mike Singletary, the San Francisco brass traveled the 10 miles down the 101 to coax Jim Harbaugh away from Stanford. One of the more impressive turnarounds in NFL history followed. San Francisco went 13-3 in its first season under the new coach, and in the process, cast out the toxic elements of the former regime. Seeking to outdo himself in his second campaign, the coaching sage daringly replaced the league's highest-rated passer 11 weeks into the season, and it was thanks to this bit of magic that the Niners were able to get over the hump and into the Super Bowl.
Much of this is true. What Harbaugh has done in his two seasons is nothing short of amazing. The Kaepernick decision has given the Niners a dimension they previously lacked, and over the last two weeks, Harbaugh has shown just how dynamic his offense can be given its diverse attack. But as praise is heaped upon Harbaugh and Kaepernick as the Super Bowl draws closer, the man just as responsible for the Niners' success will be relatively forgotten. That man is Trent Baalke.
Baalke was building a winner in San Francisco while Harbaugh was still busy beating up USC. A member of the front office since 2005, Baalke was elevated to Vice President of Player Personnel in 2010. That would be the first year that he oversaw San Francisco's draft process, and it just so happened to be a draft that built a huge chunk of the foundation the 49ers have ridden to New Orleans. With its two first-round picks, the Niners came home with Anthony Davis and Mike Iupati — both of whom have developed into Pro Bowl–caliber players on the offensive line. In the third round, it was linebacker Navorro Bowman. A year later, with Baalke now officially the team's GM, San Francisco's first two picks netted Aldon Smith and Kaepernick.
The coach and the quarterback are bound to get most of the credit in the run up to the Harbowl, but Baalke's approach in his two drafts has had its share of impact in defining the 49ers. Rebuilding teams are often served by building from the line out, and in year one, San Francisco used not one, but two first-rounders on guys they hoped could be fixtures up front. In Aldon Smith and Kaepernick, the Niners got stars at the two positions that have come to define each side of the ball. Harbaugh may be the best coach in football, but with the Niners, he's had the luxury of leading a team built to succeed.
— Robert Mays
Filed Under: Atlanta Falcons, Baltimore Ravens, Bryan Curtis, Chris Ryan, Jay Caspian Kang, Joe Flacco, Matt Ryan, Michael Weinreb, New England Patriots, NFL, Ray Lewis, Robert Mays, Sal Iacono, San Francisco 49ers