NBA Shootaround: Under My Thumb
Noah Graham/NBAE/Getty Images
So much amazing is happening, and the Shootaround crew is here to help you keep track of it all. You'll find takes on moments you might've missed from the previous night, along with ones you will remember forever.
Pure and Easy
Today marks the start of my 24th month as an Angeleno. Much of that time has been spent in an office about 50 yards from Staples Center, where last year, a lockout-shortened NBA season meant a different basketball game just about every night. Of all the sports memories I'll take from these two years, what I've gotten to see there will be at the top. I've seen LeBron James three times, and Kevin Durant one more than that. I've watched one of the 10 best players ever play his home games, often enough that it almost feels routine (it never quite gets there). Years from now, though, when I talk about my favorite part of seeing the NBA so close, I'll talk about Chris Paul.

James and Durant are, without question, the two best players in the world, but right now, Paul stands as the third. Watching all three in person, it becomes apparent that there's a common thread that ties them together in their greatness. For each, the court seems smaller than it does for everyone else. With James, it's the combination of size and speed that allows him to cover every bit of ground seemingly at once. With Durant, it's how even from 25 feet, it looks as though he's reaching his hand into the rim.
Considering the build of each, this makes sense. If God were James Naismith, these men who would stand as the ultimate argument for intelligent design. Paul, on the other hand, is 6 feet tall on his tiptoes. The court shrinks not because of how fast he can traverse it, but how easily he does. No point guard in the world is better at identifying and taking whatever real estate he pleases in the half court. With Paul, this often leads to several different outcomes: a lob, a kick-out to an open shooter, or absolute devastation when he gets to the elbow. Much of the work is done because Paul never, ever picks up his dribble before he needs to. The result is the defense never, ever being able to stop moving when the ball's in his hands.
The Clippers sputtered in the handful of games Paul missed in the past month. Eric Bledsoe is the chic trade piece of the moment, but watching the team's offense with him instead of Paul was just another reminder who the best point guard on the planet is. Back at home for the first time since Paul's return last night, the Clippers scored 46 points in the first quarter against Houston behind Paul's 10 points and six assists. Again, it was how easy it all looked. Aside from James, no one is more in control of every element of his team's offense than Paul. There is no rush. There is no discomfort. There's only an absolute command, of himself and of the floor. And I can't wait to be there for it again tonight.
— Robert Mays
Some Men Just Want to Watch the World Burn
(All GIFs by HeyBelinda)
Bulls/Celtics: A Short Play in Two Acts
Act I
[Int. Grantland conference room]
Triangle Editor Chris Ryan: There really aren't any good games tonight.
Grantland editor Dan Fierman: How dare you? Bulls-Celtics!
Ryan: Meh.
Act II
[Int. Fierman's home, nighttime]
Fierman: [Watches TV, weeps softly for the game of basketball]
FIN.
— Dan Fierman
Turn Down the Volume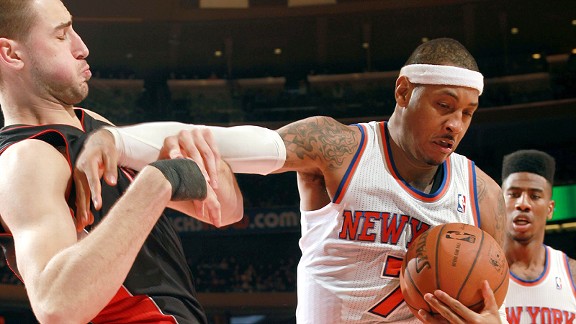 If you're a basketball purist, last night's matchup between Toronto and New York most certainly made you nauseated. Rudy Gay and Carmelo Anthony — two of the more shot-happy stars in the NBA — combined to miss 36 (!!!) shots in one of the ugliest games I've seen all season. To put that number in perspective, consider that those 36 wayward shots were:
One less than the total points the Raptors scored in the first half (37)
Twelve more than the combined assists (24) from both sides IN THE ENTIRE GAME
Nine fewer than the combined attempts (45) from the other eight starters
For a fan, it was a pretty shameless display of gunning that helped cement the bad rap given to volume scorers around the league. It doesn't mean that all players who chuck the ball toward the rim like it's going to explode are inherently bad for fans or teams. Hell, Brandon Jennings, J,R, Smith, Anthony, Gay, and legions of other can occasionally produce brilliant performances that captivate everyone for weeks. More often than not, those can cover up for the string of 6-for-17 outings leading up to them (actually, 6-for-17 should be the epithet on Monta Ellis's tombstone one day).
But when two (really four with Smith and DeMar DeRozan) of these players hit rock bottom on the same night, that's when volume shooters go bad.
— Brett Koremenos
Winter Is Coming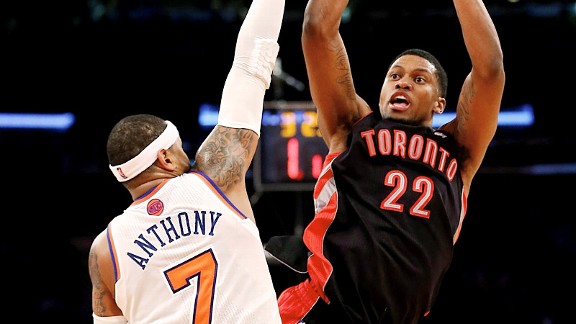 For opposing forces on the efficiency metrics debate, the recent trade of Rudy Gay was not a line in the sand, but a bottomless chasm infested with sharp-toothed critters in boiling Sriracha (that was supposed to be terrifying, but now it sounds freaking delicious). On one side were stat heads, citing the econometric value of ditching an extendo-clip volume scorer who makes $17 million a season. Scoffing at the dweebs were the self-described realists, incredulous that a tough Grizzlies team would punt its 26-year-old leading scorer for loose change. Despite the gulf of opinion, both sides might claim victory so far.
After beating the Knicks in Madison Square Garden last night, the Raptors are 5-2 since Gay began suiting up, including four consecutive wins. Impressively, they've also defeated the Clippers, Pacers, Nuggets, and the secretly dangerous Hornets. In two victories, Gay drilled the game-winning bucket. "He's done it his whole career, done it at a high level, [he's done it] in the playoffs, in big games," said Raps coach Dwane Casey, ignoring that Gay has gone to the playoffs only last year, where his team lost in the first round. Jubilant revisionism aside, results are results: with Gay on the team, Toronto is kicking tail.
But it's the same Rudy. He hasn't blossomed in the Canadian permafrost like a regenerated Pleistocene Age plant. Yes, he's averaging almost 21 points a game — a career high — but his field goal percentage is at 38 and his true shooting percentage is a putrid 46 percent (in part because he's made only six of 31 3-pointers for T-Dot). Although Gay has been more frugal with turnovers and increased his thievery, his rebound, assist, and block percentages are virtually unchanged. From this standpoint, the Raptors are winning in spite of Rudy Gay's offensive efforts, even if he's successfully buried a couple game-clinching shots.
First, all these nano-trends have occurred within a tiny sample size (roughly the frame it took experts to proclaim that the Celtics are magically better without Rajon Rondo). And two of the games were decided by Rudy's last-second heroics, meaning they were a coin-flip away from being 3-4 during the Gay tenure. But still, with players like Gay, Kyle Lowry, Alan Anderson, and Jonas Valanciunas taking turns contributing, Toronto has done enough over this recent stretch to superficially make it appear Bryan Colangelo has the foggiest clue of how to run a basketball franchise. Ghostride that Bentley in a blizzard while you can, Raptors faithful.
— Ben Detrick
Vinsatisfying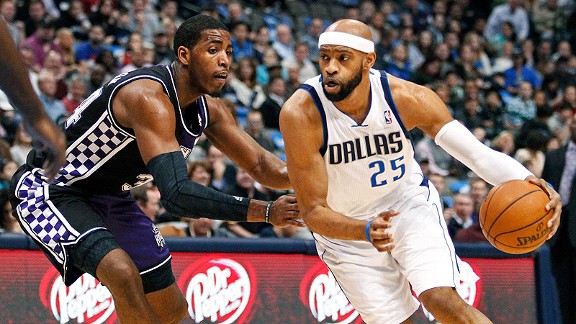 Last night, Vince Carter passed Larry Bird on the career scoring list for 29th all time with 21,794 points.
Not going to lie, when I saw that last night I did a triple-take. Really? Vince Carter? Passed LARRY FREAKING BIRD!?!? Of course, I'm a dude in his early 40s who has been following the NBA for 35 years, and I have a simple and unwavering reaction to "Vince Carter" that I don't think is all that unique: "What a dick."
He earned the knocks all by himself: the quitting in and on Toronto (even if he did put the franchise on the map), the not-quite-enough performances in the postseason (with the missed free throws against Boston in the Eastern Conference finals the most notorious) and a string of "soft" injuries over the years that are too well-documented to bother citing.
But this year, there is a script-reversal going on, one that includes the idea that Vince Carter *might* be HOF worthy. Zach Lowe wrote a (typically) thorough and eyebrow-raising defense of VC in December. And the "Ball Don't Lie" dudes also had some things to say.
Here are some facts: VC is 36 years old and has been in the league since the 1998-99 season. He is an eight-time All-Star and a two-time All-NBA player. Last night, in addition to passing Bird on the scoring list, he also became the 11th player in NBA history with at least 1,600 3-pointers.
His genuinely amazing dunkitude happened to coincide with the ascendance of the Internet, and I know I watched his dunk highlights online probably 36,547 times. Give or take. And the quotes in today's stories — "still a special player," "one of the best scorers in NBA history" — reveal a level of still-high-regard for VC that seems surprising. He honestly deserves at least a little consideration for Sixth Man of the Year this season, and he might be in the running for that award if Dallas weren't so crappy (good job, good effort, Cubes!!).
A cynical asshole might make a PED joke at this point, because that's a fun way to undermine anything mildly extraordinary from a player in his mid-30s. But I'm not going to do that. Instead, I offer a simple "Congrats, VC." Even if you haven't won over the Iron Sheik.
— Joe House
We Have a Working Theory That a Rim Once Murdered a Member of Tyler Hansbrough's Family; He Is Non-Discerning in His Quest for Revenge
The Evolution of Kawhi Leonard
Tony Parker, who will soon be 31, is having the best season of his career. If LeBron James and Kevin Durant did not exist — and lo, we shudder to imagine that — he'd be a legitimate MVP candidate. But they do, and he's not. Tim Duncan and Manu Ginobili are trucking along, aged but effective, when they play. But they haven't played much lately, and neither has Parker, who sat on Monday before returning for last night's last-second win over the Cavs. In their stead, Gregg Popovich has had to do what Gregg Popovich always does: make do with what he has. In this case, however, he has what might be the best "Oh, and him" crew beyond his Big Three. Danny Green, Gary Neal, Boris Diaw, Tiago Splitter, and Matt Bonner have been highly effective in their optimized roles. But none have become more important than second-year player Kawhi Leonard. On Monday, without Parker, Duncan, or Manu, Leonard went for 26 and flashed a little of the alpha flair that's been missing from his game. Last night, he did this:
In February, he's averaging 15.5 points and seven rebounds, and he's up in every statistical category, advanced or not, with the exception of PER, thanks to an inflated turnover rate. Leonard is just 21, but he is arguably the most exciting Spurs draft pick since Parker. The Spurs have done this before, riling their fans about mid-to-late-round sleepers like DeJuan Blair, George Hill (for whom Leonard was dealt to San Antonio), and Splitter (they also drafted Goran Dragic, Luis Scola, and Leandro Barbosa in the past decade — affirming their Best International Scouting Department in the history of the league reputation, hands down). The Spurs are absolutely rolling at 30 games above .500, though there is a pervasive feeling that once again this is a regular-season team that offers little threat in the playoffs. They're not sexy, they're old, and they're all about system. But Leonard — and we haven't even addressed his pestlike defense — offers a sliver of quicksilver in that system. He's a disturbance in Darth Popovich's force.
— Sean Fennessey
Filed Under: Ben Detrick, Boston Celtics, Brett Koremenos, Carmelo Anthony, Chicago Bulls, Chris Paul, Dallas Mavericks, Joe House, Kevin Garnett, LeBron James, Los Angeles Clippers, NBA, Robert Mays, Toronto Raptors