NBA Playoffs Shootaround: Whistle While You Work
Andy Lyons/Getty Images
So much amazing is happening, and the Shootaround crew is here to help you keep track of it all. You'll find takes on moments you might've missed from the previous night, along with ones you will remember forever.
Pray 4 Lance
(All GIFs by @HeyBelinda)
netw3rk: Look at this lady in the front row, catching that holy ghost from Born Ready Lance Stephenson. This is what playoff basketball does to people. It causes folks with the means to drop five figures on front-row seats to react to corner 3s like their dog is being rescued from a well. It forces arena staff to have to come out onto the court and haul middle-aged white ladies to their feet as the aforementioned ladies jabber in the gibberish tongues of the ancient saints. Lance caught the ball in the corner with two seconds left and rainbowed it like he was trying to get a kite out of a tree, right in the face of a hard Dwyane Wade closeout. Cue the church organ.
There's reckless abandon, and then there's Lance Stephenson pulling down a rebound and fast-breaking like he's running from an avalanche. Dude is just as likely to throw the ball into the stands after trying a 100 mph spin move on three defenders as he is to make a layup. But the Pacers played the sixth-slowest pace this season and desperately need a guy who can handle the ball while running like his child is about to crawl into an intersection. During last season's playoffs, Lance's major contribution to the cause was his LeBron-targeted autoasphyxia mimicry. This year, in Pacers playoff wins Lance is averaging 12 points on 51 percent shooting from the floor, and 6.8 points on 25 percent shooting in losses. X factor, agent of chaos, loose cannon, whatever you want to call him; when Lance plays well, the Pacers win. Looks like all that time spent under the tawny wing of Larry Hoosier Legend learning how to be ready is paying off.
Plus he's flopping now, too, so you know he's thinking strategically.

The Face of Composure
Chris Ryan: Joey Crawford can blow all the whistles and watch all the replays he wants to. Pat Riley is just going to sit back and remember that time in 1985 when he and Kelly LeBrock stole a Chrysler Laser and drove all night just to see Mellencamp play Farm Aid.
Rap Game Joey Crawford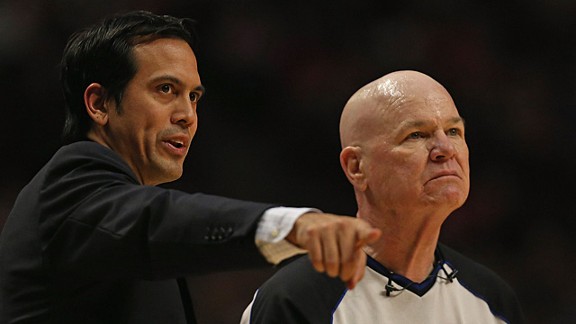 Andrew Sharp: Listen, I have no idea how Joey Crawford's still allowed to officiate NBA basketball games, but I'm not complaining. It's not like other refs would be that much better. As long as I've lived, NBA officiating has been shady and inconsistent, and at this point it's just part of the game. Accept it, embrace it.
And, hey, maybe you're not into conspiracy theories, but if that's the case it's your loss, because looking at David Stern as some omnipotent puppet master makes it all twice as fun. So with that in mind, if you accept that the NBA was going to give the Pacers tons of calls last night regardless (because otherwise we'd be looking at an entire week off between the conference finals and the NBA Finals) and then leave us shaking our heads a day later, would you rather be blaming some anonymous dweeb like Ed Malloy or the man, the myth, the God? JOEY.
He is so much fun to hate. He should not be allowed to ref NBA games. He thinks he's the star and goes out of his way to inject himself into everything. He's horrible.
And I'm just saying, when he's gone, I'll probably miss him.
Counterpoint
Hey, What's Kevin Durant Up To?
Sharp: KD took to Twitter to express his dismay with LeBron's sixth foul. Then:
LOL. Wait, why am I weeping?
Shane, Come Back!
Sean Fennessey: A somewhat minor but relevant subplot of this postseason: Shane Battier is atrophying. Compared to his regular season, he's playing fewer minutes, scoring fewer points, shooting a far worse percentage (crucially, from 3-point range as well), and, anecdotally, being less of a pain in the ass. He isn't poking as many people in the eye, he isn't throwing his elbows in as many chops, and he has yet to have one of those vintage This fucking guy games with four 3-pointers, five tip-outs, and 37 deflected passes. There was a moment last night, after Chris Bosh was briefly removed with an injury, when Battier was matched up against Roy Hibbert on the low block. This was like a giraffe being defended by a hyena. Battier is still an amazing lateral defender with often stunning instincts, but there isn't a worshipful think piece on this planet that will make him 7-foot-2. Battier will be 35 later this year. After that, he'll be 36. Then, 37, probably. Hibbert is 26. Paul George is 23. Lance Stephenson is 22 going on ∞. Battier's decline doesn't necessarily preclude the Heat from going on a 6-0 run and emerging as the most glorious NBA champions of the millennium. But someone's going to have to bust Tony Parker in the chops if they want to do so. Come back, Shane.
Roy Hibbert in the Octagon
Brett Koremenos: As each game passes by in these playoffs, I become more and more amazed with how well Roy Hibbert moves now. Sure, he isn't exactly a ballet dancer out there, but he has still made some gains in his strength, mobility, and conditioning since he came into the league in 2008.
Much of the credit for the gains in those areas is given to his rather unconventional offseason workout regime, featuring a heavy dose of MMA-style training.
The MMA workout is certainly challenging and intense, and it's really amusing to imagine a 7-foot-2 pro baller doing it, but it's far more likely that the majority of Hibbert's athletic improvement came thanks to his work with a trio of trainers who aren't exactly household names.
Shawn Windle, the Pacers' strength and conditioning coach, is among the most highly respected at his position in the NBA, and he's charged with keeping Hibbert functioning at a high level all season long. Over the offseason, the All-Star center has spent time with New York–based trainer Joe Dowdell, another sharp mind in the fitness field. These two, along with Mike Robertson of Indianapolis Fitness and Sports Training, have likely had a much bigger role than the more ballyhooed MMA fighting in turning the tall, gangly, out-of-shape college kid from Georgetown into the LeBron James–devouring beast we've seen in the Eastern Conference finals.
Mario Chalmers Thinks Mario Chalmers Is Important, and He Might Be Right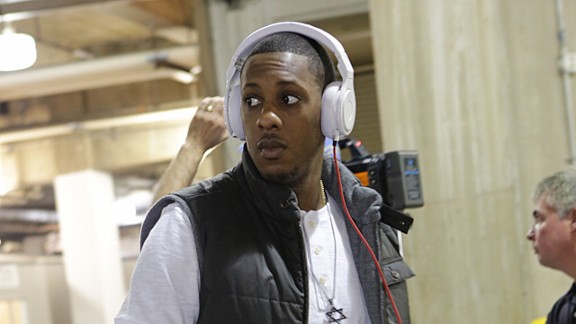 Danny Chau: If you ever need a quick synopsis of Mario Chalmers's life, just look at his wrists. He has the words "quickness" and "confidence" etched on them. Every once in a while, Chalmers has a game like this (20 points, two steals, plus-11), a game that attempts to justify all of his delusional hubris over the years. They don't make his annual "I'm a top-10 point guard in the league" declarations any less insane, but performances like last night's at least keep it within the realm of possibility. He was the second-best option for the Heat last night, getting into the lane at will and scoring several times over an uncharacteristically inattentive Roy Hibbert, who has been a defensive stronghold for the entire playoffs.
Chalmers had bigger moments in the playoffs last season, and obviously the team's loss trumps his individual numbers, but with Dwyane Wade still clearly affected by his knee and Chris Bosh a nonfactor last night, Chalmers might actually become as important to the team as he thinks he is. With questions about two of the Big Three, Chalmers is the only other player outside of LeBron who can consistently create for himself and others. The Heat will need him to continue attacking, especially if their supporting cast continues to clank their 3-point attempts. (Chalmers's own eagerness to drive may stem from a lack of confidence [gasp!] in his jumper — he's shooting just less than 26 percent from 3 in the playoffs.)
It's a little strange to learn that he's already 27 and a five-year veteran in the league when he's still clearly being treated like a rascal out on the court. His misguided confidence will always be interesting, and there will always be that question of just how he'd fare running a more conventional team without two of the best shot creators the league has ever seen now that he's older. Maybe that never happens, but maybe it's for the best. There's something inspiring about the way he carries himself playing alongside legends. He stays dreaming the big dreams no matter what, completely oblivious to the rest of the world giving him a collective side-eye.
Thank You, Basketball Gods
Sharp: Can we talk about how great this series has been? There's growing disdain between these two teams, which is always fun. And three of the four games have been phenomenal. What more could you want? This year's playoffs have been kind of a dud compared to the past few years, but this series is the exception. Two great teams, stars, and role players stepping up all over the place, deployed by smart coaches. Over the course of four games, everyone's delivered in one way or another. Everyone's executing, and just when you think one team has control, the other strikes back. Anyway, there's plenty to talk about after any one of these games, but above all, it's important to remember that the past week of Pacers-Heat is about as good as the NBA playoffs get. I don't know how it happened with these two teams, but it's happening. Can't wait for Game 5.
Filed Under: Andrew Sharp, Brett Koremenos, Chris Ryan, Danny Chau, Indiana Pacers, Kevin Durant, LeBron James, NBA, NBA Playoffs, Roy Hibbert, Sean Fennessey