NBA Playoffs Shootaround: The Oklahoma City Forces of Nature
So much amazing is happening, and the Shootaround crew is here to help you keep track of it all. You'll find takes on moments you might've missed from the previous night, along with ones you will remember forever.
Do You Guys Want to Run It Back?
This was a series that started with the Spurs being called "beautiful" and ended with the Thunder being called "grown-up." Nothing that happened in between made much sense, either, from Pop's language-poet responses to Craig Sager's questions (Q: "What do you need to reestablish the pick-and-roll?" A: "Volcanoes. Metal hooks") to the various positions and ambient-lighting conditions in which Stephen Jackson was able to make love to pressure. From Game 1 on, both teams' identities were in flux. Who was/who wasn't afraid to shoot? Were the Thunder a dribbling team or an assists-dazzled passing team? Tim Duncan's apparent age ranged from "24" to "geologic" at different moments.

What was relatively constant was that the teams brought out the best in one another. Actually, that's not quite right. What they did was bring out the good and bad in each other in surprising and weirdly balanced ways, so that we got six very different great games without ever knowing exactly what to expect. There was the Spurs' ball-movement master class in Game 2 (a nine-point win that felt like a 30-point win), the Thunder's high-decibel tank warfare in Game 3 (a 20-point win that felt like a 20-point win), Kevin Durant's defining fourth quarter in Game 4, Serge Ibaka's perfect game, several great quarters from Manu Ginobili, a few photo finishes, Tony Parker slithering through the Thunder defense, Russell Westbrook slaughtering a couple of rims, repeat till the end of the page.
It was a fantastic series — in other words, one of those moments in sports that makes you say "I wish this never had to end." As a Thunder fan who has never had a team in the Finals before, I kind of want to throw up a video of the "Hallelujah" chorus and start charting possible Finals matchups for Harden. But for now, as someone who loved the NBA before the Thunder ever happened, I'd rather just take a second to appreciate these last 10 days. Thanks for being you, basketball.
Oh, what the hell.
— Brian Phillips
I'M NOT EVEN MAD AT THE MOP GUY

— Phillips
In the Words of Andy Samberg Imitating Mark Wahlberg: Say Hi to Your Mother for Me, Kevin Durant
Because she seems like a really delightful lady and I was really not ready for how touching this was all going to be. Bring me my fainting couch, Mr. Bates!
— Chris Ryan
Do You Believe in Magic?
On paper, the Thunder's upset of the Spurs was not that surprising. Oklahoma City is on the upward slope of the dynastic bell curve, and San Antonio's remarkable success in 2012 was often viewed as sorcery — it was as if San Antonio coach Gregg Popovich had become the Comte de St. Germain, pouring the elixir of life into the team's Gatorade. With the series now over, the Thunder's victory feels like harsh but natural evolution: The young devour the elderly, and that's how it works.
But only a week ago, the Spurs looked invincible. Unstoppable. Inevitable. Going back to late March, they had only lost twice in 33 games. That included 20 wins in a row, with 10 coming in the playoffs. They had just beaten the Thunder in Games 1 and 2. Clad in black and silver, the Spurs were destroyers with thousand-yard stares, an advancing army that burned villages and slaughtered livestock not from bloodlust, but out of professionalism. How did everything fall apart so fast and so completely?
There are always boring basketball reasons. In Game 3, the Spurs tossed in the towel early, understanding the difficulty of beating a desperate team on a foreign court. In Game 4, Serge Ibaka went 11-for-11 from the field and 4-for-4 from the line, feats he couldn't duplicate on an empty playground. During Game 5, the Spurs turned the ball over 21 times. And in the final, franchise-disintegrating defeat, they shot 18 free throws while the Thunder took 31.
But necromancy is more intriguing. Once the spell of the Wicked Popovich of the West was snapped in Game 3, the Thunder realized the formidable Spurs were ancient men with creaking joints. It became clear that their overpowering juggernaut was a rickety raft, sutured together by fat-ass Frenchmen, goat skulls, and dried cats. With the magic dispelled, they were finished. Except for Stephen Jackson, who is actually some kind of wizard.
— Ben Detrick
Captain Jack Gets Too Jacked
The best part is, this is THE ARDENT DEFENSE OF STEPHEN JACKSON BY REGGIE MILLER. Why on earth could Reggie possibly be going to the mattresses for the right to taunt after draining a 3, I wonder?

—Ryan
Pop, Alone in the Studio
Gonna miss this guy. Never thought I'd say that.
— Ryan
OKCWGKTA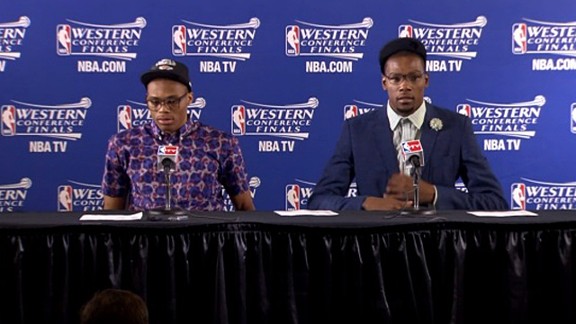 (H/T to @jose3030 for making the connection, though I don't think these guys do much in the way of "Earl" kind of behavior.)
— Ryan
Age Ain't Nothin' But a Number
From my couch in Washington, D.C., on Wednesday night, I saw Oklahoma City make three humongous game-saving (series-saving?) shots. Shots that kept San Antonio just out of range of tying things up. Two of the three were from the hands of the oldest dude on the court — in fact, the oldest dude on either team's roster. Also the dude with the most rings. I have no doubt Derek Fisher has been an enormous presence in the OKC locker room during this playoff run, but he has mostly stunk on the hardwood. However, during the most critical stretch of the game, which happened to coincide with the most critical juncture in the short history of this (kidnapped, h/t: Seattle) franchise, it was DFish with the knockout blows. Further proof that Sam Presti is either the smartest basketball mind in the modern era … or the luckiest. #sampleasebuymealotteryticketprettyplease
— Joe House
That Just Happened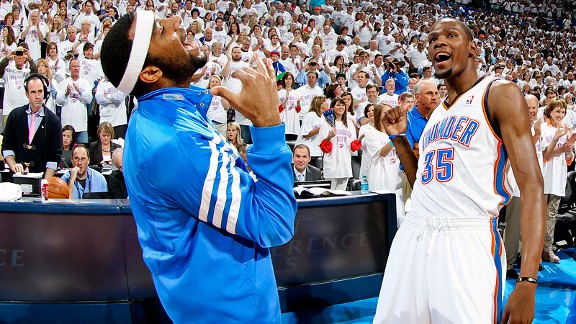 Was it really only eight days ago when I wrote, "The Spurs, as presently constructed and in their present state of health, are unbeatable"? In 15 years writing the "Sports Guy" column, I can't remember being proved wrong more blatantly, quickly, and emphatically in a shorter period of time. And you know what? I stand by everything I wrote. The 2012 Spurs DID look unbeatable!!! Who could have guessed that Oklahoma City would morph into the '91 Bulls, that Tony Parker would suddenly and inexplicably stop playing like one of the league's best five players, that San Antonio's role players would roll over, that every OKC player would make just about every big shot at every crucial point, that Ibaka and Perkins would make 18 of 20 shots in a remarkable Game 4, that Westbrook would find the right calibration (most of the time) between "reckless" and "breathtaking," that TNT's critical Game 2 commentary would motivate Perkins like it did, that Fisher would climb out of his NBA coffin and submit a couple of old-school monster Fish plays (Lakers fans are shaking their heads in disbelief right now), that Scott Brooks would swing the series with some killer adjustments and OUTCOACH Gregg Popovich, that Oklahoma City's crowd would show Miami what it's actually like to "fan up," that everyone who grabbed OKC +500 after Game 2 would feel like a gambling savant, that the league would assign the Hebner Twins (a.k.a. Joey Crawford and Bill Kennedy) to Game 6, and most of all, that Durant would go Young MJ on us and simply refuse to allow the Spurs to advance, no matter how good they were? I stand by everything I wrote last week. On Wednesday, May 30, 2012, there was no reason to believe that the San Antonio Spurs were anything other than a historically good basketball team. Even if they never won another playoff game, they'll always have that ridiculous Game 2 retro-diary. And actually, so will the Zombie Sonics.
— Bill Simmons
Filed Under: Ben Detrick, Bill Simmons, Brian Phillips, Chris Ryan, James Harden, Joe House, Kevin Durant, NBA, NBA Playoffs, Oklahoma City Thunder, Russell Westbrook, San Antonio Spurs