NBA Playoffs Shootaround: Super Sixers, Sick Kobe, and the Avenging Garnett
Jesse D. Garrabrant/Getty Images
So much amazing is happening, and the Shootaround crew is here to help you keep track of it all. You'll find takes on moments you might've missed from the previous night, along with ones you will remember forever.
Hero of the Night: Andre Iguodala
In the end what this Sixers team needed — after their regular-season hymn to the joys of team basketball — was a hero. In the absence of that, they turned to Andre Iguodala. And last night, that was just enough.
All season long, Iguodala seemed like the graduate still haunting his college campus bars, showing up at parties. Hell, audit some classes! Why not? Here's why not: This turf belongs to a new set of kids now. Namely, Holiday, Turner, Lou, and Thad. Iguodala was always a bridge from the Iverson-era Sixers to whatever was going to come next. This season, it felt like "next" had finally arrived.

Well, next will have to wait for a few more games. During last night's fourth quarter, with the Sixers letting Game 6 (a game Doug Collins called a "must win") get ripped from their hands by the play of Omer Asik, Taj Gibson, and Luol Deng (and, no doubt, the positive vibes sent by Carlos Boozer from the bench), Iguodala grabbed it back. He sunk a huge 3 with 5:50 remaining — one of those familiar "OH GOD DRE IS SHOOTING? OH GOD DRE IS SHOOTING!" moments — ostensibly ran the point for the team down the stretch and then, then there was "The Drive."
Let's just ignore the fact that the Bulls' playoff lives rested in the hands of Omer Asik. If you need to know about Chicago's luck in this series, allow me to direct you to Derrick Rose's MRI, Joakim Noah's power necklace, and Luol Deng's Nelly Band-Aid. For as wrong as it was for everything in this Bulls season to come down to Asik at the stripe, it felt incredibly right for the Sixers' campaign to come down to Andre Iguodala bull rushing up the court, breaking toward the basket with the seconds ticking down.
After the game, when asked what he was thinking of when he sunk the two free throws that would win the series, Iguodala said, "Tony Battie gave me some advice: Think of something you love when you are shooting free throws. I thought of my son." That was perfect. For years, Philadelphia and Andre Iguodala have had a tepid relationship, never fully falling for one another. I'm glad he did it for himself.
Philly likes to think of itself as a lunch pail town, and that's true to an extent. But that city loves its heroes. Last night, celebrating on the scorer's table that supported Allen Iverson more than 10 years ago, AI2 finally got to feel like one. — Chris Ryan
Postgame Interview of the Night: Kevin Garnett

As we all know, Kevin Garnett is a maniac. What has become increasingly clear, however, is that Garnett's mania is not at its most disturbing when he is a frothing on-court lunatic. Oh, no. It's those quiet moments in the locker room, or at the press conference podium — when he's showered and calm and looking killer in his sweater/shirt-collar/Weezer-glasses combo –- that the potency of his mania reveals itself. Exact and hushed in his articulation, almost inaudibly, he becomes a terror from a dark forest. Last night should have been a joyous one for our dude. After all, he did nothing short of close out Atlanta — 28 points, 14 boards, five blocks, oh, and the game-winner — all by his damn self, on some serious '98 'Sota vibes.
But, afterward, there was quiet terror to unleash, and smiting to be done. Earlier this week Atlanta Hawks majority co-owner Michael Gearon Jr. had the gall to call out Garnett as the "the dirtiest guy in the league." And, so, sensibly, KG wanted to let Gearon know it's his fault his team lost:
"First off I want to say thank you to the owner of the Hawks for giving me some extra gas tonight. My only advice to him is next time he opens his mouth, actually know what you're talking about in terms of X's and O's, versus checks and bottom lines…I play with a lot of passion and with force. It's the playoffs. I haven't been here trying to hurt anybody and neither have my teammates. I found that comment to be a little rude and out of hand, and I wanted to address it."
Michael Gearon Jr., please allow me to decipher what Kevin Garnett was trying to tell you:
Oh, and one more thing? For anyone questioning KG's age? His drive? His abilities? Listen closely: "I put a lot of work into my craft. I take it very seriously. I always have, since '95, since I've been able to come into the league and it's almost like you guys are shocked. Like this ain't what I do every day. Like this ain't what I was made for." [Chills] — Amos Barshad
The "Amnesty Carlos Boozer" Movement Starts Here
With just over five minutes left in the Chicago Bulls' season, Rip Hamilton hit a short jumper to give them a 72-70 lead. After the bucket, the NBA TV cameras flashed to the Chicago bench, where $80 million Carlos Boozer was on his feet hooping, hollering and waving a towel. The moment should have been a good one — more hope that the Bulls would overcome what had been a double-digit hole and send the series back to Chicago for a Game 7 that the Sixers sincerely wanted to avoid. But Carlos has a way of ruining things.
The blame for the Bulls' season-ending loss could go in a lot of directions. (OK, one direction: CJ Watson deciding it was his job to play Hero Ball and thread passes to Omer Asik up 1 with seven seconds left.) But after the initial ire fades, it will be Boozer who returns to the center of the conversation about the Bulls' future.
He left last night's game with four minutes remaining in the 3rd quarter. He did not return. It took all of 36 seconds for Taj Gibson, his replacement (who's on the books for $1.2 million), to equal Boozer's field goal total for the night.
It's no secret that Gibson fits Chicago's style in a way that Boozer doesn't. We know defense has never been Carlos' bag. That's why scoring, even just a little, has to be. The totals last night are damning on their own (1/11 from the field), but it's the shots that were the most maddening — one midrange, contested fadeaway jumper after another. They were the least-assertive 11 field goals ever attempted in an NBA game.
The #AmnestyBoozer hashtag will be everywhere among Bulls' fans this week, and probably every week until next season begins when we delude ourselves into thinking this will be the year, because we'll have no other choice. Considering the organization is led by a man who has refused to pay a coach that's won 76 percent of his games over the past two seasons, there's no indication that Chicago will be willing to eat the $47 million owed on what's becoming one of the worst albatross contracts in the NBA.
That doesn't mean it's not time to give Taj the minutes. Because we're done with this. — Robert Mays
The Atlanta Hawks Huddle From Hell
I feel like we should make a bigger deal of the mess that was the Hawks' final huddle of the season – youtu.be/xi29KGVWlhU

— SebastianPruiti (@SebastianPruiti) May 11, 2012
Courtesy of Grantland's Sebastian Pruiti, here we see Josh Smith's patented Tasmanian Devil attention span as he soaks in Larry Drew's whiteboard Picasso routine. — Chris Ryan
Ty Lawson Proves Existence of Oracles
Way back on April 27, roughly 7,000 playoff games ago, Jay Caspian Kangstradamus floated this Pipe Dream in Grantland's NBA Playoff Predictions: "Ty Lawson averages 30 points a game and takes the Lakers to Game 7."
Lawson hasn't been quite that good, at 18.2 per game. But last night he began to course correct, combusting into 13 exhilarating first quarter points on four unlikely three-pointers. He'd made just two in the previous five games. The Nuggets leapt — literally, no team jumps out of the building with more aplomb — out to a 13-0 lead and never looked back. Not least because they'd see Sick Kobe wearing a face like this.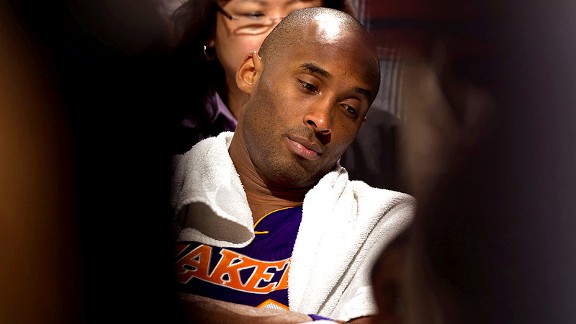 Bryant went for 31 points on 56% shooting, despite contracting whatever that monkey in Outbreak gave the world. But it was Lawson, one of the league's purest sprinters, who was the game's zipping agent of change. "You already know," Lawson told TNT's Craig Sager afterwards. "You know what it is." He also mentioned that he knows his team can beat the Lake Show in Game 7. With the Nuggets quietly rivaling the Thunder for "Most Athletic Team on Earth," it's best not to doubt him. — Sean Fennessey
Why I Love Al Horford Even Though He Was About as Cool in the Clutch as a 16-Year-Old Boy Trying to Unhook a Bra
He's just such a good guy. Most teams would die to get him and I'm sure we could bring some new blood to the team if we ever traded him, but I want Al Horford to be an Atlanta Hawk forever. And despite doing pretty much everything wrong in the final seconds of last night's loss (missed the first free throw, made the second free throw, and apparently had no clue that there were no timeouts) he played harder in his second game back since January than pretty much the rest of the team combined. In the post-game interview, Horford was asked brutal questions by reporters before he could even take his jersey off. And rather than going all "Kobe" and attacking them with endless side-eye, Horford was shockingly graceful and heartfelt in a loss that some will unfairly pin on him.
I don't ever want to watch the clip of him missing the free throw again, so instead I'll just loop this video of him talking. Yes, both are sad, but only one will give me night terrors.
Bye, Hawks. — Rembert Browne
Charge It to the Mane
In football, a sport that treasures barbarian recklessness, the flowing tresses of players like Gastineau and Polamalu are inextricably tied to their reputations as limb-wrenching intimidators. But in hoops, where economy of motion is valued, a wild splay of hair is almost an informal request to be unjustly singled out for charges and loose-ball fouls. Thankfully, Kenneth Faried doesn't care for economy of motion. The Denver rookie, following in the tradition of Samsonian strongmen like Etan Thomas and Brian Grant, spent last night tormenting the Lakers' towering frontline with frenzied, relentless activity. He's part honey badger, part wildebeest. During an outrageous stretch of the third quarter, the aptly-named "Manimal" completed a three-point play, was flagrantly fouled by Kobe, dumped in two point-blank buckets, yoked three offensive rebounds and blocked one of Bynum's shots. For a Denver team that is now surging towards a potential Game 7 upset, the message is clear: Keep Kenneth away from the clippers. — Ben Detrick
Filed Under: Amos Barshad, Atlanta Hawks, Ben Detrick, Boston Celtics, Chicago Bulls, Chris Ryan, Denver Nuggets, Kevin Garnett, Los Angeles Lakers, NBA, NBA Playoffs, Philadelphia 76ers, Robert Mays