NBA Playoffs Shootaround: Miami Proves Better, Faster, Stronger Than Boston
So much amazing is happening, and the Shootaround crew is here to help you keep track of it all. You'll find takes on moments you might've missed from the previous night, along with ones you will remember forever.
GTFO
"Good job! Good effort" had a good run. LeBron James has a new slogan running through his head now: If they move, kill 'em.


This blocked shot and foul in the dying ticks of the first quarter was a continuation of the Game 6 serial-killer look Simmons described.
First of all, LeBron sees where this is going before anyone else does, even before the sixth-sense-having Rondo. He times his run, going from jog to sprint to flight, perfectly, not attacking the ball, but rather the eventual destination of the ball.
Then there's the foul: a possibly intentional (probably not) hip-check-kick of Rondo, sending the Celtics point guard into the front row and underneath a folding chair. LeBron turns and walks away. You know who he is acting like there? Someone who would walk over a burning Cuyahoga River to win. As Rondo lies more or less motionless underneath the folding chair of a condo salesman/party promoter, LeBron could care less. Rondo can get up, he can stay down. Doesn't matter. Rondo doesn't matter. Honestly, right there, LeBron James looks like Kevin Garnett.
For the past few days, for the past few weeks and the past few years, we've been questioning the strength of LeBron's heart. Game 6 and Game 7 are what happens when he plays like he doesn't have one. Save yourselves.
— Chris Ryan
Iguodunka of the Night: LeBron James
So that's a double alley-oop. We get to see this guy play basketball. It's a gift.
— Chris Ryan
Last Exit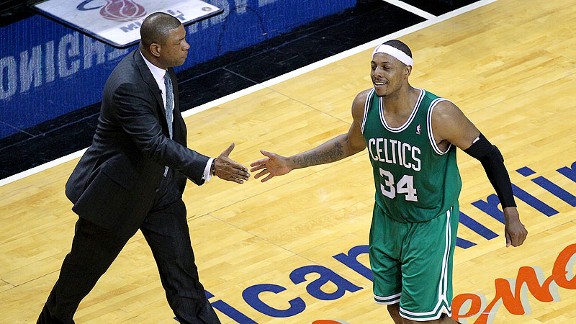 When the end did come, it was merciless and swift. In the last six minutes of Game 7, the Miami Heat shattered, with great efficacy, my illusion that this hobbled, gutsy Celtics team was somehow destined for the Finals. I wasn't quite bold enough to say it out loud, but throughout Boston's entire playoff run, I was convinced one last are-you-kidding-me championship bid was the perfectly scripted ending for this incessantly unpredictable Big Three/Big Four era.
Watching this core of players, who won a ring together in 2008, become perennial title contender underdogs has been a joy. They came up just short in 2010, and stealing a title this season would have been epically, incomparably sweet. While I'd like to say it nearly happened, I know better. Boston led through the majority of the game Saturday, but in the end, the Miami Heat just ran away with it. Their game-closing run had its highlights — LeBron's 30-foot bomb …
… and Dwyane Wade's and-one, but I'll remember it as one continuous blur, a stomach-turning blitz. The better team was seizing what was rightfully theirs.
If Miami had hemmed and hawed and let the Celtics hang around, we could have been talking about a missed free throw there or a rimmed-out jumper here, or any number of things that could have broken Boston's way. But instead the Heat reminded us that these were not two equal forces scrambling for a small advantage. If there's comfort in losing a 3-2 series lead, and a chance to play for a championship, here it is: This team was right there with that team?
Dring his postgame press conference, Doc Rivers rattled off a string of the injuries the Celts suffered, and then more or less admitted he was looking at this run in the same fanciful, whimsical way. "If we could have got this group into the Finals," he said, "it would have been fantastic for us … that's all I thought about today — 'Somehow, let's see if we can get this group into the Finals.'"
— Amos Barshad
Postgame Interview of the Night: LeBron James
Because (1) after calling him a heartless serial killer, I need to remind myself that this guy is actually a pretty big sweetheart, and (2) the next time I see a friend of mind shamelessly wander around a bar looking for a compliment I'm going to tell him to stop Boshing.
— Chris Ryan
Wait … What Am I Saying!? (a.k.a. RONDOOOOOOOOOOOOOOO)
I Give You My Grudging Respect, Celtics
After Game 4, my girlfriend came home from work excited. "LeBron lost!" she said. My girlfriend knows almost nothing about sports, and I think the only basketball games she's watched beginning-to-end are rec league affairs where I trudge up and down the court with two ankle braces, sweating and panting and trying not to hurt myself. But even she knew that LeBron James was to be despised for his callous departure from Cleveland, so it shocked her when I nodded glumly.
"Don't you want him to lose?"
"A.B.B." I said.
It didn't take long for her to decipher the acronym. Anyone But Boston. A man has to have a code, and since all my other codes have fallen through (in 2012, codes 245 to 267 were all about not eating ice cream after 9 p.m.), I've made hatred my code, and I've directed it at one specific city. Anyone But Boston.
I'm remarkably consistent. I haven't cared about hockey since 1996, but when the Bruins won the Stanley Cup this past year, I had a few moments of pure annoyance that verged on rage. The code also transcends my personal life. I have Bostonian friends. But did it soften my stance toward Boston teams? Hell no. I just scarfed down loads and loads of crème brûlée Häagen-Dazs and continued shouting at them from my couch.
What I'm trying to say is that my anti-Boston fervor is all-encompassing. Which is why it was horrifying and then inspiring and then horrifying again when I realized Saturday night that I actually respected the Celtics. I still wanted them to lose, mind you. (Preferably by a thousand, so I could kill two birds with one stone and stop respecting them again.) But respect was a big step, and it came with a price. Remember when Tom Hanks loses Wilson in Castaway and has a complete breakdown in the water? Well, not having positive emotions about Boston was my Wilson. It hurt to see it drift away.
But man, Rajon Rondo. Not only is he brilliant and inventive, but he does quirky things like roller skate in the offseason, and he does it without irony. He's the coolest guy in the game, and it's mostly because, unlike almost every other NBA player, I know he doesn't give a damn whether people think he's cool or not. And on the court, he's magic. Screw the other superlatives, because "magic" says it all. It's a mode of existence that operates outside the laws of physics. You can have your 3 million Blake Griffin stone-faced hammer-dunks; I'll take Rondo's reality-stretching creativity any day. It's extraterrestrial, it's joyous. The last guy who had his brand of oddball magic was Stephen Curry, back when he was at Davidson. Today, there's nobody like Rondo.
By Game 7, I had shed my years of hatred. Respect was the least I could give the Celtics, who are the toughest group of professional basketball players I've ever seen. There's nobody in the world who could beat them without suffering, and they deserve credit for forcing LeBron to add a new level of greatness to his résumé. If the best basketball player of our generation had simply been his usual self, we'd all be talking Thunder-Celtics right now. But he respected them, too, and together they put on one hell of a show.
— Shane Ryan
Is Fabolous Basically Wearing Capri Pants Here?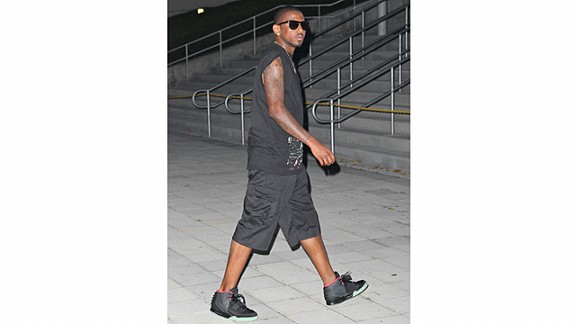 New York rapper and Mario Chalmers doppelganger Fabolous might be bringing that spring/summer '09 Old Navy ish back at Game 7, Saturday night. I don't even know anymore. Bring on the Finals.
— Chris Ryan
Taking an L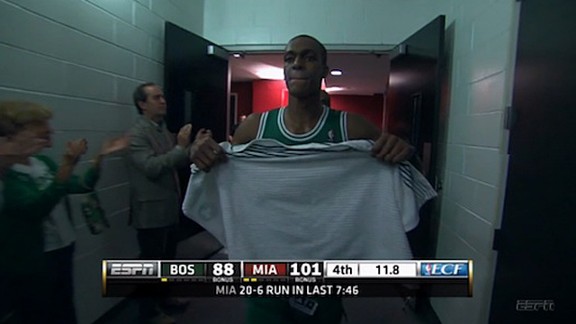 Saturday night offered three different ways to take an L: Manny Pacquiao listened to his baffling split-decision with class and what I can only assume is the serene tranquility of the truly God-fearing. Clinton-era rapper Canibus did not go gently into that good night, trying in vain to give his fans their money's worth during a humiliating pay-per-view battle by desperately spitting random bars off his notepad. In the dying moments of the Celtics-Heat game, Rajon Rondo and Kevin Garnett decided they'd had enough and fast-walked back to the locker room before the final whistle, sort of like turning the TV off right before your team loses so as to preserve your own personal delusions about struggling onward and whatnot.
There's something to be said about being gracious in defeat … but I don't know what it is. Some competitors seem to get off at seeing others celebrate, anchoring themselves to the top step of the dugout and taking it all in as their sworn enemies prance around the diamond and spray each other with bubbly. Others want nothing to do with it — when LeBron walked away without congratulating the Magic, it was a full-blown "SNUBGATE," and then when Dirk did it, it was a sign of his emotional depth and mellow, German humility. Go figure.
I suppose it would have been nice to see Rondo and Garnett stick around, hug it out, and then whisper into the ears of their Heat counterparts, if only to remind us that it was only a game. But on the rare occasion I imagine the Call of Duty fever dream that is KG's default psyche, I can't see him being anything but mean and withering — to foes and underperforming friends, in victory or defeat, during the game and then for hours afterward as he sits in traffic listening to Hell on Earth. It was desperate and cool in Minnesota, kind of bully-ish and mean in Boston, which played well with the home fans.
As the emotional core and asshole-conscience of these Celtics — and as mentor to Rondo's increasingly angsty style — it'll be interesting to see where the team goes from here. Personally, I do wish they had stuck around, but not because of "sportsmanship" or anything. It just would have been nice to have one last look at the PARQUET POSSE, some kind of yearbook photo moment before Danny Ainge takes the organization in a different direction, the Three Wizened Men go their separate ways, and Rondo is left threading those passes to Greg Stiemsma and reducing his underachieving teammates to tears.
— Hua Hsu
'Garnett Doesn't Want to Come Out …'
Saturday night, Doc Rivers said everything he'd want to about Kevin Garnett, and he did it without a single word. When Doc used a late foul in Game 7 as a chance to give Boston's Big 3 one last curtain call, the moment took on a feel not normally reserved for professional sports. Then again, these Celtics always warranted the type of adulation that goes beyond rooting for laundry — none more so than Garnett, and as Rivers had the back of his head palmed by the 7-footer in the same way that so many in green have over these five years, the effect KG has brought to this team was as evident as ever.
Outside of those rooting or playing for the Celtics, Garnett has developed a bit of a reputation since his arrival to the Eastern Conference. He's been called a fake tough guy, the dirtiest player in the league, and a handful of other things that often don't seem so out of line. There's no doubt that on occasion, the passion crosses the line between endearing and absurd. There's one thing that helps keep it on the side of the former, though, and it's that Garnett never seemed to give a shit which side it was on. We chuckled when he insanely mumbled to himself. We laughed when anything was possible.
But all the while, there was never a question of whether he cared, and if that meant occasionally stumbling into the cartoonish, then so be it.
Everything about his exit Saturday night was a reflection of that passion. After refusing to come out, he eventually made his way to the bench, and instead of shuffling over to his seat, he stopped and exchanged words with his coach. When Rivers tried to pull away, Garnett refused. He wasn't finished with whatever it was he had to say. When Doc finally did get away, there were tears in his eyes.
Garnett might not be done in a Celtics uniform. After his stellar second half, Boston might find a way to bring him back for whatever career he has left. With 23 seconds left in that game, that possibility didn't matter. That moment with Rivers was like any of the others — those postgame interviews, those head-butts against the stanchion, that championship celebration. It was Garnett giving everything, no matter what anyone might have to say. There was never a moment over the past five years where anyone had to wonder how much Kevin Garnett cared, and the end, if that's what it was, was no different.
— Robert Mays
Filed Under: Boston Celtics, Dwyane Wade, Kevin Garnett, LeBron James, Miami Heat, NBA Playoffs, Paul Pierce, Rajon Rondo