NBA Playoffs Shootaround: Heat and Spurs Pop the Trunk, Celtics Feel the Reign of the Tech
So much amazing is happening, and the Shootaround crew is here to help you keep track of it all. You'll find takes on moments you might've missed from the previous night, along with ones you will remember forever.
Five Lingering Thoughts From Game 1
1. Here's what scares me as a Celtics fan: The Heat didn't even play well. They got a killer performance from LeBron James (32 points, 13 boards), a half-decent Wade showing, a few hustle plays from Battier, a couple of damaging keep-the-possession-alive offensive tap-back rebounds from Haslem/Anthony and that's about it. Do you realize the Heat missed 20 of 25 3s? And that just about all of them were wide-open? And they still won by 14???
2. Flipping that around: It's not like the Celtics submitted the most stellar all-around effort, either. Other than KG's quality performance (23 points, 10 boards), everyone else played like they had just finished a grueling seven-game series against Philly … which raises the point: "This is why you can't waste seven effing games trying to beat a team as limited as Philly."
Some of the lowlights from Game 1: a predictable worn-out-from-the-Sixers-series-and-now-I'm-covering-LBJ stink bomb from Pierce (5-for-18), a classic "my stats looked much better than the actual performance" game from Rondo (12 missed shots, four turnovers, some bad defensive gambles), four missed free throws from Ray Allen (and that's just the start of how excruciatingly awful he played), nothing from anyone else (save for an inspired Steimsma effort off the bench) and some WWE-level officiating (including two head-scratching technicals) just to make sure they had no chance. It's safe to say that Boston will play better in Game 2 (especially Pierce) … but Miami will play better, too.
3. I'm only allowing myself one short paragraph to complain about the execrable officiating in a game that Miami would have won anyway, but here we go. It's the Conference Finals. There's only one playoff game every night. You'd figure the NBA had whittled their already shaky officiating workforce down to a select few at this point. How was Monday night's crew the best we could do? How? How have things gotten NOTICEABLY AND UNDENIABLY worse in the three years since I wrote this column? At what point does a "crisis" just become a permanent albatross? I think we're there.

4. The bigger concern for the Heat going forward: They need to manage LeBron's minutes better. He played 44 minutes in last night's brilliant two-way performance — at warp speed, as always — and he's averaged 42 minutes a game over the last eight. Remember how badly he faded during the last few 2011 Finals games? At least part of that "fade" (I'm being generous) happened because Erik Spoelstra played him a whopping 450 minutes over a 10-game stretch from Game 2 of the Boston series through Game 1 of the Finals. LeBron's last five Finals games: 16.6 points, 6.6 rebounds, 7.2 assists, 23 turnovers, 40 of 74 missed field goals. Considering San Antonio is significantly better than anyone in the East, it doesn't make sense to burn LeBron out right now. You know, unless you were terrified of losing your job and didn't want to take any chances against Boston.
5. The bigger concern for Boston going forward: Do they even have a puncher's chance in this series without Avery Bradley? I'd argue that Boston misses Bradley more than Miami misses Chris Bosh — the drop-off from Bosh to Haslem/Anthony isn't a total catastrophe, especially when Miami can unleash a frightening version of smallball with LeBron playing the "4" whenever it wants, and especially when it only means more shots for LeBron and Wade (two of the six best scorers alive). Yank Bradley off Boston and you're left with (a) a broken-down Allen (12 playoff games: 39/27/60 shooting splits), (b) Mickael Pietrus (14 playoff games: 33/24/60 shooting splits) and (c) Keyon Dooling (38 percent FG). Can Boston win four playoff games by basically playing four-on-five? It seems far-fetched unless Allen gets going … and he's a shell of himself with those bum wheels.
You could argue that there's a potentially historic disparity between Wade (23.7 PPG, 49.3 percent FG) and Boston's 2-guards this round. Check out the playoff PER rankings for 2-guards: Wade is first (25.3); Ray Allen is 24th (9.8). For all playoff players: Wade is fifth; Dooling is 105th; Allen is 106th; Pietrus is 145th. Can you ever remember a more one-sided matchup in the Conference Finals? Even the '97 Heat felt better about throwing Voshon Lenard and a washed-up Dan Majerle against Michael Jordan than Boston feels about Allen/Pietrus/Dooling against Wade. God, I'm depressed.
— Bill Simmons
Catch a Rising Star Comedian of the Night: Kevin Garnett
Apparently. Or at least that's what LeBron James seems to think, as he lets out something between a hearty belly laugh and a Dave–from–Storage Wars–style "YUP."
Late in the fourth quarter on Monday night, with Miami up 15, LeBron and Dwyane Wade trotted out their greatest-show-on-earth routine for the practically dozens of Heat fans (totally kidding, they hung out for a whole 90 seconds after the above video). If I were sitting on the Heat bench next to Mike Miller while he was lying on the ground doing back exercises, and he was like, "Describe what's happening to me; I can't lift up the upper half of my body," I would probably say something, "LBJ and Flash just flipped the embarrass-the-other-team switch" (because I really like using nicknames) and then I would ask, "Real talk, Mike, do you ever feel tempted to just catch a quick nap down there?"
I don't think the Celtics, as their four best players are only playing on six legs, can beat the Heat, straight-up. And given the trigger finger the referees had with technical fouls, I doubt this will turn into a street fight anytime soon. But the language coming out of the Celtics locker room following the first game of the Eastern Conference Finals was pretty clear. Like Rondo said, "Nothing dirty, but they have to hit the deck too." Back to your corners, boys. For one night.
— Chris Ryan
About Those Heat Fans …
With two and a half minutes remaining in Monday night's game, a thin stream of Heat fans headed for the exits of the AmericanAirlines Arena. The hometown team was winning by double digits against the despised Celtics, but even the opportunity to heckle Kevin Garnett wasn't enough to keep the attendees in their seats. By the time mop-up man Juwan Howard moseyed off the hardwood, the courtside level had barren patches befitting a dog stricken with demodectic mange.
Of course, Miami isn't Oklahoma City, where evening activities include dreaming about vacations to Reno and finding that naughty Arby's that remains open until 10 p.m. Not when you can leave the LIV club with three Ukrainian hookers and cruise across the Venetian Causeway with "In the Air Tonight" blaring. You'd rather be applauding Udonis Haslem's workmanlike efforts than hitting an MDMA orgy with Birdman's entourage and brazenly wearing sunglasses indoors? Get real. OK, so what would it require to convince Heat fans to stick around until the final buzzer? In search of the truth, we're scheduling a postgame round of H.O.R.S.E. between Sheila E. and Fidel Castro for Wednesday.
— Ben Detrick
Dancing on My Own Award: Chris Bosh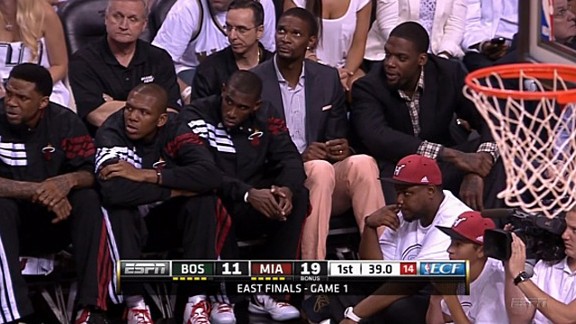 The Brief Redemption of Shane Battier
Shane Battier was 2-for-9 from the 3-point line Monday night. That's 22 percent. That's not good enough. As a team, the Heat shot 5-for-25 from 3. Also not good enough. The Heat's secondary and tertiary players have been an afterthought in these playoffs, particularly since LeBron James and Dwyane Wade punched in the infinite lives cheat code following their Game 3 loss to the Pacers. James and Wade were remarkable Monday night, too. They often looked like the only two players on the court, banking poetic jump shots while falling off the wrong foot, slashing the net as if the ball were made of razor wire, and harassing Celtics players with contempt for their age. But Shane Battier, horrid shooting and all, might have been the difference. Battier's an annoyance. Always has been. Even when his legs were more limber, his touch a little softer, and his GPA more 4.0, Battier bugged opposing players. His defense rarely swarmed; it was more like a single insect, buzzing around your wrists, near your ears, on your heels. He was gnatlike in the third quarter, blocking shots, altering pathways, and generally annoying Celtics players. Battier is 33 and nearing the end of a productive career that may be more remembered for the way he was positioned by the media (smart, sophisticated, and a vector for a statistical revolution) than for his play. And though his first season with the Heat was an unmitigated disappointment — he's a step slower and shot just 38 percent for the season — he nailed his role Monday night: Human Frustration Machine.
— Sean Fennessey
GINNNOOOBBBILI!!!
Shortly after his team finished dispatching the Clippers, Gregg Popovich was asked about the difference between this year's team and the one bounced by Memphis in last year's first round. The normally opaque Pop response was replaced by as clear an answer as he could probably give: Well, we have Manu. There's obviously more than a healthy Manu Ginobili to what the Spurs have done over the past 19 games — Tony Parker is playing as well as he's ever played. Tim Duncan seems rejuvenated. They've put together one of the best passing teams in recent memory. Still, what happened during the fourth quarter of Sunday's Game 1 was evidence enough to support Popovich's reasoning.
Ginobili's fourth-quarter points came the way so many of his do when he's fully healthy — by relentlessly attacking the rim like few others can. After San Antonio missed more than a dozen jumpers en route to 16 points in the third quarter, it was Ginobili who led the movement toward the basket and helped begin the slew of easy buckets and trips to the line that fueled the Spurs' 39-point fourth.
The task for teams as they move deeper into the playoffs is finding quality shots as games wind down. What the Spurs have in Ginobili is someone who can somehow find paths through the lane when they seem to have disappeared. The result is the ability to manufacture points when they become hardest to come by. The way San Antonio got its game-clinching bucket Sunday night seems fitting. As Ginobili moved toward the basket on the right side, there were four blue jerseys between him and the rim. One dribble and one ball-fake later, the ball was off the glass and in. Just like that, the Spurs were up 10 with two minutes left, and it made sense — this year, it might be Ginobili who makes the difference.
— Robert Mays
Nasty Boys
"Are we having fun yet?" That's what Gregg Popovich asked his Spurs team right before launching into his non-negotiable demand for some "nasty." Are we having fun yet? If you're Stephen Jackson, and Pop asks you that in the fourth quarter of a Western Conference Finals game, at the end of a season where you spent time in Charlotte and Golden State … I don't know, doesn't it feel like your hair is on fire at that moment? Aren't you ready to run through a wall?
Are we having fun yet? Has there ever been a more rhetorical question asked? Seriously, how low on Pop's list of priorities is Gary Neal's level of enjoyment? These guys wear black, flop, shut you down, and cut your heart out. They are not here for our enjoyment, much less their own. They are here to kick ass and win basketball games. And they are almost out of basketball games.
— Ryan
Popovich vs. the Media Moment of the Night: 'Why Would You Say Something Like That?'
Filed Under: Ben Detrick, Bill Simmons, Boston Celtics, Chris Ryan, Dwyane Wade, Gregg Popovich, Kevin Garnett, LeBron James, Manu Ginobili, NBA Playoffs, Robert Mays, San Antonio Spurs, Sean Fennessey