NBA Playoffs Shootaround: Have Gun, Will Travel
So much amazing is happening, and the Shootaround crew is here to help you keep track of it all. You'll find takes on moments you might've missed from the previous night, along with ones you will remember forever.
Maximum Security Award: Dwyane Wade
Watch this. Personally, I've seen a living thing cover as much ground as quickly and aggressively as Dwyane Wade does in closing down Steve Novak, but it was called "Cheetah vs. Warthog" and it was on Animal Planet, not TNT.

Victory was already in the bag for the Heat when the Knicks finally attempted something resembling ball movement in the fourth. This offensive uprising did nothing but motivate the angry princes of Miami, provoking one of the most impressive individual defensive basketball acts I've seen in a long time: Dwyane Wade, practically teleporting over to the corner and invoking squatter's rights on Steve Novak's soul and sending the Knicks sharpshooter into a rabid Miami bench.
Maybe letting Carmelo dribble for 20 seconds isn't such a bad idea after all.
— Chris Ryan
Unnecessary Alley-oop of the Night
Tyson Chandler gets beat to the basket by Dwyane Wade and lets him go for the layup, possibly thinking that a hard foul this early on would be sort of a dick move. But then Wade floats a perfect ball — perfect both for its placement, and for its complete and utter unnecessariness as a means to an end — and LeBron flushes it instead. Not cool, guys. Not cool.
— Amos Barshad
Side note: These two played the first three quarters like they were sweating out Coconut Ciroc from last night's excesses. It's kind of terrifying to imagine what would have happened if they had just stayed in and watched a First 48 marathon.
— Ryan
Fan of the Night: This Guy, Courtside, at MSG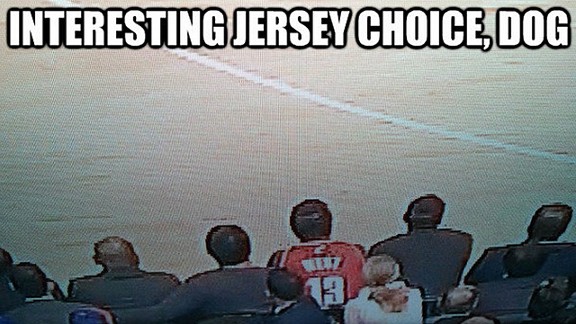 Thanks for the Memories Award: Vince Carter
A couple of things about this fairly decent approximation of classic Half Man-Half-Amazing: (1) I love how Dirk is like, "Oh, Vince, you're driving. Weird. Oh … Ha, you're going to what? Oh well, hold on, let me get out of your way first." (2) Serge Ibaka, who will usually go around swatting people in the crowd's Pepsis into the upper deck just because he feels like it, pulls up from his tracking run because he can't believe what he's seeing. (3) Vince's scream, which looks like he is almost bursting into tears because the last time he was that high up in the air it was on the 10:34 United flight out of Will Rogers Airport in Oklahoma City.
— Ryan
Hero of the Night: J.R. Smith
This guy should win the Congressional Medal of Honor for even thinking of doing this.
Dude …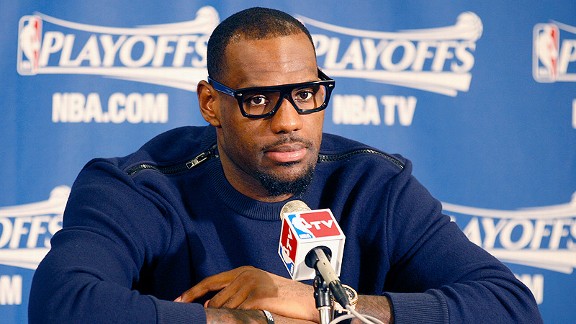 Untrue Colors
In Game 1 of the Mavs-Thunder series, the OKC crowd got kinda embarrassed when their team-issued coordinating T-shirts turned out to more or less exactly match the electric blue of Dallas's away uniforms. In Game 3 on Thursday night, the Dallas crowd got kinda embarrassed when their team-issued coordinating T-shirts turned out to more or less exactly match the electric blue of the OKC away uniforms! OK, admittedly, both teams have gone in pretty heavy on nonthreatening electric blues that were invented on a Macintosh in the 1990s, so it's easy to get mixed up. Still, though … how is this a problem? Isn't "don't turn up at the stadium dressed like your opponent" pretty much the first, and easiest, rule of fandom? I mean, say you're the intern responsible for coordinating T-shirts at the stadium. It's not a long checklist, right? "Make sure everyone gets an XL and, oh yeah, don't make the entire crowd look like it's openly rooting for the other team." This is how the Yankees won 27 championships.
Get with it, T-shirt-coordinating interns. Have some self-respect.
— Brian Phillips
Filed Under: Amos Barshad, Brian Phillips, Carmelo Anthony, Chris Ryan, Dallas Mavericks, Dwyane Wade, LeBron James, Miami Heat, NBA, NBA Playoffs, New York Knicks