NBA Playoffs Shootaround: Great Expectations
Issac Baldizon/NBAE via Getty Images
We asked some of our writers to tell us what they're expecting from the upcoming NBA playoffs.
Jay Caspian Kang: Miami will go 16-3 in the playoffs, and one of the losses will come to the Bucks. They'll also lose a game to the Knicks and the last one to the Thunder in the Finals. They're the first team since the first Ubuntu Celtics that's going to legitimately intimidate their opponents. The Nets vs. Bulls first-round series will be unwatchable. In the Western Conference, I think we'll see more than 10 different games in which a player scores more than 40 points. Steph Curry, Tony Parker, James Harden, Durant, and Westbrook will all turn in memorable performances. Oh, and this Western Conference playoffs, as a whole, will trend on Twitter every single night. Just so many great matchups and players there. Every series in the Western Conference will go at least six games, but all the top seeds will advance.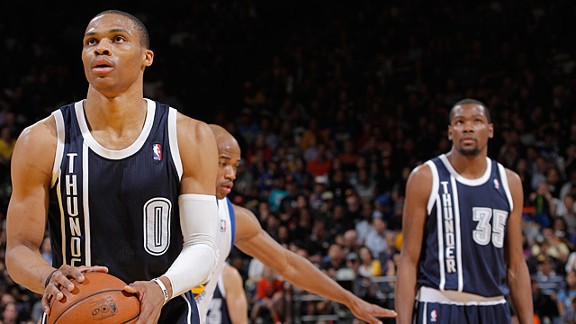 Chris Ryan: I'm a little worried about these guys. No, not Russell Westbrook and Jarrett Jack. Russell Westbrook and Kevin Durant. This is probably a little ridiculous, considering that, by all accounts, it's still pizza bagels and BioShock Infinite on Friday nights for these two. But I can't fight this feeling anymore. There's something too classically dramatic about the Thunder playing James Harden and the Rockets in the playoffs. It's like some kind of uncomfortable family reunion in a Tracy Letts play. "Well, look who's gone off to the big city and become sooooo successful!"
After watching a fair amount of Thunder games this season, I can tell you that, in the most pedestrian of games, I've seen Durant throw his arms up in exasperation as Westbrook chucks midrange shot after midrange shot. These guys play on an edge, and I feel like it's getting noticeably steeper. Now take that, add the pressure of the playoffs, the "prodigal Harden returning" narrative, the pressure on the Thunder to return to the Finals, and the fact that Scott Brooks can barely coach, and I think you've got a recipe for caught feelings. The Thunder will get past the Rockets, but some china's going to get broken in the process.
Robert Mays: As someone set to attend last night's Rockets-Lakers season finale, I was hoping the night would go as follows: The Jazz win guarantees a crazy, Game 7–like atmosphere at Staples, where the Lakers win ensures a Rockets-Thunder first-round series in which James Harden acts out an amalgamation of every revenge movie ever made. The first part didn't quite work out, but boy, the second part sure did. Part of me is a bit concerned that Harden has looked a bit off the last couple nights, but I can only assume that getting off the plane in OKC will be enough to get things back on track. I'm guessing this series ends up being a sweep, but all I want is one game in Oklahoma City in which Harden makes 12 3-pointers and goes for 55. I don't think that's too much to ask.
netw3rk: My prediction for the playoffs is simple and so sure to happen as the sunrise that it feels almost like cheating to express it. But, whatevs: J.R. Smith, whether by his on-court exertions or his off-court avocations, will end up doing something outrageous. If it's of the on-court variety, I'm guessing it's an ill-advised step-back jumper from the phylum "iso" and the class "3 pointer," probably involving too many dribbles and a shot clock in the low single digits, which, for really no good reason, goes in, causing the basketball intelligentsia to sigh and gravely shake their heads. Alternately, J.R. could miss, causing the basketball intelligentsia to sigh, gravely shake their heads, and do a very subtle fist-pump. If it's of the off-court stripe, it'll be something about a racy Instagram of a rapper's girlfriend's butt parts or plaintive Twitter entreaties on the status of local demand for the titular pipe.
Danny Chau: Remember when Goran Dragic dropped 23 points in the fourth quarter against the Spurs three years ago? That's the type of outburst we can expect from Thunder backup guard Reggie Jackson. Their matchup against the Rockets sets up an extremely convenient examination of the narrative that's dogged the Thunder all season long — the idea that OKC will collapse in the playoffs without James Harden stabilizing the offense. It's a talking point that mostly throws shade in Russell Westbrook's direction, but also undersells the ability of OKC's supporting cast. Jackson might not have Harden's preternatural scoring gifts, but he's a talent in his own right, boundlessly athletic with traces of Harden's trademark slipperiness on the floor. He's a perfect stylistic complement to Westbrook's unyielding Tron light cycle drives. That used to be Harden's domain. Jackson has made a name for himself recently, but I anticipate the team is saving his best for the playoffs. Don't be surprised if he ends up winning a game for the Thunder in the first round.
But, uh, don't be surprised if he then gets benched for the remainder of the playoffs. Because the Thunder will go nowhere without Derek Fisher's VETERAN LEADERSHIP.
Bryan Curtis: Consider this a non-playoff prediction: My team, Dallas, is going to have a crazy summer. The Mavs beat Charlotte last night to bring their record to 41-41. "I'm not gonna try to blow sunshine up your butt and try to tell you that we're happy to be .500," Rick Carlisle said. This summer is the sequel to the no-win summer of 2011 and whoops-we-didn't-get-anyone summer of 2012. The first was probably smart. The second might have been (accidentally) smart, depending on what you think of Deron Williams. But now, after a season in which shaved beards counted as the major attraction, the Mavs are in a bind. Player option or not, I can't believe they'll let 2013-14 be another referendum on whether O.J. Mayo deserves to stand next to Dirk Nowitzki. When Carlisle is comparing himself to a Little League parent, Mayo has to go. I realize that doesn't count as much of a fearless prediction, but forgive me. I'm still kinda pissed.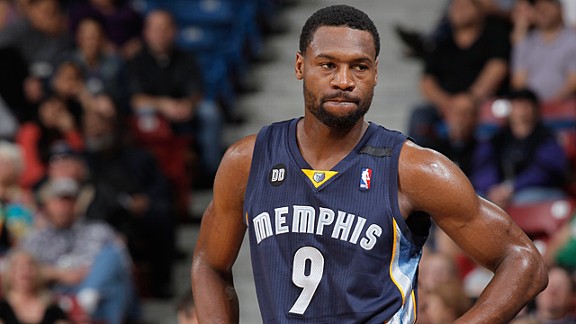 Zach Lowe: A member of the Grizzlies will get a technical foul for reacting to a Chris Paul flop — mostly likely a flop that fools the referees into calling a foul on Memphis. Paul's floppery does not necessarily mean he's inventing a foul; rather, he's very good at feeling some contact that might constitute a foul, depending on a referee's viewing angle and mood, and reacting as if that bit of (probably illegal) contact inflicts the same level of pain as a Reggie Evans punch to the groin with a full-on windup. There was one such instance during Saturday's very important Grizz-Clips game — an L.A. win that went a long way toward deciding home court in this series — in which Paul drove, bumped shoulder-to-chest with Mike Conley, and then dove to the floor stomach-first as if he were starting his run on a Slip 'N Slide. The whistle blew, and multiple members of the Grizzlies went absolutely crazy. I distinctly remember Marc Gasol throwing his hands up dramatically, screaming, and stomping his feet in the direction of one official.
There's a lot of mutual dislike between these two teams left over from last season's seven-gamer, and much of the dislike coming from Memphis's direction stems from the Grizzlies (very, very justified) feeling that the Clippers are the flop gods of the NBA — even with Evans in Brooklyn, threatening to take the team title there. Flopping is a borderline crime in the eyes of the Grizzlies, in part because they create much of their offense through brute force — both in the post, and in forcing heaps of turnovers. Flopping is a moral outrage to Memphis, and if the officials fall for the theatrics, it can work against Memphis in ways both subtle and obvious. So there will be a screaming technical in response to some crazy CP3 dive.
Also: The over/under on the first tense Blake Griffin staredown will unofficially be at the 6:00 TV timeout in the first quarter of Game 1. I'm taking the under.
Ben Detrick: Jay-Z will attend more Knicks games than Nets games in the playoffs.
Despite Jay's defensive boasts on "Open Letter" about keeping his courtside seats at Barclays, his job is done in Brooklyn. He was a fantastic frontman, a local legend who camouflaged an Ohio developer's land grab and cast a veneer of rap-world edginess over a place that sells $18.50 lobster rolls to Park Slope DILFs. But after selling off his $350,000 stake in the Nets in order to finally get that Aztek Escobar project up and running, does Jay truly care about watching Brook Lopez impersonate an efficient brontosaurus during the postseason? We think not. Especially when the Garden — Jigga's old haunt — is home to the surging Knicks, an exciting team headed for collisions with Boston (again) and potentially Indiana (a Knicks-Pacers series accompanied by Spike and Reggie is #rememberthe90s par excellence). But most pressing: Can Jay convince Beyoncé to attend two basketball games on Saturday, or will he be forced to spend two hours eating lobster rolls in Brooklyn with Memphis Bleek?
Amos Barshad: Jeff Green will become a real boy (during a knife fight).
All in all, Jeff Green will end his comeback year having put together a nice little season. Especially (for whatever unrelated reason!) since Rondo went down, Green's been efficient and prominent while swooping in for putbacks and stomping through the lane on that hard first step. And when he hung 43 on the Heat late in the year and nearly snapped the Miami streak, we saw glimmers of an even brighter, more glorious future, what might yet be. So why does he still seem to play with all the spark and vitality of a central Florida toll-booth operator?
This is a guy who has, in the category of "joyful fan-favorite potential," two big things going for him: (1) He came back from open-heart surgery, and (2) roughly once every three games, he will cram on you:
For a second after that dunk, it looks like Green's going into full K-Mart "BADASS YELLOW BOY" territory, and yanking the jersey to show off his chest scar. That'd be a bit emotionally manipulative, to be sure, but you're telling me the place doesn't fully erupt at the sight of that? Instead, it turns out, he's pulling his jersey so he can wipe the sweat off his face.
OK, so hopefully here's what happens: Years of simmering Knicks-Celtics bad blood totally boils over this year, until (say by Game 3?) Paul Pierce and Quentin Richardson actually meet at half court to do the "Beat It" tied-together knife-fight thing. And within all that general sharp animosity, Jeff Green becomes the snarling, showy, joie de vivre–having dunk monster I always dreamed he'd be.
Patricia Lee: Dwight Howard will make 70 percent of his free throws.
Howard's free throw percentage has been on a slight decline during his years in the league. He started his rookie year shooting 67 percent, then hovered around the 59 percent mark for six more years before reaching his current sub-.500 mark. So I guess he started from the bottom and now, well, he's even more at the bottom.
BUT.
There's always a time for new beginnings, and this year's playoffs will be one of them. His playoff free throw shooting percentage seems to denote a trend — skip a year, then up up up down. Skip another year and hit an absurd (for him at least) 68 percent. This is the second year of the second go-round of that trend. So logic clearly dictates that he'll shoot 70 percent. (Even if it feels like he's only making one of every four free throws during games.)
#CountonD12
Rembert Browne: Kobe Bryant's Twitter feed will be the star of the NBA Playoffs.
This is almost a no-brainer prediction. He's already our most gifted new-ish user of social media, but now he's taken to live-tweeting games from his couch. This will only increase in volume, quality, and passion as the Lakers attempt to do the impossible and win a single game in the playoffs.
Because magic is real and miracles do come true, I believe the Lakers will also make the Western Conference Finals. But it won't be Dwight's courage or Pau's unselfishness that motivates them.
It'll be @kobebryant.
Filed Under: Amos Barshad, Boston Celtics, Bryan Curtis, Chris Ryan, Danny Chau, Houston Rockets, James Harden, Jay Caspian Kang, Kevin Durant, Los Angeles Lakers, Miami Heat, NBA, New York Knicks, Oklahoma City Thunder, Patricia Lee, Robert Mays, Russell Westbrook, Zach Lowe