NBA Playoffs: Grantland's Shootaround Archive
So much amazing is happening in the NBA Playoffs this year, and Grantland is here to help you keep track of it all. Check this space for our takes on moments you might've missed, along with ones you will remember forever. (Click the links for full Shootarounds.)

The Shootaround: NBA Playoffs Edition
June 20: It's the Heat, Stupid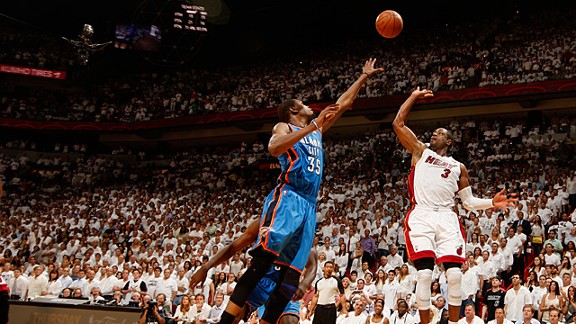 There's something really "Evil Genius" about Dwyane Wade. But up until Tuesday night, I only thought about the "evil" part. He (allegedly/rumor has it/come on, he totally) puppet-mastered Chris Bosh and LeBron James's free-agent moves from a condo in Beijing, his knee was drained during this season's playoffs, and I'm pretty sure he participates in nightly Dothraki horse-heart-eating to get himself into fighting shape. He threw Mike Bibby's shoe during the Heat-Knicks series. Every story needs a villain, and when you see Wade it's "Say Hi to the Bad Guy" time. Just look at his facial hair.
But after Tuesday night's game, I recognize the genius part, too. With about four minutes left in Game 4, Oklahoma City was on an 11-2 run when Mario Chalmers, somewhat regressing to the mean(io), threw a pass behind Shane Battier, out of bounds.
Miami needed one of their superstars to step on the brakes, to stop OKC's momentum. And that's when Dwyane Wade, a player known for his flash-bulb-popping feats of athleticism, put on his "not f'ing around crew" face and went to work.
On the next play, he faced off with Russell Westbrook and the OKC guard dribbled the ball off his foot and out of bounds. Wade brought the ball up the floor and did what he does best — maybe better than anyone — he discovered space. Sometimes he does it with his body, but he was playing with his head in these closing minutes, and he showed it, perfectly threading a bounce pass between Serge Ibaka and Westbrook for a Bosh layup.
Next possession, with three and a half remaining, he guarded Kevin Durant when he came off his favored low-block screen, denied him, pushed him way out of his hot zone, and then grabbed the rebound off of Westbrook's missed jumper. A minute later, after LeBron's top of key dagger, Wade ripped the ball from Durant as he went up for a jumper (no call, but still), went down the other end, and put the Heat up five, 99-94, with a layup.
It kept going. A subtle but brilliant stretch that culminated with a slick pass to a cutting Bosh (who got fouled) and a hand on Thabo Sefolosha's corner 3 attempt. Every trip down the court, with LeBron struggling with cramps, with his own back no doubt stinging …
… and with, I'm sure, a lot on his mind, Wade made not only the right play, but the smartest play.
— Chris Ryan
June 18: The House That LeBron Built
Westbrook himself has been a study in player management throughout these playoffs. Much to Oklahoma City coach Scott Brooks's credit, those "Russell being Russell" quarters have been toned down into "Russell being Russell" moments. After his "Russell being Russell" moment in the third quarter Sunday, Brooks immediately pulled Westbrook from the game. I wonder if this is the right strategy — Westbrook is going to have stretches where he takes terrible shots, but if the Thunder want to come back and tie the series Tuesday, they're going to need Durant to reestablish himself physically and they're going to need Russell to be Russell. They've gotten to this point by taking the good with the bad from Westbrook. Now is not the time to be tentative and try to figure out a way that Serge Ibaka or one of the Thunder's role players can somehow win the series.
— Jay Caspian Kang
June 15: Meet Us in Miami
Two plays at the end of the game that illustrate how fragile, fluid, and frankly ridiculous all this clutch/not-clutch, real human being/real hero stuff is. Sometimes you kiss it high off the backboard and it goes in. Sometimes. Sometimes it's like what Kevin Durant said after the game: "I just missed the shot, man." Does it matter that LeBron James was lukewarm to tepid for most of the fourth quarter (1-for-4 from the field, but a perfect 4-for-4 from the line)? Or that Durant was a plastic explosive (16 points. SIXTEEN)? No, of course it doesn't. In these games, it seems like you play 47 minutes to build or destroy who you are in the last 60 seconds.
— Chris Ryan
June 13: Thunder Throw Some Thabos

Keywords: behind us; "behind us" hand gesture; opportunities; we had opportunities; Bill Clinton thumb move; thinking; win; they just went away; "they just went away" hand gesture; that's what they do; they beat us, beat us; regroup; gather; finger on chin move; Kevin Durant size gesture; everybody took their turn; better job; "keep on coming" hand gesture.
— Chris Ryan
June 12: Finals Preview
The 13 greatest NBA players of all time are Jordan, Russell, Kareem, Magic, Bird, Wilt, Duncan, Kobe, West, Oscar, Shaq, Moses and Hakeem in some order (you just read mine). Every one of those 13 guys captured at least one NBA championship. Eight prevailed in their first Finals. Four snagged rings during their second trips. Only West repeatedly fell short, losing seven Finals before finally winning with the '72 Lakers … and in his case, poor West only made the mistake of crossing paths with the Russell Dynasty. So if LeBron James loses his third straight Finals (2007, 2011 and, now, 2012), that would make him the unluckiest, least successful superstar since West.
Digging a little deeper, only seven other NBA players won at least three MVP awards: Russell, Jordan, Kareem, Bird, Magic, Wilt, and Moses. The first five won titles in their first Finals trip; Moses made it happen his second time (with the '83 Sixers). The career Finals record of those seven guys (not counting LeBron): 34-16. Oh, and only four players qualified for the 42 Club at least four times — you know, the club for any NBA player who averaged 42-plus combined points, rebounds and assists in a single postseason (13 playoff games or more). Here's that list:
MJ (6x): 49.4 ('89); 50.7 ('90); 45.9 ('91); 46.5 ('92); 47.8 ('93); 43.8 ('97)
Shaq (4x): 43.6 ('98); 49.2 ('00); 49.0 ('01); 43.9 ('02)
Bird (4x): 42.0 ('81); 44.4 ('84); 43.4 ('86); 44.2 ('87)
LBJ (4x): 44.7 ('06), 43.6 ('08), 51.7 ('09), 45.5 ('12)
So if Oklahoma City topples LeBron's Heat in the Finals, he would make history three different ways: first three-time MVP to lose his first three Finals trips; first modern superstar (anyone since the ABA/NBA merger, basically) to blow his first three Finals trips; first four-time member of the 42 Club to take a Finals goose egg. All of that seems far-fetched … even if the general public and the gambling public are leaning toward Oklahoma City, a precociously fearless team that's been looking admittedly '91 Bulls-ish these past few weeks. Just remember, it would be a historical fluke — repeat: a historical fluke — if the greatest player of his generation went 0-for-3 in the Finals. Of course, he won't make it easy because LeBron James never seems to make anything easy. That's why I am picking Miami in a grueling seven-game classic. Kevin Durant, your time will come.
— Bill Simmons
June 11: Miami Proves Better, Faster, Stronger Than Boston
Saturday night, Doc Rivers said everything he'd want to about Kevin Garnett, and he did it without a single word. When Doc used a late foul in Game 7 as a chance to give Boston's Big 3 one last curtain call, the moment took on a feel not normally reserved for professional sports. Then again, these Celtics always warranted the type of adulation that goes beyond rooting for laundry — none more so than Garnett, and as Rivers had the back of his head palmed by the 7-footer in the same way that so many in green have over these five years, the effect KG has brought to this team was as evident as ever.
Outside of those rooting or playing for the Celtics, Garnett has developed a bit of a reputation since his arrival to the Eastern Conference. He's been called a fake tough guy, the dirtiest player in the league, and a handful of other things that often don't seem so out of line. There's no doubt that on occasion, the passion crosses the line between endearing and absurd. There's one thing that helps keep it on the side of the former, though, and it's that Garnett never seemed to give a shit which side it was on. We chuckled when he insanely mumbled to himself. We laughed when anything was possible.
But all the while, there was never a question of whether he cared, and if that meant occasionally stumbling into the cartoonish, then so be it.
Everything about his exit Saturday night was a reflection of that passion. After refusing to come out, he eventually made his way to the bench, and instead of shuffling over to his seat, he stopped and exchanged words with his coach. When Rivers tried to pull away, Garnett refused. He wasn't finished with whatever it was he had to say. When Doc finally did get away, there were tears in his eyes.
Garnett might not be done in a Celtics uniform. After his stellar second half, Boston might find a way to bring him back for whatever career he has left. With 23 seconds left in that game, that possibility didn't matter. That moment with Rivers was like any of the others — those postgame interviews, those head-butts against the stanchion, that championship celebration. It was Garnett giving everything, no matter what anyone might have to say. There was never a moment over the past five years where anyone had to wonder how much Kevin Garnett cared, and the end, if that's what it was, was no different.
— Robert Mays
June 8: King's Landing
If I was a Boston fan, I would be very, very afraid of LeBron James right now, and that's not even because of his 45-point performance. It's because of what happened after the game.
After LeBron's potentially Decision-saving performance Thursday night, he walked off the court and, as he hit the tunnel, he looked up and smiled at something up in the stands. Heat fan? Celtics fan? Who knows? But his smile shows a level of postgame relaxation that isn't normal for King James. And then, a second after the smile, a fan throws a drink on him. (Everyone keeps saying it's a beer, but do we know that? Are we just assuming it was a S'Madms because it was Boston, when it really could have been what was left of an Icee?) Anyway, after getting something liquid thrown on him, he turns around, acknowledges the situation, and then faces forward and keeps walking, doing this shoulder shrug move very reminiscent of a boxer walking toward the ring.
He wasn't outwardly fazed one bit. It's hard not to react when something that disrespectful happens to you, which suggests that he's scary-focused right now. I feel as if I could have jumped into the tunnel, yanked his beard, and proceeded to say something about Mama 'Bron, and he would have simply Zimmered me and kept it moving.
Boston, this is bad. The once-dependable headcase seems to have exorcised one of his many demons Thursday night. Does he have 500 more demons to fight through? Absolutely. But those might not rear their ugly heads until the Finals. Uh-oh.
— Rembert Browne
June 7: The Oklahoma City Forces of Nature
OKCWGKTA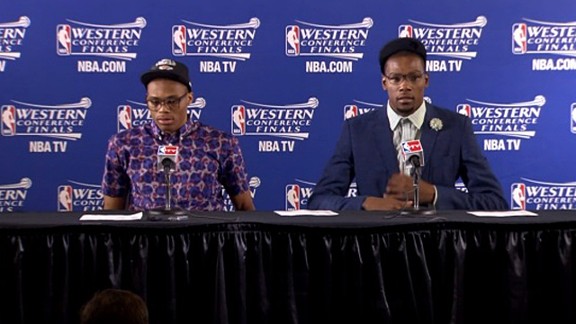 (H/T to @jose3030 for making the connection, though I don't think these guys do much in the way of "Earl" kind of behavior.)
— Chris Ryan
June 6: Good Job! Good Effort!
I have been to Miami maybe 10 times in my life and found it to be many things: intoxicating, vapid, beautiful, shallow, the opposite of sober. But one thing it's never been is cynical. Or sharp. Or snarky. Which is why I have watched the "GOOD JOB, GOOD EFFORT" video 391 times since Tuesday night. Because I can't believe the kid is being sincere with that sentiment. Tuesday night's Heat performance was not a "good job" and it was most certainly NOT a "good effort." I know this because I performed a very scientific study (i.e., scanned YouTube for five minutes) of the 10 hustle/effort plays that could have gone either way in the game, and my conclusion is the Celts won Every. Single. One. What possible explanation can anyone come up with for the older, slower, much much MUCH less athletic team getting the best result on all of the "50/50" plays if not effort? (Other than performance-enhancing drugs, of course, which is a joke I'm not allowed to make on this website. #simmonsreasons.) I'm not ready to declare the team with two of the top eight players in the league cooked just yet, but I would strongly recommend that Coach Spo direct the Heat charter flight to make a stopover in Oz on the way to Beantown to get this Tin Man team of his some freaking heart.
— Joe House
June 5: Thunder Go Boom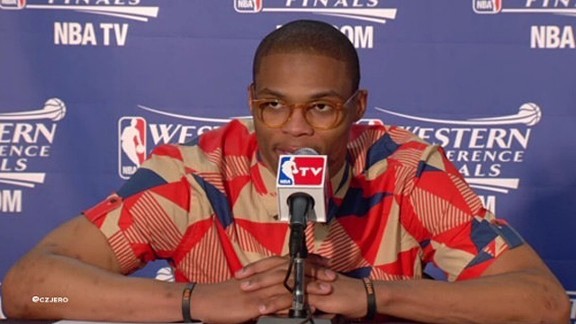 If you told me he bought that shirt at Chico's, I would probably believe you.
— Chris Ryan
June 4: Celtics-Heat Get Whistled While They Work
In Game 2 of the Heat-Celtics series, the Celtics were called for 33 personal fouls. The Heat were called for 18. In Game 3, the teams split 48 fouls evenly. Sunday night, the Celtics were called for 30 fouls, the Heat 28. These numbers wouldn't mean much if Paul Pierce hadn't fouled out of two games and if LeBron James hadn't been watching crunch time from the bench. Through four games, the Celtics and Heat have combined for an average of 49.75 fouls per game. To put that in perspective, through four games in the 1997 Eastern Conference Semifinals, the Knicks and the Heat averaged 49 fouls per game in a series that was so physical that it sparked a brawl in Game 5. The Thunder and the Spurs have averaged 38.25 fouls through their first four games.
There have been series that have been more disrupted by the ref's whistle — the year after they brawled in the conference semis, the Knicks and Heat hacked, charged, and blocked one another 51.8 times per game. Several series in the early '80s, most notably the 1981 series between the Celtics and the Sixers, topped 50 fouls per game. But I cannot remember the last time the best players in a meaningful playoff series had to deal with so much foul trouble. Nick Collison fouled out twice in last year's Western Conference Finals against the Mavericks, but that was kind of his job. Back in that 1997 Knicks-Heat series, Alonzo Mourning fouled out twice, but Mourning was one of the most foul-prone superstars of his era.
This isn't to cast out some conspiracy theory about the refs or to even call out any specific official. But there's no question that the quality of basketball has been affected by all the fouls. Having the Celtics, Heat, Thunder, and Spurs in the Conference Finals should be a hoophead's wet dream — we have four vastly different teams matched up against the most exciting possible opponent. If this were boxing, it'd be Gatti-Ward and Pacquiao-Morales. Instead, we have one beautiful, wide-open series driven by great performances by great players and another series that has mostly been about the refs. This shouldn't happen anymore. LeBron's last foul Sunday night was a joke. Kevin Garnett's foul at the end of regulation was a bit more blatant, but why have there been so many calls away from the ball at the end of a tight, physical game? Doesn't it benefit everyone involved to just let the Celtics and the Heat slug it out with their best players? If this is what happens when you protect the stars, then, by all means, please protect the stars. Nobody is going to brawl in the post-leaving-the-bench/Malice in the Palace era. Why not just let a series that was always going to be physical be, well, physical?
— Jay Caspian Kang
June 1: The Oklahoma City Thunder Protect Their Turf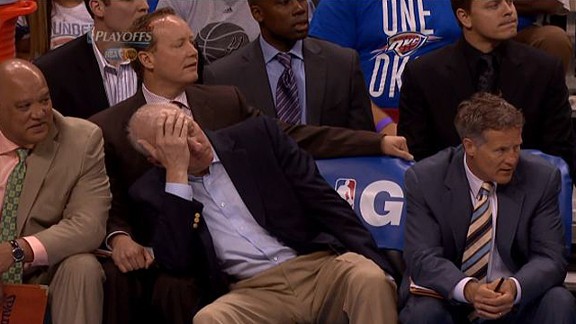 I might be remembering this incorrectly, but in Arthurian legend (like … the legend of King Arthur) (bear with me here) there's the story of Lancelot. Lancelot was the best knight out there. When it came to swords or axes or maces or whatever, nobody was really seeing him. It was his gift and his curse. Finally one day, he battles this new king on the block, Arthur, and Art wins (I think mostly because he had Excalibur). Lancelot is … relieved. Finally he has a rival, a worthy opponent.
Above you see a picture of Spurs coach Gregg Popovich being bested, albeit only temporarily. The Thunder made their adjustments, unleashed Thabo Sefolosha on Tony Parker, took the restrictor plate off, and made their offense not exactly street legal. Pop looks wounded there; someone finally took a good shot at him.
After the game, during his always must-see TV press conference, Popovich looked … stimulated. He talked, glowingly, about the performance by the Thunder, simply admiring the aggressive way they took it to the Spurs. Usually after wins he seems testy, underwhelmed. This time, after a comprehensive loss, he looked engaged. Tired, but definitely engaged. He had finally, after a 20-game win streak, found a worthy opponent.
— Chris Ryan
May 31: LeBron and Rondo's Greatest Show on Earth
This video, highlights of Rajon Rondo's 44-point Game 2, is kind of hilarious because, honestly, it makes it sound like Rondo is dead. The voice-overs, the acoustic guitars and strings. All it's missing is Will Ferrell singing "Dust in the Wind," over it. It's almost appropriate, though: Against Miami on Wednesday night, Rondo gave the kind of performance — 44 points, 10 assists, three steals, 53 minutes played, no time off — that you memorialize.

Some people said it was a game that rivaled Magic Johnson's 1980 NBA Finals Game 6 (42 points, 15 boards, seven assists):
Or Isiah Thomas's 43 points in Game 6 of the 1988 Finals:
I don't know about all that. In reality, as Beckley Mason pointed out, he may have only marginally had a better night than Tony Parker did on Tuesday. But I will say this: It might not have been the best performance by a point guard in a playoff game, but it was one of the loudest. It was my favorite blockbuster movie of the summer so far. Everything Rondo does seems so heroic, so amplified. Simple passes are made incredibly elegant and complex. And the complex passes — like his shoulder-first drive through the lane at the end of the first that involved a mid-air-turn-and-dish to Brandon Bass — demand frame-by-frame breakdowns.
So there's the way he plays: It demands attention. But then there's the way he carries himself, which might be even more entrancing. That flat, unflinching, unsmiling, locked-in look. It's almost like an emoticon: :l
That's Rondo. There are the emotional ebbs and flows of the game and then there are the emotional ebbs and flows of him. For 20 minutes he can seem timid and vacant, and then all of a sudden he turns into the player that Kevin Garnett once scream-therapy described as the "Black Lion." And in games like Wednesday night's, even in a loss — chirping at LeBron at the end of regulation or needing to be held back by Doc Rivers so as not to go after the referees — his roar is louder than bombs.
— Chris Ryan
May 29: Heat and Spurs Pop the Trunk, Celtics Feel the Reign of the Tech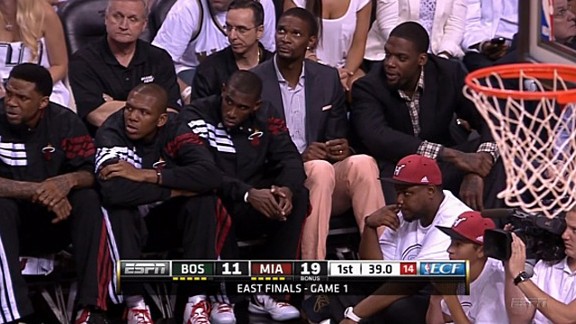 Dancing on My Own Award: Chris Bosh.
— Chris Ryan
May 25: R.I.P., Indiana Pacers Gold Swagger

Here's how my cell phone will probably look on Saturday night as I'm exchanging texts with my dad (who will be attending Game 7 between Boston and Philly).
Me (7:55 PM ET): How's the crowd?
Dad (7:56): Great! Pretty rowdy! I'd say there was some drinking before the game!
Me (7:57): In Boston during a three-day weekend? I find this hard to believe.
Dad (7:58): Guy in front of me already has his shirt off.
Dad (8:08): Bunch of Patriots here. Belichick just on JumboTron, got a standing O.
Me (8:08): Would be funny if they showed Bobby V., Schilling, Lackey, and Beckett in a suite eating chicken wings.
Me (8:18): RONDO!!!!!!!!!!!!!!!!!!!!!!!!!!!!!
Dad (8:19): He's been incredible, you could see it from first play. Locked in.
Me (8:20): Owes us after Game 6 no-show. And Ray doesn't look like he's in cement.
Dad (8:21): Two days rest really helped KG and Ray. They have their legs tonight. I'm feeling confident!
Dad (8:29): So much for Ray having his legs.
Me (8:30: Get him out of there!
Dad (8:39): Ryan Hollins is going to give me a heart attack.
Me (8:39): Our bench sucks.
Dad (8:39):: Thanks again, Danny!
Me (8:39):: Can't believe we blew a 12-point lead that fast. Go over to bench during timeout and stab Keyon Dooling so Doc will stop playing him.
Dad (8:39): I'd rather play Avery with one arm.
Me (8:39): Me too — I'd rather play Jo Jo White. Is he there? Can we get a uniform on him?
Dad (8:48): These refs are awful! Can't believe they assigned Marc Davis to this game, he hates us!
Me (8:49): You should start a Donaghy chant. We can still win this game. I like how hard PP/Rondo/KG are playing, defense is really good.
Dad (8:58): Tired of this Lavoy Allen killing us. Where did this guy come from? He doesn't miss!
Me (8:59): Need to get to halftime with the lead. This is a rock fight.
Dad (9:05): Turned into another ugly game. If this ends in 70s, that's good for Philly — they can't shoot.
Me (9:05): Need to start going to the basket. Hate that we're tied at halftime. How's crowd?
Dad (9:06): Drunk and nervous. I think your buddy J-Bug just got kicked out.
Me (9:06): Was he the guy who threw the wad of money at Marc Davis??????
Dad (9:06): I think so.
Me (9:34): RONDO!!!!!!!!!!!!!!!!!!!!!!!!!!!
Dad (9:34): Why doesn't he do this every night????????
Me (9:42): RONDO!!!!!!!!!!!!!!!!!!!!!!!!!!!!!!!!!
Dad (9:42): RONDO!!!!!!!!!!!
Me (9:43): Tell Andre to keep shooting! We can put 'em away right here.
Dad (9:59): Ugh, we just let them back in — what is Doc doing??????
Me (9:59): Stuck with bench too long … I think he was thinking about Game 1 Miami.
Dad (9:59): There won't be Game 1 Miami if we keep playing Hollins/Dooling/Daniels.
Me (9:59): Can't believe how much we miss Bradley.
Dad (9:59): How could Bradley get hurt? Youngest, healthiest guy on our team!
Me (10:07): I feel physically ill.
Dad (10:07): This is a root canal.
Me (10:12): Rondo has a quadruple-double — 10 points, 14 assists, 11 rebounds, and 10 missed layups.
Dad (10:12): He's terrified to get fouled, he's quick-shooting every layup.
Me (10:16): I'm slowly moving into "even if we win, Miami is gonna sweep us" mode.
Dad (10:16): Crowd really loud, fans realize team needs the help. Nobody's made a shot in 10 mins.
Me (10:17): We're shooting 35 percent, they're shooting 34 percent. And somebody should shoot Marc Davis.
Dad (10:18): Guy in front of me is going to run on court and punch Davis soon.
Me (10:23): PIERCE!!!!!!!!!!!!!!!!!!!!!!!!!!!!!!!!!!!!
Dad (10:24): UNBELIEVABLE!!!!!!!!!! Heated up at perfect time!!!!!!!!!!!!!
Me (10:25): And we finally got a call!!!!!!!!!!
Me (10:29): What the fuck????
Dad (10:29): Who is Jodie Meeks and why did those two shots go in?
Me (10:29): Can't believe this is coming down to final minute.
Dad (10:30): Miami has to be licking its chops right now.
Me (10:30): I know, both of these teams just suck.
Dad (10:31): We're too banged up, it's depressing.
Me (10:31): Limping to finish line.
Dad (10:31): If we can just get to next round, you never know.
Me (10:31): I think we know.
Dad (10:31): My cell phone is dying.
Me (10:31): Hope that's not an omen for Celts. We need a hoop! Call me after game.
Dad (10:31): OK.
— Bill Simmons
May 24: The Sixers Win the Homecoming Game
Sometimes noise is better than words, so I won't say too many. You heard all the rumors, the Dominican Republic, broke, uncoachable, China, the gambling, the drinking. He's not gonna make the flight to Philly. It'll be a distraction. And then there he was, wearing a Lou Williams jersey, hat to the side, smile on his face and tears in his eyes. The fan with boxing gloves, raised in glory, because even if he didn't practice, he always fought. God, I even love the Joey Crawford hug, for some reason.
For an entire generation of Philadelphians, there never was and there never will be another like him. He was us when we were young, or at least he was who we wanted to be. Just seeing that he hasn't gotten too old means we haven't gotten too old, either. That's too many words. Listen to the noise of the crowd when he walks out. That's what brotherly love sounds like.
— Chris Ryan
May 23: Miami Throws Some 'Bows
Scenes From the Miami Heat Locker Room, Post–Game 5

Dexter Pittman: "Hey LeBron, did you see what I did?"
LeBron James: "You mean, going out of your way to elbow Lance Stephenson as hard as you could in the final minute of a game that we were leading by 35 points?"
Dexter: "Yeah, that!"
LeBron: "I saw it, thanks for that. You're probably getting suspended, though."
Dexter: "Yeah, but he'll never give you the choke sign again, that's for sure! I SHOWED HIM!"
LeBron: "You sure did, Darius."
Dexter: "Dexter."
LeBron: "I mean Dexter."
Dexter: "If you want, I could try to run him over in the parking lot as he's walking to the Pacers' bus."
LeBron: "No, I think we're cool."
Dexter: "You want to grab something to eat?"
LeBron: "I can't, I made plans."
Dexter: "Want to play video games sometime?"
LeBron: "I don't really play video games anymore."
Dexter: "Well, if you ever want to hang, lemme know."
LeBron: "Sure thing, Darius."
— Bill Simmons
May 22: Russell Westbrook Explains the Universe
There are basketball shots that DO THINGS TO THE SOLAR SYSTEM. A ball rips through a net, and the arc of Venus BENDS. You can't explain it. You just know from the emotional glitter that explodes all over everything that operating conditions are suddenly and permanently different.
Here's the conversation I imagine Russell Westbrook having with physics as he stole the ball from Ramon Sessions, with the Thunder and Lakers tied at 70 with 4:10 left in the third quarter, and went in for the shot of the NBA playoffs so far.
RUSSELL: How we gonna play this thing, physics?
PHYSICS: x − x0 =
v0
⎛
⎝
v − v0
⎞
⎠
+
1
a
⎛
⎝
v − v0
⎞2
⎠
a
2
a
RUSSELL: We could do that. Yeah, we could do that. I don't know, though. I was thinking maybe just go STUPID amazing, like end this thing right now.
PHYSICS:  x =  x0 + vΔt ?
RUSSELL: Yeah, I mean, just put a bullet through the head of one of the major eras of NBA history, all in one acid-vaudeville scoop shot from like 21 feet out. And the foul. Don't leave out the foul. I'm glad we're on the same page on this one, physics.
PHYSICS: 2a(x − x0) =  2(vv0 − v02) + (v2 − 2vv0 + v02) !
[Russell throws up a ridiculous acid-vaudeville scoop shot from like 21 feet out as a frantic Sessions wraps him up. The ball banks in, and Russell wheels away from the basket doing a celebration that looks like something Charlie Daniels invented on his first spring break in hell. And the foul. Pandemonium and rejoicing.]
I'm not saying this shot ended Kobe's career or single-handedly caused the imminent breakup of the Lakers or any of the other fun, dumb stuff that would be satisfying to write just now. But in this one game? Yeah, the shot changed everything. The third quarter had been back-and-forth. The Lakers erased a five-point halftime deficit and had taken a couple of narrow leads. After the shot, they never led again. We were tied at 70 when Westbrook stole the ball; within a couple of minutes, it was 73-80, and that was really it. A couple of minutes later it was 77-93.
Obviously, there were a lot of highlights in this game, and this series overall, for Thunder fans. But this — the steal, the circus shot, and the celebration that followed it — this was The Moment. Good-bye, moons of Jupiter.
— Brian Phillips
May 21: The Hunger James
For 48 minutes, the best basketball player alive was just that, and with his team on the brink, we were treated to one of the most dominant performances in playoff history. The 40 points and the 18 rebounds are simply ridiculous, and the way LeBron James carried every part of another lackluster first half was even more so. When LeBron James is truly incredible, it has nothing to do with speed, power, or anything of the like. When he's the most perfect basketball player man, God, or anybody else could think up, it's when he's doing this:
The pass was the second of its kind Sunday afternoon, the first being one along the baseline between two defenders. For many players, it's their defense that shows how keyed in they are to a game. Buckets fuel effort on the other end, and in turn, there are more buckets. For James, whose defensive effort needs no extra edge, it always has been and will be the passing. The boost from a feeling of invincibility on the offensive end has nothing to do with the physical. It's the way the floor appears to him, and the way he sees it like maybe one or two other men on earth can. Forty and 18 is fine, but what's scary is how easy he can make it for everybody else.
— Robert Mays
May 18: The Heat Are Coming Apart and the Spurs Are Unbreakable

During Thursday night's Heat-pocalypse, LeBron James engaged in a mild altercation with the reborn Danny Granger. The Pacers forward grabbed James' jersey before he could airlift on a fast break. Granger and James got in each other's face and, were this the regular season, might have gone to a scarier place. Squaring off with James, who physically recalls one of the robot punching machines from Real Steel, would appear to be a mistake. However, after Granger was given a technical for instigating the moment, James failed to convert the free throw. In the photo above you'll see Lance Stephenson, a two-year pro who averages 10 minutes a game and has a grand total of five career playoffs points, making the classic choking gesture on the Pacers bench after James' miss.
Stephenson has already cemented his Google-ability with the move (seek him out, his fate is sealed), but was it really so wrong? Granger's jersey-pulling was a similar sort of gamesmanship, a teasing act meant to get in the reigning MVP's head. On its face, the taunt feels cheap — the sort of thing old-timers call "classless." This was not the act of, say, a player in the midst of a historic playoff performance that ripped the guts out of this nation's largest city. But the LeBron James Psych-Out is a movement that needs to be considered in context. Stephenson isn't going to have to check James on the court any time soon because, well, he isn't going to play unless his team is blowing out or being blown out. Granger gained a different kind of mental advantage, one that according to sources close to Stephen A. Smith would otherwise have lead to retaliation were this series not on the path to his first NBA championship. It's of a piece: LeBron's going to see Stephenson's move over and again on SportsCenter this weekend. It's inevitable. But it's Granger who's lighting his fire. And he's probably going to score 79 points on Sunday to go along with 17 elbows to the solar plexus. For that, we thank Lance Stephenson.
— Sean Fennessey
May 17: Rondo Rises, Durant (Sort of) Delivers, and the Mamba Melts
Look, none of us was ready for this. We were a bunch of kids back then. There we were, watching TV, watching the basketball, innocent as a Lavoy Allen 18-footer, when wham, there it was, no warning, just OH MY GOD THIS IS HAPPENING WHAT ARE YOU DOING MR. TUMMYJIGGLES WHY ARE YOU JIGGLING LIKE THAT THIS CAN'T BE REAL WHY ARE THE PEOPLE SPANKING YOU AND RUBBING YOU MR. TUMMYJIGGLES — and above it all, his totally unchanging tongue-out grin and those Bootsy Collins sunglasses spreading their wings like the tiniest condor in the universe. It was terrifying. It was mesmerizing. We were never the same after that day, because that was the day we learned what awesome looked like.
— Brian Phillips
May 16: A Tale of Two Offenses in Miami and San Antonio
Still Not Old: Shake Weight Jokes
If we told you this was only the second-most discomfiting moment of the night — after Shaq and Barkley stripped down to flash their "new" physiques — would you believe us?
(Via @cjzero.)
— Sean Fennessey
May 15: The Sixers Get a Smash and Grab, the Thunder Take What They Want

This late-game, game-deciding layup came right after Kevin Garnett tried to turn Evan Turner's face into an ottoman. Most men would've needed to go to their happy caves, talk to their spirit animals, find their chi, whatever. Evan Turner? It's almost like no one gave him the memo. He's not scared because he doesn't know he's supposed to be. There he is waving his hands, asking for the ball, per usual. But after seeing this ball fake on Rondo and his Keith Byars imitation past Paul Pierce, I'm wondering: Maybe he should stop asking. He should start demanding.
— Chris Ryan
May 14: The Clippers — These Clippers — Are Moving On
As Chris Paul dribbled out the clock Sunday in Memphis, everything the Clippers had hoped for when he arrived had come true. In just one season, Paul managed to provide the franchise with both relevance and probably the biggest win in its history. What the Clippers did Sunday — on the road, in a building known for the grind — was play the type of game they didn't always seem fit to play this year. The result was a kind of success that often seemed out of reach. So why, after all that, does it still feel like they're doomed?
On Sunday, the Clippers' bench was nothing short of excellent. Reggie Evans continued to be a force on the glass in the same way he was in Game 6 — a game in which he would have been the hero if L.A. had managed to hang on. Nick Young rode the loose grip he has on reality to a fearless nine-point fourth quarter. Kenyon Martin added 11 points of his own, while anchoring an L.A. defense that gave up just 16 in the final 12 minutes. There's something to be said for having a roster full of guys who can come in and play like they aren't afraid of these moments. The problem is there's also something to be said about your stars sitting on the bench during the final quarter of a Game 7.
In Blake Griffin's case, health concerns likely factored into coach Vinny Del Negro's decision. Over the course of the series, Griffin adjusted to the tighter, slower pace of playoff games better than might have been expected. DeAndre Jordan has no such explanation. Where Griffin's effectiveness in the half-court grind has been limited, Jordan's has been rendered almost null. That, combined with how much better the Clippers are defensively with Martin and Evans on the floor, is the biggest reason to worry for Lob City as the team heads to San Antonio.
There won't be a game in which the Spurs shoot 0-for-13 from beyond the arc like Memphis did Sunday, while Evans's effort and Martin's position savvy will be matched by the guys in the other uniforms. Credit is due to the Clippers reserves, but the problem is sustainability. Over an extended period, a lineup like Sunday's will rely almost entirely on Paul to generate offense, and any other deprives L.A. of the defense that put them in the second round. It will be left to Del Negro to do what he did against Memphis and ride the hot lineup when it's there. That, and pray that Paul is healthy enough to control the game.
Clippers celebrate in locker room around a sign that a Memphis fan threw on the court. twitter.com/LAClippers/sta…

— Los Angeles Clippers (@LAClippers) May 13, 2012
— Robert Mays
May 11: Super Sixers, Sick Kobe, and the Avenging Garnett
I feel like we should make a bigger deal of the mess that was the Hawks' final huddle of the season – youtu.be/xi29KGVWlhU

— SebastianPruiti (@SebastianPruiti) May 11, 2012
Courtesy of Grantland's Sebastian Pruiti, here we see Josh Smith's patented Tasmanian Devil attention span as he soaks in Larry Drew's whiteboard Picasso routine.
— Chris Ryan
May 10: Helping Hands, Exit Interviews, and Tech City
Ranking the Two Jerk Things the Knicks Did Wednesday Night in Terms of Levels of Small Solace Offered to Their Fans
1. Amar'e Psyching Out Shane Battier
Amar'e fouls out after bowling over Battier, offers him a helping hand, and then pulls it away at the last second. Say what you will about maturity levels and appropriate game conduct and winner mentality, but how perfectly executed was this classic psych? Being mean on purpose > being mean accidentally. Anyway, bathe in the thrown shade, New York.
2. Landry Fields Catching LeBron James Right in the Dome Piece With a Pass
Always great for the team that crushes you to feel at least some modicum of literal (non-permanent/serious) pain, and so thinking about LeBron shaking the sting out of his eyeballs for a few minutes a day over this long, tough offseason might just help you stay sane. Points deducted for Fields thinking he was passing the ball somewhere that wasn't LeBron's face.
— Amos Barshad
May 9: JaVale McGee Rises
About 15 minutes after JaVale McGee's thorough handling of Andrew Bynum was complete, members of the media began to file into the relatively small postgame press room in the bowels of the Staples Center. They were informed that first to the podium would be victorious Nuggets coach George Karl, whose team had just staved off elimination with 102-99 win over the Lakers. The player from Denver, it was announced, would be McGee. Even after the best game of his career — 21 points and 14 rebounds — in the biggest game of his career, there were laughs.
There was no laughter when Lakers coach Mike Brown took the podium. The entirety of his opening statement (and most of his answers afterward) focused on McGee's performance and the lack of impact from his guys in the paint. He shied from calling out Bynum by name, but the message was clear: The league's biggest punchline had used an All-Star center as his punching bag.
The impact began early, with six rebounds in his first eight minutes. McGee consistently made it difficult for Bynum to get the ball deep in the paint. With McGee in the game, the big man wouldn't score in the Lakers' half-court offense until the fourth quarter.
There were plenty of highlights, but one play in particular stood out. Up 13, Corey Brewer was short on a shot from the right wing. The ball careered off the front of the iron back toward the free throw line, where McGee used his right hand to reach over Bynum and tap it back to himself. After controlling the handle just to the right of the paint, McGee took two dribbles before throwing it down.
That was the scene throughout — McGee simply outworking Bynum for each ball that either had an equal chance to haul in. The former Washington Wizard would say afterward that his effort was a product of being somewhere he's never been — "Usually, I'm nowhere near the playoffs" — an answer that confirms a contention often raised by those who have believed in his talent but feared his situation. The JaVale McGee jokes came because he has ability that's impossible to ignore, no matter how misused it was. Tuesday night was a glimpse of what that talent could be on a team that matters.
— Robert Mays
May 8: CP3 OT OMG
This is something that Memphis coach Lionel Hollins said after the Grizzlies' Game 4 overtime loss to the Clippers on Monday night: "There's a lot of posturing and a lot of coaches whining on every call all the way up the sideline and on the court … That's the gamesmanship that goes on, and you can't let it bother you and you can't lose your poise."
You can't lose something you never had. And Memphis was never poised. Not Monday night. These guys seemed twitchy from the final bars of Everette Harp's sax national anthem (sounded a lot like the Lethal Weapon soundtrack … not bad, actually). The Grizzlies let everything get to them Monday: the flopping, the booing, the refs, the noise (it was booming at tip-off). Which is pretty ironic, because I think, despite Hollins's protests otherwise, their game plan involved getting under the Clippers' skin.
In Game 3 on Saturday afternoon and Game 4 on Monday night, the Grizzlies pretty clearly set out to rile up Blake Griffin. It might have worked a bit over the weekend, but it backfired Monday, and here's a thought on that: Zach Randolph is not the guy to do that job. First of all, even at his current limited physical capacity, he's too valuable. Second of all, he's not a good faux instigator, because there is nothing faux about his instigating.
In the second quarter, Randolph got a tech for the always-fun trifecta of hard foul/ice grill/bark. The idea here was probably to get Blake Griffin T'd up too and have him playing with his hand over his mouth for the rest of the game. Or maybe the idea was was to scare the shit out of Griffin. But it backfired; Randolph went too far and looked like a lunatic (even though Chris Paul, when asked what Z-Bo was saying to Blake, said, "They talked about going to dinner tomorrow night in Memphis.")
When the Clippers play with Blake Griffin, they play on an edge. Things can go very, very right or very wrong. Memphis tried to push him off the edge Monday, and he did one of the smartest things he's done in his young career: He side-stepped the shove and let Memphis fall right off themselves.
—Chris Ryan
May 7: My Man, My Melo
Tyson Chandler had such a Tyson Chandler game Sunday. His line should be bronzed: one point, six fouls, nine boards. He only notched one block (the above kick-punch to the face of a Dwyane Wade shot), but watching him stomping around the court, banging his head as if he were listening to a screwed and chopped version of Master of Puppets, was a thing of beauty. I defy you, despite the Melo, Bron, and Wade wattage on the court, to tell me there was a more charismatic, imposing player at the Garden than the Defensive Player of the Year.
—Chris Ryan
May 4: Have Gun, Will Travel
In Game 1 of the Mavs-Thunder series, the OKC crowd got kinda embarrassed when their team-issued coordinating T-shirts turned out to more or less exactly match the electric blue of Dallas's away uniforms. In Game 3 on Thursday night, the Dallas crowd got kinda embarrassed when their team-issued coordinating T-shirts turned out to more or less exactly match the electric blue of the OKC away uniforms! OK, admittedly, both teams have gone in pretty heavy on nonthreatening electric blues that were invented on a Macintosh in the 1990s, so it's easy to get mixed up. Still, though … how is this a problem? Isn't "don't turn up at the stadium dressed like your opponent" pretty much the first, and easiest, rule of fandom? I mean, say you're the intern responsible for coordinating T-shirts at the stadium. It's not a long checklist, right? "Make sure everyone gets an XL and, oh yeah, don't make the entire crowd look like it's openly rooting for the other team." This is how the Yankees won 27 championships.
Get with it, T-shirt-coordinating interns. Have some self-respect.
— Brian Phillips
May 3: Don't Poke the Bear
The Pacers training staff is taking injury prevention to a whole new level! twitter.com/AustinCroshere…

— Austin Croshere (@AustinCroshere) May 2, 2012
Unexpected Comedian of the Night: Austin Croshere.
— Chris Ryan
May 2: Evan Is a Place on Earth
Dewey Defeats Truman Award for Premature Celebration: Rembert Browne
Here's the first 119 words of my post titled "The Atlanta Hawks are up 2-0," written in my mind at halftime of Game 2:
They said it couldn't be done, but guess what? We did it. We're up 2-0, and let me be the first to say this could be our year. To win the whole thing? Maybe not, but to make it to the Eastern Conference Finals? Absolutely. Between an old/troublesome Celtics, a Rose-less Bulls, and an alleged professional basketball team in Philadelphia, it's easily our side of the bracket to take. We're playing well, Joe Johnson's making good decisions, and (most important) no one's hurt. Dare I say we're the favorites to meet the Miami Heat in the series to go? This is amazing. They deserve this. We deserve this. I might cry.
And then we started playing badly. And then Joe Johnson started doing that thing where he dribbles in circles like a Harlem Globetrotter, but then scores points like a Washington General. And then Josh Smith got hurt. And then Paul Pierce Tebowed at half court. And then when lost. To the Rondo/Allen-less Celtics.
This is all my fault.
— Rembert Browne
May 1: Whoa-Oh-Oh, I'm On Fire
Partially due to frustration and partially due to the too-tight prison-bar cornrows atop his head, after a Game 2 loss Knicks power forward Amar'e Stoudemire punched a glass fire extinguisher door, lacerating his hand. He was later seen leaving the arena in a sling.
C'mon, Amar'e. You can't just go punching glass and think things will be better. We've been over this. It's like you've forgotten what Diddy said about hard times:
"You can't just choke all your problems away. It takes hard work. If I had my way, I'd never work. I'd just stay home all day, watch Scarface 50 times, eat a turkey sandwich, and have sex all fucking day. Then I'd dress up like a clown, and surprise kids at schools. Then I'd take a dump in the back of a movie theater, and just wait — until somebody sat in it. Hear it squish. That's funny to me. Then I'd paint, and read, and play violin. I'd climb the mountains, and sing the songs that I like to sing. But I don't got that kinda time."
You're better than that, Amar'e.
—Rembert Browne
April 30: Who Do We Blame for Derrick Rose?
Blame me for what happened to Derrick Rose.
About five minutes before the Bulls' title hopes crumpled onto the United Center floor, I'd just said how I was glad Rose was still playing against Philly, how after missing nearly 30 games he could use all the game-speed minutes to be had. Then I screamed "Noooooo!" for a good 30 seconds while pressing the rewind button over and over.
My feelings on the decision to keep Rose in the game haven't changed, and probably won't. I have too much negative energy focused elsewhere to engage in the Tom Thibodeau blame game. The Bulls will still dispatch Philadelphia with a roster used to playing (and winning) together. That's probably where it ends.
Defensively, everything is still intact, and in the end, that will always be this team's biggest strength. The issues arise in those instances when the court gets smaller late in games, and if the Bulls do play Boston and its defense, the points they squeezed all season out of spacing and ball movement become harder to come by.
So while a lost chance to compete is something to lament, part of me knows this team wasn't ready for Miami anyway. The real blow is what this means for Rose going forward. So much of his game is predicated on that step to the rim, and in the chance it never does come all the way back, what then? Chris Paul's name has and will be mentioned a lot in the next year, but that comparison is far from reasonable at this point. There isn't the same intelligence and aptitude for getting where he wants to be on the floor whenever he wants to be there. The bridge to a new version of Rose would be a longer road than the one to this version of Paul.
For now, Bulls fans will be left to wonder what might have been, and for that, I can't apologize enough.
— Robert Mays
Filed Under: Atlanta Hawks, Bill Simmons, Boston Celtics, Brian Phillips, Chicago Bulls, Chris Ryan, Dallas Mavericks, Denver Nuggets, Grantland, Indiana Pacers, Los Angeles Clippers, Los Angeles Lakers, Memphis Grizzlies, Miami Heat, NBA, NBA Playoffs, New York Knicks, Oklahoma City Thunder, Orlando Magic, Philadelphia 76ers, Rembert Browne, Robert Mays, San Antonio Spurs, Sean Fennessey, Utah Jazz