NBA Free Agency: On John Wall Getting Paid and Mike Miller's Move to Memphis
Ned Dishman/NBAE via Getty Images
The Wizards, always Wizarding around, are on the verge of signing John Wall to the maximum-allowable contract extension — a five-year, $80 million mega-deal that precludes the Wizards from signing any of their other current players, including Bradley Beal, to five-year extensions after their rookie deals expire down the road.
The Wizards are making a bet, and if Wall plays this season as he played the final two months or so of last season, it's a bet Washington will either win handily or lose by such a small margin that it's ultimately meaningless. But it's a bet they in no way have to make, and probably shouldn't. Without an extension by October 31, Wall would enter restricted free agency next summer, a process the incumbent team — the Wizards — controls almost completely. The very worst possible outcome, at least among outcomes that are even remotely likely, is that Wall signs a max-level offer sheet with another team — a deal the Wizards, if they are so inclined, could immediately match.
That offer sheet could run for only four years, and carries smaller raises than the Wizards can offer, meaning it would constitute a shorter and slightly smaller cap hit than the five-year deal the Wiz are about to give Wall. So the Wiz-Bangs have several variables to weigh as they make this decision:
• The value of waiting an extra season to learn more information about the current state of Wall's game, how he'll mesh with Beal and Otto Porter, and how much he might improve going forward. Spoiler alert: This, to me, is the most important variable at play. Wall has played only three NBA seasons. He suffered various knee-related injuries in his rookie season that forced him to miss 13 games of that campaign and lingered into his second season — the chaotic lockout-shortened campaign in which Wall played all 66 games.

But those knee injuries got worse during the lockout season, forcing Wall into a long recovery period that cost him the first two-plus months of his third season — the 2012-13 campaign that just ended. Wall played brilliantly during the final two months of 2012-13, but those 30 or so games are the only data points we have suggesting that granting Wall a max deal at the league's most stacked position is the best course of action. I'd want more data, especially since the Wizards control the restricted free-agency process.
• The value of locking Wall into an extra fifth year, right now. This matters, if you think Wall is really a max-level player going forward. You want those guys on your team for as many of their prime years as possible. Beal is very talented, with a super-high upside, but given the information we have, Wall is probably a better candidate for Washington's single "designated player" slot — the one that carries a five-year extension.
• The possibility of pissing off Wall and his agent, Dan Fegan, to the point that Wall does something unexpected and bad for the Wiz. This could take many forms. Wall could sulk so much that it affects his play, the mood of the team, and its overall ceiling. He and Fegan could insist upon an early opt-out, the tactic Kevin Love used when Minnesota unbelievably decided it was a bad idea to lock up their franchise player for as long as possible. (Love signed a four-year deal, and he can opt out after Year 3.) Wall in theory could do something even more dramatic in free agency next summer: refuse to sign anything other than the one-year qualifying offer with Washington, worth $9.7 million, an F-U move that would allow Wall to become an unrestricted free agent in the summer of 2015.
No player of Wall's stature has ever done this. It's a risk, since it involves turning down several years' worth of guaranteed cash in order to enter free agency unfettered after another year of basketball — another year of allowing the world to learn your true ability, of running and jumping on two human knees, and of trying to figure out if any of Trevor Booker/Jan Vesely (Summer League Breakout Star!!!)/Kevin Seraphin are ever going to "get it" consistently.
Brandon Jennings may take this course in the next few days, since the Bucks aren't dying to max him out, and no other team in a league saturated with very good starting point guards (again, a relevant point here) is leaping at the chance to sign him for big money. But Wall is better than Jennings, and certainly has a higher ceiling, and some team with potential big-time cap room next summer and a possible need at the position (Detroit, Utah, Toronto, Sacramento, others) would act aggressively. It takes only one. Ben Gordon and David Lee have also done the one-year qualifying offer thing, but, again, neither is of Wall's stature.
But there is some risk in angering Fegan. Teams live in fear of the power agents; they play a much larger role in trades and general team dynamics than a lot of fans might realize. Martell Webster is a Wizard, on a nice fat contract, in part because Fegan represents the trio of Webster, Wall, and Nene. Arn Tellem represents every player involved in the Tyreke Evans–Greivis Vasquez–Robin Lopez transaction, and that isn't a coincidence.
It matters how Fegan gets along with the Wiz organization, and he'd obviously prefer his star young client to get as much money RIGHT FREAKING NOW as possible.
And yet: Fegan and that extra fifth year shouldn't matter enough to rush Washington into a decision it does not have to make immediately. Wall was fantastic for most of last season, and the Wizards with all four of Wall-Webster-Beal-Nene on the floor — with proper floor spacing, in other words — outscored opponents by nearly 20 points per 100 possessions in 187 minutes together, per NBA.com. The Beal-Wall-Nene trio was nearly plus-12 points per 100 possessions in 265 minutes. Those are monster numbers, even in small samples, and the Wiz are a net-positive team with Wall on the floor last season. They project as a clear playoff team this season.
Wall also made real individual strides. He shot 38 percent on midrange jumpers after shooting just 31 percent and 32.5 percent in his first two seasons, respectively, and that number bumped up to 40.2 percent after March 1, per NBA.com. Teams give him that shot, even from inside the foul line, on pick-and-rolls, as Nazr Mohammed does here by sagging so far back it's almost comical:
Wall has to make this shot at reasonable rates, and it was clearly a point of emphasis last season. He attempted more midrange jumpers in 1,600 minutes last season than he did in either 2010-11 or 2011-12, seasons in which he logged nearly 1,000 more total minutes each, per NBA.com. He took more long 2-point jumpers last season than shots from the restricted area and the section of the paint outside the restricted area combined, a reversal of Wall's first two seasons, and a balance that probably isn't ideal in the long run. He also made just 12 3-pointers all season, a number that was somehow a giant step up from the four he made in 2011-12. It is hard to be a max-level point guard in the NBA, in 2013, without a 3-point shot.
But that midrange jumper is huge for his long-term development, and Wall displayed better court vision last season. He assisted on 44 percent of Washington's baskets while on the floor, an elite number, and a big jump from the mid-30s marks he put up in his first two seasons. He showed an ability to read the floor in more sophisticated ways — an understanding, one or two steps ahead, of how defenses were going to respond to certain actions, and even an ability on rare occasions to coax defenses into particular movements Wall could exploit with a smart pass.
Take the corner 3-pointer that Bradley Beal, standing in the right corner, is about to hit off a leaping Wall cross-court pass (on the left wing, with the ball in midair) in the below still:
Wall has just dribbled left around an Emeka Okafor screen, and you can see Okafor popping out to the foul line for a jumper. Beal's man, DeMar DeRozan, has slid into the middle of the paint to bother Okafor in case of a roll or an open jumper — the typical job of the defender guarding the shooter in the weakside corner (Beal).
This is standard stuff. But what you don't see in this still is how Wall manipulated the defense specifically to get Beal an open corner 3. Instead of just flying full-speed around Okafor and toward the rim, or throwing a telegraphed pocket bouncer to Okafor, Wall paused midway through his drive and then executed a perfect change-of-pace hesitation dribble just before jumping for this pass. That one sly dribble sucked Amir Johnson, Okafor's man, an extra step toward Wall, and Johnson's mini-slide convinced DeRozan he needed to lunge a few feet farther into the paint toward Okafor; you can see DeRozan trying to stop his momentum and scramble back to Beal upon realizing he had been had.
Wall needs more of this in his game. For a turbo-fast player, he had a surprising amount of trouble getting deep penetration on standard pick-and-rolls. That's in part because he's only just grasping that in-between, start-and-stop gear Steve Nash and Chris Paul (among others) have down — the head-on-a-swivel mastery the best point guards use to manipulate a defense almost continuously as they prod toward the rim and back out to the other side.
Wall too often displayed just two gears: full speed ahead toward the basket, or premature stopping, far from the hoop, to attempt a long jumper or a very difficult cross-court pass like this one against Milwaukee from the right side of the perimeter:
The Bucks swiped this pass, in part, because Wall threw it so early, and so far from the rim, that he hadn't compromised the defense quite enough to sneak it through. He actually had to change his mind in midair after the defense tilted toward his original target (Nene), forcing him into an impossible cross-court pass — thrown on his descent to the floor — to Beal in the left corner.
These tendencies can make Wall a bit wild and turnover-prone in the half-court. But again: He improved a ton last year, he's still learning, and the Wiz don't exactly offer pristine spacing. The lane is crowded when Nene and Okafor share the floor, especially because the Wiz usually use Nene, the better shooter, as the screener for Wall — meaning Okafor is lurking in the paint. Chris Singleton hasn't been able to grab consistent minutes as a stretch power forward, and the Vesely-Seraphin-Booker brigade is one big project. Wall's thriving play amid the Webster-Beal-Nene trio suggests he'll do very well with better shooting, and better teammates, around him.
Wall is big for a point guard (6-foot-4) and fast, and he should develop into a good defender for his position. He's occasionally inattentive and has a bad habit of just standing around after a shot goes up — not rebounding, not boxing out, not leaking out — but such habits are typical of young players learning complex NBA defensive schemes. He should be fine.
All the signs are encouraging. But the Wiz are bidding against themselves very early, and they don't have to — not in a league well-populated by very good starting point guards, and one in which Stephen Curry, Ty Lawson, Jrue Holiday, and others make substantially less than the max.
Memphis Signs Mike Miller; Terms Not Yet Disclosed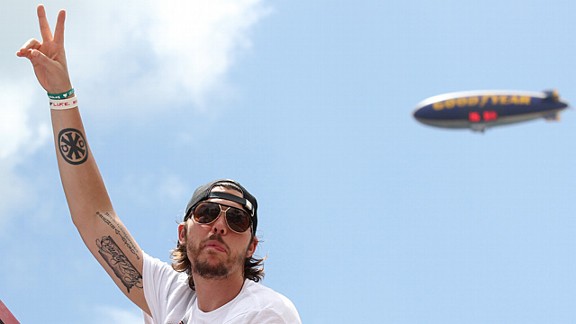 Provided the deal is cheap enough to keep Memphis under the tax this season, there's really no harm, no foul for the tax-shy Grizz. They had very little wiggle room under the 2013-14 tax after re-signing Tony Allen, and found themselves priced out of the market for shooters — especially since Memphis also has to be careful about the 2014-15 tax already. (Marc Stein of ESPN.com, who broke the story of Miller's choice, reports the deal will be for two years, but with Miller getting his full salary for each of those seasons from the Heat, it's possible Memphis might convince Miller to take a one-year deal this time around. And to be clear, Miller will get his full $6.6 million 2014-15 salary from Miami even though he technically had a player option for that season, per league sources.) Memphis also surely anticipated Miller's amnestying, and knew Miller's ties to the area and large continuing paychecks from Micky Arison (take a Carnival Cruise anytime! They're the best!) gave the Grizz a solid shot at nabbing Miller.
Getting him this cheap keeps Memphis below the tax and doesn't affect their already rich cap sheet in 2014-15. This does not include the price for the cryogenic freezing chamber in which Miller will live until April, but that does not count against the cap.
Seriously: The Grizz know how brittle Miller is, and they'll monitor his regular-season usage accordingly. Everyone knows Memphis needs shooting in order to space the floor properly, and Miller is one of the best shooters in the world. His size presents the possibility of Memphis playing Miller and Quincy Pondexter together on the wing, maximizing their floor spacing without sacrificing much in the way of size and defense. And even if Dave Joerger prefers one of Tayshaun Prince and Tony Allen to be on the floor at all times (a stance he'll have to adapt against a smart playoff opponent), Miller at least provides another option — one who can bring more rebounding, passing, and off-the-bounce creativity than Pondexter. And though Pondexter has emerged as a solid 3-point shooter, especially from the corners, defenses play a step or two closer to Miller than they do Q-Pon — an extra bit of respect crucial to the flow of Memphis's inconsistent offense.
Miller struggled at times on defense during Miami's postseason run after falling out of the rotation, but he's smart, he works his butt off, and Memphis's more traditional defensive scheme won't ask him to do all the frantic running and bumping he had to do within Miami's chaos style.
Miller provides Memphis more shooting and more options — more wing combinations, more small-ball potential, a shorter leash for Jerryd Bayless, etc. He's a big addition, if he's healthy at the right time, for another loaded team in a loaded conference.
Filed Under: John Wall, Memphis Grizzlies, NBA, Washington Wizards, Zach Lowe