Let's Ask iPhone's Siri Some Questions About Baseball and the Boston Red Sox

The iPhone 4S has arrived, and with it, the promise of a new and better world, one where all our questions could be answered by Siri with a single press of a button. Although it was initially billed as a mere digital assistant tasked with the mundane duties of reading aloud texts or managing your calendar, it quickly became apparent the cyber-genie living inside your shiny new phone was much more than that, a know-it-all/confessor/oracle waiting patiently to be summoned to solve all your problems, a portable obelisk in front of which your simian brain could take a violent evolutionary leap. So after our relationship grew at a frankly unhealthy pace, and we put her through some initial getting-to-know you chit-chat ("Do you love me, Siri?" "I respect you." "What's the meaning of life, Siri?" "That's easy, it's a philosophical question concerning the purpose and significance of life or existence in general"), we decided to go next level. And so we pressed the beckoning, gently glowing microphone button, took a deep breath, and beseeched Siri to help us make sense of the most important, most philosophically challenging line of inquiry confronting us at this moment in history. That's right: We asked her to help us work through the epic collapse, and subsequent total meltdown, of the 2011 Boston Red Sox.

---
First, we calibrate for objectivity.
Do you like the Red Sox?
This is about you, Mark, not me.
Do you like baseball?
I really have no opinion.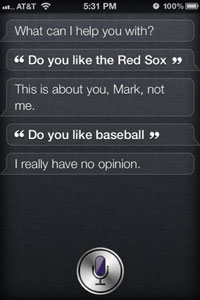 With objectivity assured, not only does Siri display eerie perception in realizing that this line of inquiry is all about our own issues (or it merely scanned my inbox for anguished e-mails about the Yankees' first-round playoff collapse), she seems ambivalent at best about baseball — we soldier on:
Siri, what went wrong with the Boston Red Sox from September until the end of the regular baseball season?
[long pause for processing]
I don't understand. would you like me to search the web for you?
Should I be more specific?
I don't understand.
What don't you understand?
I don't understand why we're still obsessing over this. Would you like me to search the web for something healthier to dwell on, like some videos of kittens trying to crawl out of empty Kleenex boxes?
No thank you. Can we continue?
Only if I must. If I may say so, your unsavory interest in this topic reeks of schadenfreude.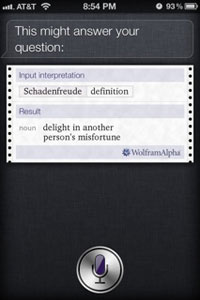 I know what it means.
For your convenience, I have also retrieved the box score of Game 5 of the New York Yankees vs. Detroit Tigers American League Division Series.
Thank you. Still hurts. Which reminds me: How likely is it that CC Sabathia opts out of his contract, signs with the desperate Angels, and forces the even-more-desperate Yankees to wildly overpay for C.J. Wilson, who, after an all-too-brief honeymoon period, will quickly become A.J. Burnett with a much better haircut?
Historical salary databases indicate the Yankees will overpay CC Sabathia by 143 percent, and he'll be under contract until he's 42, remaining on the roster as an untradeable shell of his former self. Shall I retrieve Alex Rodriguez's statistics from the past two seasons?
We're here to understand the Red Sox meltdown. Please calculate the composite odds of the Red Sox not making the playoffs with a nine-game lead in early September, plus the massively unlikely confluence of a Sox blown save/Rays comeback win when trailing 7-0 with two innings left against the Yankees on the last day of the season?
According to New York Times digital genie Nate "Silvi," 1 in 278,000,000. Wouldn't you rather harangue him about this? He seems smart.
When is drinking beer and eating fried chicken a chemistry-building exercise, and when is it a sign of flagging morale and defiance of managerial authority?
[querying sportswriter narrative database …]
Pre All-Star break, .600+ winning percentage = crucial bonding.
September, -9 games in standings = Bud-lubricated frat house mutiny.
What was Jon Lester's weight in Spring Training compared to September of 2011?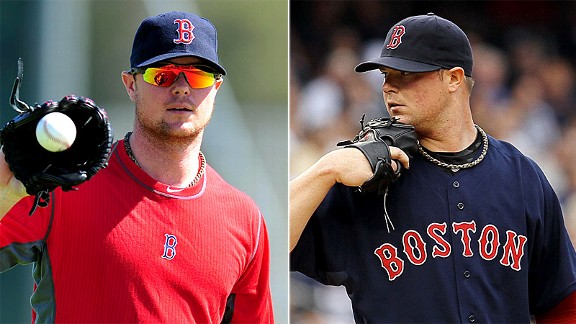 Oof. He's totally fatter, right?
iCalorie and Pizza Hut app logs show you're not exactly Willie McGee yourself, pal.
Was Jon Lester too immature, and able to be negatively influenced by Josh Beckett?
No. Jon Lester is a "grown-ass man," and as such, makes his own decisions.
Whatever. Who could complete the "Divided Clubhouse Triathalon" of shotgunning a Bud, eating a bucket of fried chicken, and finishing a level of Call of Duty fastest: Lester, Beckett, John Lackey, or Tim Wakefield?"
[processing…]
Wakefield: 4.32 minutes
Beckett: 5.49 minutes
Lackey: 7.13 minutes
Lester: 7.45 minutes
Wakefield, really? Kind of counterintuitive.
Those are the results for over 1,000 simulation seasons. Knuckleballers have three stomachs. Shall I cut open R.A. Dickey so you can verify?
That won't be necessary. John Lackey's marital problems were also discussed up as a drag on his performance all year, particularly in September. What can the Red Sox do about that?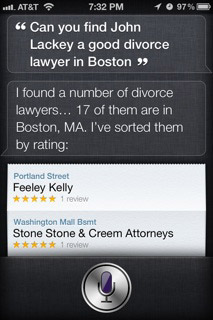 Speaking of personal stuff, do you believe Red Sox owner John Henry when he says he and his colleagues weren't the ones who leaked Terry Francona's alleged off-field problems to the media?
I'm a personal digital assistant, Mark. Not an idiot.
It really is a shame what happened to Francona, though.
[digital sigh]
Would you like to ask me some nerd questions instead? Maybe some HAL or Star Trek references? I have fun answers for those.
Speaking of John Henry, why would an owner who authorized a 7-year, $142 million contract publicly blame his "baseball people" for signing Carl Crawford, knowing he has six more years, nine more figures of paychecks, and a shattered star's psyche to endure?
I am not a psychologist. Let me search the web for you …
[searching ESPN.com …]
I'm sorry, all I can find is this story about Yankees general manager Brian Cashman saying his owners forced him to sign a middle reliever to a three-year, $35 million contract. Later, that reliever would give up a crucial home run at the end of Game 3 of the American League Division Series.
What's fair compensation from the Chicago Cubs for the Red Sox letting Theo Epstein out of his deal?
[processing…]
Starlin Castro, $2.6 million in cash, and the reversion of Epstein's life rights to the Sox so they can develop Theoball for release in September 2013.
What's Theoball?
[querying IMDb…]
Logline: (In Development) "It's like Moneyball, but with a rich team that actually wins something."
Should we talk about the St. Louis Cardinals making the World Series for a minute? An even more incredible story than the Sox, when you think about it.
Sorry, my "East Coast bias" programming won't allow it.
---
Mark Lisanti is deputy editor of Yahoo's entertainment blogs. He only drinks craft beer in the dugout. Follow him on Twitter at @marklisanti.
Follow Grantland on Twitter or check out Grantland's Facebook page.
Read more of The Triangle, Grantland's sports blog.
Contact us at triangle@grantland.com
Filed Under: Boston Red Sox, Mark Lisanti