Jennifer Lawrence Was in the Front Row for Blake Griffin's Perk Postering
Remember back when Blake Griffin wrote a mid-air obituary for Kendrick Perkins with the above dunk? Go to around the :10 mark, hit pause. See that girl in the lower left-hand corner of the frame, with the "OMGWTFROTFLBLAKEGRIFFINKSURFACETOAIRRIPPERK" look on her face? Yo! That's Katniss!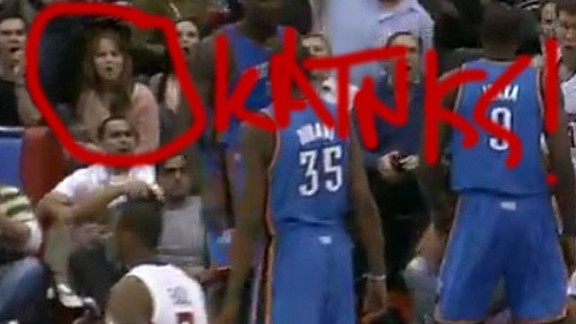 Yup, Jennifer Lawrence was in the front row for this slam of slams. This little detail comes to us courtesy of Josh Eells, who just wrote a cover story on Lawrence for Rolling Stone, but was unable to fit this awesome, endearing detail in the piece.
We're starting the J-Law for 2013 Dunk Contest Judge campaign right now.
Filed Under: Blake Griffin, Jennifer Lawrence, The Hunger Games