James Harden, Gilbert Arenas, Nick Young, and a Field Trip to the Drew League
Cassy Athena
On Friday afternoon as I was leaving the Grantland office, someone mentioned that James Harden was going to be at the Drew League this weekend. This left me with a choice: I could spend my Sunday doing responsible adult things like buying plates for my new apartment in L.A., and getting a real trash can beyond the paper bags that my roommate and I have been using for the past week … OR, I could look up the address to the Drew League, e-mail Jacoby for details, and then spend my Sunday watching basketball in a gym somewhere in the middle of Los Angeles. Fast-forward to Sunday morning and I was with a friend, weaving across a few different freeways on the way to South L.A.
In case you've never heard of the Drew League, it started in 1973 as a way to help the local community stay out of trouble, and in 1985 a man named Dino Smiley took over as commissioner and transformed the league into what it is today — the most famous summer league on the West Coast, featuring a handful of NBA guys who show every weekend, and a bunch of ex-college stars and local legends to fill in the gaps. It's the West Coast answer to New York's Rucker League or D.C.'s Goodman League, and it's every bit as competitive as those two. As the announcer told us several times Sunday, Smiley "started from the bottom, now he's on top of Mount Rushmore!"
I don't know whether being on Rushmore or being on top of Mount Rushmore is better, but whatever, stop asking so many questions. The point is that the Drew is now a place where 300 people can crowd into a middle school gym and watch NBA players play organized summer league games on a random Sunday in July. It's the subject of a forthcoming documentary from Baron Davis, the jewel of a Nike marketing campaign, and still a place that accomplishes its original mission, giving the neighborhood something to celebrate every weekend.
As for Sunday? There are five stories we need to discuss.
Wizards Against the World
I knew I was in the right place as soon as I walked in the gym and saw Gilbert Arenas and Nick Young playing basketball together. They remain good friends dating back to their days as teammates in D.C., and their greatest accomplishment together is probably this epic prank war that possibly involved painting a Mercedes pink and definitely culminated in a paintball war at Arenas's house. I'm not saying they were the "best" basketball players ever, but as a D.C. fan who has suffered through plenty of crappy teams who were completely forgettable, they'll always be two of my favorite ridiculous athletes of all time.
Naturally, their team was down 17-6 when we walked into the gym.
Nick Young was dribbling for 10-15 seconds on every possession, Gilbert was lumbering around like he was 40 years old, and for just a second it looked like I was going see them get blown out by this team full of anonymous dudes. Which, well, let's be honest: That wouldn't have been that surprising. There's something kind of heartbreaking about watching Gil these days. Aside from all the off-court stuff that has happened, there's just no more explosion. A friend in the crowd said it reminded him of watching Penny Hardaway play in a summer league 10 years ago. A guy who used to be able to do whatever he wanted on any court in the NBA is now reduced to being the crafty veteran in summer league games. And he's only 31 years old. Meanwhile, Nick still plays every possession like he's 15 years old.
If that combination sounds depressing, well, don't worry, because it WORKED. Gilbert took over to bring them back in the first quarter with a flurry of jumpers and 3s, and then Nick Young (a.k.a. Swaggy P, a.k.a. "I Am Legend" when he's playing Drew) spent the rest of the first half alternating between dunks and fadeaway 3s. By the third quarter, they'd scored 40 of their team's 47 points, the other team was basically the Washington Generals for the second half, and we'd seen a 29-point turnaround. Do you believe in miracles???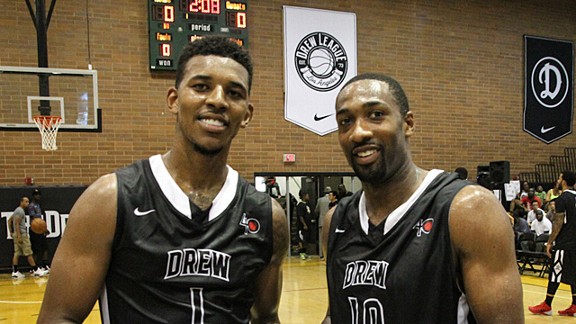 The second half was basically just Nick and Gil alternating highlights and running up the score, which is honestly the only thing I've ever asked for in my basketball dreams. We got Nick screaming "Ball Don't Lie!" at the refs, Gil screaming at the scorer's table to track his stats better, and Nick Young getting dunked on in the worst way possible before walking up the court like he'd just smelled a fart.
Announcer: "I AM LEGEND! All he could do was get out the way. Walkin' away with that stinkface."
Gilbert finished with 33, Nick Young finished with 31. Everything is great.
Marcus Williams and Money Mike
The second game was L.A. Unified vs. Problems, a.k.a. the Monster Match-up of the day, according to the announcer. L.A. Unified is the three-time defending champion at Drew League, with a roster full of local guys who went on to star in college and now mostly play in Europe. Most of the team played together at Westchester High School, and I know all this because the guy sitting next to me filled me in on the background as the teams warmed up. Every summer, teams load up to try to take them down, but so far it hasn't happened. With guys like Hassan Adams (Arizona), Brandon Bowman (Georgetown), and Marcus Williams (UConn), L.A. Unified runs the Drew every summer.
As for Problems … they have a dude named Money Mike.
Me: "Who is that guy?"
Fan sitting next to me: "I don't know. They call him Money Mike. Almost never seen him miss."
But here's the thing: IT'S TRUE.
We saw Marcus Williams (a.k.a. "H.N.I.C.," a.k.a. "Mr. Iso") go nuts all afternoon, and there were at least five different times I wondered why he didn't catch on in the NBA. But nobody — not even Mr. Iso — could touch Money Mike, who is basically the Steph Curry of South Central Summer League. Now you know.
By the fourth quarter we were laughing in the stands, because he really does hit pretty much everything, and when he wasn't scoring he was finding everyone for open looks. This is what's fun about Summer League. You show up to see NBA stars, but you always end up getting obsessed with at least one or two guys you'd completely forgotten about (Marcus Williams) or guys you've never seen before and may never see again (Money Mike!). Anyway, I wish I had highlights for you, I wish I had photos of Money Mike, I wish I had a real name for you, but it's almost better with none of that. The myth of Money Mike is bigger and better, you know? Money Mike Forever.
Baron Davis Is the Coolest Human Being Alive
A bearded dude walked into the corner of the gym. I recognized the gigantic ass from 200 feet away. The belly was visible through the white T-shirt. "Is that … Baron Davis?"
YES.
As mentioned above, Baron's releasing a documentary on the Drew League, and if Sunday was any indication, he's sort of like the Godfather around these parts. He just shows up and everyone comes to say hello, and he spends his time off by the sidelines, generally looking like the coolest person in the gym. It's all a good reminder. Baron's career may have been cut short by injuries, and it's a shame because he was one of the most explosive players on earth before all the knee injuries. We'll always wonder what might have happened if he'd been healthy. But don't cry for Baron Davis, because I'm not sure there has ever been an NBA player more equipped to have a great time in retirement than he is. I bet his entire life is like Sunday at the Drew. Just show up out of nowhere, smile and tell jokes with everyone, shake some hands, pose for pictures, and then go somewhere else and repeat the process as the coolest person in the room. We all need to hang out with Baron Davis soon.
Speaking of which …
REAL RECOGNIZE REAL AND YOUR BEARD'S LOOKIN' FAMILIAR
By the way: All photos here are courtesy of Cassy Athena, who has lots more over at her website, CassyAthena.com. Check 'em out.
Jaaaaaaaaaames Harden … Straight Outta Compton
About halfway through the second game, James Harden walked into the gym all by himself with just a backpack and his awesome beard. "Jaaaaaaaaaames Harden," said the announcer about the L.A. native. "Straight outta Compton!"
Within about 30 seconds he was trailed by 50 people everywhere he went, and you could hear the crowd murmuring for the rest of the second game. By this point the organizers had to lock the doors outside — the crowd was already overflowing, with at least 50 people crowded into each corner of the gym, a fire hazard that the announcer warned us about several times. This only made the whole scene twice as fun. Then it took like 25 minutes to start the game because of the fire hazards and it became a little less fun. But when things finally got going, we saw the Money Gang go to work — a team of James Harden, DeMar DeRozan, Terrence Jones, The Game, and 7-foot-3 Keith Closs. (That sentence alone is the best endorsement possible for Sunday's Drew League action.)
Keith Closs! He is rail-thin like a 13-year-old, but then look at his face and he looks like he's 50. A strange human to see in person, especially since he was a solid eight inches taller than anyone around him. I'm not sure if he still has any other skills, or ever did, but Keith Closs is pretty excellent at roaming the paint and trying to block EVERYTHING. It's like he's playing whack-a-mole but with layups from helpless 6-foot-2 summer leaguers. Basketball must be a lot of fun when you're 7-foot-3.
Meanwhile, DeMar DeRozan was a monster, but of course he was. DeMar DeRozan is PERFECT for summer league. He destroyed rims, he played good defense on Dorell Wright and hit jumpers from the perimeter, and then he destroyed more rims. With all due respect to Money Mike, DeMar DeRozan is the MVP of Sunday.
And James Harden. In every other game you could spot the NBA players because their athleticism was just at another level. Nick Young, Dorell Wright, DeMar DeRozan — even Marcus Williams passed this test. But Harden does it in a completely different way. He just never looks like he's totally trying. He does the same thing in the NBA. Everything looks like it's in slow motion, whether it's his sideways drives to the rim, or deliberately slowing things down on the perimeter, crossing people over and then pulling up for a 3. His jumper wasn't falling Sunday, but it was more than enough fun watching him talk shit, pull other players' pants down, pose for pictures with the crowd, and occasionally attack the rim with vicious slow-motion step-throughs that were twice as unstoppable as anything DeRozan or any other NBA player did Sunday.
Also: Remember the time The Game threw a no-look alley-oop to James Harden?
Summer League Prokhorov
Did you know that The Game is a power player at the Drew League who's bankrolling a team called the Money Gang? And he recruits NBA players to come through and dominate for the Money Gang every weekend? Well, now you do!
Everything is great. Especially for The Game. One of the perks of building a dream team every weekend is that The Game gets to play as the fifth starter, taking moonshot 3s and occasionally dunking on people.
Game just dunked on Dorell Wright.. Then Demar Derozan went of the backboard to himself on 2 dudes.. #TheDrew !!!

— Wells P (@Wells_P) July 14, 2013
And then occasionally not dunking on people.
3rd best thing I've heard today at the Drew: rapper The Game missed an open dunk & floor mop kid goes, "He's got hops like a white boy"

— Dave McMenamin (@mcten) July 14, 2013
He gets bonus for designing Money Gang jerseys that have money print for the lettering (see the lead photo above), and, for a civilian basketball player who has to balance coaching responsibilities with general management responsibilities with rapper responsibilities with player responsibilities, he's actually pretty solid. He's known as Jason Voorhees at the Drew League, and he talks more shit than anyone else on the court, because of course he does. After Sunday, the lesson is clear: We need more rappers getting involved with local summer leagues. Or more rappers owning NBA teams. Or more player-coach rappers. Either way, I'd pretty much forgotten about The Game until Sunday, but he's still pretty great. You gotta fight fire with fire, and if anyone's going to take down the L.A. Unified dynasty in this year's Drew League playoffs, it's going to be Game Prokhorov and his Money Gang superteam. Look at that last sentence.
I'm so glad I went to summer league on Sunday. God bless Game Prokhorov, God bless the Drew.
And it turns out my roommate bought plates for us while I was out, so we're good on that front as well. Sunday was an A-plus all around.
Filed Under: Andrew Sharp, James Harden, NBA