Is Everton for Real?
AP Photo/Kirsty Wigglesworth
Where you sit in the Premier League table depends on who you've been playing, especially this season. With so much parity, form seems to follow schedule. Southampton, for example, were in third place after 11 games, only three points off the lead. Now, they're in eighth after facing Arsenal, Chelsea, and Manchester City in three of their last four games. Tottenham, on the other hand, were a team in crisis after a three-game stretch against Newcastle, Manchester City, and Manchester United, only to stabilize the situation against two possible relegation candidates in Fulham and Sunderland. That's why the next three games are so important for Everton. Fulham, Swansea, and then Sunderland the day after Christmas mark an easy run of games that may help Everton regain the momentum lost over a brutal last week when they played on the road against Manchester United and Arsenal in the space of four da—
What's that? They won at Old Trafford? And drew Arsenal at the Emirates? And they actually gained ground on their opponents during that week? What's going on here?

While Everton, under new manager Roberto Martinez, remain in fifth place, they only sit two points out of second. But during the next two weeks, while they play with the league minnows, three of the four teams in front of them — Liverpool, Chelsea, and Manchester City — all have difficult schedules, including games against each other that will force some of them to drop points. If Everton can take all nine points from the next three matches, there is a real chance they could be sitting in second place as the first half of the season winds to a close.
Everton's evolution into a Champions League contender is particularly notable given the dramatic stylistic overhaul Martinez has given the team. When former manager David Moyes traded (what he thought was) up to Manchester United, he took with him his rugged, determined, defensive-minded approach. Martinez is a different sort of tactician, one seemingly committed to playing a possession- and passing-based brand of football. His style was untested at a level as high as Everton's. Before the club appointed him, his two major accomplishments were building the Swansea club that Brendan Rodgers eventually took into the Premier League, and winning the 2012-13 FA Cup with Wigan, an achievement that was somewhat soured by the the club's relegation just days later.
So far, the Martinez appointment has been a rousing success. With Everton potentially set to make a lot of noise over the coming weeks, let's look at exactly what Martinez has brought to the club.
Pass, Shoot, Possess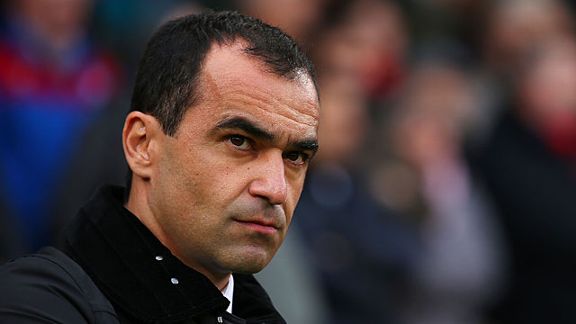 The most notable change at Everton is the amount of time the team is spending on the ball. The Toffees are fifth in the league in possession this season at 56.5 percent. (All possession stats are according to WhoScored.com.) And while Everton did average 52.9 percent last season, that figure was actually abnormally high for the team during the Moyes era. Over the previous three years, Everton had 48 percent, 50.6 percent, and 51.5 percent of the ball.
The interesting thing about all that possession is how little of it actually translates into shots. Everton are actually taking two fewer shots per game this year than last year, 14.7 to 16.7. (All stats and heat maps are courtesy of ESPN Stats & Info.) Yet that drop in overall shots hasn't decreased their number of shots on target (5.2 last season, 5.5 this season), nor has it decreased their goal scoring, which has actually nudged upward from 1.4 to 1.5 per game.
When it comes to shooting, Martinez prefers efficiency over volume. Under Moyes, last season, Everton were dead last in the league at turning shots into goals, converting at a rate of 8.7 percent. This year that's jumped to 10.5 percent, placing them at a much more respectable fifth in the league. The contrast is even more striking (no pun intended) if you look at shots on target. Everton are second in the league, putting 37.7 percent of their shots on target. Under Moyes, they were 14th at 31 percent.
The way Everton pass the ball has changed as well. They attempt more passes (550.1 passes per game, up from 484.4) and complete them at a higher rate (80.1 percent, up from 76 percent). They also cross the ball less (21.1 per game, down from 26.1). But the real and lasting difference is not so much the type of pass being played, but the areas of the pitch where it's happening.
This is a heat map of the areas that Everton played passes to last year.
Now this year.
Look at the center of the pitch. When people talk about how much fun Everton is to watch, this is what they mean. Moyes led an incredibly static team, focused on working the ball up the sideline before pumping it into the center for a cross. Martinez's Everton uses the entire field. They are attacking through the center of the field much more consistently. That may create fewer shots, but when those shots have been created, they've been put on target and in the back of the net more than before.
Romelu Lukaku and Other New Faces (But Mostly Lukaku)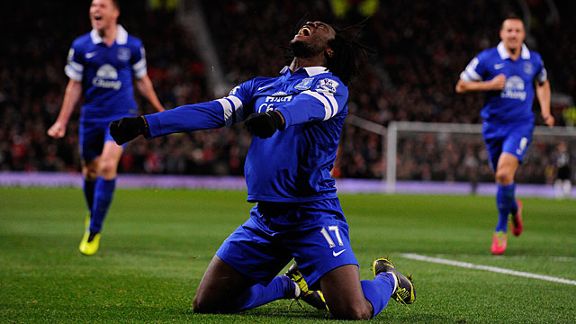 Martinez's tactics are different than Moyes's and so is the personnel he has at his disposal. The only key contributor from last season's club to leave was Marouane Fellaini, who followed Moyes to United. Martinez then upgraded the squad by buying James McCarthy, who he had managed at Wigan, and approaching three of the world's biggest clubs for loan deals. Gareth Barry and his prohibitive wages were brought in from Manchester City, while youngsters Gerard Deulofeu and Lukaku came from Barcelona and Chelsea, respectively. In addition, Martinez has shown a tremendous amount of faith and trust in young midfielder Ross Barkley, who Moyes seemed reticent to play.
Lukaku, Barkley, McCarthy, and Barry are all regular starters for the team, with Deulofeu being used primarily as an impact substitute. With Barry and McCarthy operating as holding midfielders (albeit with the freedom to range far and wide if the situation calls for it) and Barkley operating centrally behind loan striker Lukaku, Martinez completely rebuilt the spine of Everton's team.
Lukaku has been the standout performer. The 20-year-old Belgian may be the best striker in the league not named Suarez or Aguero. He is scoring goals at a rate of 0.7 per 90 minutes, which is better than anybody over the last four years who has played in at least 10 games, and puts him on equal footing with both Sergio Aguero and Robin van Persie over that time frame. He has scored eight goals for Everton already this season, despite not playing in their first four games (Everton acquired him after the first three games of the season and faced Lukaku's parent club, Chelsea, in Game 4).
Lukaku has accepted the role of target man, which is somewhat unusual for a side so focused on passing and possession. Much of the team's best attacking play and goal-scoring opportunities still come from balls played out of defense and into the striker. Sometimes Lukaku knocks those balls down to onrushing midfielders and then gets in the box to finish the play with a goal, as he did for Everton's first goal against Newcastle. Sometimes he drops off the back line to receive the ball and then plays a pass in to midfielders rushing beyond him, as evidenced by the second goal against Newcastle. And sometimes he just takes the long ball himself and finishes the play, as he did for Everton's third.
The difference between how Lukaku executes his duties and how Fellaini played in a similar role last year illustrates just how Martinez has shifted the focus of Everton's attacks. This heat map illustrates where Fellaini would receive the ball in the final third from open play, usually out toward the flanks.
From those positions he would look to hold play up and combine in wide areas, frequently playing passes out toward the sideline. Here are the locations he played all his passes to.
Now let's compare that with Lukaku this year. He's receiving the ball in much more central areas.
As play continues, he's finding attackers in much more dangerous centralized areas. Here's where his passes end up.
Lukaku's reception and distribution gives players like Barkley and wingers Kevin Mirallas and Steven Pienaar a platform from which to stream forward into attack. Everton are at their best when the midfield is attacking at pace and with numbers following those outlets. Under the Moyes regime, the team would hold the ball in the wide areas and wait for players to crash into the box before attempting to cross the ball in and finish the play.
That's the difference between an offense that seemed slow and ponderous last year, and one that is fast and electric this season.
The Concerns
Everton have three signature results this year: wins over Chelsea and Manchester United, and the draw with Arsenal. They played well in those games, but not well enough to garner the seven points that they did.
In each instance they were outshot from inside the penalty area and from central areas inside the box. Did some timely finishing on their part (and some missed opportunities from their opponents) lead to better results than Everton's performance deserved? If that's the case, then once their luck shifts, they might slide down the table as well. Of course, if you're going to get lucky, three games against the upper echelon of the Premier League is certainly the best time to do it.
The other major concern for Everton is the long-term stability of the club. Offensively, Lukaku has been a godsend, and he is almost certainly not going to be back on loan next year. (And that's despite comments that he might be happy to return if Everton qualifies for the Champions League. Remember Chelsea have a say in that as well.) He's well out of Everton's price range for a permanent move. And while Deulofeu's loan could possibly be extended by a year, he, too, will not remain at Everton for the long term.
Meanwhile, Barry, influential as a steadying defensive force this year, is on wages that will cost Everton between £5 million and £6 million this year. For a team as cash-strapped as the Merseyside club is, that's money that could have been invested elsewhere rather than spent on a player whose future you don't control. Could Barry return after this season? Maybe, but he'd have to be willing to take a serious pay cut. And at 32, how long will it be before his play begins to deteriorate? Elsewhere, McCarthy has slotted in comfortably, but Martinez's other permanent signings, Arouna Kone and Antolin Alcaraz, are both aging and injury-riddled.
One of Moyes's greatest accomplishments at Everton was bringing stability to a struggling side, stability in results, and stability in personnel. Regardless of how this season ends for the club, though, next season's squad is sure to look significantly different. And while it's true that Martinez showed an eye for bringing in inexpensive talent at Wigan (since all the talent he had kept getting sold out from under him), that's a lot of pressure for a manager to put on himself year in and year out, all while pursuing Champions League qualification.
The next two weeks, starting with the match Saturday against Fulham, could be a special time for the Everton Football Club and its supporters. They have a talented young squad that's fun to watch and easy to root for. What's less certain is what that time means in the greater context of the team's future. Are the first 15 games of the season the foundation for something, or are they simply an unexpected spike in performance ahead of a roller coaster of a future? It's too early to say, but either way it's a distinct departure from what the blue side of Mersey Park is used to, and it's a good time for fans to enjoy the ride.
Filed Under: English Premier League, Premier League