International Sporting Events > International Diplomacy
Chief official White House photographer Pete Souza is very good at his job, and has been for a very long time. Whether it was covering President Ronald Reagan's second term in office, Obama's road to the White House, the iconic Situation Room shot, or simply a spread of Wrigley Field, the man knows how to use a camera.
This skill was proved yet again when he spent time at the G8 summit at Camp David this past weekend. But instead of the image of the weekend being intense talks between heads of state, it was this: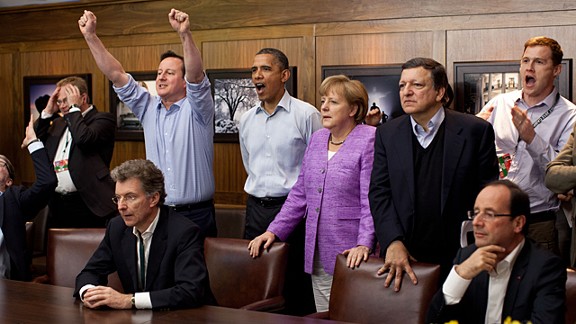 What's going on?
According to the Guardian, German chancellor Angela Merkel (purple top, or — if you're colorblind — the lady) got a little distracted by her iPad, amid discussions of Syria, because her future machine told her the Champions League final had gone to a shootout. That news was important for her because one of the teams playing, Bayern Munich, is a German football club.
Their opponents: Chelsea.
Location: Fulham, London.
Chelsea fan: David Cameron (pictured, triumphant, with hands raised).
Also pictured: The new president of France, François Holland; the president of the European Commission, José Manuel Barroso; and President Barack Obama, who I'm sure needed no convincing to watch SPORTS.
Here's what happened:
After the match concluded, the two nation's heads of state hugged, while I'm sure whispering horrendous things about the other's mother.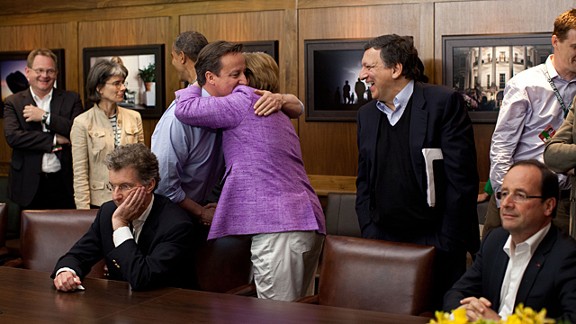 I don't have a football club that I cheer for and am admittedly not a huge soccer fan (case in point, I say "soccer"), but I'm not so delusional toward my loves for basketball and football that I think they hold a candle to soccer on the international stage. Soccer is the purest form of international competition, which is essentially organized, usually non-violent war, which is pretty much the foundation of the Olympics, which is only 66 days away.
If seeing world leaders put meetings on hold to watch international sporting contests doesn't get you pumped for the Summer Games in London, I don't know what will. Sixty-six days, people. Sixty-six.
Filed Under: Olympic Games, Rembert Browne, Soccer