#HotSportsTakes: The Shame of Auburn Football
Kevin C. Cox/Getty Images
Every now and then, we will attempt to write the worst sports column on earth. Today: Let's talk about the BCS National Championship and the value of integrity.
PASADENA, CALIFORNIA — There's practically nothing in the realm of sports that stirs nostalgia in us quite like the Tournament of Roses every year. It's the gold standard. The mountaintop. The granddaddy of them all!
But not this year.
This year, your granddady won't watch.
Your granddaddy drinks, and grunts, and doesn't say a word.
Your granddaddy knows better than to throw his hat in the air for this Auburn team. Granddaddy knows what first-class football looks like. And this Auburn team ain't it.
Don't get me wrong, the past few weeks have been fun. Two weeks ago for the Iron Bowl, we had it all. A packed stadium, a wild finish, front-page headlines all over the world the next day. Hoo boy! The college football business was booming.
But … what is college football even selling anymore?
Education? Integrity? I don't buy it. Not from Auburn.
The Auburn team I know is the one that sold us the most disgraceful Heisman Trophy winner we've seen in 70 years. Was Cam Newton the MVP of college football that year? Sure, maybe. But not a Heisman Man. As the trophy's mission statement reads: "The Heisman Memorial Trophy annually recognizes the outstanding college football player whose performance best exhibits the pursuit of excellence with integrity."
That last part is where Cam never measured up. Integrity.
Sometimes I think that the Heisman has never been the same since Cam Newton won it. Since a nation of sportswriters decided that, you know what? Integrity's not so important anymore. Highlights are more impressive than humility now.
That's the legacy of Cam Newton in college football.
Then you had their flash-in-the-pan coach, Gene Chizik. The man who came out of nowhere, bought himself a superstar — allegedly — and then watched the wins pile up.
Then, when his Golden Goose flew the coop to the NFL, big Gene laid an egg.
The team floundered on the field, and off the field some Auburn football stars were arrested on charges of armed robbery. I know college kids are entitled to a little fun, but armed robbery? It would be distressing if weren't so predictable after the way their Heisman winner conducted himself.
When you ignore your moral compass, you get lost.
This is where we've been with this program in recent years. But was 2013 supposed to be any different? The new hotshot Auburn coach, their new Golden Goose, was on staff a few years ago with Cam Newton. He looked the other way when fans called his quarterback "Scam" Newton, because why should he care? Gus Malzahn was just a football coach, and he got paid regardless. War Eagle? More like Whore Eagle.
But the most distressing point of all is the lessons Auburn is teaching on the field. If you care about the game of football, you should be concerned. Did you see the SEC title game?
I saw a glorified Arena League game.
Auburn scored 59 points, and its new star, Tre Mason, ran 46 times for 306 yards and four touchdowns, all SEC championship game records. But games like that and teams like Auburn are why it's sometimes difficult to take college football seriously.
Those were Gus Gimmicks that won on Saturday, not real football. Just like the Hail Mary in the Georgia game, or the missed–field goal return against Alabama. This team doesn't line up and hit you in the mouth. Forget the trenches! Auburn would rather trick their way to the top. And it works. It's all perfectly legal.
But it comes back to that pesky old word that has haunted Auburn since Cam.
Integrity.
The gimmicks may work, but they cheat the integrity of the sport.
They cheat all of us who used to look to the gridiron every Saturday to see examples of hard work paving the way to pay dirt, reminding us all of the clearest path to be success in this country. Work harder and hit someone in the mouth.
Nobody's saying Auburn's victories count for less, but at a time when Chump Kelly is somehow the hottest coach in the NFL and old workhorses like Mike Shanahan are being sent to the glue factory, you have to wonder where we're going. Will football still teach the right lessons?
This is what I had on my mind this past Sunday afternoon as I walked around the Rose Bowl, bending down to smell the grass.
As much as I remember the fantastic finish in the Iron Bowl, I'll remember the next day even better. That's when I realized the wrong team won the football game that night in Alabama.
If Alabama wins that game, we get a title game for the ages and one more go-round with one of college football's greatest generals. Florida State wouldn't stand a chance. Give Nick Saban a chessboard and a month to prepare, and he'll make Bobby Fischer look like Fisher-Price.
If Alabama wins that game, we get one of the best stories in years. A kid who came in and worked his tail off for his entire college career, then went out and won the biggest prize there is to win. Instead of voting for Jameis Winston and all his baggage, we'd have a winner we could all agree on. An example we could all point to.
AJ had his Heisman moment that day, and the stars were aligned, but no. Auburn got lucky and the better team got beat.
Sorry, AJ.
You'll always be a Heisman Man to me.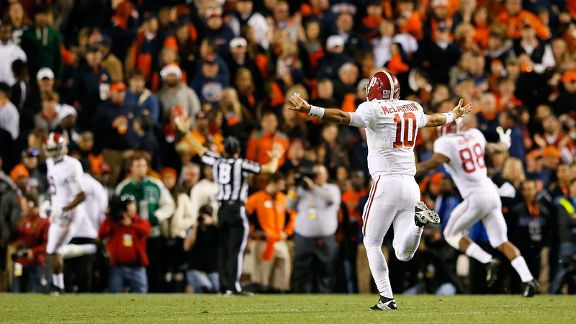 The simple fact is that the better team lost that day. Sometimes we get happy endings in life, but sometimes we're left with the cold alternative of dreams unfulfilled.
Here we are. The best team in college football won't play for the national championship. And today, I just wanted to put away the pom poms for a minute and tell the truth. When tricks win out over talent, the game loses something.
Auburn may not be crooks this time, who can say. But this is a crock.
This isn't football. Remember that when it's time to tune in to the BCS title game in a few weeks. Remember your grandaddy, and everything we lose when we forfeit our integrity.
It's a damn shame.
And a title game without the best team in America?
We call that a sham, my friends.
Filed Under: Auburn