#HotSportsTakes: Making a List and Checking It Twice
AP Photo/Nick Wass
Every now and then, we will attempt to write the worst sports column on earth. Today: Let's talk about everyone's favorite holiday, and what makes it great.
ARLINGTON, TEXAS — You ask why Christmas is the greatest holiday? Because at the end of the day, Christmas is the scoreboard for how you lived all year long.
Who's been naughty, who's been nice.
Santa keeps score for all of us.
But ol' Kris Kringle is a busy man, so I decided to help him out this year. Who's been naughty in sports, you ask? Who's been nice?
Let's take a look at the scoreboard.
Nice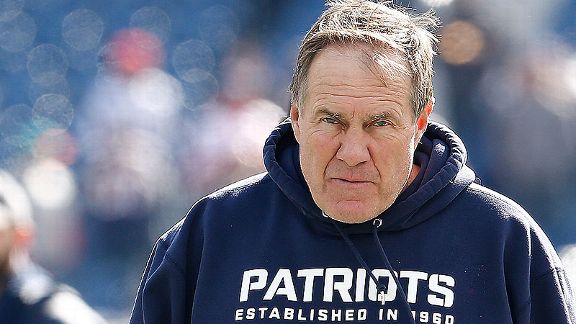 Bill Belichick and Tom Brady. Does it get any better than Captain Bill and his first mate? When the seas get rough, the Pats get tough, and it's smooth sailing all the way to pay dirt. That's what I always say. That's the Patriot Way. Merry Christmas, Captain Bill. Merry Christmas, Tom Terrific. Santa doesn't deliver Super Bowl rings, but you guys wouldn't want one if you couldn't work for it.
Riley Cooper. He made a big mistake, he took his shots and went down for the count, and then … he got back up and went back to work. What a concept! No finger-pointing, no excuses, no tweets. Just a guy who put his head down and did his job every week. Sometimes I wonder if Riley is the real-life Rocky, and this story doesn't end until he pumps his fist atop those iconic steps in Philadelphia. Guess that's for Riley to decide.
Josh McCown. A big-time arm is nice, but big-time guts are better. Jay Cutler, you want to see what a winner looks like? Take a trip to McCown Town.
Derek Jeter. Maybe Derek Jeter is the last true superstar baseball will ever see. Who can say? One thing's certain: We'll all miss him when he's gone. Thanks for another year, Jetes. Merry Christmas.
Greg Schiano. One of the most principled men I've ever covered. Inspiring stuff.
Aaron Craft. Nobody told me AJ McCarron played basketball, too. What a treat.
Nick Saban. Texas wanted him to take the money and run, but it turns out Nick Saban's not into the Steve Miller Band. He's always been more of a Skynyrd type of guy.
Other guys talk the talk when it comes to loyalty, but Saint Nick lives it.
Merry Christmas, Nick and Terry. Hope it's a great one.
Naughty
Dez Bryant. Ho, ho, ho? No, no, no. I can forgive a lot of things on the football field, but abandoning your teammates isn't one of 'em. That's the battlefield, Dez. Those are your brothers. If you take away the brotherhood and the battlefield metaphors, you turn football into just another meaningless game. You hang your brothers out to dry after a tough loss, and suddenly you're the biggest loser of all. You've been naughty, Dez.
Keyboard Cowboys. For every truth sheriff out there, there are a hundred more keyboard cowboys on blog sites who will ride into the comment section and throw a bunch of PC horse crap at you. Me and Santa Claus are here to lasso y'all back to reality.
Joe Flacco. A few months ago, Joe impressed me. A few months later? The guy's paid like a CEO and plays like an intern. The Ravens are writing checks every Tuesday that their quarterback can't cash on Sunday. Fact.
Peyton Manning. He'll light the world on fire when he's in the middle of a blowout, but will anyone light a fire under him when it actually counts? Maybe that's my job. Enough garbage-time fireworks. Go win when it matters, Peyton.
Andrew Wiggins. Is he worth the hype? You tell me.
Yasiel Puig. Clown Town. Population: Puig.
Chip Kelly. When the Eagles were running up the score on the Bears Sunday night, I pulled my son close and told him the higher Chip flies, the harder he'll fall. See you on the way back down, Chump.
Aaron Rodgers. Even his coach said it looks like he's "ready to play" any day now. But … not Sunday. Not in the biggest game of the Packers' season. Not against the Steelers' Ben Roethlisberger, the guy who'd play on crutches if you'd let him. No way. Mr. Discount Double Check checked out early. And Green Bay deserves better.
This Christmas, Cheeseheads should remember the quarterback who loved the game too much to let an injury hold him back. Brett Favre played every game looking like a kid on Christmas morning, and ultimately, isn't that what made him great?
Speaking of injuries …
Tony Romo. I'm not a doctor, but these are the facts: It's the biggest game of his career, and Tony Romo isn't gonna show up. This Eagles game was his chance at a Hollywood ending, but here we are again … It turns out, this movie ends like all the others: with a bunch of excuses and a guy who just can't gut out a win at the end.
But that's what's so wonderful about Christmas. Every other day of the year we get lost in a world full of hype and excuses, but on December 25, hype doesn't matter. Excuses are irrelevant. Everyone gets held accountable. That's the true Christmas miracle.
There's no B.S. with Santa Claus.
If Romo and Rodgers won't grit it out for their teammates, they get coal. End of story. Christmas is for guys like Brett Favre or Troy Aikman, the guys who would run through a brick wall to be on that battlefield. Or a guy like Josh McCown. In a world full of Romos and Cutlers, guys like McCown are the real gifts.
All I ever want in this world is a little accountability, and Christmas gives it to us every year when Santa shimmies down that chimney.
Were you naughty or were you nice? Did you do your job or make excuses?
That Christmas scoreboard tells the truth whether you like it or not.
That scoreboard is what this holiday's all about. Remember that when you gather round the fireplace with your family this year. Celebrate the winners and forget the losers, because they'll never get it right. Merry Christmas to all, and to all a good night.