Grantland Halloween Costume Contest Winners REVEALED
Great news, everyone! It's Halloween, which means you have a solid excuse to get tanked on a Wednesday.
How rad is this holiday? I can only remember one miserable Halloween experience — when a kid made me cry in preschool because he showed up in a very scary monster costume for which I clearly was not emotionally prepared. In said kid's defense: I probably didn't even realize it was Halloween, because my parents just put me in some sort of backward orange cape/green hat situation, and then pretended like that was an acceptable pumpkin outfit. I mean, come on.
Halloween is the very best of the friend-oriented holidays, and I'm glad you guys think so, too. We received a ton of entries for this year's costume contest, and after the jump, you'll find our winners, selected by a crack team of Grantland editors. (OK, it was just me and Chris Ryan. Sorry.) Thanks to everyone who sent in photos this year. We really enjoyed seeing your Hallo-work.

GRAND PRIZE WINNER: Christie C., Space Jam
Props to Christie, who knew the way to Grantland's heart was with a group Space Jam costume. Writes Christie: "We did an awesome Space Jam themed group contest — official Tune Squad jerseys, Monstars, and all! There were 15 of us total."
Gotta be honest: It was pretty much game over when we saw this one. We try to stay on-brand here at The Triangle. (I'm assuming y'all are familiar with the work of Rembert Browne?) Just look at this: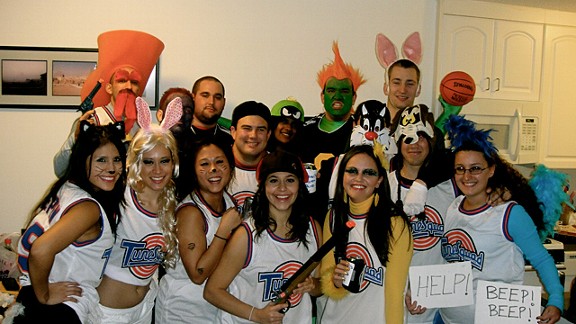 Congrats, Christie! We'll send you a bunch of stuff soon. Please share with your friends.
Honorable Mentions
The Grantland Kate Middleton Award for Excellence in British Things
Sheldon W.T.: "Perhaps a bit pretentious, but my costume this year was Banksy's Flower Thrower. It's a weird costume because people only get it when I strike the pose below. Even then, there's only a 20 percent recognition rate. Those who got it, loved it. I'm quite happy with how it turned out."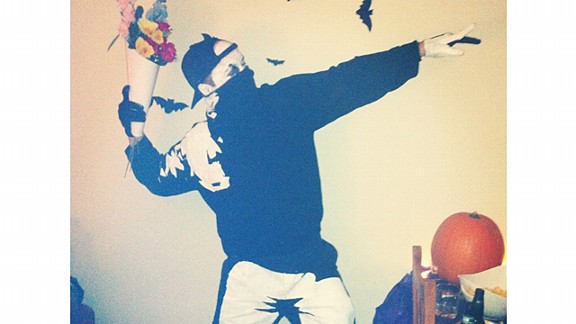 Are you even serious right now, Sheldon. Are you even serious.
The Grantland Chill Girl Award for Girls Who Paid Attention to Grantland's Weird 'No Sluts' Halloween Policy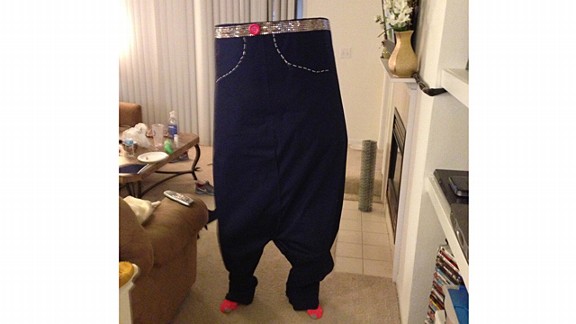 Megan M.: "My pants were made from chicken wire, fabric, and a studded belt. I've attached a few pictures of the costume, and my view from inside it. The pictures aren't the best quality, but hopefully you can get a good idea of my pants."
Oh my god, guys. There's a video.
The Grantland #Saditude Award for Things I Sort of Feel Bad About Because I'm a Cardinals Fan and My Team Knocked the Nationals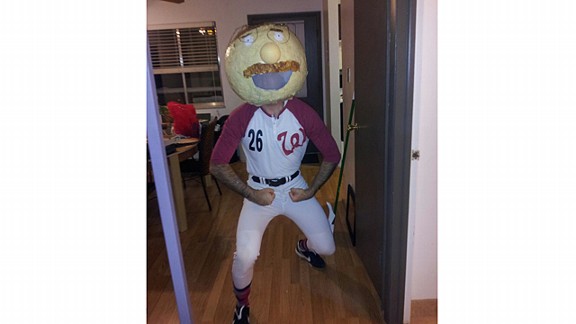 Tyler C.: "I decided to commemorate everyone's favorite racing President's first victory. So I made paper mache head and recreated the remaining costume to the best of my ability. Because the Nationals aren't terribly popular in Colorado, I was forced to make my own jersey. Unfortunately, the head only survived one glorious evening, because as Halloween got out of hand as it will tend to do."
So here's the thing, Tyler — I lived in Washington for a year, but I still basically treat it like it's my hometown, so pretty much any Nationals-related costume was going to get through to the final round. I will always love the Cardinals … I just have a soft spot for the racing presidents.
The Grantland Girl Talk Award for Achievements in Mash-ups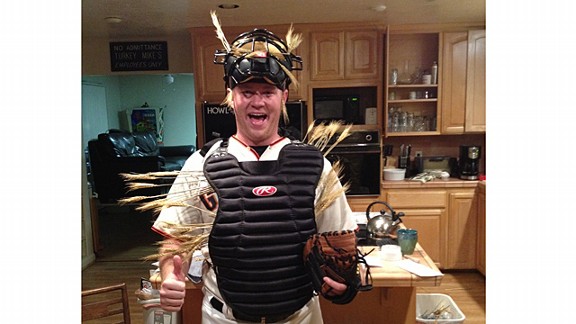 James H.: "Here is my costume this Halloween. Figure out what I am? The Catcher in the Rye. Holden Caulfield eat your heart out."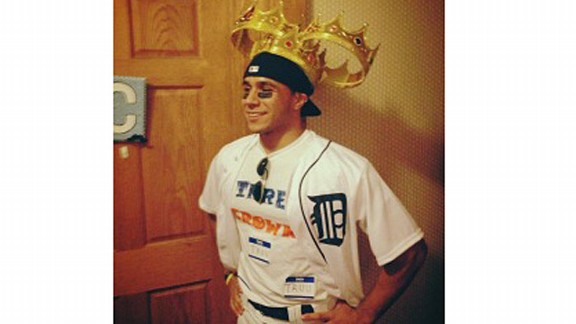 Jay S.: "Miguel Cabrera after his triple crown season mashed up with rapper 2 Chainz — I call it THREE CROWNZ."
The Grantland Fast Food Appreciation Award for People Who Went As Items We Can Get at a Drive-Thru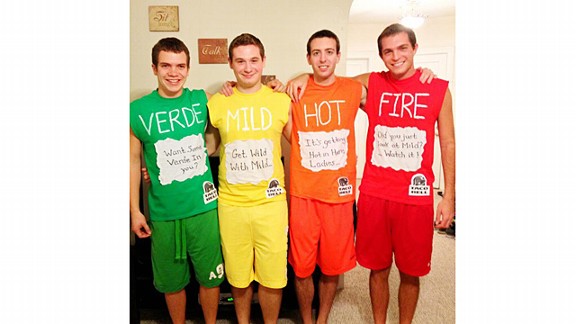 — Matt A.
True fact: Grantland loves fast food. Almost as much as we love soups and breakfast cereals. Sorry you didn't take the top spot, Matt. If you guys had dressed up like boxes of Frosted Mini-Wheats, you probably could have won this thing.
The Grantland Steep Jersey Discount Alert Award for Dudes Who Dressed Like Denver-Era Tim Tebow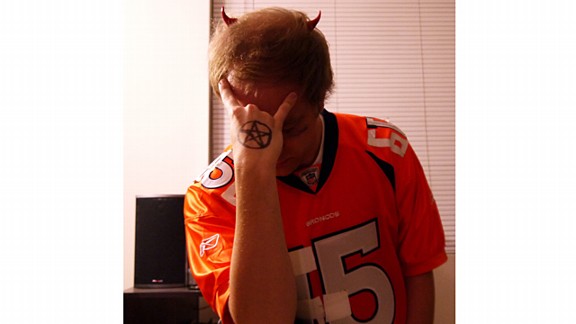 Seth S.: "ALL HAIL SATANIC TEBOW. KNEEL BEFORE HIM IN THE ACT OF SATANIC TEBOWING."
Sorry. It had to be done.
The Grantland Nepotism Award for Grantland Staffers Who Sent Us Pictures of Their Own Children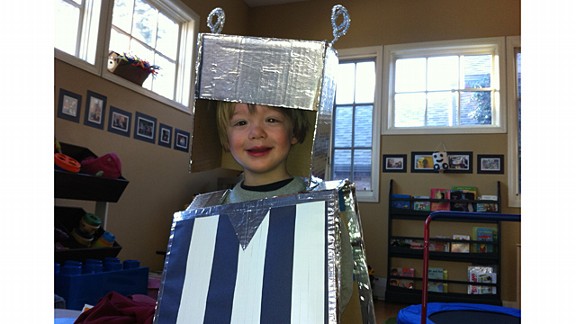 Jonah K.: "They'll need to be combined (one is of me as robot umpire, one of my son Ellis as robot ref), but here you go."
Jonah Keri's kid, ladies and gentlemen! ALSO PICTURED: Jonah Keri.
The Grantland Golden Tate Memorial Award for Replacement Ref Costume Situations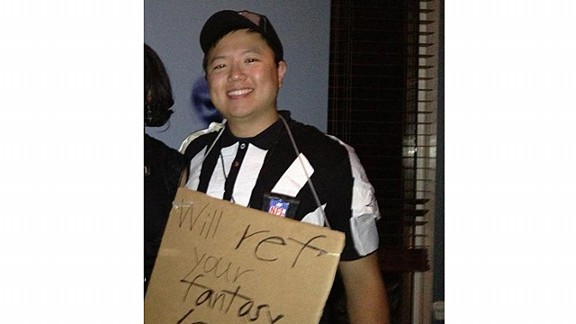 Jerry K.: "I still get spine tingling chills from all the horrors brought on by the replacement NFL refs. Black polo shirt, black cap, NFL shields cut from photo paper, white duct tapes, and clear packing tapes … TA-DA!!"
OK, confession. We got a few replacement ref entries, and Chris Ryan actually picked one out as a finalist, but I just wrote "replacement ref" in my notes and didn't actually record which one Chris liked the best. Then we were e-mailing about the new Gmail compose settings (which, honestly, is not super weird if you have tried the new Gmail compose settings. HAVE YOU TRIED THE NEW GMAIL COMPOSE SETTINGS?) on Tuesday night and I was like, "Oh, hey which one of these replacement refs won?" and for whatever reason (probably because we were distracted by the new Gmail compose settings), we did not actually settle on an answer here, so whatever, I just picked one. My bad. Uh, so, congrats, Jerry! Sorry, everyone else! If you feel like this is unfair and/or you have questions, tweet @realrobertmays.
The Grantland Lethal Weapon Award for People Who Dressed Like Lethal Weapon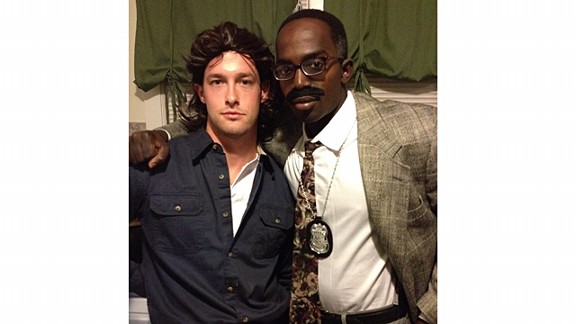 Kyle H.: "We spent the night cutting the keg line with our badges, and when threatened, Murtaugh would sigh resignedly that he was too old for this shit, and I would handcuff myself to the person as ask if they really wanted to do this. Can't see it in the picture, but Murtaugh's got the shoulder holsters on. Devil's in the details."
The Grantland True Friends Award for People We Would Like to Meet IRL
Kevin T. …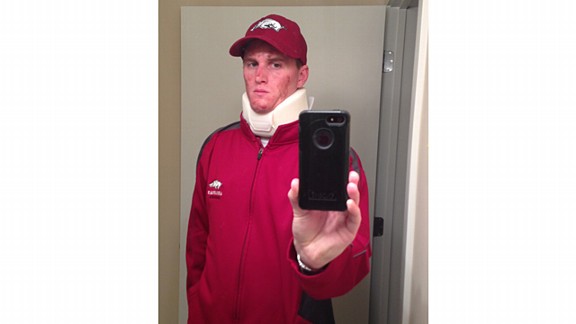 meet Alyson T.: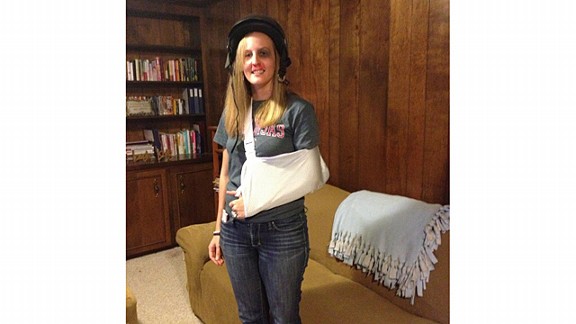 The Grantland Presented Without Comment Award for Things I Can't Un-See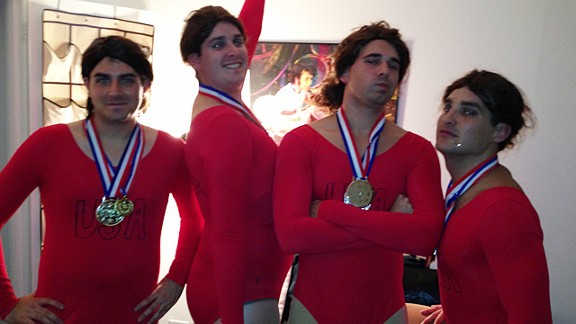 J.H.: "Our interpretation of the Fierce Five (minus one)."
I'm serious. I have nothing to add to this.
Happy Halloween, Internet! I hope you all have a spooky-scary holiday! Don't forget the Pedialyte.
Filed Under: H-A-Double-L-O-Double-U-Double-E-N Spells Halloween, Sarah Larimer