Golden State of Emergency: How David Lee's Injury Turns the Warriors Into a Long Shot
Garrett W. Ellwood/NBAE via Getty Images
David Lee is a punch line, mostly because of his poor defense, but his ability to do just about everything on offense has made him a core part of a Warriors team that has won by scoring like hell, surviving on defense, and cleaning the glass. Now he's gone for the season, the bad-luck victim of a hip flexor just 29 minutes into his very first NBA playoff game. The Warriors might be fine without him, and even improve on defense, but they'll have to do so venturing into borderline unknown territory with lineup combinations that haven't worked in tiny sample sizes. It's not much of an exaggeration to say that Golden State will have to carve out an entirely new identity on the fly, a task even more difficult because of another injury everyone's forgotten about.

The obvious quick fix is to start Carl Landry, the Warriors' super-sub scoring machine, in Lee's power forward spot. Landry presents a tough matchup issue for a Denver team that plays small a lot, with Wilson Chandler at power forward, regardless of whether Kenneth Faried returns to his own starting spot in Game 2. The Warriors attacked the the Chandler-Landry matchup hard on the block in Game 1, and they'll do the same with Faried, who lacks the size and post-up defense chops to deal with Landry's bully game. The Nuggets will have to send aggressive help, as they did in Game 1, and that aggressive help could, in theory, create open looks for Golden State's lethal perimeter shooters.
But this rosy scenario comes with problems:
• Andrew Bogut is a low-post player, meaning Golden State's offense could face a spacing crunch pairing Bogut and Landry. That's one reason that these two played only 53 minutes together the entire regular season, a remarkably low number for two of a team's top seven players, even given Bogut's constant health issues. Landry has really only been successful on the court this season when paired with Lee. Every other big-man combination — Landry-Festus Ezeli, Landry-Andris Biedrins, and the small-ball Landry-Draymond Green duo — has been a disaster in somewhat limited minutes. The Ezeli and Biedrins combinations have predictably failed on offense, given that neither has any range beyond the length of his arm, Ezeli can't catch the ball, and Biedrins is terrified of shooting or really being involved in the offense in any meaningful way. Increasing minutes for either one is a bad thing for Golden State, and doubly so if it also forces the Warriors to rely on combinations that have seen very little court time.
The spacing crunch might not be as fatal to Golden State as it would be for most other teams. The Warriors don't rely much on dribble penetration, meaning a clogged lane doesn't affect Golden State as dramatically as it might another team; the Warriors run a ton of action featuring Stephen Curry and Klay Thompson curling off screens on opposite sides of the floor, and the Landry-Bogut duo can obviously fulfill the screening role in that offense just fine. Landry's a very good midrange shooter, meaning he can flare out to the baseline for open jumpers on those same plays if his man leaves to trap Curry or Thompson. Bogut can be a similar threat rolling the basket on those plays if his defender lunges to trap a shooter; he scored a key late-game bucket this way on Saturday. Landry's also a very good pick-and-pop player.
But Golden State loses precious variety without Lee, mostly because the pick-and-roll options with Landry are much narrower than they are with Lee. That's especially important in this series, where the Nuggets have already shown that they'll trap Curry hard and far from the basket, forcing him to pass the ball to his pick-and-roll partner in space. Lee can make that catch, scan all his options, and make an informed choice between driving, shooting a jumper, or kicking to an open shooter in the corner. On this play, Lee drives, draws another defender, and dishes to Bogut for an easy shot instead of kicking to Harrison Barnes wide-open on the right wing or driving for his own shot — a less appealing option in part because Andre Iguodala is ignoring Barnes to pester Lee:
A few possessions later, Lee drives to score, since Evan Fournier is sticking to Thompson like glue on the right wing instead of contesting in the lane:
Landry can't do this stuff. He's never been much of a passer, and any dribbling or facing up he does comes via post-up isolations on the wing. Lee can turn pick-and-pops into very profitable looks — shots at the rim, corner 3s, etc. Landry can really only turn them into midrange jumpers, and although he's good at that shot, Denver will take it — especially if they can contest it at least some of the time.
Golden State's offense will be more predictable without Lee, and predictability is always bad, particularly against a team like Denver that thrives on reading passing lanes and chasing steals. And that predictability brings up two other key issues the Warriors now face without Lee:
• We have no clue if Bogut can fulfill high post/pick-and-roll duties right now. Bogut is a very good passer who has played a lumbering version of the role Lee plays in the previous clips. It's appealing to think that Golden State might solve the Lee issue by essentially making Bogut masquerade as Lee and allowing Landry to hang out on the block as his true, score-first self. But Bogut can't shoot from midrange, and his mobility has been compromised all season. Even if he can rediscover some drive-and-kick creativity, expending energy on that stuff might sap his defense.
• Nobody's guarding Harrison Barnes. The Warriors are helping off Barnes aggressively and early in order to muck up more threatening Golden State action, especially in the middle of the floor, and they'll structure their help on Landry post-ups so that Barnes is the man left open.
Here's Fournier leaving Barnes on the right wing in order to steal the ball from Lee on the catch:
Here's Wilson Chandler sliding off David Lee to cut off a funky Jarrett Jack drive:
Chandler is emboldened to help this way because he knows Prof. Andre Miller, "guarding" Barnes, has already abandoned Barnes in order to crash down on Lee's man on the left block: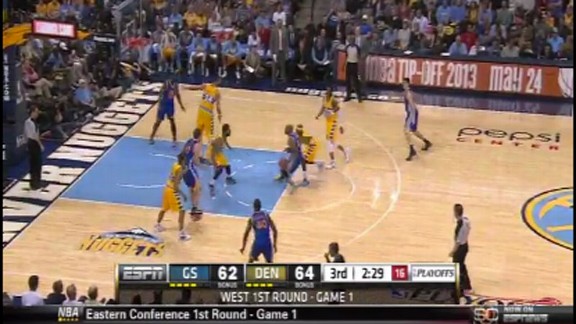 (Note: I call that Jack drive "funky" as a compliment. Jack knows his man, Corey Brewer, is eager to jump any passing lane, and he also knows that Brewer understands exactly what play Golden State is running here — a little curl for Thompson on the right side. So Jack takes advantage of Brewer's appetite for steals by faking a pass to Thompson, watching Brewer take the bait, and then driving into the lane. Golden State got a lot of open looks in Game 1, including a lot of open 3-point shots, by playing off Denver's aggression this way and taking advantage of the Nuggets' tendency to switch a bit sloppily on screens away from the ball.)
The same chain reaction happens here, with Kosta Koufos drifting away from Bogut in order to cut off Curry's driving lane, confident Chandler has already left Barnes on the left wing in order to cover Bogut:
Koufos is the big fella all alone on the left edge of the paint; Chandler's already bodying up Bogut on the other side: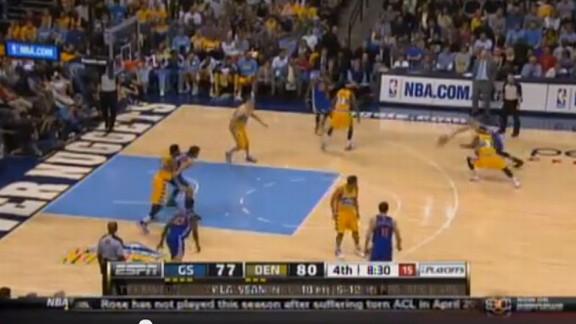 By the way, Barnes is at power forward in this clip as part of a small Golden State lineup. We'll almost certainly see more such lineups now, since Golden State's only real choice is to either play an offensive non-entity more (Ezeli, Biedrins) or give some of Lee's minutes to Green, Barnes, or (gulp) Richard Jefferson. And they're playing the go-go Nuggets, after all. No lineup with Barnes at power forward logged more than 28 minutes the entire season, and that lineup included Lee at center. The Warriors had some success using Green as a small-ball power forward, but most of that success came with Lee at center, according to NBA.com's lineup data. Only four relevant lineups (i.e., units with five guys still actually on the Warriors) featuring Green at power forward and Landry at center logged even 20 minutes all season, and none saw more than 54 minutes of court time, per NBA.com. Those four lineups broke almost exactly even over about 150 minutes of collective time together.
There's also this: Green shot 32.7 percent for the season, including 20.9 percent from 3-point range. Those are not typos; those are Green's actual shooting percentages. The Nuggets will happily ignore him, just as they ignored Barnes in Game 1, and putting the two of them together might be fatal to Golden State's offense. The Warriors were actually quite successful, on both ends, in the 230 minutes those two played together, but a good chunk of those successful minutes came with Lee; opponents outscored Golden State by nearly four points per 100 possessions — a significant margin — in the piddling 136 minutes that Green, Barnes, and Landry shared on the floor, per NBA.com.
Barnes sometimes hurts his own cause by lingering near the paint, positioning his own defender closer to help territory, instead of moving out of the way toward the sideline:
There are a few potential solutions here, but they're all unproven. Golden State might be able to find the best combination of spacing, size, defense, and shooting with a lineup of Jack-Curry-Thompson-Landry-Bogut, but that group logged just 15 minutes together all season. There are garbage-time lineups that built up deeper chemistry than that. The Warriors might flip Green into of those big man spots, but those lineups also played essentially zero time together; Bogut and Green shared just 17 minutes all season.
You know who'd really help here? Brandon Rush. Remember him? Rush tore his ACL in the Warriors' second game of the season, and he represents the exact combination of deadeye long-range shooting (three straight 40 percent-plus seasons from 3-point range) and sturdy wing defense the Warriors really need right now. The Nuggets could not ignore Rush as they do Barnes, and Rush, though far from an elite wing stopper on defense, is a stronger option against brutish wings than Thompson or Jack.
But Rush is gone, and so is Lee. Such is life in the NBA. Injuries and luck matter enormously, and Lee's injury has turned the Warriors from an interesting underdog into a long shot, especially if Faried returns healthy for Denver in Game 2. Golden State has to scramble into the unknown now. Let's see how they do.
Filed Under: Golden State Warriors, NBA, Stephen Curry, Zach Lowe