Fantasy Fantasy Football: The Semifinals Continue
AP Photo/Lynne Sladky
It's time again for the most important weekly feature on the Internet: Fantasy Fantasy Football. Throughout the NFL season, we'll be evaluating five fantasy football gurus as they tell us who to start and sit each week. Using a highly flawed method based loosely on mathematical principles, we'll attempt to reveal the one true football prophet. (Here's how it works: A pick counts in their favor if he ends up in the top half of the weekly scoring leaders. There are four categories — QBs, RBs, WRs, Defense/Special Teams — and points are awarded on a 5-1 scale in each.) The experts are:

1. Matthew Berry
2. Michael Fabiano
3. Mike Harmon*
4. Eric Mack*
5. Jamey Eisenberg
Weekly Results and Winners
Week 1 — (tie) Matthew Berry and Jamey Eisenberg
Week 2 — Eric Mack
Week 3 — Mike Harmon
Week 4 — Michael Fabiano
Week 5 — Eric Mack
Week 6 — Eric Mack
Week 7 — Eric Mack
Week 8 — Eric Mack
Week 9 — Michael Fabiano
Week 10 — Eric Mack
Week 11 — Matthew Berry
Week 12 – Matthew Berry
Week 13 – Michael Fabiano
Three weeks ago, in the most dramatic installment of Fantasy Fantasy Football ever, Michael Fabiano came roaring from behind to stun Eric Mack and win the regular-season championship. It looked like Mack would run away with the title. But Fabiano made history — and made himself a legend — with the stirring comeback.
Final Standings:
1. Fabiano — 155
2. Mack — 151.5
3. Eisenberg — 128
4. Harmon — 124.5
5. Berry — 120.5
And then it was time for: THE PLAYOFFS!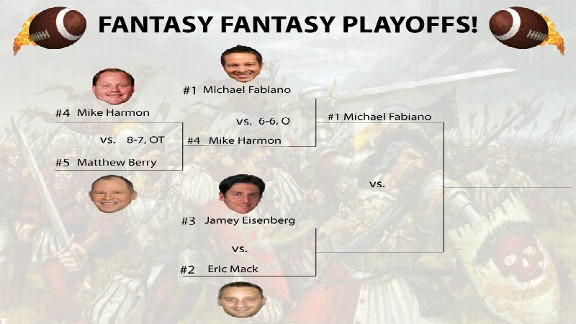 Week 14 — Mike Harmon won the play-in game, defeating Matthew Berry in OT.
Week 15 — Michael Fabiano took down Harmon to defend his 1-seed and make the title game.
This week, it's the second semifinal. Jamey Eisenberg didn't write a column during the initial semifinal week, so his showdown with Mack was deferred to Week 16. To add to the confusion, The Triangle took a break last week, so we didn't get to post the results until now. But this is the second semifinal, using stats from Week 16. The championship will be held Wednesday. We'll also use stats from Week 16 for that, because Mack didn't write a Week 17 column.
Totally confused? Forget all that mumbo jumbo. Right now, winner plays on, loser goes home. Are Mack and Fabiano destined to meet again in the championship? Let's get right to it!
No. 2 Eric Mack vs. no. 3 Jamey Eisenberg
It has begun.
Quarterbacks
2 points: Eric Mack
Yes: Mark Sanchez, Tim Tebow, Michael Vick, Rex Grossman = 3/4
No: Eli Manning, Joe Flacco, John Skelton, Carson Palmer = 3/4
Total: 6/8
1 point: Jamey Eisenberg

Yes: Cam Newton, Matt Ryan, Tim Tebow, Matt Moore, Rex Grossman = 4/5
No: Ben Roethlisberger, Carson Palmer, Ryan Fitzpatrick, Joe Flacco, Josh Freeman = 2/4
Total: 6/9
Interlude 1: Commentary
I didn't give Eisenberg credit for Roethlisberger, since he didn't play, but it didn't matter. Even with Big Ben, he would've had 7/10 and lost by percentage points to Mack. A good start for the 2-seed.
Running Backs
2 points: Jamey Eisenberg
Yes: Rashard Mendenhall, C.J. Spiller, Cedric Benson, Ahmad Bradshaw, DeAngelo Williams = 4/5
No: Peyton Hillis, Steven Jackson, BenJarvus Green-Ellis, Toby Gerhart, Marion Barber = 4/5
Total: 8/10
1 point: Eric Mack

Yes: Marshawn Lynch, DeAngelo Williams, LeGarrette Blount, Ben Tate, Michael Bush = 2/5
No: Steven Jackson, Donald Brown, Pierre Thomas, Peyton Hillis, BenJarvus Green-Ellis = 4/5
Total: 6/10
Interlude 2: We're Tied Up!
Eisenberg, clearly infuriated at his close loss in the first round, comes back with a superb round two. Both men are clicking on all cylinders, and that's what you love to see in fantasy fantasy playoffs.
Receivers
2 points: Eric Mack

Yes: Brandon Marshall, Santonio Holmes, Plaxico Burress, Santana Moss, Dwayne Bowe = 2/5
No: Brandon Lloyd, Darrius Heyward-Bey, Mario Manningham, Michael Crabtree, Pierre Garcon = 5/5
Total: 7/10
1 point: Jamey Eisenberg

Yes: Miles Austin, Julio Jones, Santana Moss, Demaryius Thomas, Jeremy Maclin = 2/5
No: Anquan Boldin, Brandon Lloyd, Steve Johnson, Michael Crabtree, Reggie Wayne = 4/5
Total: 6/10
Interlude 3: It's coming down to the wire!
Unbelievable! Eisenberg's rescue attempt falls short at the crucial moment, as his Reggie Wayne pick fails to give him the necessary 5/5 to tie Mack in the category. With one round remaining, the championship berth is Mack's for the taking.
Defense/Special Teams
1.5 points: Eric Mack

Yes: Broncos, Redskins, Titans, Packers, Panthers = 1/5
No: Bears, Eagles, Cowboys, Giants, Dolphins = 4/5
Total: 5/10
1.5 points: Jamey Eisenberg

Yes: Titans = 0/1
No: Bears = 1/1
Total: 1/2
The Result
In an impossibly difficult week to predict defensive performance, Eisenberg's minimalist strategy fails to net him a perfect 2/2, and the men split the category. That means we have a result!
Mack 6.5, Eisenberg 5.5
We'll see an epic rematch of the regular season showdown Wednesday, when Eric Mack meets Michael Fabiano in the first-ever Fantasy Fantasy Super Bowl! What a story line! What champions! What a stunning display of predictive greatness! I can hardly wait.
Previously by Shane Ryan:
About Last Weekend: Coming Up Roses
Fantasy Fantasy Football: The Semifinal(s)
The Most Depressed Fan Base: Sorry, Oakland, You Can't Even Win This
---
Read more of The Triangle, Grantland's sports blog.
Contact us at triangle@grantland.com
Filed Under: Fantasy Football, Shane Ryan, Start Em Sit Em