Deal Report: The Clippers Load Up on Shooters, Bledsoe Finds a New Home, and the Bucks Make Us Sad
Andrew D. Bernstein/NBAE via Getty Images
Back from a glorious international wedding, I'm ready to give my jet-laggy thoughts on a whirlwind second day of free agency — a day refreshingly free of the tanking taint. Most of the teams who made moves Tuesday did so in an attempt to actually get better at NBA basketball next season. We saw borderline playoff teams (Minnesota, Washington) stock up on players they like, and the incumbent Western Conference finalists reupped with key present and future cogs at fair-market deals. Heck, even Phoenix, which probably should be tanking, helped its 2013-14 cause by swapping Jared Dudley for a roughly equivalent player (Caron Butler) and a prized young asset in Eric Bledsoe. Only the Bucks took a clear step back in completing the epic transformation of Tobias Harris into J.J. Redick and then into zero human beings who will play for the Bucks next season.
Some quick-hitting thoughts on those moves:
The Clippers, Suns, and Bucks strike a three-team trade centered on Eric Bledsoe and a signed-and-traded J.J. Redick
A very solid deal for the Clips, who have known for a long time — at least a year — that they would have to trade Bledsoe in the event the NBA's resident slumlord owner somehow convinced Chris Paul to ink a long-term deal. The Clips have acquired two very nice role players at fair prices — contracts that are easy to move in case it ever becomes necessary. They've got only seven players under contract now (including Reggie Bullock, their first-round pick), but those seven players alone have enough to form a top-three offense. The Clips already had a top-five outfit on that end, but it was uncreative and faced occasional spacing issues — little flaws that don't show up in the big regular-season picture, but can become fatal against an elite playoff defense geared toward stopping a single opponent.

Redick and Dudley are elite shooters, and Redick especially will feast on a very different diet of 3-point looks than he got on a bad Magic team last season. He'll get more of the delicious stand-still catch-and-shoot looks by just spotting up around Chris Paul–Blake Griffin pick-and-rolls, and even his Ray Allen–style moving catch-and-shoots should come with a bit more time and space.
The Clips now have three capable secondary ball handlers to ease Paul's burden in Jamal Crawford, Redick, and Dudley, who even has a nice little post-up game he can occasionally break out against smaller players. Both of the new guys are alert cutters and unselfish passers; there is no reason for this offense to stagnate next season, even though the past four years have solidified Doc Rivers's place as a mediocre offensive game planner.
Those seven players will earn something like $60.5 million next season, depending on Redick's precise starting salary, meaning the Clippers still have some toys with which to play — the full mid-level exception, a limited form of Bird Rights on Matt Barnes and Ronny Turiaf, etc.
And that's good, because they'll need to stock the rest of this roster correctly. The most glaring need is for a wing defender who can realistically guard the Kevin Durants of the world for short stretches. Redick is a solid team defender, but he's not up for that, and Dudley's reputation as a stopper is wildly overblown. He's solid on the right nights, but he's slow and prone to ball-watching; look for those back-door cuts next season, Clippers fans. Re-signing Barnes is the easy solution, especially since the pool of rangy wing defenders who can actually shoot is emptying fast. Butler is actually one such player, and Corey Brewer, a popular suggestion among L.A. fans, was one of the league's very worst high-volume 3-point chuckers last season.
The Clips also have just two bigs on the roster, which is kind of a problem, especially since one of them shoots free throws worse than almost any professional basketball player alive. (I wonder if DeAndre Jordan is thankful for the existence of Andris Biedrins and Jan Vesely.)
Bottom line: The Clips should be ridiculously good on offense next season, and teams can win titles with a top-three offense and an average defense. But it's not easy, and the Clippers need to raise their ceiling on D with the remaining moves available.
This is a pure asset grab for Phoenix in nabbing the most valuable long-term player — Bledsoe. It will be interesting to see if the Suns extend Bledsoe before the October 31 deadline or watch him this season, in a larger role, to see if the improvements he made last season were anomalies or the start of long-term trends. Bledsoe shot nearly 40 percent from 3-point range last season and cut his turnover rate from "disastrous" to "acceptable," allowing him to function as one of the league's best pick-and-roll ball handlers, per Synergy Sports.
But Bledsoe is still a low-volume 3-point shooter — he attempted just 78 all season — teams are happy to leave him alone, and he shot a very bad 29.5 percent on midrange jumpers, per NBA.com. I've long been bullish on him, but the Suns, in control of Bledsoe's fate now, would be justified in waiting.
The rest of the Phoenix questions, including meshing Bledsoe with Goran Dragic, are nearly moot. It doesn't help that Dragic's deal is fully guaranteed for three more seasons, and that he hasn't shown the ability to play shooting guard for extended minutes. But there aren't all that many backcourts in the Western Conference that are terrifying to defend with a size disadvantage, and Dragic is a quality guy the Suns could move whenever. (They will talk publicly about Dragic-Bledsoe as the long-term fit they want, but that talk tends to change when offers start rolling in. And not offers like the horrid Rodney Stuckey–Charlie Villanueva pupu platter the Pistons are offering Toronto, without any sweeteners, for Rudy Gay.)
(And on a side note: It's amazing the Raptors got actual draft picks for Andrea Bargnani, whom they were willing to give away for nothing. The Knicks and Nets have tossed away nearly every draft pick possible between them in an attempt to win now, and though the Nets especially look to be a very strong team next season, the notion that big-market teams can just spend their way out of an asset crunch is wrong. Teams are more cautious under the new CBA in selling first-round picks, and potential buyers only have $3 million in cash to use all year in trades — after the prior CBA allowed $3 million per trade.
Draft picks are important even to heavy spenders. They are the reason, after all, the Knicks and Nets were able to pull off the deals they did last week. Without draft picks, the big spenders are reduced to exchanging one shitty contract for another, and you can ask Isiah Thomas how that worked out in New York. And one last side note: The Knicks need to create some Bat Signal–style spotlight for any time Bargnani and Amar'e Stoudemire are on the floor together. Maybe it's a silhouette of another player dunking. Maybe they can just shoot a flame from the top of Madison Square Garden. Maybe the MSG Network can broadcast some emergency signal alerting all New York residents to turn the channel immediately in the event Bargs and Amar'e pair up. But we need to mark these moments in real time.)
And the Bucks … the poor Bucks. Look: They got two second-round picks for a player who wasn't re-signing after an unhappy playoff "run," and smart teams are placing more value on second-rounders — especially picks from bad teams like Phoenix. But Milwaukee's cooperation was essential to this deal; the Clippers would have been hard-pressed to get Redick and dump Butler without Milwaukee's cooperation, and the Bucks might have been able to squeeze a little something extra here. They've long coveted Bledsoe, and though they apparently didn't have enough to get him now, it would have been fun to see them hold their ground longer.
The Tobias Harris–Redick trade was a catastrophe, and one smart people saw coming right away. Neither Scott Skiles nor Jim Boylan trusted Harris, mostly because of his very shaky defense, but he's young and had shown very clear flashes of an intriguing offensive skill set. There are other coaches, after all. But that deal was in the rearview; it shouldn't have dictated Milwaukee's process for Redick, and it didn't. The Bucks are now in potential tanking position, and depending on what happens with Monta Ellis and how quickly they renounce Sammy Dalembert, they could have monster cap flexibility this summer and every season going forward. That'll be handy, both in free agency and in the team's ability to snag some extra assets by facilitating trades.
The Spurs re-sign Tiago Splitter for four years and $36 million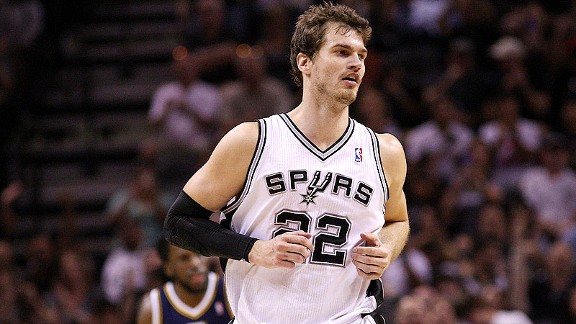 Every executive I asked in the spring about Splitter's value pegged it at between $8 million and $10 million, and, boom, the Spurs found the soft spot right in between those numbers. This is a placeholder contract in many ways. It ensures the Spurs, one win from a title, won't strike out totally in the market for quality bigs. San Antonio could have hoarded max-level cap room had they renounced both Splitter and Manu Ginobili, and you have to wipe the drool off your face when you think of the Spurs using that cap room to chase a more impactful big such as Josh Smith, Paul Millsap, or Nikola Pekovic — and then re-signing Ginobili on the cheap. But going that route would have risked losing Splitter, whiffing on all those guys (Pekovic is a restricted free agent, remember), and coming away with a lesser second big to slot alongside the aging (and ageless) Tim Duncan.
As things stand now, the Spurs could still work their way to about $7.75 million in space by renouncing Ginobili, and about $11.5 million by using the amnesty provision on Matt Bonner. (Going that route with Bonner, rather than simply waiving him for $1 million, would be a nice gesture of kindness.) The Spurs, in other words, could still be pretty frisky, depending on Ginobili's intentions; they could land a quality third big (Carl Landry, or even Millsap) with that cap room, or another wing with some ballhandling juice (O.J. Mayo, Gerald Henderson).
Splitter is also a legit center who could stand in as a capable starter in San Antonio's system should Duncan suffer a sudden age-related decline or retire at some sooner-than-expected moment. He's a fail-safe in that sense as well, and it wouldn't surprise me if the Spurs viewed this deal much like the Nuggets viewed Nene's big contract — as a slightly unpleasant temporary measure they can undo at any moment if something better comes along.
Splitter is a solid two-way big man, and this is what solid two-way big men get paid. He made major strides as a defender last season, both against pick-and-rolls and near the basket; the Spurs, for the first time in Splitter's brief NBA career, didn't fall off a cliff defensively when Duncan hit the bench. Splitter's a heady screener and cutter — a must in San Antonio's pick-and-roll-heavy system.
Think of Omer Asik as a comparable, since Asik's contract carries just about the same per-year value. Splitter isn't the rim protector or rebounder Asik is, but he's a bit more mobile on defense, and does just about everything better offensively — finishing at the rim, passing, turnover avoidance, free throw shooting, etc. This is a fair deal, and perhaps a necessary one for the Spurs. If you're judging Splitter by his Finals performance against a unique small-ball animal (the Heat), you're selecting your evidence in a very bad way.
The Timberwolves agree to terms with Chase Budinger and Kevin Martin
These two contracts, worth about $44 million combined, will make fitting Pekovic a tight squeeze for Minnesota — even if they time all these transactions exactly right, by saving Budinger for last. (His cap hold is less than $1 million, so it's best to keep that number on the books as long as possible to fit other stuff under the cap.) They can also try to start the Budinger and Martin contracts at the minimum possible number, with maximum possible raises, to clear Pekovic space. But even then, they'll have just about $10 million or so for Zod, and that already figures in the costless release of both Greg Stiemsma and Mickael Gelabale. Some team with cap room — Milwaukee, Detroit, Sacramento, Atlanta, Philly, Cleveland — might throw a monster offer sheet at Pekovic, just to see what happens. The Wolves in that case might have to make a small trade to fit Pek. (They could also try to acquire Martin in a sign-and-trade, a move that opens up more possibilities — including staying over the cap and using the mid-level exception, and perhaps even keeping Andrei Kirilenko's Bird Rights instead of simply losing him.)
In any case: The Wolves have overvalued Martin here, even if the final year on the deal ends up partially guaranteed. He's 30, he doesn't get to the line at the monster rate he did in his prime, and he's one of the very worst defensive players in the league. Budinger's better on that end, but he's still a minus, and the Wolves look set to enter next season with Ricky Rubio as the best defender among their starters. (Pekovic is solid in the post and more nimble side-to-side than he gets credit for, but he's ground-bound.) If this team cracks the top 15 in points allowed per possession, it will be a minor surprise. They surrendered their best defender, Kirilenko, to get far enough under the cap for all the shooting Flip Saunders wanted, and though they effectively replaced Kirilenko with two players, it's unclear if this team can defend well enough to do any serious damage in the Western Conference.
They started off well on that end last season before falling off badly. They'll contend for a playoff spot, as they would have last season without their sad pile of injuries, especially because a number of teams in the West — Denver, the Lakers, Utah, even Golden State — could take significant steps back next season.
They're going to score, and they'll have dynamite floor spacing after working as the league's brickiest long-range team last season. They are going to be brutal to guard, especially given Budinger's and Martin's prior success in Rick Adelman's offense.
But I'm not sure what the ceiling is, and if the Wolves sign all three of Budinger, Martin, and Pekovic, they'll likely go into next summer capped out. And after the 2014-15 season, a certain bearded power forward can opt out of his max-level contract. (I think you know what you're supposed to scream here.)
Update: This post initially misstated the Wolves' ability to re-sign Nikola Pekovic. Minnesota must stay under the cap while signing Kevin Martin and other outside free agents, taking into account Pekovic's sizable cap hold, but they can then exceed the cap in signing Pekovic's new deal.
The Wizards re-sign Martell Webster for four years and $22 million
As is the case with Minnesota and Budinger, the Wizards are shelling out some heavy cash for a guy with a fairly limited track record as a long-range ace. Budinger shot about 32 percent from 3-point range, well below the league's average, in two of his four seasons (including last season's nearly irrelevant injury-plagued campaign), and Webster has missed giant chunks of three of his eight seasons in the league.
But if you're going to argue the league should value 3-and-D guys more highly — and I have — then you can't slam this deal, even if Webster probably tops out as a slightly above-average defender. He doesn't quite have the bulk to defend the league's behemoth wings, he can have some quickness issues against 2-guards, and you can spot him being inattentive away from the ball. But he manages fine on a night-to-night basis, and he can play either wing position (though he's played mostly small forward in the NBA). Almost every core Wiz lineup featuring Webster at small forward (i.e., lineups that did not include the Garrett Temples of the world) had a positive scoring margin, and the Wizards blew the league away with John Wall, Bradley Beal, and Webster on the floor together. The Wiz want to make the playoffs, and Webster will help while allowing the Wiz to ease Otto Porter into the NBA. This might be an overpay, with Beal and Porter looming as the team's future core, but if Webster shoots around 40 percent from deep again, it's not a damaging one — even if the Wiz used the full mid-level exception here.
One other tidbit that probably greased the wheels here, and in the Wiz signing Webster on the cheap last summer: Webster's agent, Dan Fegan, reps both Wall and Nene.
The Grizzlies re-sign Tony Allen for four years and $20 million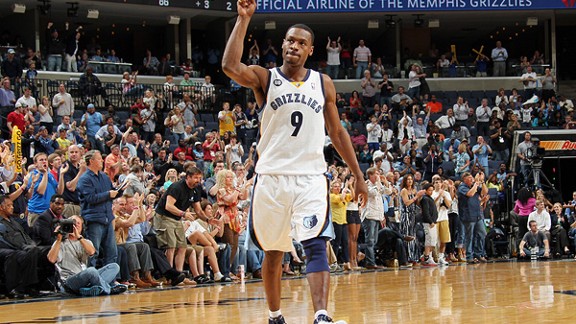 And now we get to the other side of the one-way player coin. Allen might be the league's second-best perimeter defender (behind only LeBron), capable of shifting from point guards to shooting guards to small forwards in a pinch. He is central to Memphis's identity as a defense-first juggernaut. He might not be one of the team's top five or six players by the midpoint of this deal, but even if he's not, he's precisely the sort of guy any team needs during some postseason matchup if it wants to win four series in a row.
He also can't shoot. At all. Everyone knows this, but the Spurs gave us a reminder in the Western Conference finals, when they totally ignored Allen in order to swarm Marc Gasol and Zach Randolph in the post — and even to cut off Mike Conley's driving lanes. Allen's shooting is the kind of liability, much like the Clips' "blah" offense under Vinny Del Negro (and Del Negro's hair), that doesn't look as damaging in the muck of the regular season as it does under the laser focus of a playoff opponent.
His value waxes and wanes depending on the matchup. He's great against Kevin Durant, though Lionel Hollins was even slow to put him there at the start of the conference semifinals, but he's less valuable against a team with limited off-the-bounce wing talent. Allen's ability to defend point guards dampens the seriousness of that problem, but it also forces a little guy (Conley, Jerryd Bayless) to defend a bigger player, and asking Allen to chase Tony Parker will be a tougher request when he enters his mid-30s.
But someone out there — maybe the Clippers, maybe the Pacers — was going to pay Allen at this level, and the Grizzlies entered the offseason with limited financial flexibility in chasing solid defenders with better shooting range than Allen. The list of elite defenders with better shooting range than Allen at the Grizzlies' price range is very short, and perhaps nonexistent. It's nice to dream about Henderson, but he's a restricted free agent, and should sign for more than the mid-level exception.
This deal leaves the Grizz with about $66.5 million committed to next season, meaning they can use the full mid-level exception and nudge just above the projected luxury tax line of $71.5 million. With the big-man rotation set after the draft-day Darrell Arthur–Kosta Koufos deal, the Grizz can use that money to chase one or two cheap wings who might bring B-minus play on both ends — Dorell Wright, Barnes, Francisco Garcia, etc.
This team will be very good again next season; though the Spurs bottled up Memphis's post game in a sweep, three of those losses were very close. The Thunder will be back, and the Clips should be better, but Memphis is going to be a pain in the ass again. The more interesting questions come long term and surround Randolph. The Grizz are now set to be capped out a year from now, assuming Z-Bo picks up his monster player option, and if things go badly for them before February, the Grizz may explore some Randolph trade offers. (They have already, though nothing super-serious.)
But that's a question for another day, and this holiday weekend will bring more deals. Enjoy!
Filed Under: Los Angeles Clippers, Milwaukee Bucks, Minnesota Timberwolves, NBA, Zach Lowe