Bad Quarterback League, Week 8: The Jets Are the Jets Again
Andy Lyons/Getty Images
It was a little strange when the season started. We knew we were still watching a bad team, but there was no flaming disaster where the Jets were supposed to be. Mark Sanchez was out of the picture, and even though Geno Smith made all kinds of bad decisions, he was also good enough to give everyone hope. They even beat the Patriots 10 days ago.
But the dream ended Sunday. At least for a week, we got the REAL Jets.
We got the team that inspired Sean Fennessey to spend thousands of words documenting two years of insanity and incompetence. The team that's always made everyone else feel better about their awful team. All hail the New York Jets!
The flailing missed tackle at the end really sums up the whole afternoon.
"We're only fortunate that it only counts for one loss," Rex Ryan said afterward. "You get your butt kicked like that, I think we're fortunate that that's all it is."
The defense was probably even worse than the offense. It gave up four touchdowns to Marvin Jones, it made Andy Dalton look incredible, and first-round pick Dee Milliner may never recover from the emotional scars of Sunday in Cincinnati.
As for the bad quarterbacking? We broke triple digits again. Geno Smith threw two pick-sixes (+50), there were an additional 16 points tacked on for no TDs and just 176 passing yards, and Geno was benched in the fourth quarter (+35), which gave us a bonus Matt Simms sighting to make the afternoon complete. Geno has put up solid BQBL numbers all year long, but nothing like what we expected from Sanchez. But Sunday brought things back to the buttfumble era, and for anyone who drafted the Jets in the BQBL at the beginning of the year, you have officially been vindicated.
The Jets are still not half as bad as the Giants have been, but it's nice knowing that just about every week this year we can count on one or the other to go up in flames and entertain the rest of us.
Elsewhere?
The Matt Barkley Era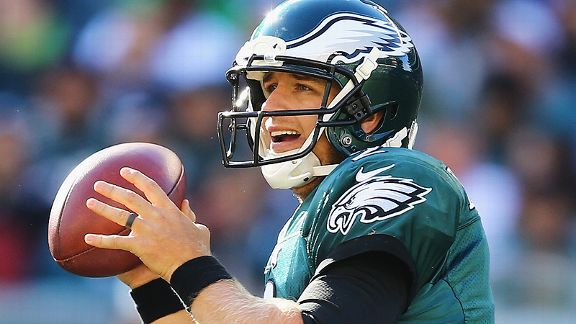 Look at his eyes. That photo is the Matt Barkley era thus far.
Sunday brought more Eagles pain, including four fumbles between Vick and Barkley (only one was lost), two interceptions, and zero points for the offense all day against a pretty horrible Giants defense.
But here's to hoping Barkley succeeds and avoids his fate as Jimmy Clausen Part 2, because this is too depressing. Remember when he decided to come back to school even though he would've been a top-10 pick? Then he got sucked into the vortex of Lane Kiffin's demise, hurt his shoulder, and wound up going in the fourth round at 98 overall. Now he's with the Eagles trying to be Marcus Mariota, he looks like a 17-year-old thrown into an NFL game, and the city of Philadelphia might riot if he starts at home again. It's been a rough 24 months, and it isn't really his fault.
Anyway … Go Matt Barkley. I'm not giving up hope yet.
[Ducks flying brick from Philadelphia.]
Other notes:
1. Peyton Manning hasn't been awful the past few weeks, but he's at least been human. That's a good start. He put up 37 BQBL points thanks to a pick-six, and he would have placed higher this week if the Broncos hadn't scored 31 points in the fourth quarter Sunday, which … OK, yeah maybe he's not so human.
2. Still too depressing to acknowledge what's happened to RG3 this year.

3. Look at Tom Brady! One hundred sixteen passing yards Sunday. The most successful bad quarterback of them all.
4. Chargers and Raiders games are on pretty much every week in California — note: pretty good reason to never move to California — but I've never been able to watch a single game featuring either one. And you know, if you don't actually watch Raiders games and see only the ridiculous plays that pop up on RedZone, Terrelle Pryor looks like the coolest quarterback of all time.
5. SCHIANOOOOOOOOOOOOOOOOOOOOOOOOOOOOOOOOO.
And with that, we're done. Here's the full stat sheet for Week 8, courtesy of Schiano Man Danny Savitzky. Danny never, ever stops chopping.
Filed Under: Bqbl