Bad Quarterback League, Week 6: When Las Vegas Ruined Peyton Manning
Doug Pensinger/Getty Images
A good rule of thumb for gambling is that anytime Vegas sets a "record" point spread, you should take the underdog. No matter how great one team is and how horrible the other is, the laws of the universe almost always keep it close somehow. That's what happened in Denver on Sunday.
It didn't matter that Peyton Manning said this last week: "We're playing a good NFL football team. I don't look at anything besides what I see on the tape on defense, and I see a team that's stingy in the red zone, I see some offenses that have made some really good plays against them, that have been hard to defend. Certainly, you know, it's a team with a lot of pride."
Afterward, he was saying this: "Sometimes, you score a lot of points and people take it for granted. Even people in your own building can take it for granted. It's not easy to win football games. I learned a long time ago, don't take winning for granted."
It was always going to be that way. The hidden bonus in all this?
PEYTON JOINS THE BQBL.
He was at the top of the Bad QB this week, and that is not a typo. Thirty-five points for the pick-six above, 10 more points for his two fumbles, and a 12-point bonus for all three turnovers. Somehow, his grand total of 47 points was enough to earn him a tie for first place this week. Which leads up to a few different points:
1. A first-place score of 47 should really make you appreciate everything Matt Schaub did last week. One hundred and eight points. Jesus. That was some of the best bad quarterbacking of all time.
2. Peyton gave us a playoff preview!
3. This is really all Las Vegas's fault. If the Broncos had been favored by 18 points, Peyton would have thrown six touchdowns and that Jaguars game would have ended 52-6. Instead it went bad, and now [checks to see who Denver's playing next week].
4. The Colts are fucking doomed.
As for everyone else, we're keeping things brief this week.
The Legend Continues. Eli continues to lead all scorers in the BQBL this year, and he finished tied with his brother in first place this week, which was pretty wonderful. The Manning family has led a charmed existence for decades. Even Cooper is successful. So, yeah, it's nice to see things even out a little bit. DOWN WITH THE MANNINGS.
Anyway: It may not entirely be Eli's fault, because everyone on the team has been awful, but it's time to admit he's had some pretty horrible throws this year.
The Giants are bad, but Eli's not any better. All of which makes it twice as fun to watch announcers hurry to explain away all the awful decisions by blaming everybody else on the team. Before it's all over, Phil Simms will blame a Giants pick on a receiver who's not even on the field. It's the best part of Giants games this year.
That, and the Eli reaction shots.
Matt Schaub Went Down, But T.J. Yates Stepped Up.
Do you think defensive players practice their high-stepping before playing the Texans? Do they work on return blocking in practice? Draw straws to see who gets to score?
God bless the BQBL Texans this year.
And Slim Thug gently weeps.
I'm about to go pick up Vince Young

— IG:HOGGLIFE101 (@slimthugga) October 13, 2013
Not watching the Texans play football today doing other non depressing shit

— IG:HOGGLIFE101 (@slimthugga) October 13, 2013
"@slimthugga: I'm about to go pick up Vince Young" Fam I will b ready by 3

— Vince Young (@VinceYoung) October 13, 2013
I'm OMW RT @VinceYoung: "@slimthugga: I'm about to go pick up Vince Young" Fam I will b ready by 3

— IG:HOGGLIFE101 (@slimthugga) October 13, 2013
"OMW" = on my way, and everything was worth it if this Texans year ends with Vince Young and Slim Thug and Shea Serrano leading a mutiny against Gary Kubiak and T.J. Yates.
Finally … Now we know what Philip Rivers looks like when he's having sex.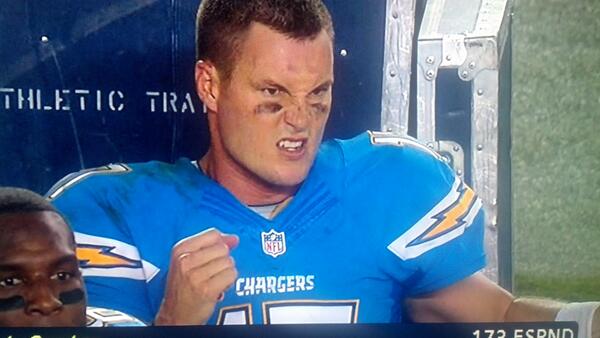 It has nothing to do with the BQBL because Rivers has been dominating this year, but that photo has been haunting me for the past 12 hours. Now we can all suffer together. Blame Doug Farrar for introducing that into the public domain.
And that's it for this week. Danny Savitzky has the stats as always, and just for the record, we're due for Alex Smith to step it up and unleash something awful over the next few weeks. Too many people believe in the Chiefs right now; we need an Alex Smith reality check.
Filed Under: Bqbl, Eli Manning, Houston Texans, Peyton Manning