After the Gold Rush: On Dismantling the Phillies
Rich Schultz/Getty Images
Because I am an American, one of my favorite scenes in cinema history occurs about a quarter of the way through Old School. At a fratty party at his friend's house, newlywed Frank Ricard (Will Ferrell) is waylaid in the kitchen by some young scholars. After boring them to near tears with his disquisitions on the "pretty nice little Saturday" he and his wife have planned ("Maybe Bed, Bath and Beyond. I don't know. I don't know if we'll have enough time"), his underage interlocutors exchange a look, then, quite rightly, offer Frank the receiving end of a beer bong. Frank demurs, but only momentarily. I think we all know what happens next.
This quick escalation from staid, conservative moderation to drunken debauchery should be familiar to any fan of the Philadelphia Phillies. Until five years ago, we were a downcast lot, conditioned to an unloved life of failure and mediocrity. The team was always rebuilding, but nothing was ever built. We were content to cheer for Rico Brogna and eat at the Olive Garden. Yet one improbable run to the playoffs and an even more improbable world championship later, we found ourselves fat, drunk, and happy. A coterie of homegrown, lovable stars had suddenly coalesced into exactly the sort of successful nucleus that seemed only to happen in other, less self-loathing cities. These were the good times, and the team — and its suddenly ascendent fan base — spent the ensuing seasons streaking through the National League. The line of free agents hoping to pledge membership snaked all the way to the Jersey Shore and, desperate to avoid a comedown, Ruben "The Godfather" Amaro Jr. started handing out nine-figure contracts like Jell-O shots. That's the thing about success: it's so good when it hits your lips!

But the hangover can be brutal. Tuesday was the day the Philadelphia Phillies — still naked, still yawping — finally turned around and noticed there was no one behind them. Buried in last place, aging and injured, the team that steamrolled the league last year (before collapsing into a heap at the feet of the infuriatingly surging Cardinals) was totally flattened in 2012, a victim of bad luck (Cliff Lee: two-game winner!), bad bodies (Placido Polanco is Mr. Glass!), and bad contracts (meet Jonathan Papelbon, $50 million dollar benchwarmer!). Baseball's a funny game — despite a massive influx of talent and attitude, the only place the Phillies were ever better than that ragtag 2008 team was on paper. Still, the continued success was intoxicatingly fun for a while, spawning a veritable hoagie-fest of fanciful blogs, in-joke T-shirt empires, and goofy GIFs. All that came to a jarring stop this year, with endless injuries, blown leads and sulking where the swag used to be. The familiar crack of a Chase Utley home run was replaced with the creak of his knees and the snap of poor Freddy Galvis's illegally strengthened spine. For decades Phillies baseball was dull. For a few years it was bizarrely dominant. Now it was something worse: depressing.
So the unloading of Shane Victorino and Hunter Pence, while sad, made sense. Not only were the two outfielders extraneous for 2013 — Victorino will be a free agent and Pence will be overpaid in his last year of arbitration — they were also, out of all the journeymen and jokers who populate the home dugout at Citizens Bank Park, unquestionably the most likely to follow a nude Will Ferrell sprinting into the quad, the sort of dudes you can't get enough of when the drinks are flowing and can't get away from fast enough once the sun comes up. Victorino is an ADD-addled goofball, the sort of hyperactive gadfly who infuriates everyone except for the home crowd. His story — from Rule 5 pick (who was offered back to the Dodgers and refused — they weren't so foolish a second time) to All-Star — is heartwarming and exactly the sort of far-fetched narrative that resonates in a town built on Vince Papale and peanut chews. With a body type indistinguishable from his bobble head, a route-running style best described as "chaotic neutral" and inarguably terrible taste in Christian reggae, Victorino was the rare fan favorite capable of both kicking off the Phillies' golden era (with his Rocky-climbing-the-stairs grand slam against CC Sabathia in the 2008 NLDS) and headlining the team blooper reel with his adorkable defense.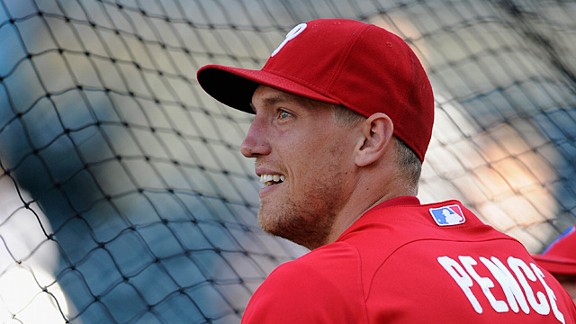 Hunter Pence, a gawky Texan who plays the game like an overly caffeinated baby horse, was acquired in a deadline deal last year that now looks like a drastic overpay. Still, during his short time as Victorino's spastic wingman, Pence charmed the city and coined at least one keeper of a catchphrase. But it's for the best that he's now free to ply his bread-marketing skills in sourdough-obsessed San Francisco. Pence is an indulgence, a sports car you just can't resist added to an already overstuffed garage. (Three of the starting pitchers are Maybachs. Joe Blanton is a doughnut truck.) It doesn't make much sense to fuss over the corners when the foundation is crumbling.
This wasn't exactly a fire sale; after all, just a week before running the home white jersey up the flagpole, Ruben Amaro handed Cole Hamels the GDP of the Falkland Islands. It seems more like a necessary bankruptcy, a chance to clear old debts and bad habits and start fresh, or at least as fresh as possible with four years remaining on Ryan Howard's contract. All week people have asked me how it felt to see the core of the best Philadelphia team of my (and probably everyone's) lifetime partially dismantled, and I haven't known what to tell them. Weirdly, it almost felt like a relief.
Baseball is often called a slow game, but things can get bad in a hurry; watching the 2012 Phillies — all Chad Qualls meatballs and lumbering doofs like Ty Wigginton butchering grounders — was a throwback to the dark days of Omar Daal. Worse, actually; having been to the mountaintop, it's hard to go back to the ditch. There's nothing more rewarding as a fan than watching favorite players mature and nothing worse than watching them decay. Clearing the decks — and the outfield — not only opened up much-needed real estate for the Phillies' best (and only!) prospect, Domonic Brown, it also released all the accumulated stresses and expectations of a jittery, unlikely stay at the top. These last five years have been a fizzy blur, but at a certain point things got a little overshaken. It's like a champagne bottle in the kind of clubhouse celebration Philadelphia won't be seeing for a while: When the top (of the order) is removed, all the pressure is finally released. And as Frank Ricard — hell, even Laynce Nix — could tell you, the only thing left to do after that is drink.
Filed Under: Andy Greenwald, Philadelphia Phillies, Philly Phanatics