A Few of Our Favorite Things From Pacers-Heat
Ron Hoskins/NBAE via Getty Images
Last night the Heat and the Pacers played in the most anticipated game of the regular season so far. It was a rematch of last season's Eastern Conference finals, and while it was a little short on eye-popping highlights, it still had some great moments and great performances. The Pacers, trailing at one point by 13, won the game, maintaining their undefeated home record. More than anything, though, the game showed just how hopped up these two teams get to play one another. Did someone say playoff intensity? Yeah, yeah we did! Here are some of my and Andrew Sharp's favorite moments and performances from last night.
Paul George
Chris Ryan: P.G. was pretty much cuffed by LeBron in the first half, getting sprung briefly on a second-half furlough to finish the game with 17 points. It wasn't the kind of performance we're used to seeing from him this season, and it's safe to say that if the Pacers want to beat the Heat four out of seven times, he's going to need to bring it a little more. HOWEVER, I really wanted to take this opportunity to mention how awesome Paul George 3-pointers are.
I know there are Paul George 3-pointers that don't make or break games, but I can't remember any that are like that. Look at this two-take dagger:
Also, Paul George 3-pointer celebrations are the best …
(GIFs by @HeyBelinda)
LAAAAAAAAAAAAAAAAAAANCE
Andrew Sharp: The Pacers started slow in the first quarter. Everyone was out of sync, George was getting locked down by LeBron, and in the game they'd been waiting for all year, the Pacers uncorked the most lifeless, underwhelming half possible. The Heat's defense was part of it, but it also looked like the Pacers were playing tight. One person who didn't have that problem?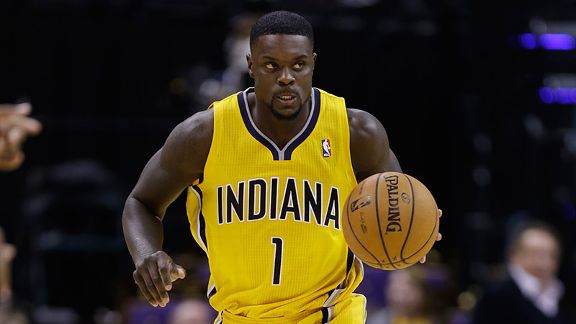 LANCE.
Lance never plays tight.
Lance was born for this shit.
Lance is from Brooklyn.
Lance was talking trash to LeBron before you even knew who he was, and he'd do it again, because LeBron is a fucking bum.
So while the rest of the Pacers stumbled through the first half, obviously the one guy who attacked the Heat every bit as ruthlessly as we expected was Lance Stephenson. Defense, out-of-control drives, pull-up jumpers. All of it. Lance Stephenson always goes to 11.
And that and-1 layup before the half? Where he barreled into Chris Andersen and cut a 10-point lead to seven and gave the lifeless Pacers a little bit of hope as both teams went to halftime? I swear, that changed the entire game.
So yeah, George was great, Roy Hibbert, David West, everybody. They all played well. Just remember when you talk about the Pacers today that Stephenson changed everything.
(Related: Those shoes are now the only thing on my Christmas list.)
Long Live D.J. Augustin and Tyler Hansbrough
Hibbert: "I don't want to throw D.J. (Augustin) under the bus, but we have an aggressive point guard off the bench."

— Mark Montieth (@MarkMontieth) December 11, 2013
Hibbert: "And we have a four who can hit jump shots consistently and has some post moves. I'm not throwing Tyler under the bus at all."

— Mark Montieth (@MarkMontieth) December 11, 2013
Sharp: Absolutely no bus throwing. Nope. Not even a little bit.
Mario Chalmers
Ryan: Before the game, LeBron lamented the state of rivalries in the NBA, claiming, "The closest thing I had to a rivalry in my career was against Boston." He forgot to cc Mario Chalmers on this one. I know two things about Chalmers. He really likes playing with Michael Beasley …
And he likes to start shit. Even when he doesn't start it, it seems like he's just always involved in it. He's gotten into it with Dirk …
With Blake …
With KG …
With Noah …
And yet for some reason, I am starting to enjoy his presence in these big games. You can have all the superstar players you want, but rivalries don't become rivalries until someone bothers to get their hands dirty. Last night, Chalmers gave it his best shot. Literally. Chalmers put a hard foul on Orlando Johnson as he was trying to get a fast-break dunk (Quinn Buckner seemed to think Chalmers was trying to pull his arm out of his socket because apparently Buckner thinks Chalmers is a Wookie). Then, later in the game, Chalmers clotheslined Hibbert when the Pacers center was going hard in the paint. Hibbert got a bloody nose for his trouble, and Chalmers got another couple of names to add to his esteemed list of dudes who probably would like to shoot him into outer space.
But who cares? Chalmers really ratchets up the intensity in these clashes, and I can't wait to watch the Pacers get trapped in a seven-game series with him in the spring. LeBron may not believe in rivalries, but Mario sure does.
Never Forget
Sharp: The Mike Epps Twitter takeover. We did it.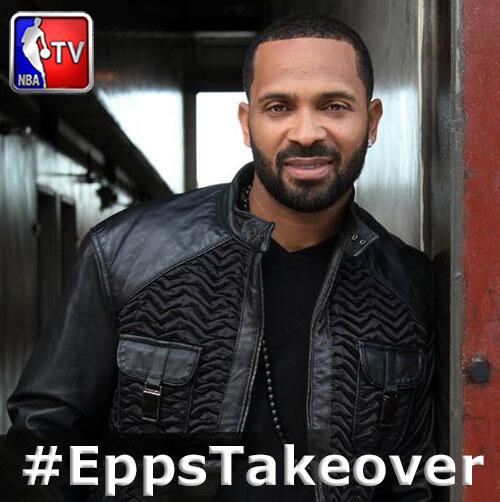 When the Heat win the championship they go to the club and party with Drake and Lil Wayne and Rick Ross. When the Pacers win a title … CALL CELEBRITY SUPERFAN MIKE EPPS, IT'S GOIN' DOWWWWWNNNNNNN.
Meet the Beatles
Nobody is trying to hang out with Mario, though.
Justin Timberlake Got Around
Just met Justin Timberlake. Was talking about the grizzlies. Guy knows his @nba stuff. Great guy! pic.twitter.com/NkxhmTRkID

— Kevin Pritchard (@PacersKev) December 11, 2013
FutureSex/SportVU.
Roy Hibbert
Sharp: The transformation of Hibbert is well documented, but it's still incredible to me during games like Tuesday night.
I first saw Hibbert in person when I was in ninth grade and he was in 10th. We went to rival schools in the D.C. area, and one night we were all at a high school dance when I saw him sitting off to the side, surrounded by a bunch of 15-year-old kids who were every bit as shocked by a 7-foot peer as I was. Hibbert was the gawkiest human being I'd ever seen. I mean, everyone's gawky and hopeless at that age, but he took it to another level.
He was already well known as a basketball prospect at that point, too. But he wasn't actually good at basketball. Through the rest of high school, I kinda felt bad for him, because everywhere he went he was the most famous player on the court, and he couldn't possibly live up to the hype, because again, he wasn't actually good at basketball. Imagine Hasheem Thabeet on a heavy dose of Valium. That was Hibbert's game in high school.
Ten years later: Hibbert looked like the Incredible Hulk next to Chris Bosh on Tuesday. The goofy dude from Parks and Rec is gone, and this is the Roy Hibbert we've had since last year's playoffs. Self-conscious has become cocky. Ruthless.
The Pacers are full of guys like that, but it starts with Hibbert against Miami.
Tuesday, he bodied the Heat's entire front line on offense and shut down the rim on defense throughout the second half, especially against LeBron, who struggled to finish at the rim just like in last year's Eastern Conference finals.
Sometimes Hibbert's new, no-bullshit persona can feel a little bit forced in interviews, but you can't argue with the results on the court. As the Pacers have evolved, he has only gotten better, and meaner, and hungrier. He's everything everyone always wanted Dwight Howard to be.
This has been true for a while, but it's still pretty crazy to say this out loud: Roy Hibbert is the most dominant center in the NBA, he's the only player in the league capable of actually slowing down LeBron, and if he stays out of foul trouble in four games against Miami in May, I don't think the Pacers are losing. Believe me, I'm as shocked as you are.
Filed Under: Andrew Sharp, Chris Ryan, Indiana Pacers, LeBron James, Miami Heat, NBA, Paul George, Roy Hibbert