64-Day Warning: Football Is Two Months Away. Celebrate With Some Megatron!
For some sports fans (this guy), July is a dark stretch. The NBA season is over, and considering the baseball team of my youth is busy trying to destroy every bit of goodwill its fans have left, times are tough. That got me thinking — maybe it's time to get excited about football again. Training camp is only a few weeks away, and soon our lives will be filled with stories of how well Mark Sanchez and Tim Tebow are getting along, how Andrew Luck is a natural-born leader, and just how comfortable Alex Smith looks in his second year under Jim Harbaugh [Editor's note: So comfortable, bro.] So in the meantime, The Triangle is going to be bringing you a clip a day to rev up the excitement as we count down.

The first is inspired by the NFL Network's player-voted countdown of the league's 100 best players. The results included everything from the occasional reach (Marshawn Lynch at 94) to the completely insane (John Kuuuuuuuuuuhn at 92), but for the most part, the top 10 were pretty agreeable. Because I refuse to acknowledge any good things about the professional football franchise in Green Bay, and because the whole Drew Brees–Saints situation is a little touchy, I decided to start us off with the no. 3 player on the list and Madden '13 cover boy Calvin Johnson.
[Click the image to watch the clip.]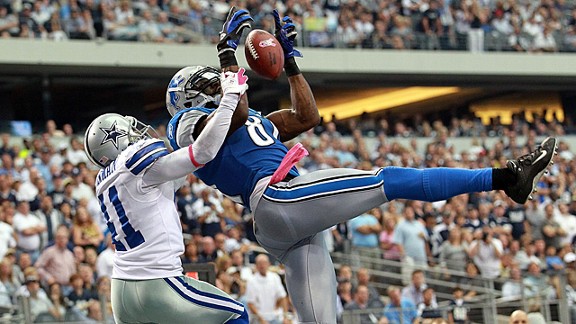 While I don't love that Megatron will likely be playing in the NFC North for what will seem like the rest of my life, there's no denying that the guy is simply awesome. If you don't have time for all five minutes, just fast-forward to 1:28, when he jumps over three Cowboys for a jump ball TD that was part of Detroit's Week 4 comeback in Dallas. He's good for at least one "Stop, rewind that" play a game, and here they all are. Only 64 days, people! Get excited!
Filed Under: Detroit Lions, NFL, Robert Mays