15 College Basketball Epiphanies
First off, I want to thank everyone who made nominations to the All-BeefyBulky Team on Friday. There were so many great contenders, but in the end there can only be five. The winners:
1. Andre Almeida, Nebraska
2. Matt Stainbrook, Xavier
3. Reggie Johnson, Miami
4. Joe Burton, Oregon State
5. Joshua Smith, UCLA (Although he has left the team.)
When my wife read Friday's post, she asked me why I cared who was the beefiest or bulkiest player in the country. And I have to tell you guys … I didn't have a good answer. Let's move on to this week's epiphanies and observations.

1. Don't read this section if you hate Duke
Because my friends, they are so, so good. I promise I won't get back into the whole "who should be no. 1?" debate, because as many of you have pointed out, it doesn't matter, but hear this: Duke has not looked this good since late 2010, when Kyrie Irving and his healthy toe were running point for the Blue Devils. Saturday's 90-67 win against Temple wasn't perfect, but it contained enough transcendent or near-transcendent moments that even the most cynical fans (me, my stepfather, this kid, now age 22) are starting to hear the echoes of 2010. And actually, the passing was so good at times that it harked all the way back to 2001 and the Battier-Williams-Dunleavy-Duhon-Boozer title squad. Check out this short video of three consecutive possessions early in the second half Saturday, and notice (a) the quick passing (b) the spacing — especially the way Seth Curry scoots back into shooting position in possession no. 2 — and (c) a vintage, hilarious Plumblebee put-back shot:
These guys are locked in on the same wavelength, and it's almost unfair. Yeah, they only got one bucket from those three possessions (Ryan Kelly, you CANNOT miss that layup! COME ON. COME ON!), but if they continue to keep defenses on their heels like that this season, nobody will stop them. In fact, the only thing that can truly hurt this team is an injury. They have five great players, but not six. Every other weakness, from a so-so perimeter defense to the occasional rebounding lapse, is an irrelevant flaw in a glorious design. (Look, I warned you to skip this section.)
2. This might be an excellent year for Near-Miss names
Watching Duke-Temple on Saturday, I swore I heard Mike Patrick call one of the Temple players "Thomas Jefferson." I'm not sure what it says about me that the idea of a player named "Thomas Jefferson" made me laugh, but it did. Unfortunately, I looked at the box score and saw that Patrick was talking about Rahlir Hollis-Jefferson. Not the second coming of the sage of Monticello. Then I remembered that a week earlier, I'd watched an Arizona State game with the excellent freshman Jahii Carson, whose name, when spoken aloud, is almost indistinguishable from Johnny Carson. I started to wonder if we could make a whole lineup of college hoops players whose names sounded almost exactly like someone famous, but with slight deviations. I was all set to start the research, until I remembered that (1) I was lazy, and (2) I had great success outsourcing the BeefyBulky squad to you, the reader. Why exert myself? So if you know of any Near-Miss Names (NMNs) out there, submit them in the comments section. This might be the most important thing we do all year.
3. Ben McLemore just grabbed the Freshman of the Year race by the cojones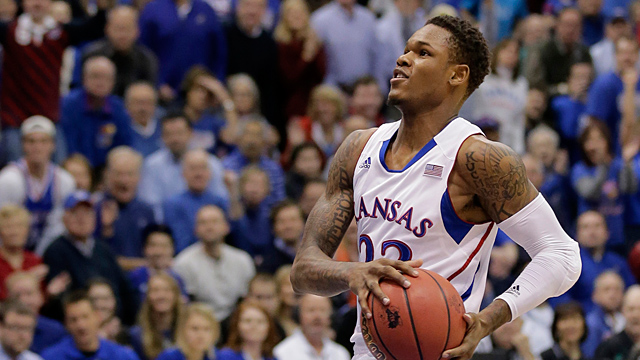 It took him a couple of games to realize that he could be the man on this Kansas team, but now he knows it, and soon everyone else will, too. He dominated Colorado on Saturday with 24 points, 5 boards, and six trips to the line, and a week earlier he put up 21 on Oregon State. He's getting more and more aggressive all the time, and I can now concede that Kansas fans were right to get angry at me for failing to include him in the season preview. (Reading that now is so painful; especially the part where I predict that UNC will beat Duke twice because of their strong perimeter defense. Editors, what sort of bribe would it take to have that one "disappear" from the archives?)
4. Thank you for stopping in, Colorado
After beating Baylor and Murray State to win the Charleston Classic, the Buffaloes were at the vanguard of the Pac-12 renaissance. Then they barely escaped Texas Southern in double overtime, lost to Wyoming, and got mollywhomped on Saturday by the Jayhawks. That's right, mollywhomped. There's no better word for a 90-54 loss. I don't imagine Colorado will be making many more appearances on this list.
5. The Oregon Ducks are my dark duck. I mean horse.
There are a lot of Pac-12 teams who will disappoint you this season — Colorado, UCLA, Washington, Stanford, Cal — but the Oregon Ducks might be one of the few teams to exceed expectations. Their scoring is the definition of "balanced," with six players averaging between 9.3 and 11.3 points per game, they love to run (39th in adjusted temp), and they have two guys (Arsalan Kazemi and Ben Carter) who are among the top 50 offensive rebounders (by percentage) in the country. So far, the Ducks have lost just one game all year, to Cincinnati, and they managed to become the first team in over a year to beat UNLV on their home floor. Don't get me wrong, the Ducks have their weaknesses; they don't have any pure shooters and they turn the ball over, to name two. But the Pac-12 is practically begging for a supposedly middle-of-the-pack team to run up a 13-5 conference record and shock has-beens like UCLA and Cal, and these guys are a good bet to fill that role.
6. Assists are interpretative
The big news coming out of UNC's 78-55 win over East Tennessee State was that the Tar Heels assisted on 30 of 31 field goals. Impressive, right? Doesn't that mean they must have passed really well?
The answers to those questions are "kind of" and "not necessarily." First off, when you assist on that many buckets, it probably means you're getting a fair number of dunks. This was true in UNC's case; a lot of the assists were long passes that led to jams. That's because of great defense, not great passing. But what I really want to talk about are the non-dunk assists. First, let's turn to the official NCAA statisticians' manual for the definition of an assist (emphasis is mine):
"A player is credited with an assist when the player makes, in the judgment of the statistician, the principal pass contributing directly to a field goal … Such a pass should be either (a) a pass that finds a player free after he or she has maneuvered without the ball for a positional advantage, or (b) a pass that gives the receiving player a positional advantage he or she otherwise would not have had. … An assist should be more than a routine pass that just happens to be followed by a field goal. It should be a conscious effort to find the open player or to help a player work free."
With that in mind, how many of the four baskets below, from the second half of UNC's win, would you say deserved an assist?
The Carolina stat keepers (home crews keep official stats) counted four. And I'm not saying they're wrong, because again, assists are interpretative. But I would definitely say those particular assists fall in the gray area. I spoke with David Isaacs, a longtime statistician and official scorer for Louisville who worked 29 Final Fours from 1969 to 1997. He's the guy who wrote the original statisticians' manual in 1973, and has been involved in the updates ever since. In fact, he was at least partly responsible for inventing the current standards for determining an assist. Here were his reactions to each of the plays:
1: "I don't see that the pass plays that big a part. I wouldn't call that an assist."
2: "Oh wow, the toughest one. I would call it an assist, but I've always had guilty feelings about it. He may have given him a little head shake, but he was open enough when he got the ball to start. What I saw in his actions was that he kind of waited, got a feel for what he was doing, and shot."
3: "Where he passes it inside, unfortunately from the camera angle it's tough to tell … it's hard to see how closely guarded he was. I can see where it was possible that it was an assist, that he had such good position that the pass let him score. It's possible that he caught it and swooped up, which would mean it's an assist, or it's possible that he had to do a little side step."
4: "The shooter didn't do much, he just fell away. I tell you what it would be — that's the play where if it happened again, you'd give him one assist for both. But I can go with that being an assist. The fact that he was closely covered doesn't change anything, because he didn't have to make a real strong attempt to get up and the shot off."
It's hard to argue with Isaacs's experience, but it's interesting to see that even a seasoned pro acknowledges the subtle differences that delineate an assist and an ordinary pass. The stat manual notes that on average, roughly 50 to 60 percent of baskets get an assist. (It was 40 to 50 when Isaacs first wrote assists into the manual in 1978.) So the next time you hear a stat like "30 of 31," keep in mind that it depends on a few factors that go beyond mere passing.
7. The Award for "Coach Who Looks Most Like a Fire-and-Brimstone Preacher" goes to …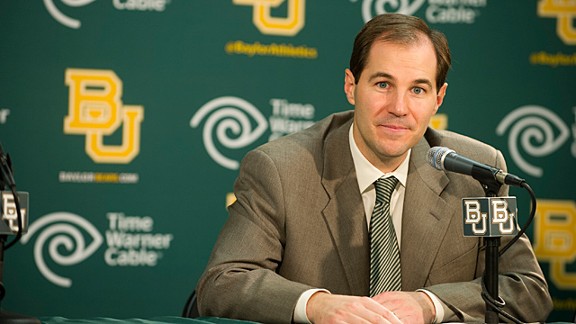 Baylor's Scott Drew. It always goes to Baylor's Scott Drew. We are allll sinnnahs! But I'm here to tell you that Oklahoma State coach Travis Ford is hot on his heels. Rise up, you wicked men, and face the wrath! The bronze medal goes to Dave Rice of UNLV. Repent!
8. My Overrated/Underrated teams
The underrated team was going to be Virginia Tech, a high-scoring squad led by a great scorer in Erick Green, but then the Hokies went and lost a squeaker on the road to West Virginia. So my underrated team at the moment is no. 23 Oklahoma State. Yes, the Cowboys lost on the road to … Virginia Tech, but I'll give them a road loss. An interesting theme of their season thus far has been the strength of their defense. We know about Marcus Smart, we know about Le'Bryan Nash, but the D Unit is a surprise. They've held opponents to the 12th-lowest two-point field goal percentage in the country, and shown the kind of grinding makeup that could lead to a lot of wins in the Big 12. There's no way this team stays as low as no. 23.
As for overrated? I'd have to say no. 15 Georgetown, a team that has shown almost no ability to score. Its defense has been stellar — fourth in the country in efficiency, actually — but right now they're being judged on three games: an eight-point win against UCLA, a blowout win against Texas, and an overtime loss to Indiana. I don't think I have to explain why the UCLA and Texas wins lack glamour, but even the Indiana game, when Cody Zeller had the flu and the Hoosier defense seemed out of whack, looks a little misleading. Georgetown will be tough — Georgetown is always tough — but the 46-40 win over Towson was a sign of what's to come: close games against a lot of teams, good and bad, and an inevitable drop.
9. Two things I hate
A. Virginia Tech's Robert Brown launched a 3-pointer with 20 seconds left and his team trailing West Virginia by 2. It was ugly, but it thudded against the backboard and banked in. How did Mr. Brown react? By turning around and mean-mugging like he'd just done something clutch. Unacceptable. There are only two ways to react to a banked 3: When the pressure's off, you're allowed to shrug and smile. When the pressure's on, you have to ignore it. Anything more, and I will believe that you're delusional.
B. Thirty seconds left in the ballgame. Team A is down 15, but makes a 3-pointer to cut the deficit to 12. Team A's coach calls an immediate timeout and rushes out to meet his players as though it mattered. Who you fooling, coach?
10. UCLA's Kyle Anderson is too slow to play point guard
His nickname is "Slow-Mo," but the consensus coming into school is that he's somehow able to sneak and shift his way past faster defenders. I bought the hype, but the truth is that it hasn't been evident this season. So far, slow means slow. And that's a generous evaluation; right now, I'm not even sure he's quick enough to play on the wing against good teams. We could be looking at a poor man's Harrison Barnes here.
11. In-state rivalry games are always awesome
If that's not true, explain to me how I watched Creighton beat a woeful Nebraska team 64-42 and Marquette out-gruel Wisconsin 60-50, and yet still enjoyed myself thoroughly? So much intensity! So much regional pride at stake! So much corn and cheese!
12. I'm fascinated by the unspoken rules of the post-game handshake
Take this exchange between Buzz Williams and Bo Ryan:
Pretty innocuous, on the surface, but it leaves you with several questions. Does the losing coach always speak first? Was it wrong for Buzz Williams to go in for the second conversation after Bo Ryan tried the compliment-and-run strategy? Was it uncouth as the winning coach? Is there an age factor, in the sense that the younger coach (especially the winning one) should not be so presumptuous as to patronize the older one with compliments or advice? And, of course, what the hell are they saying to each other? I like to believe they're secretly calling each other horrible names while keeping straight faces.
In any case, I will be monitoring this situation throughout the year.
13. Arizona can win ugly, and they have a soul man
This is an important development. On the road at Clemson, nothing was falling for the 'Cats, but they survived by playing strong defense and waiting for their run. It finally came, and they pulled away for a 66-54 win that was far from pretty, but said a lot about their character. As did the emergence of 6-foot-1 senior guard Mark Lyons, the scrappy veteran that every young team needs who can step up and deliver a big game (20 points, 4 boards, 4 assists) when everyone else is out of rhythm. He wasn't letting Arizona lose that game, and it buoyed the younger guys when it became clear that Clemson was going to make them work for it. Gots to have that soul man.
14. Brandon Paul is a killer, and he put up the year's best game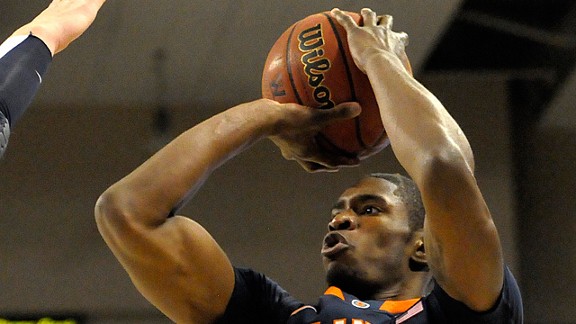 All the Illinois shooting guard did was roll in to Spokane and rip the hearts out of no. 10 Gonzaga with 35 points on 10-of-16 shooting. It was the best individual performance of the year by anyone, at any school, and even the highly disciplined Zags — a very strong defensive unit coming into the game — had nothing for him. Tell it like it is, Mark Few: "He looked like a high-level NBA guy … We didn't have a guy who could guard him one-on-one basically." With 19.5 points per game on an undefeated team, and a performance that will be tough for anyone to top all season, I do believe it's time to start the Player of the Year drumbeat for Mr. Paul. He just crashed the list.
15. The Big Ten will probably have four top 10 teams when the rankings come out Monday
I'm no Big Ten supporter, but if this development ends the annual "which conference is best?!?!" debate before it even begins, then it has my wholehearted support. Let's get Minnesota and Michigan State in there, too. Hell, let's rename the "top 10" the "Big Ten," wait until everyone stops being confused, and then realign until we go crazy. When the dust settles, we'll make the All-BeefyBulky team play together against the Jahii Carson All-Stars, and we'll never be sad again. Deal?
Filed Under: Arizona, Baylor, Clemson, College Basketball, Duke, Georgetown, Illinois, Kansas, Oklahoma State, Oregon, Shane Ryan, UCLA, UNC, Virginia Tech, Wisconsin