10 Key Thoughts on the Greatest, Most Insane NBA Finals Game in Years
Brendan Smiaiowski/AFP/Getty Images
There have been other recent Finals games that have reached a special place where you throw off the analyst hat, close the laptop, and just take it all in with a wide-eyed giddiness and a tension so profound it surprises you. A few that stand out: Boston's Game 4 comeback from 24 down against the Lakers in 2008; the Mavs' rally in Miami in Game 2 of the 2011 Finals, a Dirktastic comeback that began after the Heat prematurely gloated on the bench; both Game 2 (Courtney Lee's missed layup at the buzzer) and Game 4 (Derek Fisher and overtime) of the Lakers-Magic Finals in 2009; the Lakers using unattractive but gutty brute force to rally from 13 down to win Game 7 over Boston three years ago; and Game 5 between Detroit and San Antonio in 2005 — the "Robert Horry Game," and one of the most underrated great games in league history. Heck, even Games 2 and 4 of last year's Finals — Durant's game-tying miss and the controversial non-call in Game 2, Russell Westbrook's furious 43 points and LeBron's cramping in Game 4 — were pretty damn awesome.
But in terms of the stakes at hand, the palpable urgency, and the overall quality of play, this was the greatest Finals game since … I'm not sure when. There are a couple of Utah-Chicago games from the 1997 and 1998 Finals that have a place in the discussion, especially the Jordan Flu/Food Poisoning Game, but if you prefer last night's elimination thriller to that legendary non-elimination game, then you have to reach back into the peak Jordan-Bird-Magic years to find something that compares. That's how great this game was. I can still barely process it.

1. What LeBron James did in the fourth quarter … holy hell. All non-Spurs fans should be glad he came through like that, even though he was indeed in attack mode almost from the opening tip, because the volume on the "WHAT IS LEBRON'S LEGACY!!!???" talk can shift down a couple of notches heading into Game 7. We can just enjoy the freaking game. Because Game 6 is part of LeBron's legacy now; almost nothing that happens Thursday, short of some John Starks/Kenyon Martin–level choke job shooting, can take away Game 6. If the Heat had found a way to win last night despite a "blah" James performance, LeBron Mania would be the dominant story line heading into an epic winner-take-all clash between two historically great teams with at least seven Hall of Famers between them.
2. James had a hand in holding Tony Parker to 6-of-23 shooting, and it's useful to look again at those numbers — 6-of-23 — and remember them the next time you want to eviscerate James, or Kevin Durant, or Kobe Bryant, or whomever for some awful Finals shooting performance. Stars have bad games in the Finals. Everyone loves Tony Parker, and he'll get about 1/100th of the screaming gruff LeBron or Kobe would get for a 6-of-23 performance. Parker's little compared to those guys. He's cute, he's French, and we've been going on for five years about how criminally underrated he is. He went 6-of-23 with a chance to clinch the Spurs' fifth title? Eh. It happens. He's dealing with a hamstring injury, the world's best player is hounding him like some werewolf stalking prey under a full moon, and, hey, he made some absolutely sensational shots in the last 1:30 of regulation to nearly cinch the game for his team. Forgive, forget, move on.
And that's the appropriate response to Parker's game. I just wish we could invoke context like this when it comes to other great players. After all, Parker's a great player, right? A franchise player? Haven't we tripped all over ourselves declaring that over the last two months of transcendent Parker games?
3. LeBron's fourth quarter started with two straight pick-and-roll attacks — a drive-and-kick that led to a Super Nintendo Chalmers 3-pointer, and this blow-by past Tiago Splitter:
Freeze the play as LeBron picks up his dribble, and look at how much space he has on his way to the rim: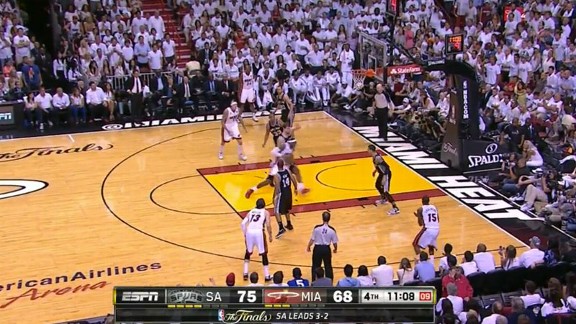 Gary Neal isn't straying far off Mike Miller on the right wing, and Danny Green, on Chalmers in the corner, is willing to creep to the edge of the paint — but no farther. Guess who wasn't in the game at this point? Dwyane Wade. The floor is so much clearer for James when Wade is off the floor, it almost appears as if the teams are playing 4-on-4.
Contrast that spacing with the state of the floor on this Heat turnover with 1:05 left in regulation, the first of three straight Heat cough-ups (including two bad ones by LeBron) that really should have cost them their season:
Freeze the clip as Chalmers is about to commit his ill-fated blunder, and you'll see Green has abandoned Wade to clog the lane and force Chalmers into a thread-the-needle dish instead of what Super Nintendo surely thought would be an easy floater: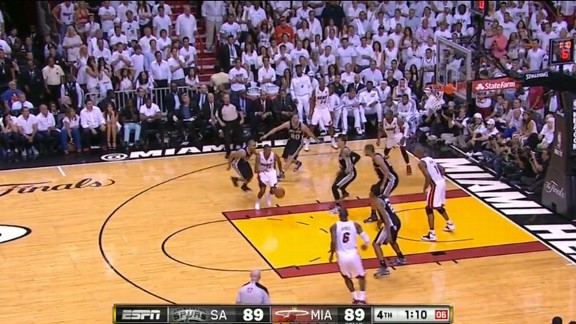 By the way, what a fantastic read by Parker to anticipate Chalmers's pass, read Green's help, and bolt toward Wade for a steal. Goddamn, these teams are good.
That LeBron pick-and-roll basket by Splitter was easy. Look how much harder it is for Miami — how much tricky passing and shot-making it takes — for the Heat to score with Wade on the floor:
It's tempting to say LeBron could have simplified things early on this possession by just attacking Diaw one-on-one, but look at the floor as LeBron prepares to slice into the paint: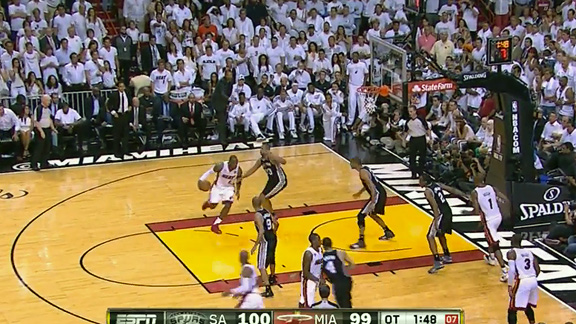 Duncan has left Chris Bosh to patrol the rim, and he can do that because he knows Kawhi Leonard will happily abandon Wade on the right wing to cover Bosh. It's just tough sledding for Miami.
For the series, the Heat have scored 131.7 points per 100 possessions when James is on the floor without Wade, and just 100.8 when the two have shared the floor, per NBA.com. The Heat are minus-12 for the series, but the James–Mike Miller–Ray Allen super-shooting trio is a crazy plus-50 in just 68 minutes, per NBA.com. The James-Miller-Chalmers trio is plus-43 in just 80 minutes, and the combination of those four players is a stunning plus-49 in just 29 total minutes together, per NBA.com.
Those four have only played 15 minutes total with Bosh. The other 14 have come with Chris Andersen in Bosh's place, and that group has been so successful in those 14 minutes — plus-26 — they nearly break NBA.com's stats database and replace it with that Home Alone image of Macaulay Culkin screaming.
Which is to say, depending on the flow of Game 7, Erik Spoelstra's hook on Wade has to be quicker. This is the entire season on the line. He cannot just roll with Wade like it's 2006 or 2008, trusting Wade's "warrior" nature and big-game reputation. And he certainly cannot reserve precious late-game out-of-timeout possessions for Wade plays, as he did in calling for a Wade post-up with 2:40 left and the Heat up 87-84. Wade is 6-of-27 on post-ups during the playoffs, per Synergy Sports. He has drawn exactly zero fouls on those 27 shots. He has turned the ball over on 16 percent of his post-up possessions. His post-up game is dead. It might return at any moment — Wade is a crazy shot-maker, as Games 4 and 5 reminded us — but Spoelstra has to operate under the assumption that it is dead until next season.
4. That "depending on the flow" caveat isn't a cop-out. Wade took that one awful crunch-time shot last night and sabotaged Miami's spacing like a CTU mole, but he did a lot of good things defensively late in the game. Even in this hobbled state, an engaged Wade brings a tenacity and athleticism to his back-line rotations that Allen, Miller, and even Shane Battier just cannot match.
Look at Wade's first defensive possession once he returned to the game in the fourth quarter:
What a stand by Miami. Bosh fronts Duncan, preventing the entry pass. Parker tries to improvise by juking toward Duncan and then crossing over into the middle, but LeBron is big enough to absorb the fake, recover, and meet Parker in the lane — with some help from Wade, ready to pounce off Leonard in the right corner. Parker improvises by driving toward the baseline (after another Bosh denial), and look who is there, on-time and with an explosive leap, to challenge what might otherwise have been an open jumper: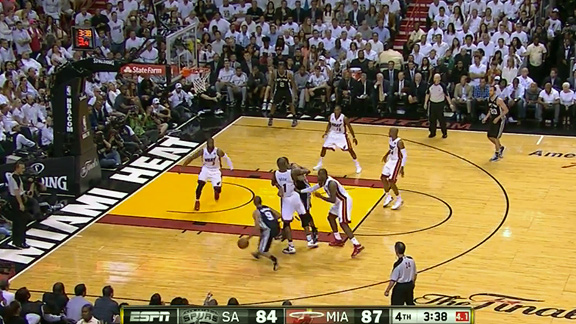 This wasn't an isolated thing, for Wade or the Heat. Watch them snuff out a Parker/Duncan pick-and-roll on the right side on this third-quarter possession behind a semi-aggressive trap of Parker and a very early rotation from Wade:
Bosh's fronting defense is a factor again here. This was one of many second-half possessions in which you could see the toll this game was taking on Parker; he doesn't even try to attack the trap here, settling for a passive reset dish to Gary Neal up top. And Wade once again is at the rim, ready to attack Duncan on the roll before putting his head down and sprinting his ass back out to Green in the left corner.
The Heat had a lot of possessions like this in the third quarter. You could see the desperation and the battle against oncoming exhaustion. It was thrilling. Midway through the quarter, I thought Miami was expending so much energy that it would not be able to finish the game well. I thought that again during James's furious takeover in the fourth quarter. But they had just enough to limp over the finish line, with some help from the basketball gods, Gregg Popovich, and their own brilliance.
5. Oh, remember James's 3-pointer with 20 seconds left, the one that cut San Antonio's lead from five to two and kept the game in play? The discussion surrounding that play has focused mostly on Gregg Popovich's puzzling decision to remove Duncan, but I didn't mind that in real time. (I minded it much more on the following Miami possession, but we'll get there.) James missed his first 3-pointer so badly, off the glass, that I'm not sure Duncan's presence under the boards would have mattered — or if he would have even been there, since Miami sat Bosh for that possession and went with zero big men. The shot ricocheted off the glass like one of those little Super Balls, shooting toward the floor at hyper speed and with an immediate downward trajectory that would have rendered Duncan's height advantage almost irrelevant.
The rebound appeared to be Leonard's, but Wade lunged diagonally into the paint to tip the ball from Leonard, then immediately leaped straight up to tip it away from Leonard again, setting up James for the triple. I don't think any other Heat perimeter guy, save for James, makes those plays.
Wade had value in this game, and he's had value in this series. But his minutes have sometimes been out of proportion to his value, and Spoelstra has to find the right balance on Thursday night.
6. Ray Allen's game-tying 3-pointer will be the possession that defines this game. Abrams could someday write a 5,000-word oral history on this possession, and I'd devour that sucker. Let's review all the things that happened here:
• Popovich, the best coach in the league, opted not to foul with his team up by 3. On the surface, that makes sense. The Heat got the ball back with 19 seconds left. Talk to coaches and analytics guys, and most of them will say that is simply too much time on the clock to concede two points from a position of strength, via an intentional foul, and enter into a free throw shooting contest with a dying opponent.
But the Heat inbounded the ball from under their own basket. About six seconds had passed by the time Leonard had Chalmers pinned in the left corner, a golden chance to foul with 13.5 seconds left: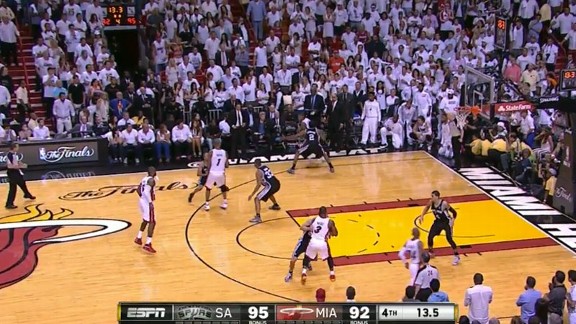 And yet, fouling with 13.5 seconds left in this situation still makes coaches and stat geeks queasy; Chalmers is an 80 percent foul shooter, meaning we'd expect him to go 2-of-2 on about 65 percent of his two-shot trips to the foul line. There's also no real macro evidence that fouling up three is a better strategy, in terms of producing wins, than playing for the stop.
Still, it's not a ridiculous question, and Pop's characterization of it after the game as "that European question" would have crossed the line between abrupt and obnoxious if not for the fact that his team had just suffered what was probably the toughest loss of Pop's NBA career. Pop is way too smart to dismiss it as if it's a silly question, or to argue that fouling up by three is not something coaches in the NBA even consider. (Also: Pop's response to a question about how he'd get his team ready for Game 7 was an all-timer: "We get 'em on the bus, and it arrives at the ramp over here." He actually pointed toward the loading area. "We get off the bus, we go on the court, and we play." I wish he'd have extended this trope even further. "Well, everyone will wake up. Some guys like coffee in the morning. I like it black. Timmy likes a latte; he's kinda girly like that. Manu likes some espresso-type thing they have in Europe, where I was a military guy once and learned a dozen ways to kill people like you. Bonner likes a breakfast sandwich, and he usually eats it while watching some crazy nature show. Then we get on the bus, and let me tell you where everyone sits … "
• Duncan was out of the game again, and his man, Bosh, snared one of the five or 10 biggest rebounds in league history on James's initial miss. This is the one that will stick with San Antonio fans for a while, even if Popovich and other coaches regularly remove their slowest defender in switch-everything situations. And the Spurs treated this possession with a switch-everything approach. That's why Diaw was leaping to contest James's 3-pointer instead of battling with Bosh under the glass; he had basically switched onto James after a pick-and-roll, just as Parker had switched from Chalmers onto James when those two engaged in some early screening action on the same play.
So perhaps Duncan's presence wouldn't have made a difference. But Diaw lingered around James, watching the shot in no-man's land, as Bosh sprinted in for a rebound chance. Would Duncan have behaved differently? Would James's shot trajectory, and the resulting rebound, have been different had Duncan been in Diaw's place? It's impossible to know. But like Frank Vogel before him, I suspect Pop would do this differently if he had a do-over.
• The Spurs did not foul Bosh on his offensive rebound, leading to Allen's epic 3-pointer. Fouling Bosh here is the ultimate easier-said-than-done complaint. Exactly one second elapsed between the moment Bosh caught the rebound in the air and the moment the pass to Allen left his hands. One second. I watched in slow motion several times. That's all the time San Antonio's fatigued, scrambling players had to foul Bosh.
The two closest players, Ginobili and Green, were both involved in the rebound chance and thus out of ideal fouling position. Ginobili fell over after leaping for the board, and Green was caught under the rim, surprised the rebound had gone over his head. Both Green and Leonard might have been close enough to swipe at Bosh — and Green whiffed on one swipe at him — but it was not a simple play: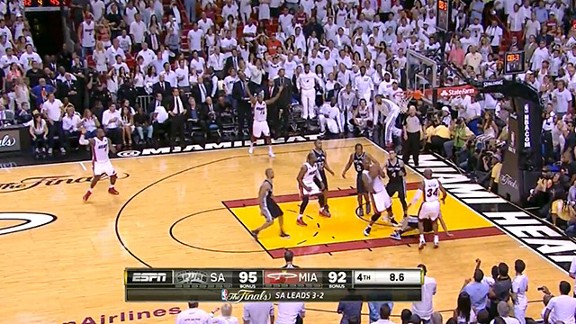 Credit Bosh for a monster rebound and instant read of the situation, and Allen for making a giant Big Balls 3-pointer.
7. Yeah, I don't think Allen regrets the decision to exercise his right of free agency — how dare he! — to leave an aging Boston team that tried to trade him multiple times in order to join Miami for a shot at a title.
8. Oof … Manu Ginobili. San Antonio fans turned on Manu between Games 5 and 7 faster and more angrily than Shawn Michaels turned on Marty Jannetty. (Bill and Shoemaker aren't the only Grantlanders who watched wrestling growing up.) Ginobili had eight turnovers, and some of them were very bad. Two came on blatantly horrible passes, under minimal pressure — just bad decisions and reckless gambles. The last came at the end of overtime, when Popovich elected not to call timeout after a horrific Wade miss. Smart NBA people love when coaches go this route, since it opens up transition chances and prevents the other team from getting its best defenders on the floor. They love it less when it leaves Parker on the bench. I have no insight into Pop's mind-set here, but I'm guessing he concluded Parker was gassed and possibly dealing with a re-aggravated hamstring issue, and that the risk vs. reward calculus looked better with the no-timeout route.
And Parker did look gassed. The Heat might have fouled Ginobili, but he also might have traveled before the possible foul. It's hard to tell on both counts.
Watch Ginobili's second-to-last turnover, with about 45 seconds left in overtime:
The play starts with a Parker/Duncan pick-and-roll, and Parker looks as if he has no intention of trying to attack Miami — or James — on the play. That leaves Ginobili to create off the dribble, and though he fools Wade by going baseline, he runs into picture-perfect Miami rotations: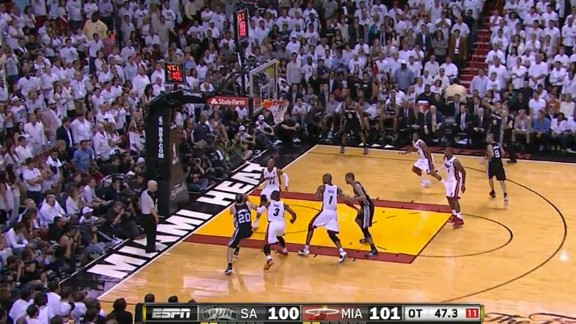 Allen leaves Leonard in the right corner to clog the lane early, and Chalmers and LeBron combine to clog all three of Ginobili's potential passing lanes to the weak side with precise positioning. It's a bad Manu play in a game full of them, but context matters. Ditto for one second-quarter turnover on a pick-and-roll, where Ginobili tried to slip a routine pocket pass between a James-Bosh trap and to a rolling Duncan. Bosh reached about as far as his arms extend to deflect the pass and steal the ball.
That's just a great play that very few bigs can make. I like to ask point guards which bigs they hate facing in pick-and-rolls, and Bosh's name almost always comes up. Point guards hate his speed, and they especially hate how wide he spreads his arms in his defensive stance. They always mention his arms. Duncan roughed up Bosh in the first half with a vintage "Get on my back, I'll take us home" Duncan game, but Bosh regrouped and had a monster second half full of hustle plays — deflections, pick-and-roll coverages, rim protection, and two giant late-game shot blocks (on Parker, and then the game-ender on Green).
9. Fun random note: The Heat, desperate for spacing when Wade is in the game, are often having Bosh stand out of bounds along the baseline to drag Duncan away from the rim. As I noted last week from San Antonio, the competition committee has recommended the league ban this ploy starting next season. The Heat are going to squeeze what they can get from it while it's still legal.
10. Without belaboring the X's and O's, this was an insanely well-played game. These teams broke out some nifty new tweaks on offense, and they were both consistent in running their motion sets through to the end. The Spurs ran a lot of Parker/Duncan side pick-and-rolls that began with no other players on their side of the floor, a gambit designed to get Duncan space to roll to the rim. Once Miami sniffed those out, the Spurs began sneaking Green over to the strong side of the floor as Duncan rolled, trying to spring him for open corner 3s.
The Heat ran all sorts of great stuff — misdirection screening along the foul line, with the tweak of using Miller as a screener; a rare Wade/Chalmers pick-and-roll; and lots of Allen-centric action all over the floor. And even so, two of my favorite possessions ended in Leonard steals:
Look at all the goodness going on here: an Allen-Wade hand-off, then an entry to James at the ultra-dangerous elbow area, then an unpredictable Wade-Allen screening dance that confuses the Spurs before Allen finally jets off a pin-down screen. Good luck handling this.
Except the Spurs handle it! Leonard, guarding Wade (causing spacing problems, as always), reads the play, deflects the pass with his giant arms, and gets the Spurs a run-out. Leonard spending time on Wade is a nice ripple effect of Diaw being able to defend James credibly. What basketball these two teams play.
The Heat run Chalmers down off a Bosh screen at the elbow, a play designed to get Duncan to sag off of Bosh, freeing Bosh for a drive. And it works! Except Duncan, at age 37, is mobile enough to close out on Bosh, stop the drive, and force Bosh into an awkward spin move. And the second Bosh turns his back to Leonard on the sideline, Leonard springs in for a blind-side steal. Leonard is already so good at timing this specific kind of steal, it's scary. He probably learned it from Ginobili, long a master at it. Or he's just awesome.
This play encapsulates all the work the Spurs have done to get this far, at this stage of Duncan's career. Duncan has lost weight and reinvented himself as a speedier defender and a more varied offensive player. And this is the exact kind of series, and exact kind of play, the Spurs had in mind when they flipped George Hill for this unproven Leonard kid.
Leonard is a monster already. Rewatch any possession on which you think LeBron could have attacked the rim more aggressively, and chances are you'll catch Leonard doing something to make James think for an extra beat. He slithers through screens with crazy good footwork. His arms and hands are giant, and he knows how to use them to make the paint look more crowded than it really is. He has been a breakout star in these playoffs, and more than one executive I've talked to over the last 36 hours thinks that if the Spurs win, Leonard should be the MVP of the Finals. He has been sensational.
The whole series has been. Even the blowouts. And we get a Game 7. I may not sleep till Friday.
Filed Under: Chris Bosh, Dwyane Wade, LeBron James, Manu Ginobili, Miami Heat, NBA, NBA Finals, San Antonio Spurs, Tim Duncan, Tony Parker, Zach Lowe