Toronto Film Festival Diary: Oscar Tyranny, Andre 3000 as Jimi Hendrix, and Our Lord and Savior Matthew McConaughey
Michael Buckner/Getty
When this vast, important film festival — street name: "TIFF" — moved its hub to downtown Toronto, it was a win. The streets are smaller. The food is better. And so are the multiplexes and nightlife. There are also fewer businesspeople to trip over and protests to avoid. (I'm not kidding: I have missed the start of many a movie because of some worthy-cause march.) The festival built itself the TIFF Bell Lightbox, which is in use year-round as a state-of-the-art moviegoing facility. Most years I leave sad I'm not Torontonian. But I think the downtown luster has begun to tarnish.
There's been an increase in pushing and waiting and general glut. The enormous lobby of the Scotiabank Theatre, with its 15 screens, can become stressfully full inexplicably fast. It's now possible to be turned away from a movie before even securing a spot in the queue. In the past, I've waited an hour on the street for the line to enter the theater to budge. (Last year, the line for The Master began to move in a direction charitably characterized as counterproductive.)
The sad, brutal irony of all these queues — for both public and press-and-industry screenings — is that, often, they're for movies that have not only secured distribution, but have imminent opening dates. Prisoners, for instance, will be in theaters everywhere on September 20, but the crush to claim one of the 557 available seats suggested a one-night-only happening. TIFF is an exhaustively international, thrillingly inclusive event, one of multiple personalities — Hollywood premieres, microscopic works of art, avant-gardism, hits from Cannes, the pathological earnestness that remains the defining characteristic of Canadian cinema. Once upon a time those facets were harmonized. But Oscar-mania has hijacked the festival. One of this year's promotions brags that last year TIFF invited each of the five future best foreign-language nominees. If the festival programmed only five movies that would certainly be impressive, but there were more than 400 movies here last year.
Toronto-as-awards-season-bellwether is a pernicious airborne germ, and by the start of the festival half the city comes down with it. I've heard everyone from members of Toronto Pearson International Airport's grounds crew to entertainment bloggers speculate about which movies have what odds. Vulture's Kyle Buchanan bolted from a screening of Steve McQueen's 12 Years a Slave, with Chiwetel Ejiofor, Michael Fassbender, and Brad Pitt, and declared the Oscar race over. The ensuing outrage chastised Buchanan's proclamation for being either obnoxiously premature or lacking critical insight. Some of that outrage was just about Buchanan beating his peers to their punch. In any case, that, increasingly, is Toronto now: a bellwether that can you leave with tinnitus.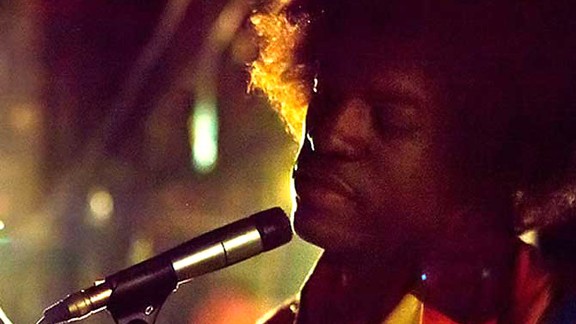 The ring overtakes you and you wind up in a hilariously long line to watch Sandra Bullock and George Clooney in Alfonso Cuarón's Gravity or Matthew McConaughey in Dallas Buyers Club. You're infected with the need to see tomorrow's Oscar winners today. Never mind that that's a truly toxic lens through which to watch a movie. I actually got out of the Sunday afternoon line for the Cuarón even though I'm desperate to see it. Instead, I was seduced by the idea of André 3000 as Jimi Hendrix.
John Ridley's All Is by My Side is almost very good: a work of beautiful impressionism that at the moment has no U.S. distributor but deserves one. The movie focuses on the year Hendrix spent in England before he gave a legendary performance in 1967 at the Monterey Pop Festival. Ridley is a novelist and screenwriter and essayist. He's been in and around Hollywood a long time and is determined to treat Hendrix better than Hollywood movies tend to treat icons: as elements in a formula. This is less a work of movie biography and more a narcotic exhalation.
The Hendrix it presents is both a dreamy magician of a guitarist and a disaster as a conductor of what little self-promotional ambition he had. His talent needed others to steer him fameward. But even when he's pointed in the right direction, he's lost. Ridley enhances that sense of dislocation. He layers the soundtrack and the images, so that the movie seems to be on the assortment of stimulants — sex, dope, love — that keep Hendrix strung out. The movie is as much about the women in Hendrix's life as the music — here there are at least three women — and his complicated relationship with one in particular, Kathy Etchingham, played by Hayley Atwell.
It's possible Ridley was too determined to break the rules. For a film that seems awfully focused on Hendrix getting his fix, its fix on Hendrix is almost comically vague. The trauma of his troubled childhood is present but underexplored as the root of his druggy childish demeanor, and André 3000's performance oddly refracts Hendrix through his own country demeanor. There's a twang to this Jimi and a defensive wonder about him, too. André is smaller than Jimi and his sexual charisma more impish. But he's light with Hendrix's fundamental spaciness and heavy with his melancholy. His turbulent Afro becomes mood hair.
But what's really missing here is Hendrix's own music. Whether its absence is a strategic subversion or a problem of licensing, it leaves a crater in a movie that Ridley's formal cleverness can't entirely fill. Hendrix recorded some of his most famous songs ("Purple Haze," "Hey Joe," Foxy Lady") during the period the film spends with him. This is the most artistically interesting American movie I've seen since the festival started. Yet without the music, the movie gives the feeling that you've watched some alternate-universe version of its star.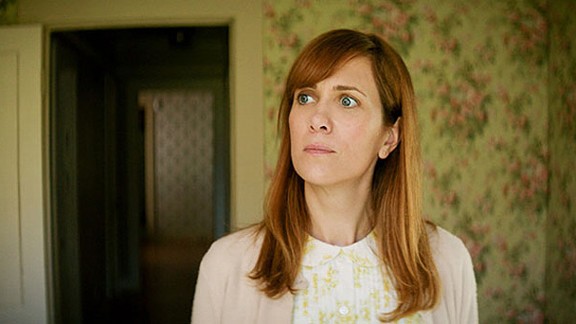 When in Canada and unable to see a Canadian film (even one by a Canadian filmmaker you love, like, say, the 24-year-old drama queen Xavier Dolan), the next best thing should be a film based on the work of a great Canadian writer. If that writer is Alice Munro and the movie is Hateship Loveship, it's best to try harder to see the Dolan. This movie doesn't so much relocate the title story from Munro's 2001 collection, Hateship, Friendship, Courtship, Loveship, Marriage, as dislocate it to the U.S. The dislocation is emotional, too. Just look at Kristen Wiig's face. In an attempt to perform Munro's scrupulous interiority, Wiig seems body-snatched.
She plays Johanna, the live-in caretaker of a teenager (Hailee Steinfeld). The girl's best friend (Sami Gayle, who nails breezy bitchery) plays a prank on Johanna that leaves her obsessed with the girl's jailbird father (Guy Pearce). Liza Johnson directed this movie. Mark Poirier adapted it. And the film's chummy tone suggests a willful misunderstanding of Munro's melancholy. I'm afraid the movie thinks its tidy dismount is a kind of happy ending. But those last scenes manage to be accidentally depressing about women and happiness. It's warm, but small-minded and one thing Munro is not: cute.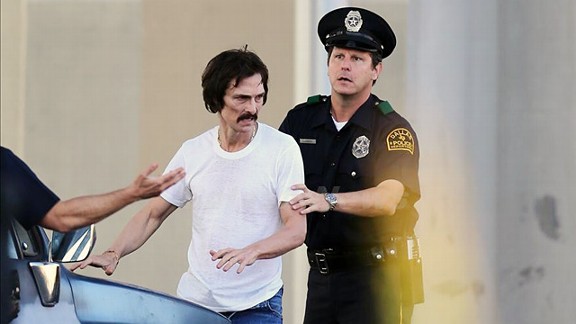 I did actually see Dallas Buyers Club. I went in fully apprehensive about spending two hours with a decaying Matthew McConaughey. He plays Ron Woodroof, a party-hearty, homophobic electrician diagnosed with HIV in the mid-1980s. The movie jumps right from his doctors (Jennifer Garner and Denis O'Hare) telling him he's got 30 days to live to a black screen that reads "Day 1" to a sequence in which he's goes on another super-bender. It's right about here that I thought: "Yeah, I don't want to watch this," by which I meant that I didn't want to see the AIDS version of Leaving Las Vegas. But it turns out Woodroof was a real guy, and he wanted to live. And so the movie relents on the misery and turns in a kind of dramatic comedy. Woodroof winds up fighting to sell non-FDA-approved drug cocktails to the sick.
This film comes out in November. Until then I'll just say that it's alarming to see McConaughey's rooster persona lose its feathers. It's a vain, masochistic performance, but he's just as committed to the comedy in the movie, which Jean-Marc Vallée directed and Craig Borten and Melisa Wallack wrote, as he is to the social and personal crises. What's disappointing is how the film takes a story of American opportunity and boxes it into a conventional formula, putting a straight white guy on the front line of the AIDS crisis. The only gay character of any substance is Ye Olde Sassy Junkie-Drag Queen, played by Jared Leto. His character helps Woodroof run his drug-cocktail subscription business.
This might be the safest sad movie you can ever hope to see about a man who smokes and fucks with unrepentant zeal. You don't begrudge its existence because it will open people's minds and remind people that AIDS was a crisis for all sexual orientations. He's standing up to medical malpractice, government bureaucracy, and bigotry. Even so, Dallas Buyers Club also perpetuates the same myths the movies always do: That only the Matthew McConaugheys of the world are capable of making it better. In life, Woodroof, who lived six years past his prognosis, became a shrewd and enlightened businessman who brought unique attention to the AIDS fight. The movie adds vulgar emotional sweetener. It's Erin Cockovich.
Filed Under: Academy Awards, Andre 3000, Kristen Wiig, Matthew McConaughey, Michael Fassbender, Movies, Oscars