Team USA: White Collar Is Your One-Way Ticket to Bomer Town
Now that we are well into July, the good old USA Network has begun to trot out its heavyweights. White Collar owned Tuesday nights last summer (with some help with Covert Affairs, too; more on that next week), even beating out the networks in its time slot. We're just one episode into the fourth season. With a notable new face and 100 percent more caipirinhas, it's time to join the movement.
This is the show for you if you like: The Rat Pack and buddy-cop comedies. Neal Caffrey is a thief and a lover of the finer things in life, like expertly tailored suits, fedoras, and expensive paintings. FBI agent Peter Burke is a standup guy who hunted Neal for years before ultimately catching him. Now, the two are a team: Neal is Peter's partner in solving white collar crimes for "the bureau." (Peter says the words "the bureau" at least once per episode.) Instead of serving out a sentence in jail, Neal reports to Peter and together they take down high-level gambling rings, art forgers, and the like. Of course, Neal can't suppress all his con-man urges, so high jinks ensue and Peter often has to save (and cover for) Neal. Meanwhile, Neal is thrilled to be free from jail because he can return to wearing the '50s-style clothes that he somehow lucked into as they strut around New York City, just happening to always be in front of the city's most beautiful mid-century facades.
The person you are most likely to recognize from a previous show or movie: White Collar truly has a star-studded cast, even without accounting for breakout success Matt Bomer (I'll get to him later). First, there is Stanford from Sex and the City as Neal's best con-man friend. Then there's Tiffani(-Amber) Thiessen, who probably doesn't need an introduction. But that's not all! Gallant from ER and Naomi from Lost are the assistants to Tim DeKay's Peter Burke. You might recognize DeKay as Bizarro Jerry, though there have been myriad opportunities for you to see his mug. And still! Former MTV VJ and One Tree Hill alumna Hilarie Burton plays Matt Bomer's girlfriend; Clockers/8 Mile/ER star Mekhi Phifer joins the cast this year as Peter's nemesis; Beau Bridges played Peter's nemesis last season; Tony-winning actress Diahann Carroll is Neal's benefactor. This show has a very impressive casting director.
The basic plot you need to know: When you watch this show, you must accept that it may be impossible to retain all plot points. There have been so many twists and turns, so many previous crimes and previous foes, that one cannot find the mind space to keep track of it all. Here's where we are now: Neal Caffrey has just fled New York and returned to fugitive status. GASP! It's OK, though: Peter condoned (and even enabled) this escape. Last season, Neal was up for commutation of his sentence. He would be free of the ankle monitor, and Peter believed Neal would be ready for that freedom, and that he'd remain an FBI employee. However, Beau Bridges wanted to steal Neal from Peter and make him move to Washington, D.C., where he'd have to continue to wear the anklet. Thus, when Beau Bridges succeeded with his plot, Peter told Neal to flee. Now he's on the run with his con-man BFF, Mozzie (a.k.a. Stanford Blatch a.k.a. Willie Garson) currently in Cape Verde. Mekhi Phifer is hunting Neal and suspects Peter to be the accomplice. Phifer has just cornered Caffrey on said Carribbean island, Peter is implicated, and we White Collar fans are on the edge of our seats as we wait for all this to be resolved.
What about girlfriends? Well, the show began with Neal grieving over the death of his love, Kate. But she's irrelevant now, supplanted by Hilarie Burton's Sara Ellis. She is an insurance risk assessor (or something) who's Neal's one true counterpoint in terms of theft and, it turns out, love. But they are currently broken up. I suspect she'll be back soon, though. Peter is married to Tiffani Thiessen in what may be television's most functional and adoring marriage.
Final argument: Two words: Matt. Bomer. What can't this guy do?
He can sing.
He can dance (or he can try to; he's no Channing Tatum, but then, who is?).
And he's objectively very, very handsome.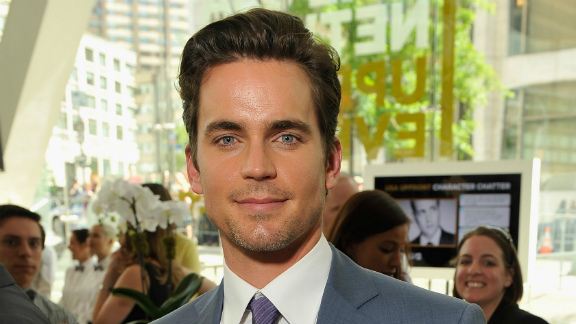 Oh, and he can act, too. Or at least he's very skilled at playing Neal Caffrey with the right mixture of charm and suspended self-awareness. Matt Bomer is not just having a moment. Matt Bomer is here to stay. After a few false starts on shows like the canceled-without-resolution Traveler, White Collar has rooted his career and paved the way for him to play a hot stripper. I defy anyone to not love him after a few episodes of the show.
Filed Under: Summerwatch, TV, USA Network